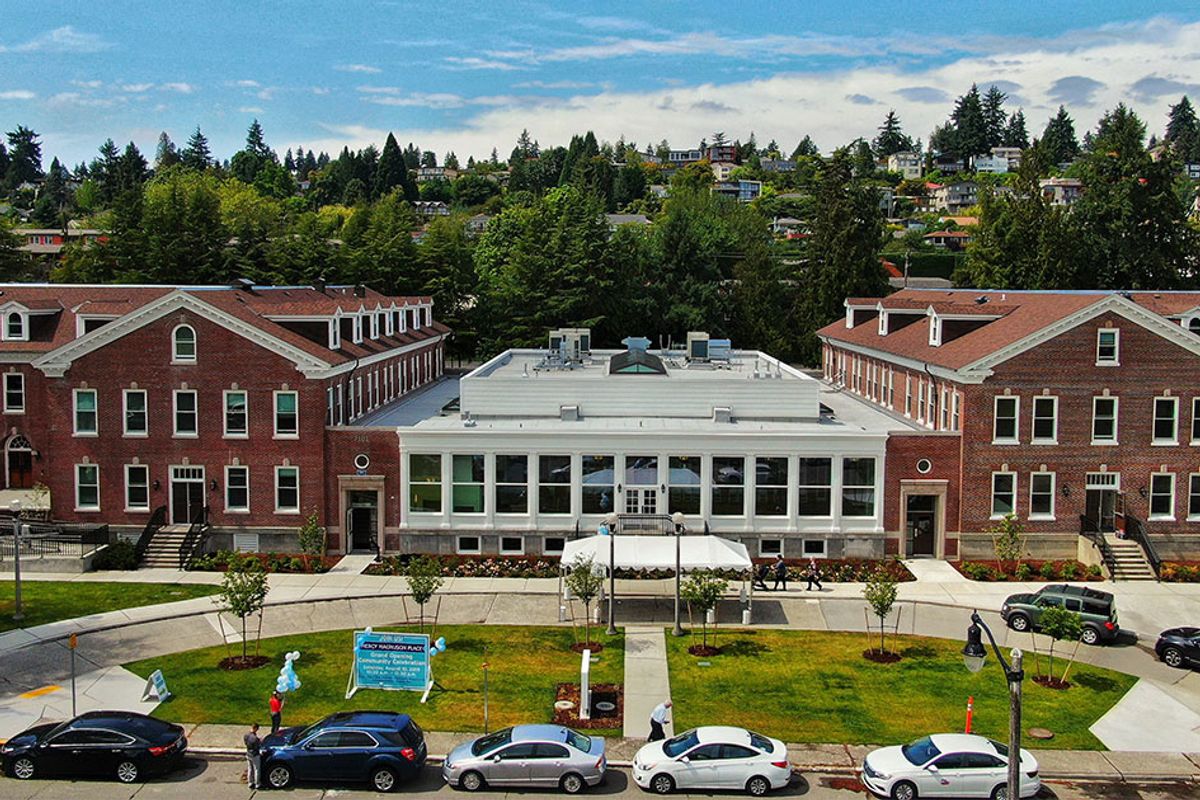 Pavel Verbovski
True
Forrest doesn't mind admitting he needed a second chance. The 49-year-old had, at one point, been a member of the Army; he'd been married and had a support network. But he'd also run into a multitude of health and legal problems. He'd been incarcerated. And once he was released, he didn't know where he would go or what he would do. He'd never felt so alone.
But then, some hope. While working with Seattle's VA to obtain a place to live and a job, Forrest heard about Mercy Magnuson Place, a new development from Mercy Housing Northwest that would offer affordable homes to individuals and families who, like Forrest, needed help in the city's grueling rental market.
Forrest remembers not wanting to even go see the building because he didn't want to get his hopes up, but a counselor persuaded him. And when he learned that the development was a repurposed former military barracks — now a historic landmark — he knew he'd feel right at home.
Today, Forrest couldn't be happier. "I've got a 10-foot-high ceiling," he says. "I've got 7-foot windows. I look out onto a garden." His studio apartment, he says, has more space than he knows what to do with. For someone who's spent chunks of his life not having a place to call his own, the three closets that Forrest's apartment boasts are a grand luxury.
---
"I love walking the grounds," Forrest says. "I get to walk on these grounds where other soldiers have actually served. It's humbling. I have a great reverence for this place."
The apartment and the grounds are only the beginning of Forrest's second chance. Along with housing, Mercy Magnuson Place offers its residents a support system which works to ensure they're thriving. For Forrest, that means being connected with organizations that can help him maintain his physical and mental health. Even more importantly, Forrest says, he has been volunteering at the Magnuson Park Community Food Pantry and is excited about giving back to a place that's helped him get his life back.
"I really wanted a place that I would feel part of a community — where I felt I wasn't alone. When I moved here, everybody — all of my neighbors, everybody that I meet — they're all just super nice to each other," Forrest says. "We help each other out. We open doors. We bring in each other's groceries. There's a huge sense of community here."
The belief that community can help individuals transform their lives is integral to Mercy Housing's mission. And it's one of the many reasons that Capital One got involved with the development of Mercy Magnuson Place.
"Magnuson Park is an ideal location for people seeking to enhance their lives – near jobs, transportation, schools, a community center, and dozens of nonprofit organizations based at the park," says Bill Rumpf, president of Mercy Housing Northwest. "We are grateful to our many partners who helped us to welcome all the new residents to Northeast Seattle. It was truly a neighborhood effort."
Before it was completed, Mercy Housing ran into a complication due to a potential tax code change that threatened the closing, so Dave Musial, a Capital Officer with the bank, stepped in to help.
"To the community, these buildings are more than just four walls and a roof. There are history and personal connections," Musial says. "I jumped at the opportunity to help Mercy Housing. Capital One stepped up and said, 'We'll help you make this development a reality.'"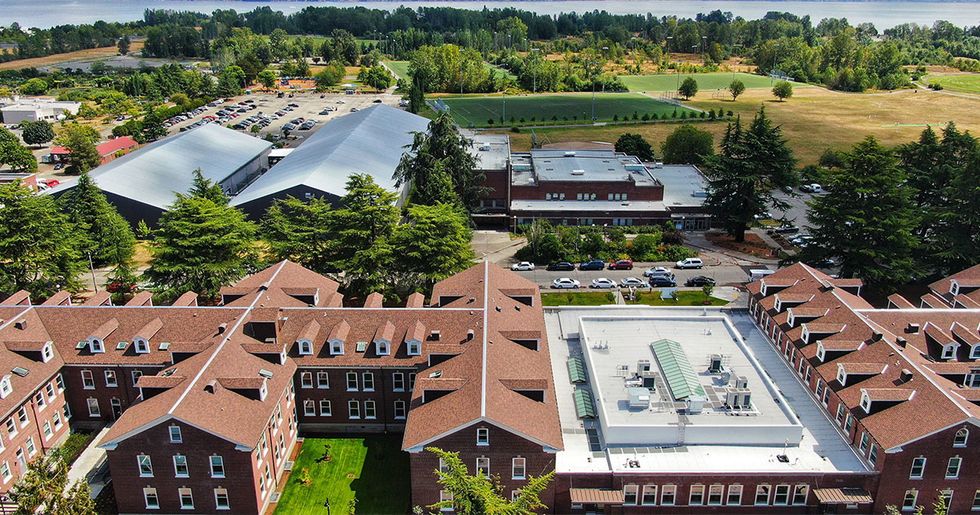 Pavel Verbovski
Capital One is committed to making an impact in the communities which it serves and Musial knew there was no greater way to do so in Seattle than assuring Mercy Magnuson Place opened its doors to offer affordable housing to those that needed it most.

The bank provided $13.5 million in construction period financing and $34,569,000 in tax credit equity for the building's development. With Capital One's financial support, the development moved forward to closing, into construction, and began welcoming residents soon thereafter.
As of today, the building's 148 units are complemented by a 15,000-square-foot childcare center that's open to the public. In a city where affordable childcare is difficult to come by, Mercy Magnuson Place isn't just filling a need for the city's parents — it's cementing its place as a community hub, breathing new life into a historical landmark that will now never be forgotten. In addition to the 15,000-square-foot childcare center, there is 1,500 square feet allocated for the provision of resident services and another 1,500 square feet for Neighborcare Health, a Seattle-based non-profit healthcare provider.
Forrest can't imagine life without Mercy Magnuson Place. "I've got a girlfriend now," he says, "I've got a car." Though Forrest has put a great deal of effort into transforming his circumstances, a lot of credit, he says, must be given to the support he's received at his new home. And for that, he says, he'll always remain forever grateful.
"One of the first weeks I was living here, I was going out to do my walk when I saw a guy with a hard hat on," Forrest says. "And I just walked up to him and I said, 'Hey, I don't know who you are, or what you really have to do with this — but, thank you.'"