Inclusivity
Body positivity advocate shares funny videos on why hotels should cater to plus-size people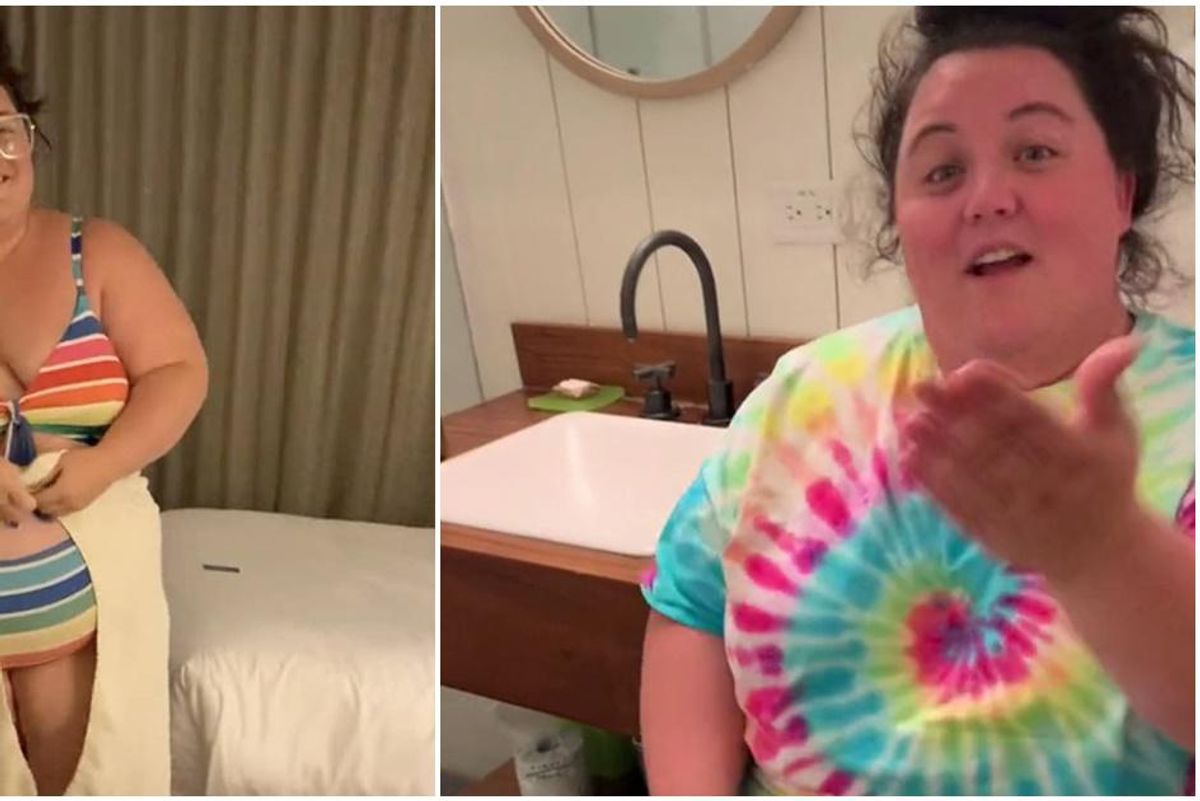 via itsmaryfran / TikTok
There are many struggles that larger people face that they don't talk about in public because it's difficult. That's why the world is blessed to have Mary Fran Donnelly and her TikTok page.

Donnelly, 27, is a school teacher and a body positivity advocate.
Donnelly has no problem talking about the issues that larger people face and bringing them to the world's attention. Donnelly has 492,000 subscribers on TikTok and over 5.2 million likes so she's really getting the word out there.
---
Her videos have tackled tough topics such as comments she gets from fatphobic men, mental health, and shopping in the plus-size section.
Donnelly has received the biggest response, by far, for her videos that show what life's like for plus-size travelers. They're an eye-opening look at the struggles people have trying to be comfortable in hotel rooms where the amenities are made for smaller people.
In a country where 42.4% of people are obese, why do hotel rooms cater to only half the population?
In her first video, she shows how difficult it is for her to be comfortable on a toilet because it's too small and wedges her between the sink and a wall. "As one might see, it looks normal. Would you like to take a pee or a poop?" she asks. "Don't worry, you'll barely fit."
Donnelly then shows how it's nearly impossible to wrap herself in a bathroom towel.
In her follow-up video, Donnelly reveals that whenever she has to get a pool towel at a hotel she's forced into a real Sophie's choice. "So you get to choose, is it gonna cover the front or the back?" she asks.

Donnelly also shows how it can be downright dangerous for her to sit on a balcony.
Donnelly told Buzzfeed that her videos help her cope with the stresses of being a larger person. "I cope through humor...I was making light of a situation that is a very real stress for fat, plus-size people...my sister and I could only laugh at how absurd it was."

She also admits that those stresses prevent her from traveling and probably make others think twice as well.
"I donʻt travel alone because I worry about strangers being upset about sitting next to me on a plane," she said. "[I also wonder,] will the seat be uncomfortable? Will the seat belt fit? Will the towel fit at the hotel? Will the chairs at the pool hold me? Will the tables at the hotel restaurant be comfortable?" she said.
Donnelly thinks it'd be a win-win for the hotel industry and people of size if rooms were designed with inclusivity in mind.
"I don't think [the challenges I pointed out] cross the minds of most," Donnelly said. "But I think that it's time that [they] do. Body shapes and image have become so relevant in recent years that there isn't any excuse as to why hotel and travel industries cannot begin to reevaluate their practices. Fat, plus-size people deserve to be seen as valid human beings in an industry that should cater to everyone's size and physical needs."