Culture
An anonymous group is leaving sweet, hand-written notes around Toronto to lift people's spirits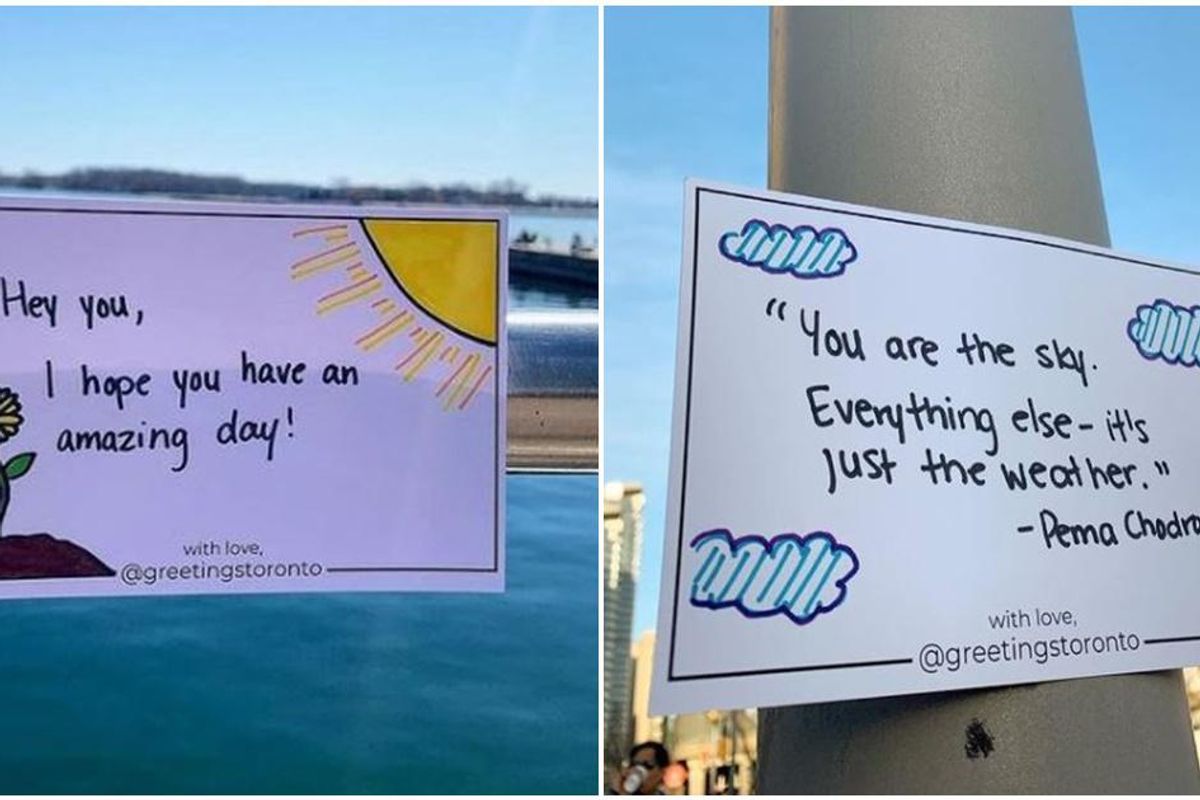 via Greetings Toronto / Instagram
After a year of living through a pandemic, everyone could use a little more positive energy to propel them towards the bright light at the end of the covid-19 tunnel. The good news is that folks in Toronto are having their spirits lifted after finding positive, hand-written signs placed around the city.

An anonymous group of friends known as Greetings Toronto has been placing notes in random places thought the city with sayings such as "Hey you, I hope you have an amazing day," "It's okay not to be okay," and "You are the universe experiencing itself."
The notes are being left in high-traffic areas such as Queen's Quay along Harbourfront and the University of Toronto campus. They appear in busy areas as well as quiet areas such as park benches and bus stops.
---
"The idea is that we want to spread love with anyone and everyone in the city. So whether you're on a busy road commuting to work or you're simply looking for some peace and quiet in a park, we hope that you'll come across our messages and feel uplifted either way," the anonymous founder told blogTO.

The idea came to its anonymous founder after she was inspired by a positive affirmation she saw posted on social media.
"I was going through a bit of a rough patch during the pandemic where my mental health took a decline and my days began feeling dull," she said.
"While scrolling through social media one day, I came across a post that spoke about the benefits that positive affirmations can have on your mindset," she continued. "I decided to give it a try, and as I began practicing saying kind and positive things to myself, I noticed instant changes in my overall mood."
So she asked two childhood friends to join the campaign and Greetings Toronto was born.
The notes have the campaign's Instagram handle written on them encouraging people who find them to tag Greetings Toronto in their posts.
The founder says a tourist from Brazil who was having a hard time found a note and it really made her day. "I hope that people's days are instantly brightened when they see our notes and hope that they may even feel inspired to pay such kindness forward, making the world a better place!" she said.

Running across a positive note is bound to put a smile on one's face, but the effects of positive affirmations can go much deeper than that. Research shows that positive affirmations — when practiced on a regular basis — are like a healthy form of brainwashing. The more you repeat self-affirming statements, the more your brain accepts them as part of your self-concept.
Research shows that repeating positive affirmations can decrease health-deteriorating stress, improve academic achievement, bolster feelings of self-worth, and help people respond more constructively to threats.
The founder hopes her campaign will help keep people's spirits up in the final stretch of a long, arduous journey.
"It is important that now, more than ever, we remind each other that better days are ahead and to keep the faith while we get through this," she said.