More
After a fire consumed this Mosque, a neighboring synagogue gave them a place to worship.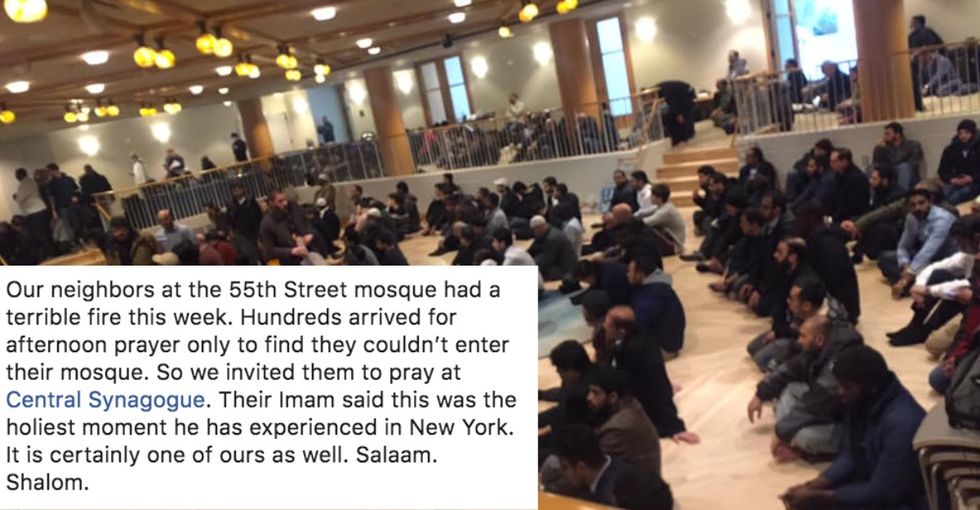 Last week, a devastating fire left  hundreds of Muslims without their religious sanctuary.
The fire destroyed part of the Islamic Society of Mid-Manhattan mosque, a place of worship that catered to a sizeable portion of practicing Muslims in New York City.
When the nearby  Central Synagogue heard about the incident, they sprung into action.
---
Rather than just offer thoughts and prayers, the synagogue warmly opened its doors to provide a safe place for their afternoon prayers.
Rabbi Angela Buchdahl caught a moment of prayer on camera and shared the image on her Facebook page along with a poignant message about embracing community in times of crises regardless of religious differences.
[facebook https://www.facebook.com/plugins/post.php?href=https%3A%2F%2Fwww.facebook.com%2FRabbiAngelaBuchdahl%2Fphotos%2Fa.913486232003160%2F2336683189683450%2F%3Ftype%3D3&width=500 expand=1]
"Our neighbors at the 55th Street mosque had a terrible fire this week. Hundreds arrived for afternoon prayer only to find they couldn't enter their mosque," she wrote alongside the photo. "So we invited them to pray at Central Synagogue. Their Imam said this was the holiest moment he has experienced in New York. It is certainly one of ours as well. Salaam. Shalom."
Turns out, the synagogue is no stranger to a loss of this nature.
On the synagogue's official Facebook page, they explained that they suffered a similar loss 20 years ago. "Today, more than five hundred worshipers came to our Lindenbaum Pavillion to pray together as a community in safety," they wrote. "As we approach Shabbat, we are thinking of our neighbors overcoming the difficult road ahead, but know they will rebuild."
According to the New York Post, per their rituals, worshippers left their shoes in the hallway, and quickly prepared a hand-washing station.
Daniel Mutlu, Central's senior cantor, told the Post that the experience bonded the two congregations in an important way.
"The most incredible part of the day, besides getting to experience their worship in our space — which was just a symbol of people coming together in a climate where there's so much perception of disharmony and not getting along — was when they were streaming out of the pavilion following their service, the gratitude and love coming out of each one of them was palpable," he said.
"They were just so grateful to have been welcomed into our space, and we felt the same, that we could be together in that moment. As the imam preached, we're all praying to the same source of life. We might do it a little differently. We might have a different background. But we're all really doing this for the same reasons."
In a video from the sermon posted to Youtube, the mosque's imam called it "the most blessed moment" of his life in New York.
"I feel very good for all of you," he said to the group. "You were able to be part of this historic moment in New York, to show your children and your grandchildren, to witness the love and the care of our neighbors who show us their love and solidarity."
"Light can come out of the darkness," he added.
It's a great reminder that, whatever your religious beliefs might be, reacting to unfortunate situations such as this with love, results in a win for everyone.