More
After a 24-year-absence, Adam Sandler returned to SNL and sang a touching tribute to Chris Farley.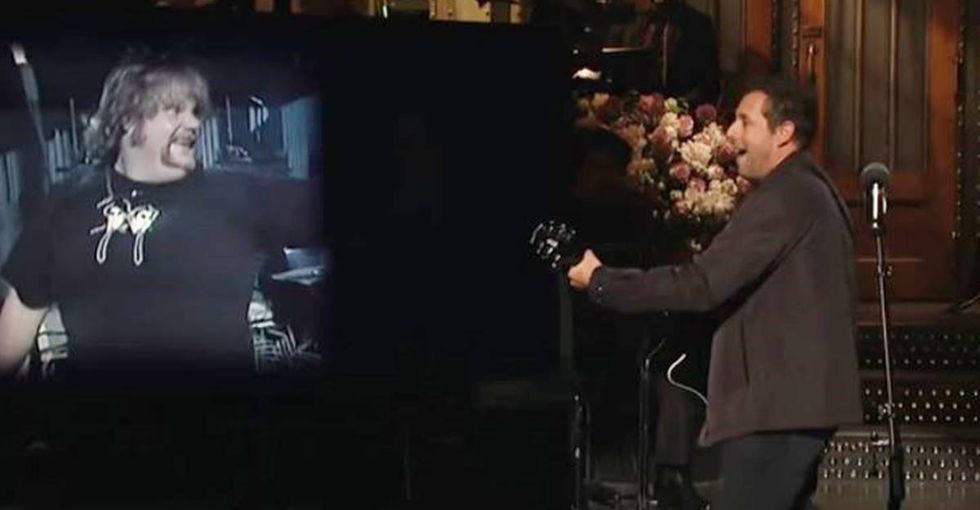 "Saturday Night Live" tied its season high for ratings on Saturday, May 4th with an episode that marked the return of comedian Adam Sandler.
The "Billy Madison" star was fired in 1995 after a five-year run on the show, and returned to host for the first time. During his monologue, he joked that after his firing his eventually won out when his films grossed a combined $4 billion.
Sandler's appearance came on this heels of his popular Netflix special, "100% Fresh," which marked the comedian's return to stand-up comedy.
---
In the "Romano Tours" sketch, Sandler played an American tour guide who fights back against negative reviews of his Italian tours. "If you're sad now, you might still feel sad there, okay?" Sandler said in a perfect deadpan. "You are still gonna be you on vacation."
He also reprised his role of "Opera Man" on "Weekend Update."
But the night will be forever remembered for a moving tribute he paid to his former SNL co-star and friend, Chris Farley. Farley died of a drug overdose in 1997 at 33 years old.
Towards the end of the show, Sandler strapped on his acoustic guitar and sang a tribute he originally performed on his Netflix special.
The song referenced some of Farley's most memorable SNL sketches, including Matt Foley who "lived in a van down by the river." It also recounted Farley's life-of-the-party antics and substance abuse issues.
"Chris Farley Song"
The first time I saw him he was sweeter than honey
Plaid jacket and belt too tight
He wasn't even being funny
Then he cartwheeled around the room
And slow danced with the cleaning lady
He was a one man party
You know I'm talking about
I'm talking about my friend Chris Farley
On a Saturday night my man would always deliver
Whether he was the bumblebee girl
Or living in a van down by the river
He loved the Bears and he could dance
That Chippendales with Swayze
When they replaced his coffee with Folgers
He went full on crazy
The sexiest gap girl
Without him there'd be no lunch lady
In lunch lady land
Oh, I'm thinking about
I'm thinking about my boy
Chris Farley
After a show he'd drink a quarter Jack Daniels
And stick the bottle up his ass
But, hangover as hell
That Catholic boy would still show up to morning mass
We tell him "Slow down, you'll end up like Belushi and Candy"
He said 'Those guys are my heroes, that's all fine and dandy"
I ain't making that stuff up
That's the truth about my friend
Chris Farley
I saw him in the office crying with his headphones on
Listening to a KC And The Sunshine Band song
I said "Buddy, how the hell is that making you so sad"
Then he laughed and said "Just thinking about my dad"
The last big hang we had was at Timmy Meadows wedding party
We laughed all night long, all because of Farley
But a few months later the party came to an end
We flew out to Madison to bury our friend
Nothing was harder than saying goodbye
Except watching Chris' father have his turn to cry
Hey buddy, life's moved on but you still bring us so much joy
Make my kids laugh with your Youtube clips or "Tommy Boy"
And when they ask me who's the funniest guy I ever knew
I tell hands down without a doubt it's you
Yeah, I miss hanging out watching you trying to get laid
But most of all I miss watching you torture Spade
You 're a legend like you wanted
But I wish you were still here with me
And we would get on to shoot "Grown Ups 3"
Yeah, life ain't the same without you boy
And that's why I'm singing about
I'm singing about my boy Chris Farley
And if you make enough noise
Maybe he'll hear us
Give it up for the great
Chris Farley