Joy
Man attempts to rescue stray kitten and quickly discovers he got more than he bargained for
Here kitty, kitty! Oh wait, there are 12 more of you?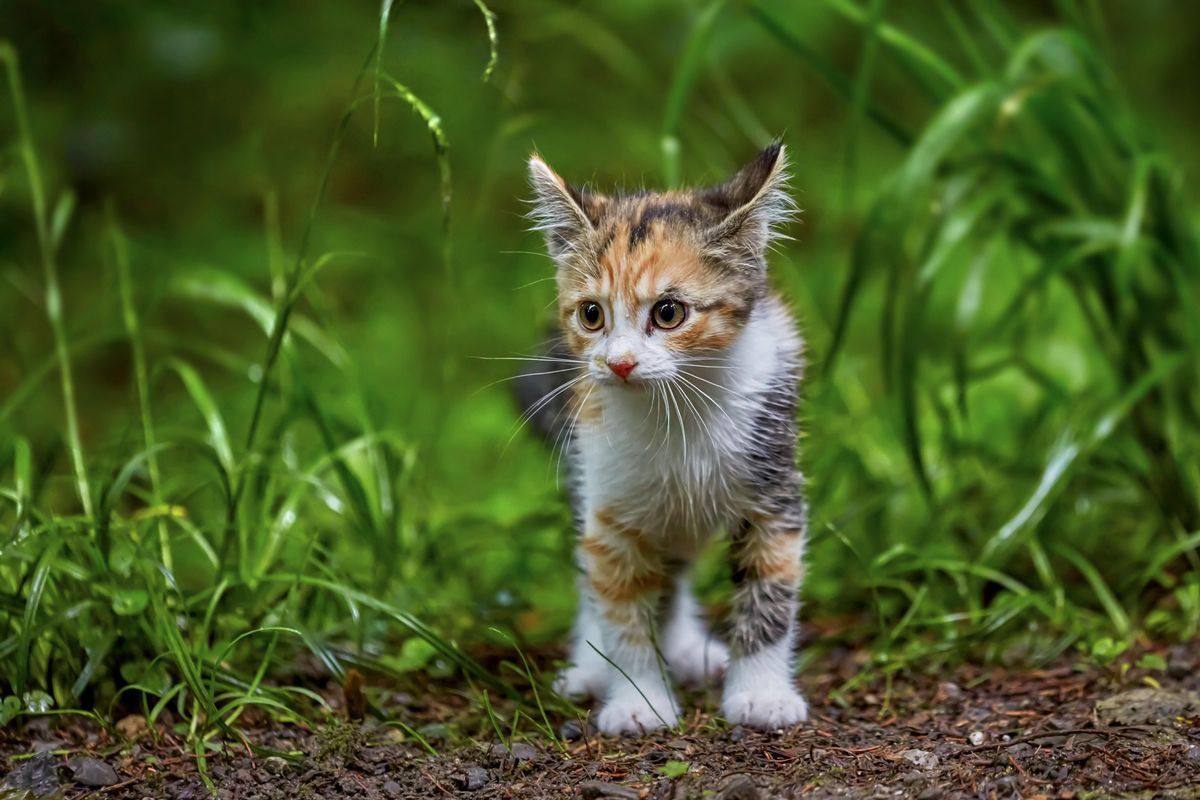 Who can resist a sweet little kitten trying to cross the road? Even if you're not a fan of cats, you'd likely stop for a baby animal in the street. That's what happened to Robert Brantley of Louisiana. Brantley was on his way to work and spotted a tiny white and gray kitten trying to get across the street. Being a kind human, he stopped his car to bring the kitten to safety. But he got more than he bargained for, because as he was scooping up the little thing, several more kitty cat siblings came running out of the nearby grass.
---
In all, Brantley counted 13 kittens. Twelve more than he planned on caring for, but by the looks of his Instagram page, his family has taken their role of cat rescuers seriously. With kitten season being in full effect in these warmer months and pet surrenders remaining high since the return to work from the pandemic, Brantley taking on fostering 13 kittens is much needed. Humane societies across the country are reportedly full or even over capacity. My own local humane society currently has nearly 150 animals over its limit and is begging for foster families and adopters to help clear the shelter.
It's not only humane societies that have reached or exceeded capacity. Animal rescues across the board are in dire need of people to take animals to make room for the inevitable drop off of puppies and kittens from the current litter season. Mating season, which subsequently turns into puppy and kitten season, starts in early spring and lasts throughout the summer. This inundates local shelters and rescues.
Some shelters, like my local humane society, are asking people who find litters of puppies or kittens to do exactly what Brantley is doing. Foster them and attempt to adopt them out on their own. It looks like Brantley's wife decided to get these now cleaned up kitties in their Sunday best to have a photoshoot in her makeshift studio. One kitten sported a bow tie while the others climbed around the enclosure patiently awaiting their turn. It also seems Brantley himself is having fun with the situation—in one video he talks about what he packs to go on a marksmanship match and includes 13 kittens along with his tripod and toolkit.
In one of Brantley's most recent updates, he says that two of the kittens, Michael Scott and Nala, have been adopted by a family in Alexandria, Louisiana. In the same update he informs his followers that one of the kittens still left to be adopted is currently on daily medication and the family is keeping up with check-ups for the rest of the furry crew.
Here's hoping that all of these little guys get adopted out soon. And may more people take Brantley's lead to foster the kittens or puppies they find if they have the means. This can also serve as a reminder to spay and neuter your pets and any strays you may be caring for outside of your home.