Health
Women are shocking their boyfriends by showing them how tampons actually work
The viral videos are a great way to educate men on a sensitive topic.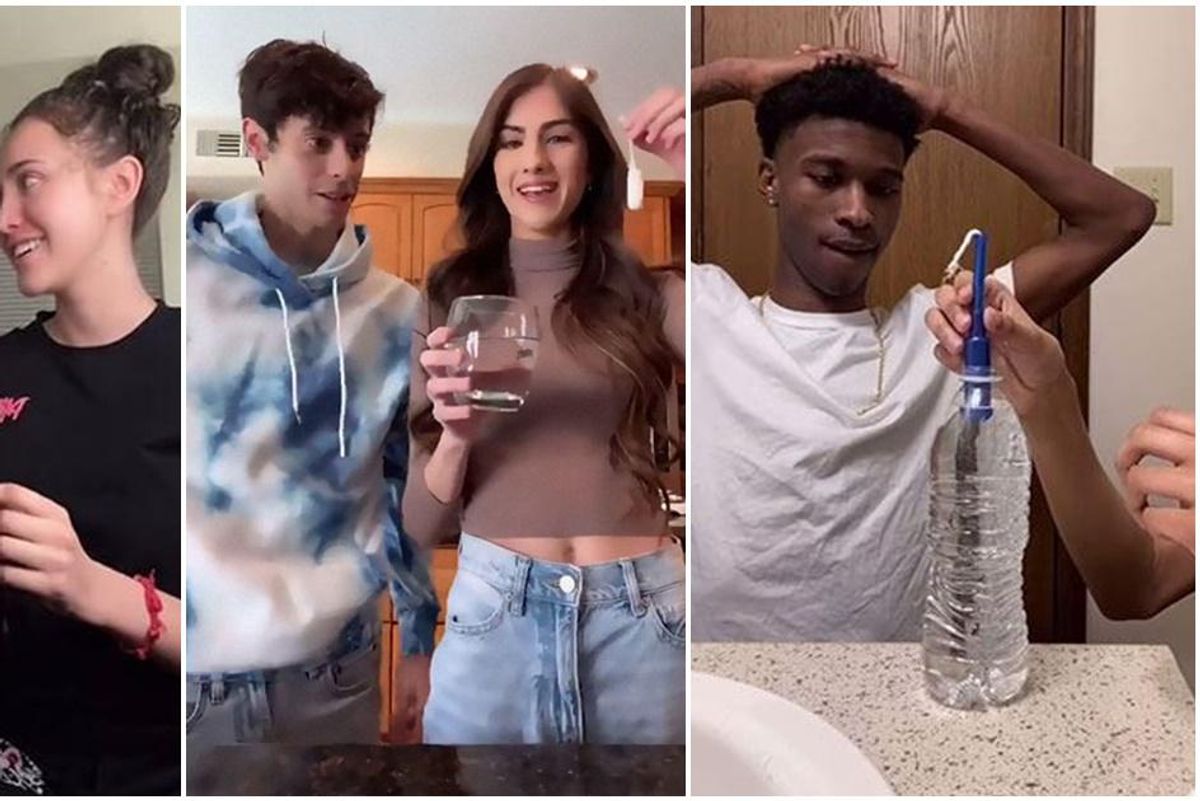 via TikTok
Menstrual taboos are as old as time and found across cultures. They've been used to separate women from men physically — menstrual huts are still a thing — and socially, by creating the perception that a natural bodily function is a sign of weakness.

Even in today's world women are deemed unfit for positions of power because some men actually believe they won't be able to handle stressful situations while mensurating.
"Menstruation is an opening for attack: a mark of shame, a sign of weakness, an argument to keep women out of positions of power,' Colin Schultz writes in Popular Science.
---
The big problem with menstrual taboos is the way that males are educated on the subject leaves them with a patchwork of ideas that don't necessarily add up to the whole picture. First, there's the information they get from growing up with women in the house.
Then, there are the cryptic descriptions of menstruation seen in advertising and the cold, scientific way the topic is taught in sex education.
"Boys' early learning about menstruation is haphazard," a 2011 study published in the Journal of Family Issues reads. "The mysterious nature of what happens to girls contributes to a gap in boys' knowledge about female bodies and to some negative views about girls."
Unfortunately, the gaps in the average man's understanding of a complex female health issue can put women in a difficult position. Whether it's denying them positions of power or a failure to understand their discomfort.
That's why it's so important for men to become better educated about menstruation.
A group of women on TikTok are helping the men in their lives better understand the subject by showing them how tampons work on the inside of their bodies by dousing them in water. They call it the Boyfriend Challenge. Some of the guys' reactions are clearly over-the-top, but it's also obvious that many of them have no idea how tampons function.
A video by the Demery family has gone viral attracting nearly eight million views. It's fun to watch, but it also shows men how tampons function and what women go through during their monthly cycle.
This guy was amazed by the absorbancy.
Let's hope this challenge gave some men out there a better understanding of what women go through every month and a little more sympathy for the women in their lives.
Hopefully it also makes them feel a little more comfortable around period products and inspires them to pick up the correct box of tampons next time they're at the grocery store.
This article originally appeared on 01.27.21