True
This year more than ever, many families are anticipating an empty dinner table. Shawn Kaplan lived this experience when his father passed away, leaving his mother who struggled to provide food for her two children. Shawn is now a dedicated volunteer and donor with Second Harvest Food Bank in Middle Tennessee and encourages everyone to give back this holiday season with Amazon.
Watch the full story:
Over one million people in Tennessee are at risk of hunger every day. And since the outbreak of COVID-19, Second Harvest has seen a 50% increase in need for their services. That's why Amazon is Delivering Smiles and giving back this holiday season by fulfilling hundreds of AmazonSmile Charity Lists, donating essential pantry and food items to help organizations like Second Harvest to feed those hit the hardest this year.

Visit AmazonSmile Charity Lists to donate directly to a local food bank or charity in your community, or simply shop smile.amazon.com and Amazon will donate a portion of the purchase price of eligible products to your selected charity.

From Your Site Articles
Related Articles Around the Web
Courtesy of Macy's
True
"Would you like to build a snowman?" If you asked five-year-old Brantley from Texas this question, the answer would be a resounding "Yes!" While it may sound like a simple dream, since Texas doesn't usually see much snow, it seemed like a lofty one for him, even more so because Brantley has a congenital heart disease.
On Dec. 11, 2019, however, the real Macy's Santa and his two elves teamed up with Make-A-Wish to surprise Brantley and his family on his way to Colorado where there was plenty of snow for him to build his very own snowman, fulfilling his wish as part of the Macy's Believe campaign. After a joy-filled plane ride where every passenger got gift bags from Macy's, the family arrived in Breckenridge, Colorado where Santa and his elves helped Brantley build a snowman.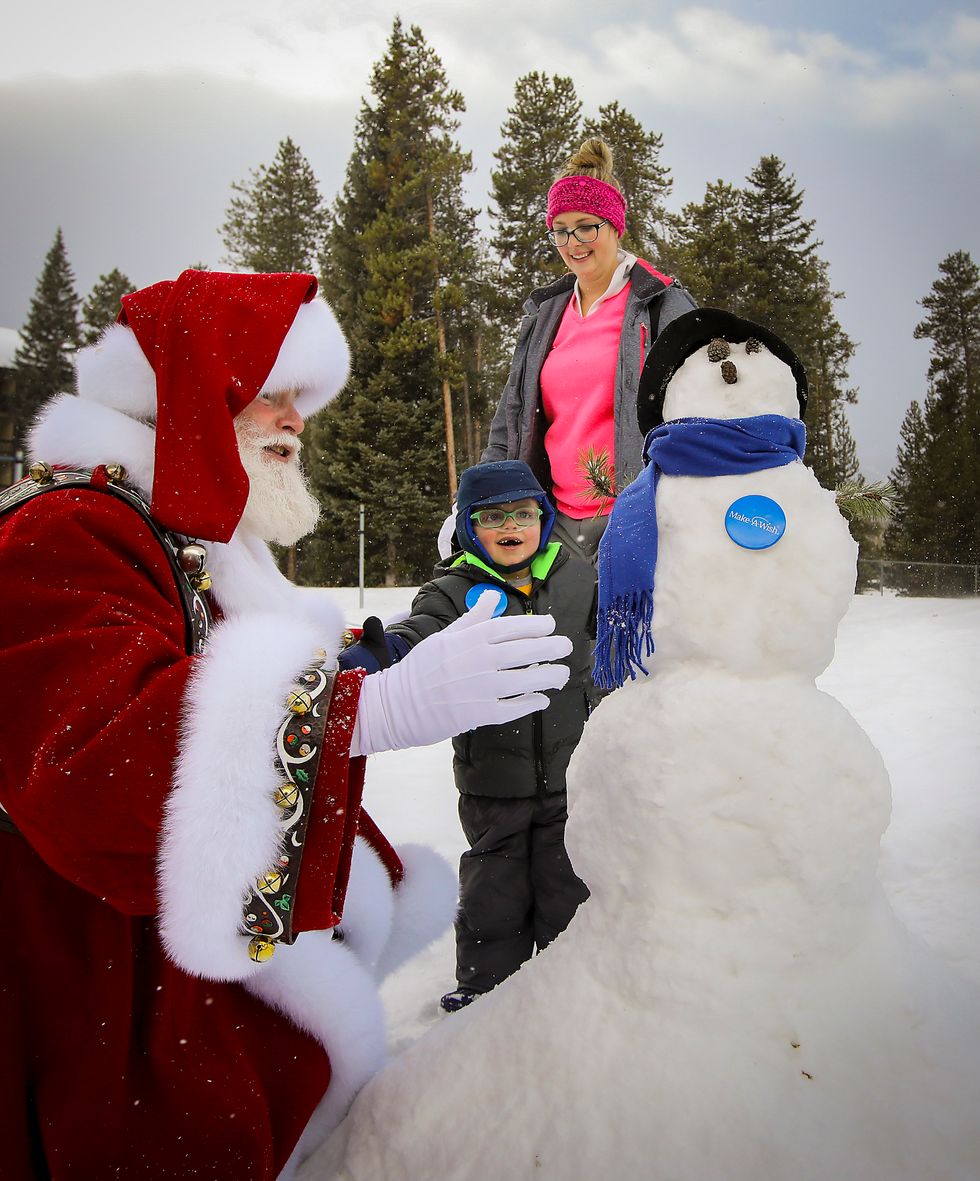 Brantley, Brantley's mom, and Santa marveling at their snowmanAll photos courtesy of Macy's
Brantley, who according to his mom had never actually seen snow, was blown away by the experience.

"Well, I had to build a snowman because snowmen are my favorite," Brantley said in an interview with Summit Daily. "All of it was my favorite part."
This is just one example of the more than 330,000 wishes the nonprofit Make-A-Wish have fulfilled to bring joy to children fighting critical illnesses since its founding 40 years ago. Even though many of the children that Make-A-Wish grants wishes for manage or overcome their illnesses, they often face months, if not years of doctor's visits, hospital stays and uncomfortable treatments. The nonprofit helps these children and their families replace fear with confidence, sadness with joy and anxiety with hope.
It's hardly an outlandish notion — research shows that a wish come true can help increase these children's resiliency and improve their quality of life. Brantley is a prime example.
"This couldn't have come at a better time because we see all the hardships that we went through last year," Brantley's mom Brandi told Summit Daily.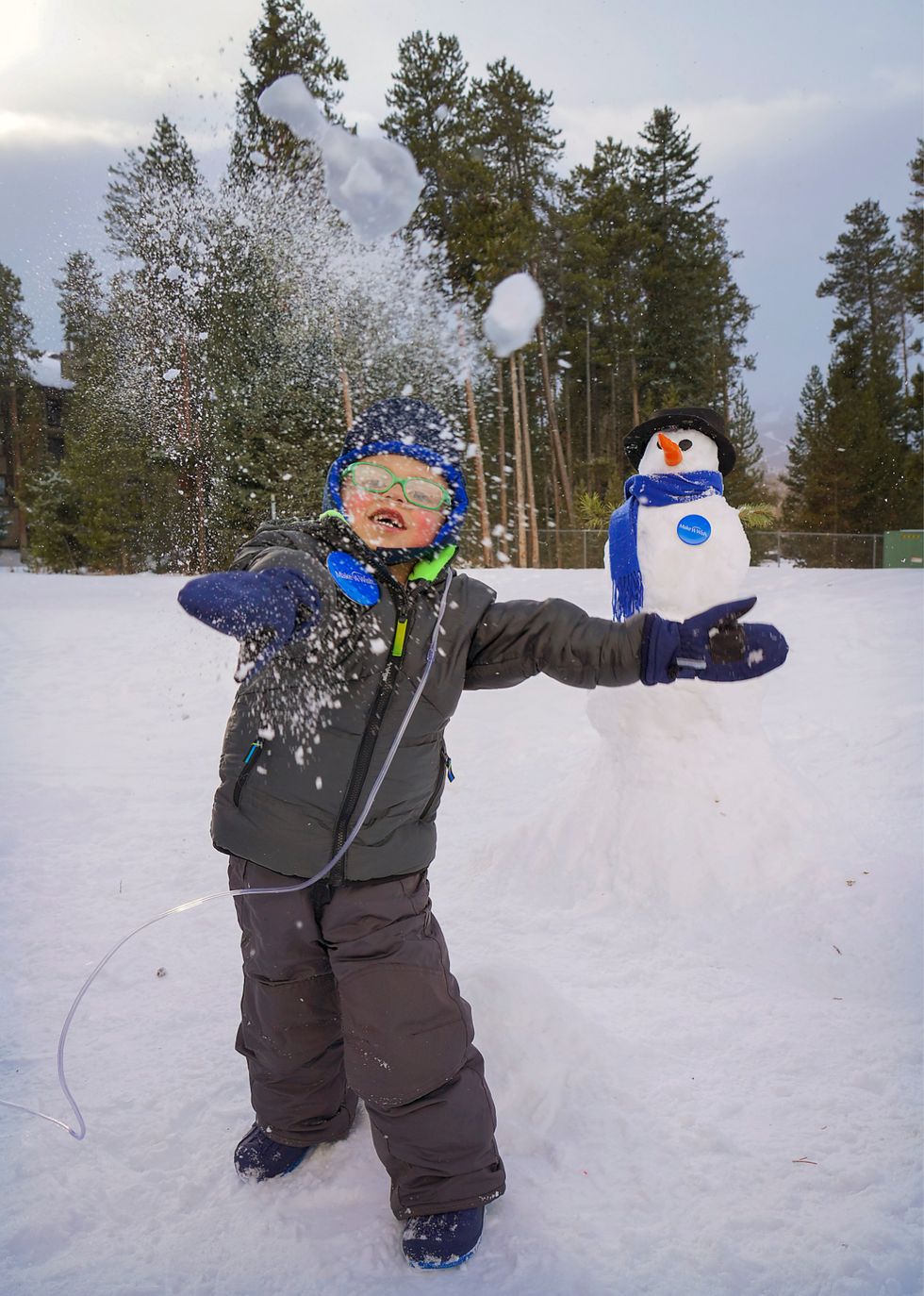 Brantley playing with snowballs
Now more than ever, kids with critical illnesses need hope. Since they're particularly vulnerable to disease, they and their families have had to isolate even more during the pandemic and avoid the people they love most and many of the activities that recharge them. That's why Make-A-Wish is doing everything it can to fulfill wishes in spite of the unprecedented obstacles.

That's where you come in. Macy's has raised over $132 million for Make-A-Wish, and helped grant more than 15,500 wishes since their partnership began in 2003, but they couldn't have done that without the support of everyday people. The crux of that support comes from Macy's Believe Campaign — the longstanding holiday fundraising effort where for every letter to Santa that's written online at Macys.com or dropped off safely at the red Believe mailbox at their stores, Macy's will donate $1 to Make-A-Wish, up to $1 million. New this year, National Believe Day will be expanded to National Believe Week and will provide customers the opportunity to double their donations ($2 per letter, up to an additional $1 million) for a full week from Sunday, Nov. 29 through Saturday, Dec. 5.
There are more ways to support Make-A-Wish besides letter-writing too. If you purchase a $4 Believe bracelet, $2 of each bracelet will be donated to Make-A-Wish through Dec. 31. And for families who are all about the holiday PJs, on Giving Tuesday (Dec. 1), 20 percent of the purchase price of select family pajamas will benefit Make-A-Wish.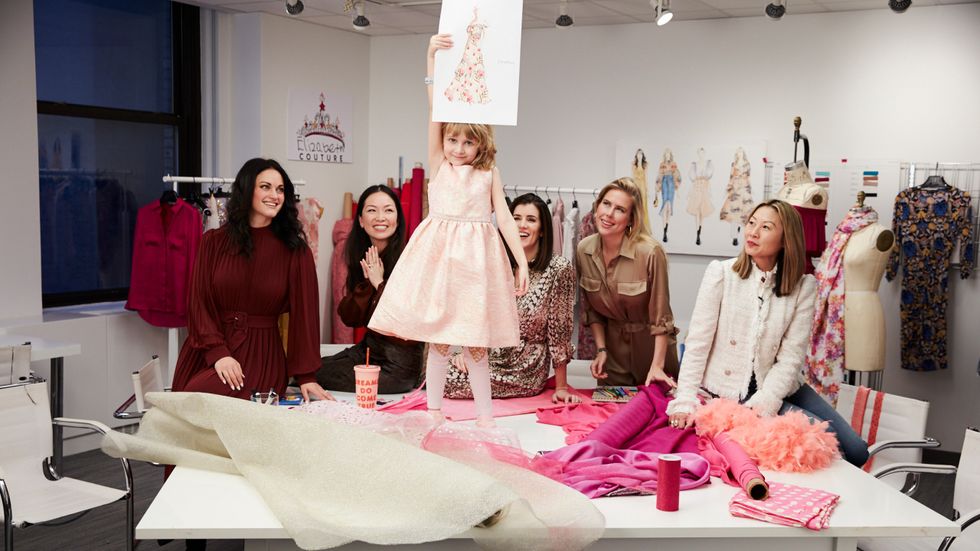 Elizabeth living out her wish of being a fashion designer
Additionally, this year's campaign features 6-year-old Elizabeth, a Make-A-Wish child diagnosed with leukemia, whose wish to design a dress recently came true. Thanks to the style experts at Macy's Fashion Office and I.N.C. International Concepts, only at Macy's, Elizabeth had the opportunity to design a colorful floral maxi dress. Elizabeth's exclusive design is now available online at Macys.com and in select Macy's stores. In the spirit of giving back this holiday season, 20 percent of the purchase price of Elizabeth's dress (through Dec. 31) will benefit Make-A-Wish.You can also donate directly to Make-A-Wish via Macy's website.

This holiday season may be a tough one this year, but you can bring joy to children fighting critical illnesses by delivering hope for their wishes to come true.
From Your Site Articles
Related Articles Around the Web

Blackface has a long and shameful history in this country. We think—we hope—after numerous call-outs and emotional explanations, Americans get the message: blackface is not okay. But that isn't the case, as many were re-made painfully aware, when Dr. Regina N. Bradley, a professor and critically acclaimed writer, shared the shocking auditory version of her new essay, "Da Art of Speculatin'", on Twitter.

Due to outrageous oversight, Fireside—a progressively minded short-story magazine who claim, in their About page, to resist "the global rise of fascism and far-right populism"—hired a young, white male voice actor to read and record Bradley's essay—an essay that identifies its writer, in its very first line, as a "southern Black woman who stands in the long shadow of the Civil Rights Movement."
According to the Washington Post, Rineer spoke in an accent that listeners interpreted as something that would appear in minstrel show, an American form of entertainment developed in the early 19th century, in which white people lampooned Black people, often portraying them as dim-witted and buffoonish, with stock characters including the dandy, the slave, and the 'mammy.' It's incredibly, incredibly offensive. So it's no wonder that, upon hearing the clip, a horrified Bradley fired off an outraged tweet, asking Fireside and Rineer if they honestly thought this is what she sounded like.
WHAT THE HELL IS THIS?!?! @FiresideFiction @KevinRineerVO This is what you think I'd sound like? What BLACK WOMEN A… https://t.co/h5WeYmFgyW

— Regina N. Bradley, Ph.D. (@Regina N. Bradley, Ph.D.)1606227938.0
How could something so offensive have been approved, one wonders, especially in a year defined by reckoning with racial injustice? For the answer, look to Pablo Defendini, the publisher and editor for Fireside, who claimed, "nothing insidious in his decision… he just didn't listen to the recording before posting it."

"The blame for this rests squarely with me, as the person who hires out and manages the audio production process at Fireside," Defendini said in a statement. "In the interest of remaining a lean operation, I've been hiring one narrator to record the audio for a whole issue's worth of Fireside Quarterly, and I don't normally break out specific stories or essays for narrating by particular individuals."
"My personal neglect allowed racist violence to be perpetrated on a Black author, which makes me not just complicit in anti-Black racism, but racist as well."
As for Rineer, he regrets not breaking a contract rule and contacting Bradley directly about her work. His gut instinct told him not to proceed—that he was the wrong person for the job. Still, upon expressing his doubts to Fireside, he was ignored, and so proceeded with the recording—he'd already signed the contract.
"I made the mistake of reading Dr. Bradley's work and assuming an accent that was not representative of her voice," he said. "I had tried to find a different narrator who would be a suitable representative in my network and via public forums, to no avail, in the week-long time frame I had."
As for Bradley, Defendini's apology isn't cutting it. "Not listening" isn't an excuse—it's deepening the wound. Black Women have been "not listened" to since the dawn of this nation's founding.
"I am angry," she wrote. "Seething from centuries of silenced Black women angry."
Get stories worth sharing delivered to your inbox
Get stories worth sharing delivered to your inbox