Science
The winners of the Underwater Photographer of the Year contest were announced and they are incredible
From rare river dolphins to abandoned aircrafts, there's an entire world to explore just below the water's surface.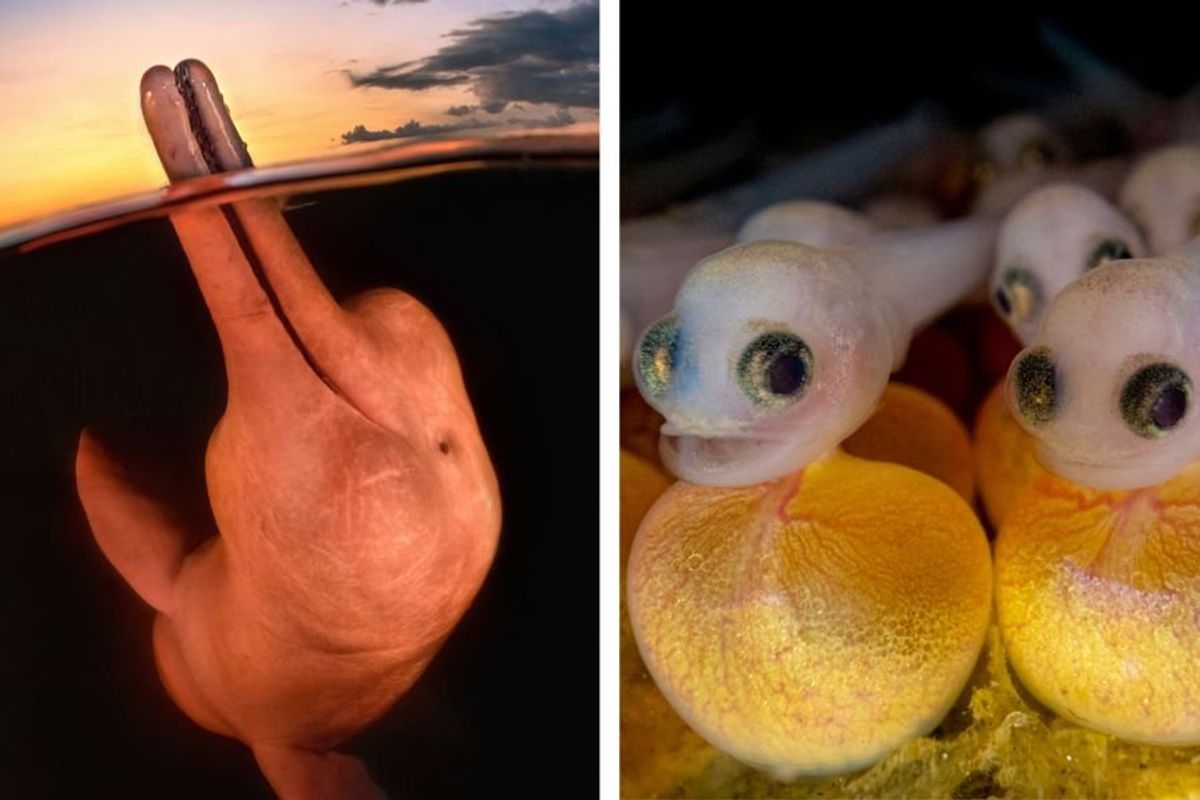 Kat Zhou/UPY 2023 (USA), Shane Gross/UPY 2023 (Canada)
Space might be considered the final frontier, but right here on planet Earth, entire universes remain unexplored beneath the water's surface.
Every year, the prestigious Underwater Photographer of the Year contest highlights stunning images from all over the world that offer a small glimpse into this mysterious world, reminding us of its breathtaking beauty, fascinating wildlife and—perhaps most important of all—the need to respect and care for its resources.
American photographer Kat Zhou won the title for 2023. (Technically, she also won Up & Coming Photographer of the Year—way to go, Zhou.) Her image of a rare Amazon river dolphin, captured at the perfect moment of smiling while poking its nose out from under the water, rose to the top in a sea of 6,000 entries. Due to river contamination and being killed or injured by fishermen, the species is listed as vulnerable in certain areas by the World Wildlife Organization, making this apparently happy interaction all the more impactful.
As judge Alex Mustard wrote, "In dark, tannic waters, Kat has created a striking composition capturing this rarely photographed and vulnerable species at the perfect moment…By far the best image we've ever seen of this species."
Zhou also explained the river dolphin's folklore in her entry.

---
Underwater Photographer of the Year 2023 Winner: "Boto Encantado" by Kat Zhou (USA)

Brazilian Amazon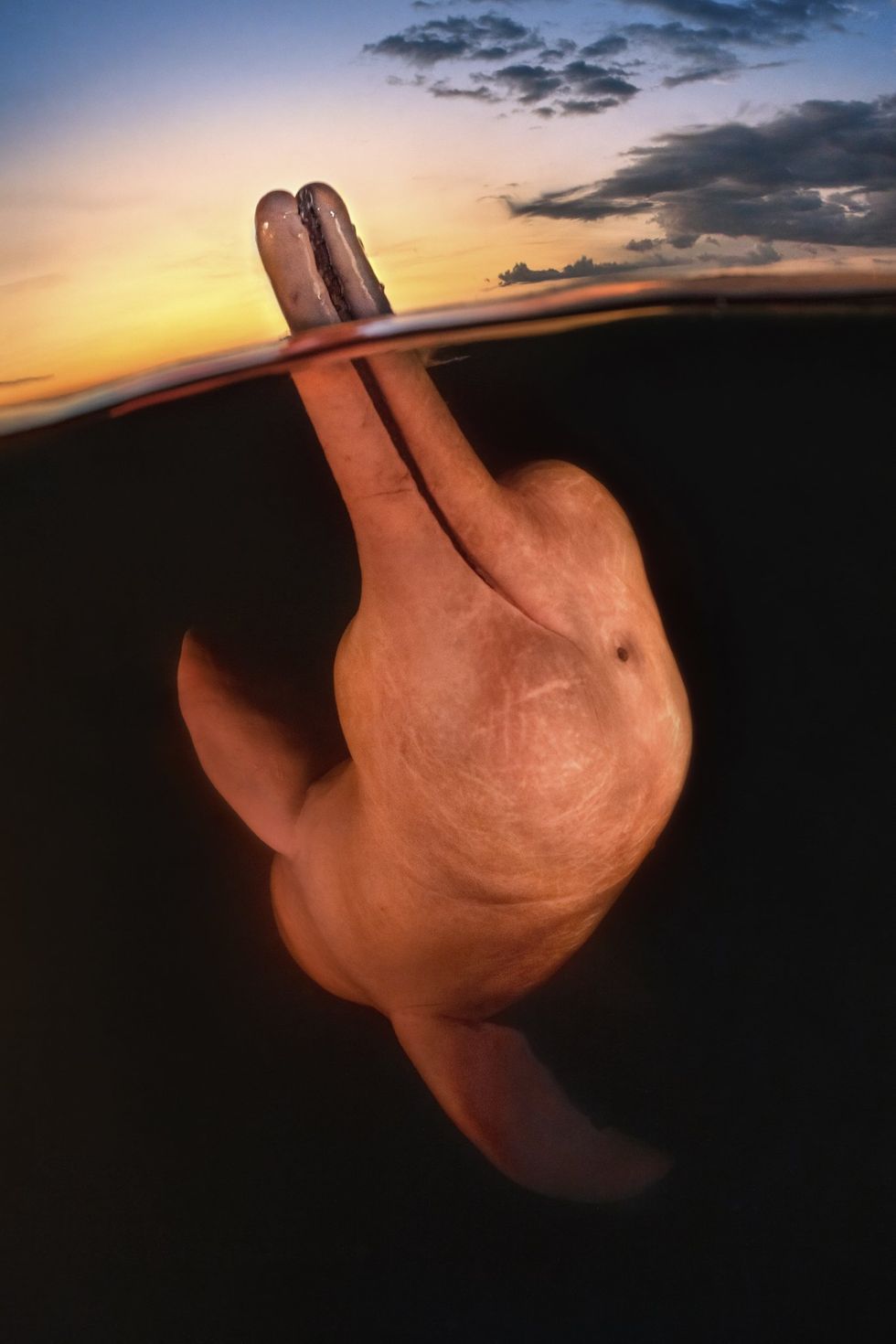 "Boto Encantado" by Kat Zhou
Kat Zhou/UPY 2023 (USA)
"There's a legend among locals in the Amazon that river dolphins, or 'botos,' can transform into handsome men known as 'boto encantado' at night to seduce women. Though I did not witness this elusive boto transformation, at dusk I was enchanted by these beautiful mammals in a different way. After seeing how botos would sometimes bring their beaks above water, I knew I want a split shot at sunset. Though the water was so dark that I was shooting blind, this dolphin gave me a perfect pose and smile!
As indigenous communities settled by rivers in the Amazon, river dolphins began living in closer proximity to human populations, even making use of food scraps. Frequent dolphin sightings led to tales like boto encantado, but there's a darker side to the legend, as it was often used to excuse pregnancies after women were assaulted or forced into prostitution. While botos are generally revered as mythical creatures, many scorned husbands have killed dolphins because of these stories. Furthermore, many river dolphins have also been killed for use as fish bait. Though there have been bans on this practice, it has not been eradicated. With this, alongside even bigger impacts like mercury poisoning due to the gold mining industry and large development projects that have disrupted the river ecosystems, I fear that one day botos will truly become no more than mythical creatures." – Kat Zhou
Take a look below at the winners from other categories:
Wide Angle Winner: "Fade" by J. Gregory Sherman (USA)
Stingray City, Cayman Islands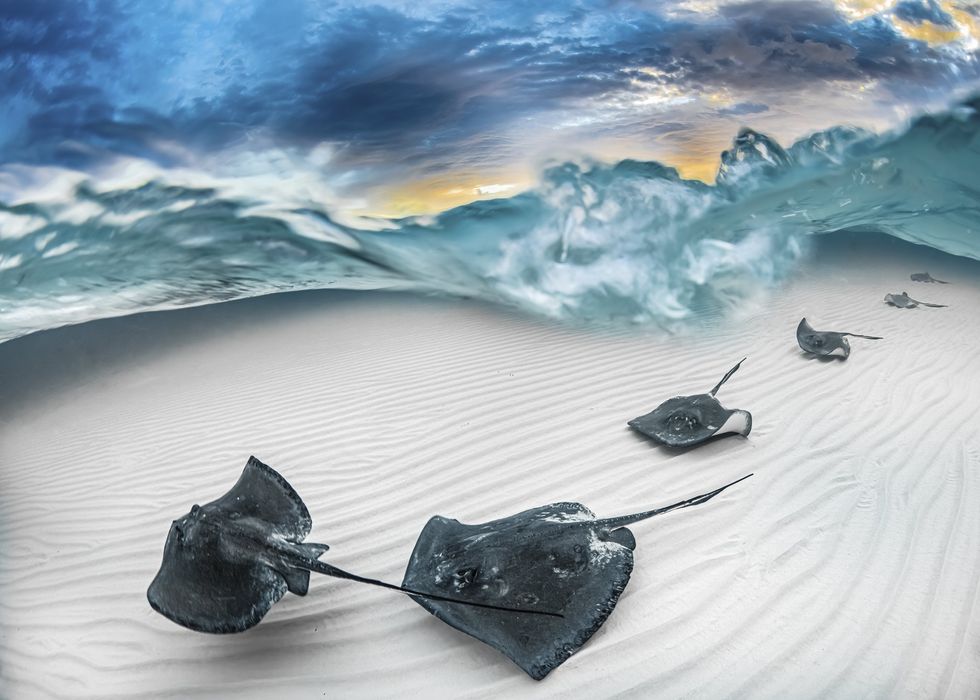 "Fade" by J. Gregory Sherman
J. Gregory Sherman/UPY 2023 (USA)
"My dive partner and I chartered a boat to arrive at Stingray City on Grand Cayman before dawn so as to capture the morning light and undisturbed sand ripples. Just as the sun broke the horizon, a line of southern stingrays headed straight for me and I captured this image as they glided across the sand. Using a large dome port allowed me to create a split image showing the intensely colorful dawn sky contrasted against the nearly monochromatic stingrays and sand beneath the surface chop." – Gregory Sherman
Wrecks Winner: "Engine with a Saddle" by Brett Eldridge (USA)
Point Loma, California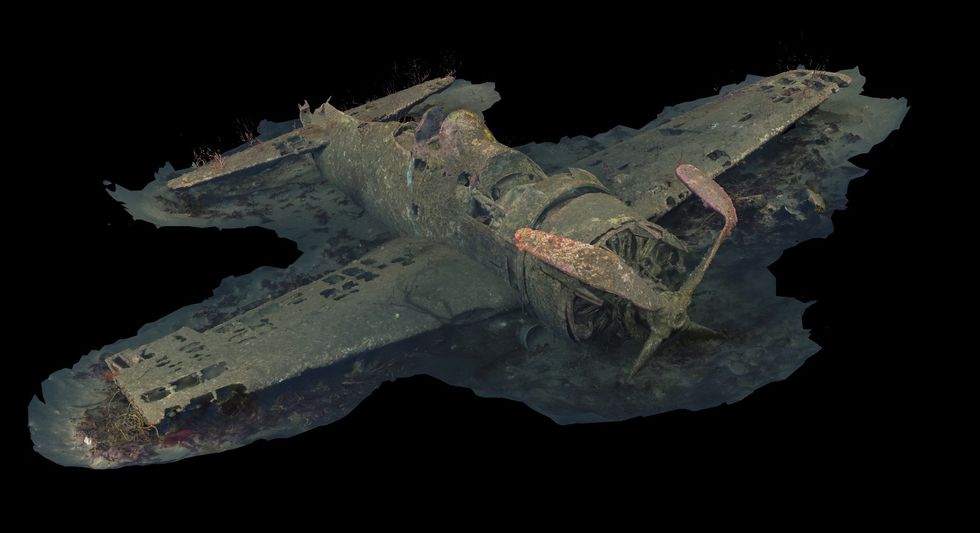 "Engine with a Saddle" by Brett Eldridge
Brett Eldridge/UPY 2023 (United States)
"We were out scanning targets in June when we saw a very small, but promising sonar blip 230 feet deep. I geared up and jumped in hoping for something special. After some searching, my heart started racing when I first saw fish then the propeller of an almost completely intact, single-engine WW II airplane! It turned out to be a F8F-1 Bearcat, a rare aircraft that Neil Armstrong famously once said was his favorite and has been described as 'An Engine With a Saddle.' Alone on the first dive with limited bottom time, I took enough photos to build a 'draft' model and identify the wreck. Needing a better photogrammetry model for the UPY contest and with deadlines quickly approaching, I booked December 19th and crossed my fingers. We fortunately had epic conditions and I got the photos I needed. It was my last dive of 2022." – Brett Eldridge
Behavior Winner: "Make Love Not War" by Yury Ivanov (Indonesia)
Tulamben, Bali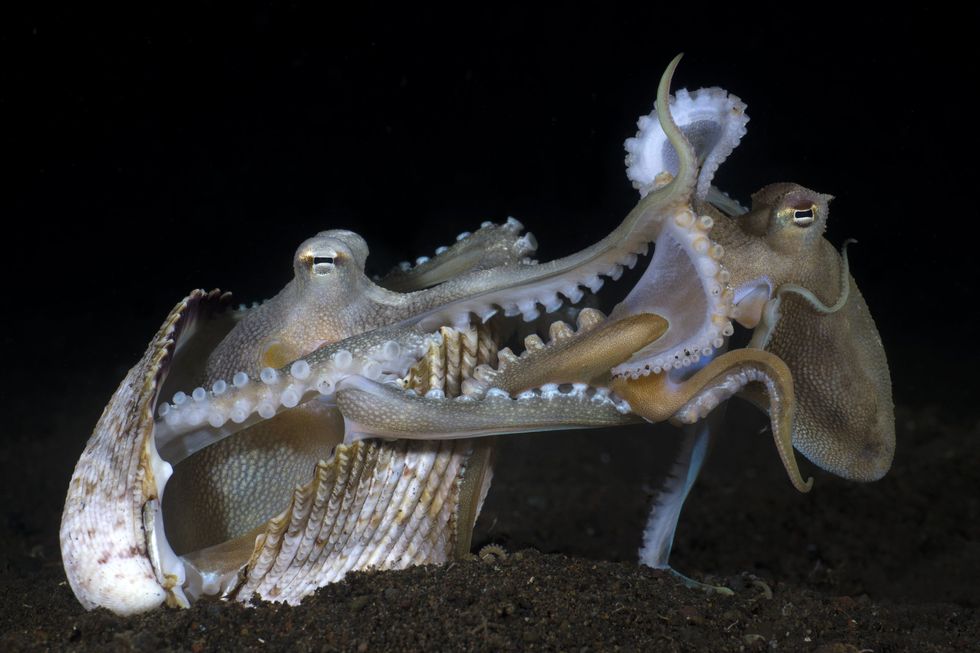 "Make Love Not War" by Yury Ivanov
Yury Ivanov/UPY 2023 (Indonesia)
"A couple of coconut octopuses 'making love' (mating). I knew that I can find this species of Octopus at one of dive sites near Tulamben village (Bali, Indonesia) and they are active only at night time in that place. I dive there only after 7pm hoping to photograph something unique – their mating. I've done more than 30 night dives at the dive site and finally I got lucky. The photo shows the end of their love." – Yury Ivanov
Portrait Winner: "The Trunk" by Suliman Alatiqi (Kuwait)
Phuket, Thailand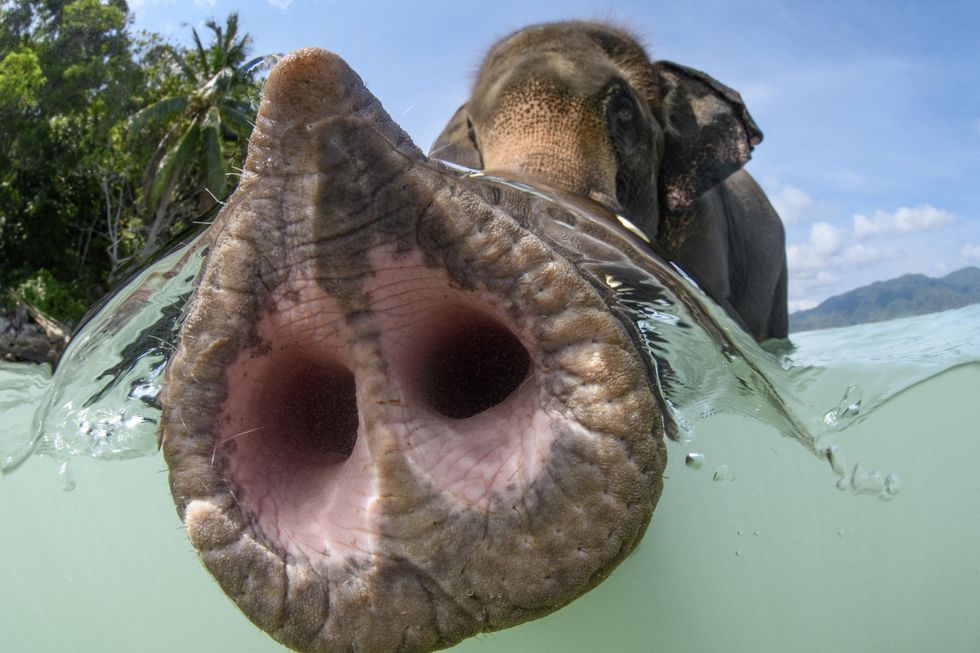 "The Trunk" by Suliman Alatiqi
Suliman Alatiqi/UPY 2023 (Kuwait)
"The elephant's trunk is one of the most distinctive anatomical features in the natural world and this photo aims to emphasize it. Luckily, he was curious about my camera and was happy to feel it out which gave me the opportunity to capture this perspective despite otherwise bad conditions for an over-under photo (choppy water and poor visibility). In my first attempts, the nostrils were not fully lit because of how close they were to the lens (which was necessary for the intended photographic effect). So I returned at a specific time window when I thought the sun's angle would be optimal and managed to fully light the nostrils. This added a lot more detail to the key part of the image without which the photo would not be as effective." – Suliman Alatiqi
Save Our Seas Foundation Marine Conservation Photographer of the Year 2023 Winner: "Hopeless" by Alvaro Herrero (Spain)

Baja California, Mexico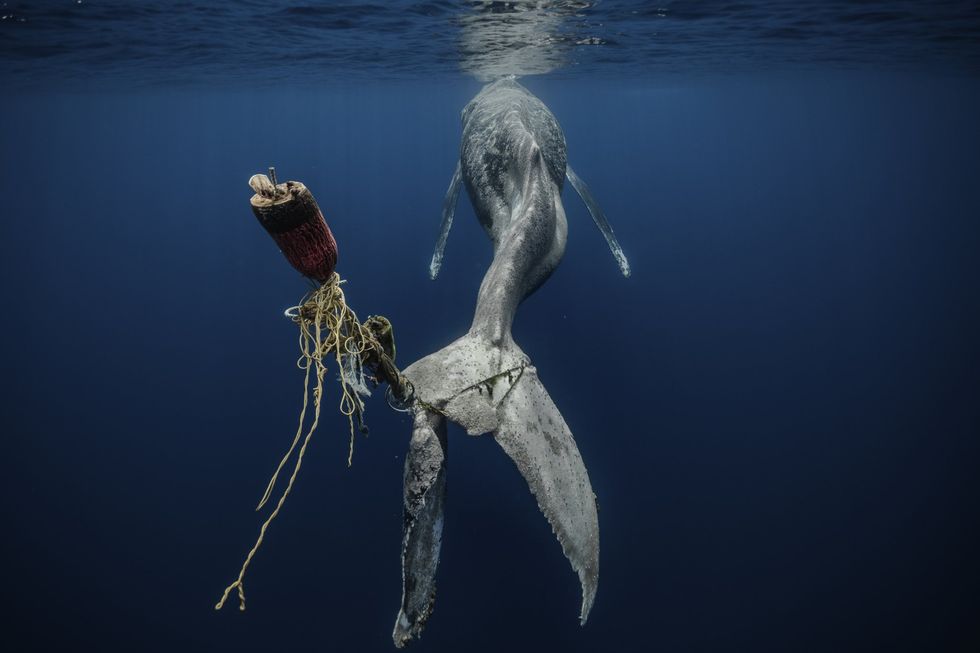 "Hopeless" by Alvaro Herrero
Alvaro Herrero/UPY 2023 (Spain)
"A humpback whale dies a slow, painful and agonizing death after having its tail entangled in a ropes and buoys, rendering its tail completely useless. A reflection of what not only our oceans are suffering, but also our planet, the product of man's selfishness and lack of responsibility. Taking this photograph was, for me, the saddest moment I've experienced in the ocean. Especially because I have spent so much time with humpbacks underwater, experiencing eye contact, interactions, and seeing with my own eyes how they are sentient and intelligent beings. But I'm 'happy' to being able to capture that moment and show the world what is happening, what we are doing. I really hope this image make us aware , open our eyes and drive us in to make real changes." – Alvaro Herrero
Black & White Winner: "El Blanco – The White One" by Don Silcock (Australia)

Península Valdés, Argentina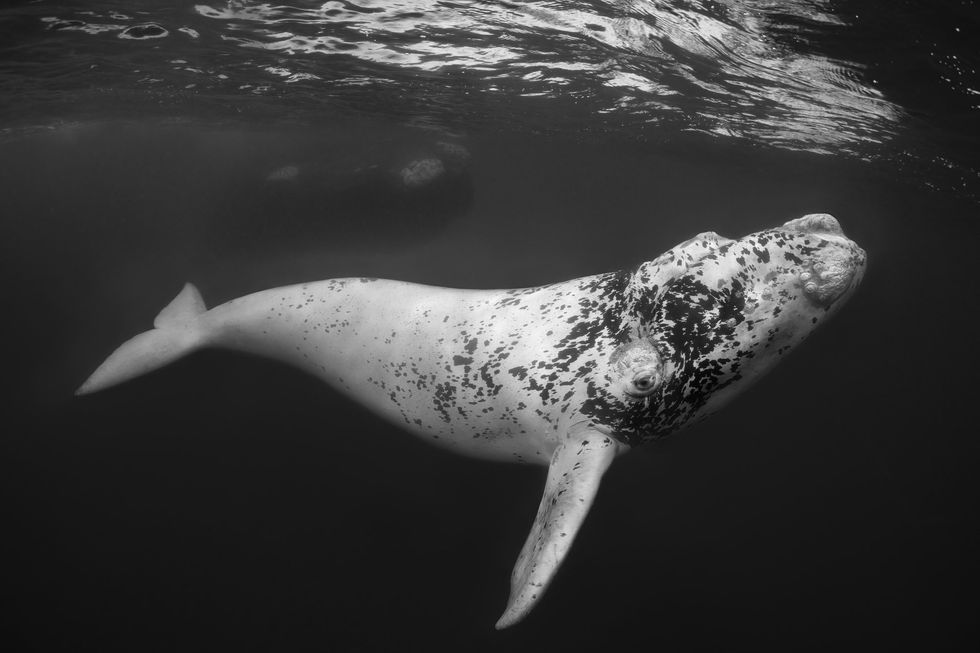 "El Blanco – The White One" by Don Silcock
Don Silcock/UPY 2023 (Australia)
"The image was taken on the last morning of a five-day trip to Peninsula Valdés in Argentina, in August 2022, under a special permit to enter the water with the Southern Right Whales that gather there between June and December each year. The mother, who can be seen in the background, accepted our presence and allowed the calf to interact with us. It was very playful but careful not to hit us with its tail and seemed to be really enjoying it all – almost as much as we were! White calves are very rare and referred to locally as 'El Blanco' or the white one!
Peninsula Valdés is an incredibly important safe haven and breeding ground for the Southern Right Whales of the southern Atlantic and Argentina has done an excellent job of managing it. It was, without doubt, my best ever underwater experience!" – Don Silcock

Compact Winner: "Klunzinger's Wrasse In Motion" by Enrico Somogyi (Germany)

Marsa Alam, Egypt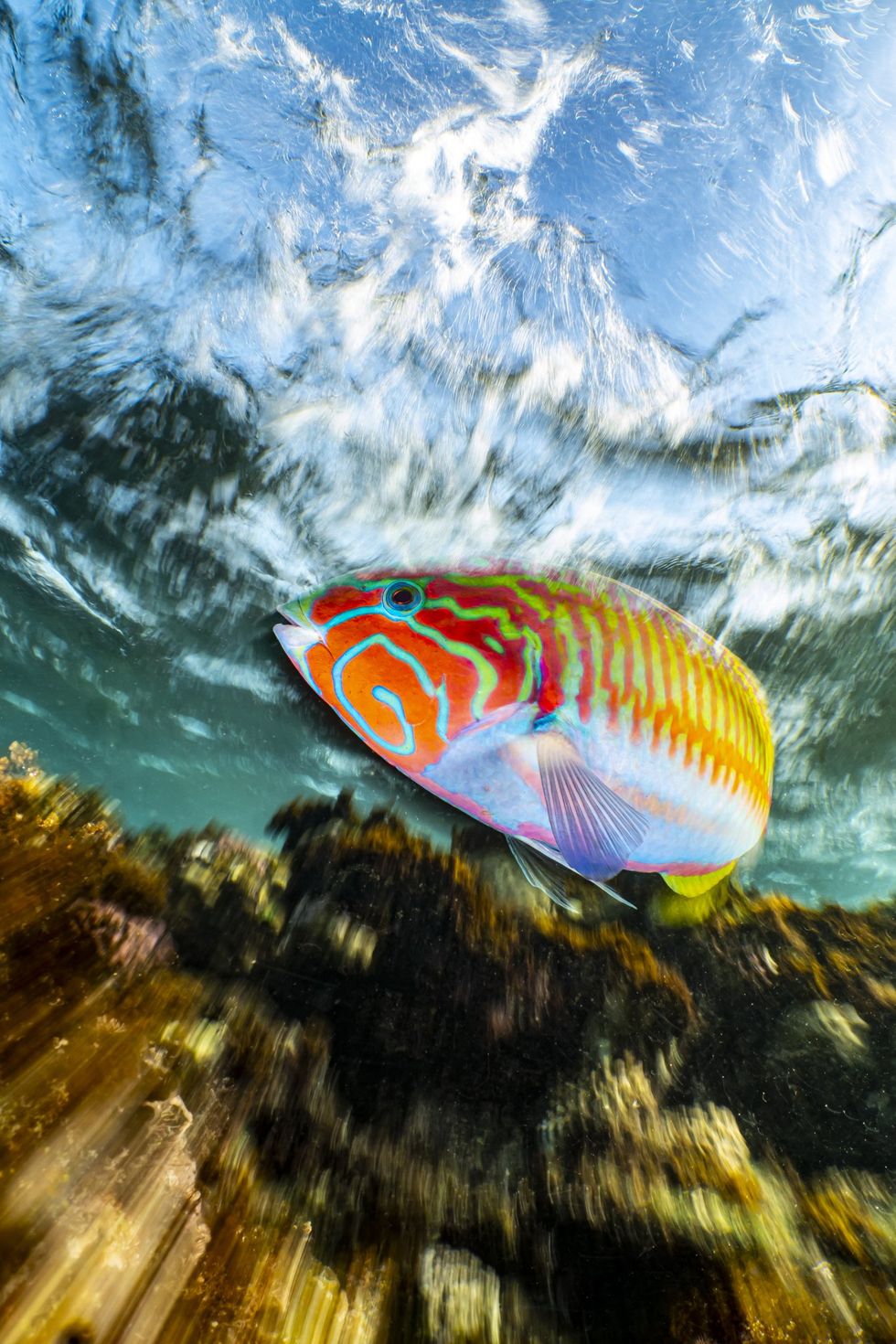 "Klunzinger's Wrasse In Motion" by Enrico Somogyi
Enrico Somogyi/UPY 2023 (Germany)
"When I was snorkeling in Marsa Alam I saw countless Klunzinger's Wrasses. One of them was particularly curious and very interested in my lens. I was able to take some good classic wide angle pictures. After a while I figured it would be a good idea to try a long exposure. So I set my camera to the smallest aperture f11, the ISO value to 64 and the exposure time to 1/13s. For this picture, I moved the camera forward a bit while the shutter was released. This created the zoom effect in the lower part of the image. I was very happy with the result." – Enrico Somogyi
Macro Winner: "Unsung" by Shane Gross (Canada)

Location: Vancouver Island, Canada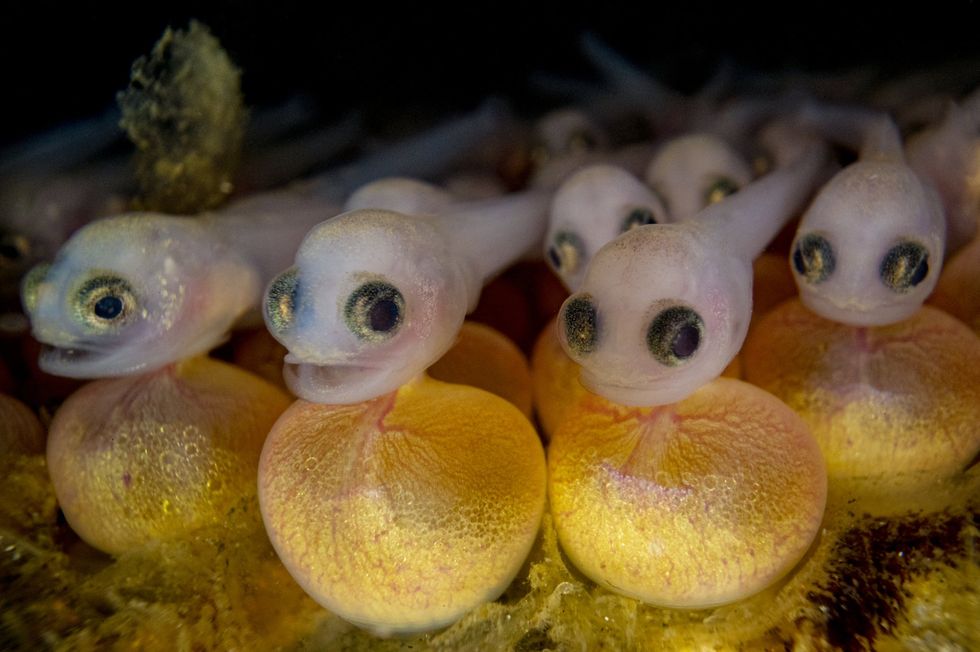 "Unsung" by Shane Gross
Shane Gross/UPY 2023 (Canada)
"Walking along a rocky shoreline we would peer under rocks using a probe lens and my camera's LCD screen to check for plainfin midshipman nests. Once found I would lay on top of the barnacle-covered rocks, cutting my elbows, trying to compose images of fish most people have never heard of despite having one of the most interesting lifecycles of any animal. Plainfin midshipman are deep water fish that travel to the intertidal zone to spawn. The males sing to attract females and she will lay as many eggs as his singing deserves before moving on to the next singer. Now, the male has a chance to fertilize the eggs, but only if he is not beaten to the punch by a sneaker male who looks like a female. The singer male will then guard the nest never knowing the kids may not be his. Drama!" – Shane Gross
There are even more incredible images swimming around on the UPY website. You can even download a free yearbook featuring all the winning images and their captivating stories here.