Betsy DeVos sat in front of a House committee today to answer questions about the education portion of President Donald Trump's proposed budget.
It ... didn't go super great.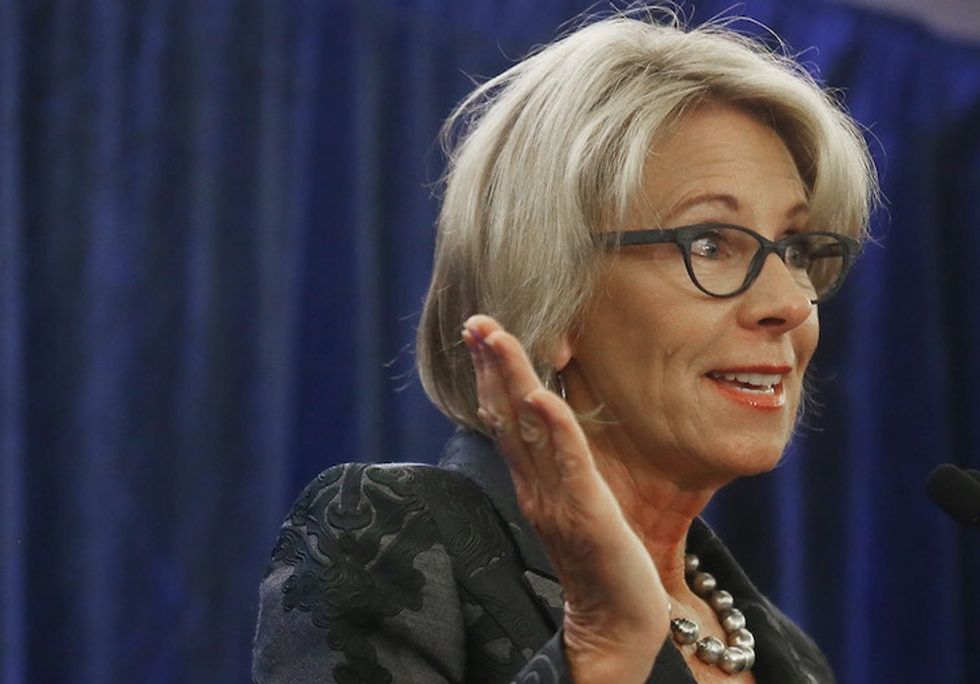 Congressmen and women on May 24, 2017, grilled her on the controversial details of her qualifications as secretary of education and her plan for America's students — namely accusations of shifting federal funds from public to private schools and deep cuts to after-school programs, both of which would disproportionately hurt lower-income students.
Meanwhile, people on Twitter had a few questions of their own they wanted DeVos to answer.
The hashtag #QuestionsForBetsy went viral in a hurry. It got savage even faster. While DeVos fielded justifiably hostile questions on Capitol Hill, thousands of comments poured in on social media.
To put it mildly, it wasn't a friendly crowd.
Some users demanded answers on why DeVos was ever named education secretary to begin with.
She has famously been accused of "buying" her way into the job with huge donations to Republicans.
A lot of people are rightfully still upset about it.
Some lashed out at specific DeVos' policies that, frankly, suck.
Like her sucky idea to eliminate the Public Service Loan Forgiveness program:
And her sucky support of a Trump policy to get rid of protected rights for trans students:
This woman reprimanded DeVos for not spending more time coming up with a plan teachers could get behind.
Teachers, if you haven't heard, aren't big fans of hers.
All day, questions and outrage poured in.
This one sums things up pretty dang well:
The huge response to #QuestionsForBetsy proves one thing: People are not happy with the Trump administration's plans for our schools.
With our kids' futures and the future of our country on the line, there are still way too many questions hanging.
Those questions are important, and they deserve to be answered.