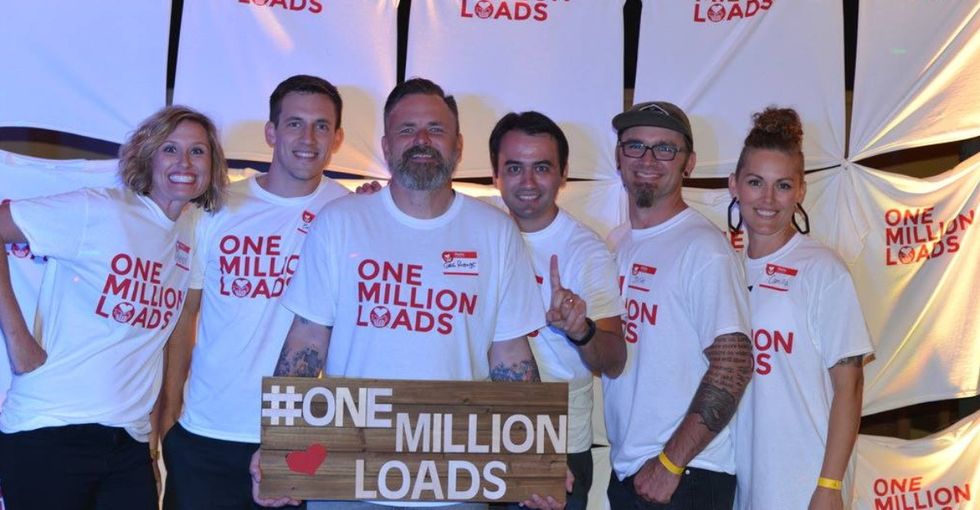 It all started with a man named T-Bone and a simple desire.
His name was Eric, but he was T-Bone to the people he knew and liked. Greg Russinger met him in 2003, when he and his friends were working with under-resourced individuals and families in Ventura, California.
---
Russinger remembers asking T-Bone one question: "What would it look like for us to come alongside your life in a way that would matter to you specifically?"
"He just said 'If I had clean clothes, I think people would treat me as a human being,'" Russinger recalls.
This lack of clean clothes is sadly all too common. According to a 2013 survey, up to 21 percent of families that qualify as low-income forego household necessities such as laundry detergent and dishwashing liquid in order to get food on the table. And that number is even higher among the homeless population.
The emotional toll this takes on people is only part of the problem. There are also health risks to not washing clothes and bedding. All that combined makes people who already have very little feel even less than.
T-Bone's basic desire lit a fire under Russinger and his friends.
"That very simple statement of desiring worth, wanting people to see him as a dignified human being, it really kinda set [events into motion]," says Russinger.
So Russinger and his friends partnered with a local laundromat. They took over the space once a month and paid for everyone's laundry. But providing clean clothes to those in need was only the beginning.
Think about the last time you went to the laundromat. It takes a few minutes to get change, put your clothes in the machine, add the detergent and hit the "wash" button. After that, all you've got is time, which gives you plenty of chances to connect with the people around you.
"Relationships, conversations, all kinds of things get stirred and spurred," says Russinger. Russinger and his friends found that the same people came back every time they took over the laundromat. They started bringing friends and family, and forming long-lasting relationships.
"There are two places where you can go to still experience the world, and that's either a post office or a laundromat," explains Russinger. "Diverse cultures, diverse histories, diverse peoples."
Soon, Russinger's initiative had a name: Laundry Love. And the organization had a mission to occupy as many laundromats as it could manage.
Today, 16 years since Russinger's conversation with T-Bone, Laundry Love hosts events at 325 locations across America.
"We go alongside people," says Russinger. "We help them find jobs, housing or pro-bono lawyers for people that are undocumented to find avenues of documentation. We're working to lessen the fear and anxiety that seems to be a part of our political culture. We're helping tutor children inside these spaces."
The list goes on and on. The more ingrained that Laundry Love becomes in a community, the more other businesses become involved, creating a support network that the people who need it never thought possible.
In Huntington Beach, for example, laundry night has been happening at Beach Coin Laundry for more than five years. The barber shop next to the laundromat offers free haircuts and shaves at the same time. Food is provided by members of the community and local food trucks.
The movement is transforming thousands upon thousands of lives a year.
What's most important, Russinger says, is that people who take advantage of Laundry Love feel cared for — they feel like they have an opportunity to be seen and supported in reaching their goals. They feel connected and involved in their community. They come to get their clothes clean, and they leave with a brighter outlook on their future.
When these people get to a better place, they come back to the initiative as volunteers, empowering others to get the help that they need.
If you're wondering what you can do to help your community transform in a similar way, start by asking someone in need what would make their life a little easier.
Many of us wonder how we can help others, but that wondering doesn't always lead to action. If you're truly ready to make a difference in the lives of those who live around you, Russinger says that starting a Laundry Love campaign at a local laundromat or volunteering your time, skills, or services with an already established group is an important way to transform lives. Especially your own.
"That's the gift. It's not about what we do for whoever the other is, it's how the other actually allows you to see yourself clearer. That's the transforming moment, right."
"The best thing we can give to people is our own transforming selves, and that's so important. And I think people offer that gift back to us."
Clorox believes clean has the power to transforms lives, which is why they've partnered with Upworthy to promote those same traits in people, actions and ideas. Cleaning up and transformation are important aspects of many of our social good stories. Check out the rest in the campaign to read more.