The northern lights will make a rare appearance in America this weekend. Here's how to see it.
It's one of the most dazzling displays on Earth.
09.27.19
The northern lights or, if you want to get technical, Aurora Borealis, are one of the most beautiful displays on Earth. It's an incredible show of dancing green lights with the occasional appearance of blue, yellow, and red.

The lights are caused by a cosmic collision between between electrically-charged particles released from the sun that enter the earth's atmosphere and meet with gases such as oxygen and nitrogen.
The lights have been mythologized all over the world. The ancient Greeks believed it was caused by Aurora, the sister of Helios and Seline (the sun and moon), racing across the early morning sky in her multi-colored chariot.
---
The Chinese believed the lights were a celestial battle between good and evil dragons that breathed fire across the night sky.
The French thought the lights were a bad omen heralding the outbreak of plague, war or death.
The good news is that the lights making a rare appearance in the continental U.S. and aren't bringing any war or death, although they could possibly bring impeachment.

The lights are regularly visible in North Western Canada, Alaska, Scandinavia, Norway, Sweden, Finland, and Antarctica.
If you live within the rings on the map below you'll have a good chance of seeing the northern lights this weekend (September 27 to 29).
They should be visible in northern Idaho, northern Iowa, Maine, Michigan, Minnesota, Montana, New Hampshire, New York, North Dakota, South Dakota, Vermont, Washington, Wisconsin and, of course, Alaska.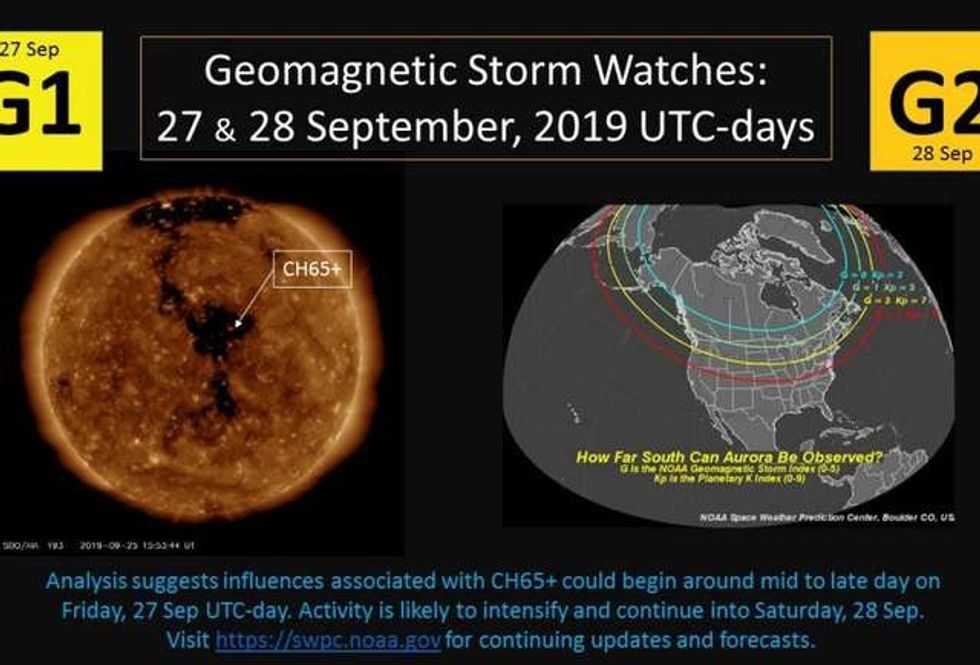 via Space Weather Prediction Center
Here's a scientific breakdown about what's happening according to NOAA.

Geomagnetic activity is expected to rise on Friday, September 27 due to an increasingly disturbed solar wind field associated with effects of a positive polarity coronal hole high speed stream (CH HSS). The solar wind environment is anticipated to become enhanced and solar wind speeds are expected to climb towards 650 km/s later on the 27th; likely causing G1 storm conditions. Geomagnetic activity is expected to escalate further in reaction to elevated solar wind speeds approaching 700 km/s, likely leading to G2 storm levels on Saturday, September 28. Enhanced activity is anticipated to continue into early Sunday, September 29 - with an early period of G1 storm levels likely.
For the best view, you'll have to be in an area without any light pollution so you'll have to leave the big city. "You need very clear skies, a good view of the northern horizon (no trees, buildings, or hills), and it needs to be dark," An Space Weather Prediction Center representative told Thrillist.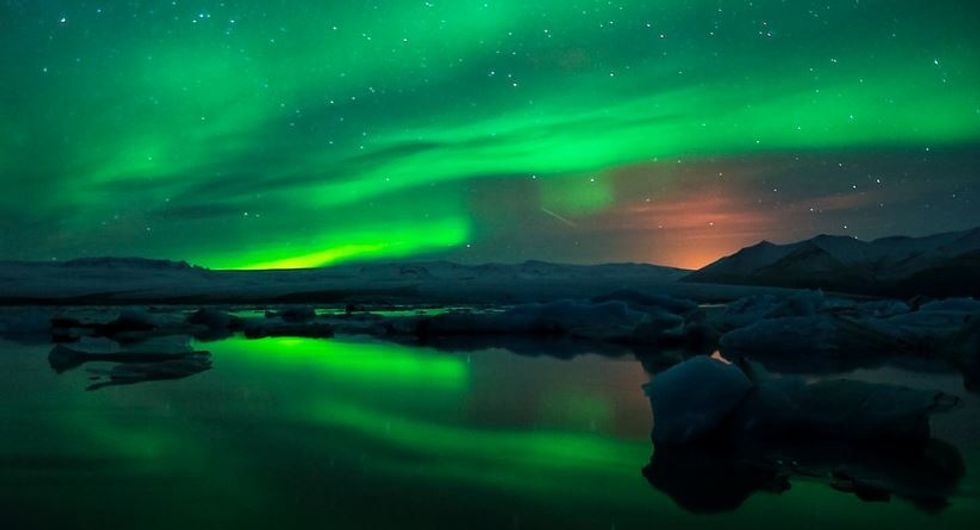 via Alison Tomlin / Flickr
popular