More
The Consumer Electronics Show just banned a sex toy invented by and for women but awarded one made for men.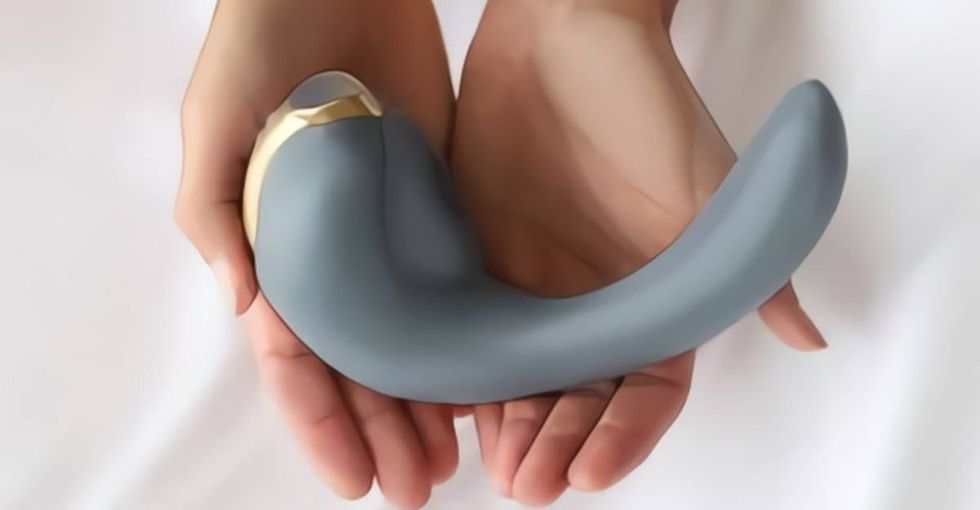 One would think that the forward-thinking minds behind the International Consumer Electronics Show (CES) in Las Vegas would be well beyond cowing to outdated double standards when it comes to sex. But, unfortunately, they're not.
Lora DiCarlo, a woman-run start-up "determined to change the face of pleasure products" was selected as a CES 2019 Innovation Awards Honoree in the Robotics and Drone product category for the Osé personal massager.
According to Lora DiCarlo, CEO and founder Lora Haddock, this revolutionary hands-free sex toy for females uses "new micro-robotic technology that mimics all of the sensations of a human mouth, tongue, and fingers, for an experience that feels just like a real partner."
---
The product also promises to help women achieve a blended orgasm which happens when clitoral and vaginal orgasms occur simultaneously.
No small feat.
The Osé personal massager was developed almost entirely by a female team of engineers.
After receiving the honor "My team rejoiced and celebrated," Haddock wrote in an open letter. "A month later our excitement and preparations were cut short."
Administrators with the Consumer Technology Association revoked the award, stating:
Entries deemed by CTA in their sole discretion to be immoral, obscene, indecent, profane or not in keeping with CTA's image will be disqualified. CTA reserves the right in its sole discretion to disqualify any entry at any time which, in CTA's opinion, endangers the safety or well being of any person, or fails to comply with these Official Rules.
Haddock responded by calling the CTA out for gender bias saying, "a literal sex doll for men launched on the floor at CES in 2018 and a VR porn company exhibits there every year, allowing men to watch pornography in public as consumers walk by."
Been at #SEXPO Sydney today? Make sure you stop by to meet Harmony, the @Realbotixxx doll! https://t.co/GrgzWqB1d2

— SEXPO Australia (@SEXPO Australia) 1528971570.0
So this is ok? But a Osé personal massager for women is " immoral, obscene, indecent, profane or not in keeping with CTA's image"?
"Men's sexuality is allowed to be explicit with a literal sex robot in the shape of an unrealistically proportioned woman and VR porn in point of pride along the aisle," Haddock continued. "Female sexuality, on the other hand, is heavily muted if not outright banned. You cannot pretend to be unbiased if you allow a sex robot for men but not a vagina-focused robotic massager for blended orgasm."
Lora DiCarlo has asked people to respond to the controversy by sharing their thoughts on twitter at #CESGenderBias.
CES: you're a sex tech company? Hi-five! How big are the tits on your robot? Lora DiCarlo: oh. No, we want to show… https://t.co/Nuxqv5Zzra

— Two Politicians guard two doors, they both lie... (@Two Politicians guard two doors, they both lie...) 1547027994.0
So I worked on this really amazing product and we won a CES Innovation Award in the robotics category, but then the… https://t.co/S3JYl40wAK

— Dr. Ada-Rhodes Short 🤖🧠🏳️‍🌈 (@Dr. Ada-Rhodes Short 🤖🧠🏳️‍🌈) 1546975071.0
So a sex robot for men is neither immoral or obscene, but a sex toy geared for women is? Which sad, emasculated sou… https://t.co/PZ3N6iet52

— Elizabeth (@Elizabeth) 1547069957.0
@CES Way to uphold the stereotype of a male-dominated tech industry. Banning a female sex toy while showcasing tons… https://t.co/w659CfcGeF

— Joseph Moog (@Joseph Moog) 1547055622.0
Weird that @CES has allowed sex toys aimed at men at the show (see Harmony the sex doll and a VR porn experience ta… https://t.co/hXqWxtoSE2

— Daravel (@Daravel) 1547055913.0