Design
Starbucks' reusable holiday cups have arrived! Here's how to get one for free.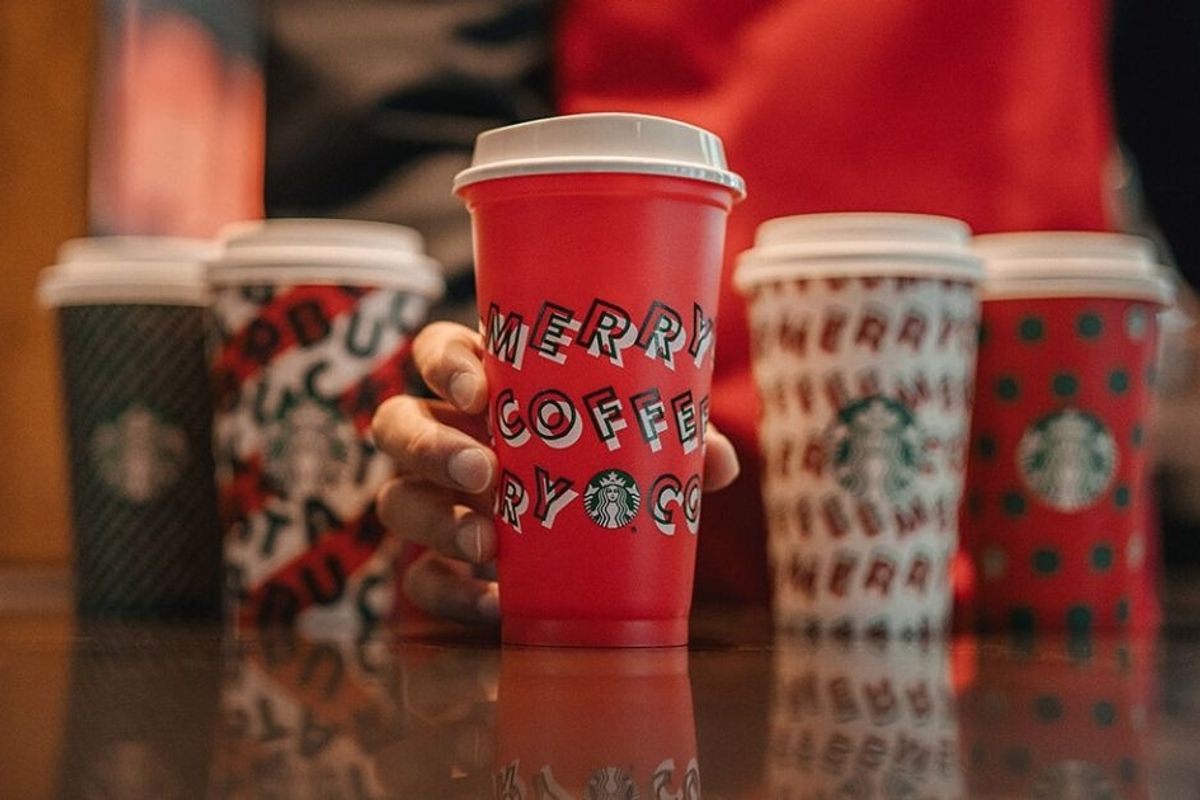 While the nation alternately reels and relishes in the political upheavals of yesterday's elections, America's largest coffee chain is dropping a little simple joy into our day. Hallelujah.
Starbucks has just revealed its annual holiday cup designs—a seemingly benign move that has resulted in several silly controversies in years past. (Who knew that a simple red cup could piss people off so badly?) This year, the reusable red cup includes a cute, celebratory "MERRY COFFEE" design, which will still undoubtedly get under some people's skin. ("Why doesn't it say 'Merry CHRISTMAS?!?!' Oh, the blasphemy!!!")
---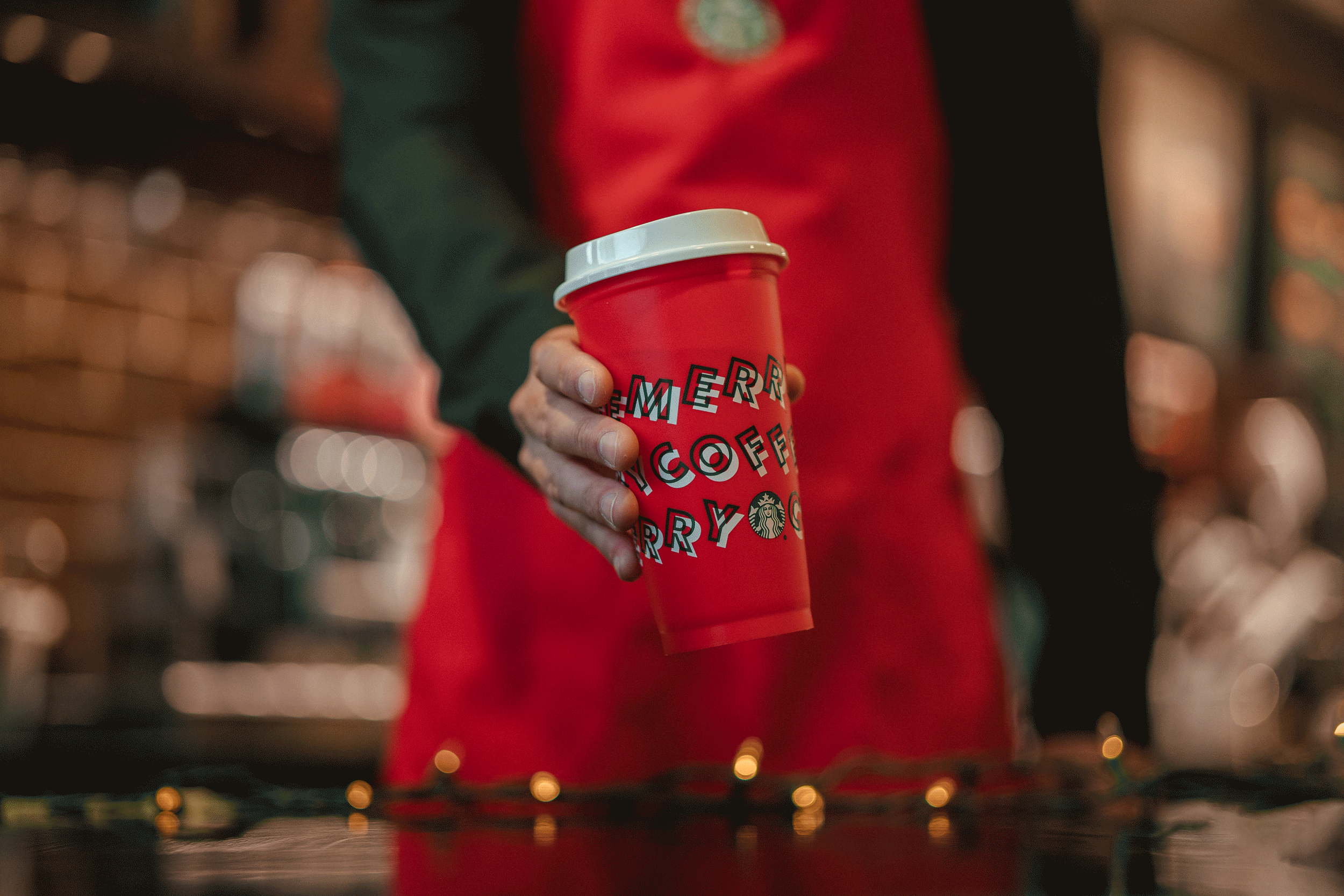 Starbucks
It's fun. It's festive. It's full of life-giving coffee. What's not to love?

Oh, and also? It's FREE—but just for one day, so mark your calendars and set a reminder, fellow coffee lovers.
Tomorrow, November 7th, Starbucks will be giving customers who order a holiday beverage at participating stores in the United States and Canada a free, limited-edition, reusable red cup. While supplies last, of course.
A "holiday beverage" includes the following drinks:
Caramel Brulée Latte
Chestnut Praline Latte
Eggnog Latte
Gingerbread Latte (available in Canada only—But whyyyy, Starbucks?)
Hot Chocolate
Peppermint Hot Chocolate
Peppermint Mocha
Pumpkin Spice Latte
Salted Caramel Hot Chocolate
Salted Caramel Mocha
Toasted White Chocolate Mocha (available in the United States only—sorry, Canadians).
So no cheap drip coffee or cheating with an Americano to get the free cup, folks. By Starbucks decree, you gotta go for the over-the-top, creamy, winter-spiced, sugary goodness if you want the holiday cup included.
And if the red "Merry Coffee" design doesn't quite float your boat, there are other holiday cup designs available as well, including a frosty "Merry Coffee"on a white background, a cute polka-dot design, some fun candy cane stripes, and simple white text on a green background. (Full disclosure: None of them say "Christmas" or even "Holiday," so plenty of opportunity to be offended if that's your thing.)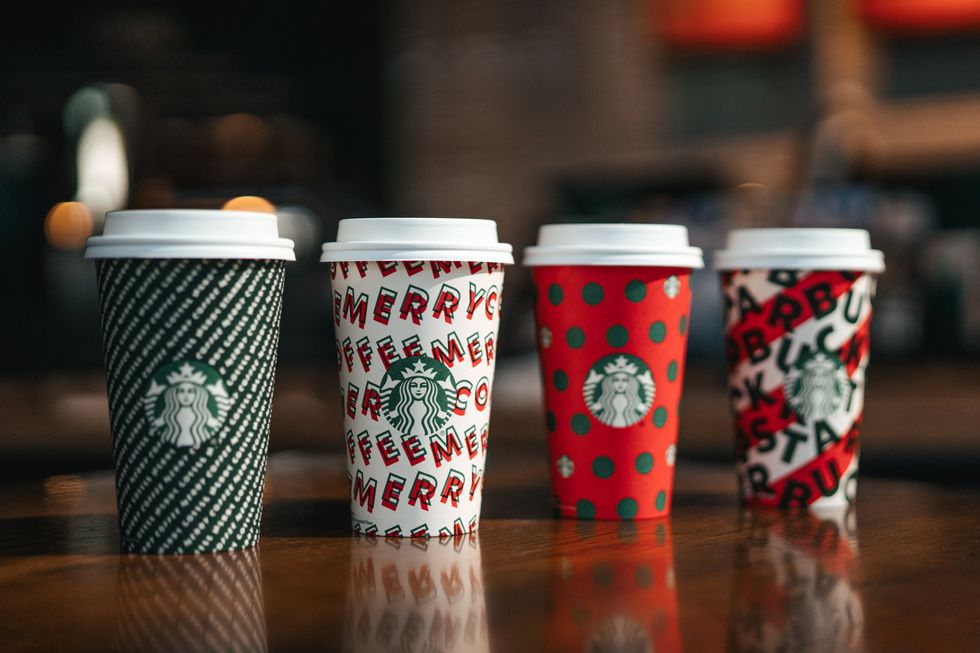 Starbucks
Best of luck as you brave the caffeine-dependent masses to grab your free cup tomorrow! Merry Coffee, everyone.