Most Shared
Queen is thinking about throwing a massive concert to fight climate change.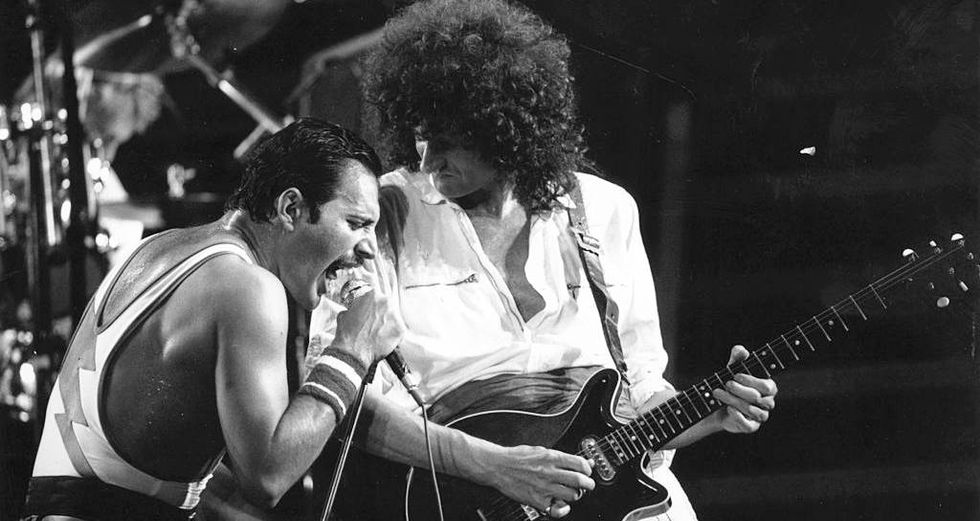 Photo by Rogers / Getty Images
From 1983 to 1985, a famine ravaged Ethiopia leaving over a million people dead. Over 400,000 people were forced to leave the country and nearly 200,000 children were orphaned.
To raise funds for the humanitarian crisis, Boomtown Rats singer Bob Geldoff organized two benefit concerts on July 13, 1985 in London at Wembley Stadium and John F. Kennedy Stadium in Philadelphia.
The concerts would go on to raise $245 million.
---
The line-ups at both events were staggering. London's concert had David Bowie, Queen, Elvis Costello, Paul McCartney, The Who, and U2. Philadelphia's featured Madonna, Bob Dylan, Mick Jagger, Tina Turner, Duran Duran, and a reunited Led Zeppelin.
However, no matter how many watts of star power hit the stage, one band stood above all the rest, Queen.
Although the band's popularity had stagnated in the U.S., the Live Aid performance helped catapult Queen into the stratosphere throughout the rest of the world, evidenced by a massive world tour in 1986 that would be the band's final with singer Freddie Mercury.
Queen's performance at Live Aid was the centerpiece of the Oscar-winning Mercury biopic "Bohemian Rhapsody."
Now, Queen's lead guitarist, Brian May, believes there should be another Band Aid concert to help raise funds to combat climate change.
"It probably would take the younger generation to take that bull by the horns," May told The Daily Mirror. "We'd help in any way we can, but I think that's what it would require."
Queen is currently on tour, fronted by vocalist Adam Lambert.
But May doesn't believe it would be such an easy feat. "People have seen so many concerts since Live Aid purporting to be solving the problems of the world so it's not quite as easy as it seems," he said.
When May talks about issues affecting the globe he has the scientific credentials to back it up. In 2007, he received his PhD in Astrophysics from London's Imperial college.