via UNSW
This article originally appeared on 07.10.21

Dr. Daniel Mansfield and his team at the University of New South Wales in Australia have just made an incredible discovery. While studying a 3,700-year-old tablet from the ancient civilization of Babylon, they found evidence that the Babylonians were doing something astounding: trigonometry!
Most historians have credited the Greeks with creating the study of triangles' sides and angles, but this tablet presents indisputable evidence that the Babylonians were using the technique 1,500 years before the Greeks ever were.
Mansfield and his team are, understandably, incredibly proud. What they discovered is that the tablet is actually an ancient trigonometry table.
\u201cAussie mathematician cracks code of famous 3,700-year-old Babylonian clay tablet https://t.co/f7h6oIfBDr\u201d

— China Xinhua News (@China Xinhua News) 1503639811
Mansfield said:
"The huge mystery, until now, was its purpose – why the ancient scribes carried out the complex task of generating and sorting the numbers on the tablet. Our research reveals that Plimpton 322 describes the shapes of right-angle triangles using a novel kind of trigonometry based on ratios, not angles and circles. It is a fascinating mathematical work that demonstrates undoubted genius."
"The tablet not only contains the world's oldest trigonometric table; it is also the only completely accurate trigonometric table, because of the very different Babylonian approach to arithmetic and geometry. This means it has great relevance for our modern world. Babylonian mathematics may have been out of fashion for more than 3,000 years, but it has possible practical applications in surveying, computer graphics and education. This is a rare example of the ancient world teaching us something new."
The tablet predates Greek astronomer Hipparchus, who has long been regarded as the father of trigonometry. Mansfield's colleague, Norman Widberger, added:
"Plimpton 322 predates Hipparchus by more than 1,000 years. It opens up new possibilities not just for modern mathematics research, but also for mathematics education. With Plimpton 322 we see a simpler, more accurate trigonometry that has clear advantages over our own."
"A treasure trove of Babylonian tablets exists, but only a fraction of them have been studied yet. The mathematical world is only waking up to the fact that this ancient but very sophisticated mathematical culture has much to teach us."
People were understandably excited by the news.
\u201cA 3,700 year olf Babylonian tablet revealed as the world's first trigonometry table https://t.co/AQlpsndM92\u201d

— The Conversation (@The Conversation) 1503613440
Some mathematicians actually think studying the Babylonians back then could help us improve the way we do trigonometry today.
Babylonian tablet Plimpton 322 will make studying maths easier, mathematician says http://ab.co/2vuEzuL\u00a0 | @abcnewspic.twitter.com/U10wQ7ZA42

— ABC Australia (@ABC Australia) 1503644411
"With Plimpton 322 we see a simpler, more accurate trig. (with) clear advantages over our own."\n@n_wildberger: https://www.theguardian.com/science/2017/aug/24/mathematical-secrets-of-ancient-tablet-unlocked-after-nearly-a-century-of-study\u00a0\u2026\n#TOK

— Roo Stenning (@Roo Stenning) 1503658186
Of course, there were the haters...
Find someone who loves you as much as this guy dislikes a hypothesis about Babylonian math: http://www.sciencemag.org/news/2017/08/ancient-babylonian-tablet-may-contain-first-evidence-trigonometry\u00a0\u2026pic.twitter.com/c5yO8LmjhE

— Miles Brundage (@Miles Brundage) 1503605001
But all in all, Twitter users were pretty impressed with the Babylonians' skills.
And we're over here trying to figure out how to do trig with our TI-83s... man I love it when the ancients show what real intelligence is.

— Kenny Hayse (@Kenny Hayse) 1503633184
Congratulations to Dr. Mansfield and his team on their incredible discovery... and for making trigonometry exciting!
Science
It's pretty mesmerizing to watch.

Super-rare footage of a baby moray eel (or a Leptocephalus larva, if you wanna get technical) has taken over the internet. Filmed by Barry Haythorne and Rob Rutgers of HRF U/W Productions, the video shows scuba divers coming face-to-face with the tiny creature, which is almost completely transparent.
The nearly invisible larva looks like a trail of smoke or a billowing silk ribbon as it glides through the water, with only its semiglowing face being truly discernible. Actually, let's be honest—it's giving the ghost dog Zero from "The Nightmare Before Christmas," only much more hauntingly beautiful.
Either way, it's pretty mesmerizing to watch.
A small snippet was posted by Wonder of Science to Twitter, which quickly racked up 1.2 million views, but the full six-minute video can be seen on YouTube.
Obviously, being transparent and all, these guys are usually next to impossible to find, making this a pretty miraculous encounter. Even luckier that with modern technology millions of other people can see the ultra-rare sighting.
Eel larvae are almost completely transparent.

Credit: HRF U/W Productionpic.twitter.com/mi9sJpEVMt

— Wonder of Science (@wonderofscience) October 2, 2022
Both the Twitter and YouTube posts are filled with comments of awe, wonder and appreciation for nature's seemingly never-ending supply of fresh surprises.
"How amazing our world is, brings a smile to my heart," one person wrote.
"I'm feeling so happy if i look at it, such an amazing creature! It looks like a sea spirit or something," another added.
The sea is indeed full of intriguing mystery. According to Ocean Literacy, only 5% of the world's oceans have actually been explored and charted by humans, meaning that there is so much more to be discovered. As one person wrote in the comments, "the oceans are the last unexplored frontier of our planet and lifeforms like this shows how even the wildest imaginings of alien creatures cannot even scratch the wonder and beauty of what Earth's biodiversity has to offer."
Nature never ceases to amaze.
This article originally appeared on 09.08.16
92-year-old Norma had a strange and heartbreaking routine.
Every night around 5:30 p.m., she stood up and told the staff at her Ohio nursing home that she needed to leave. When they asked why, she said she needed to go home to take care of her mother. Her mom, of course, had long since passed away.
Behavior like Norma's is quite common for older folks suffering from Alzheimer's or other forms of dementia. Walter, another man in the same assisted living facility, demanded breakfast from the staff every night around 7:30.
Jean Makesh, CEO of Lantern assisted living facilities, says he meets folks with stories like these every day. It's their stories that inspired him to make some changes at Lantern.
"I thought I knew a lot about elderly care. The more and more time I was spending with my clients, that's when I realized, 'Oh my god, I have no clue.'"
Confusion is common in Alzheimer's patients, but Makesh knew there had to be some way to minimize these conflicts.
A big believer in the idea that our environment has an enormous effect on us, he started thinking big — and way outside the box.
"What if we design an environment that looks like outside?" he said. "What if I can have a sunrise and sunset inside the building? What if I'm able to have the moon and stars come out? What if I build a unit that takes residents back to the '30s and '40s?"
And that was just the beginning. He also researched sound therapy. And aromatherapy. And carpet that looked like grass. No idea was off-limits.
What he came up with was a truly unique memory-care facility. And after testing the concept in Lantern's Madison, Ohio, facility, Makesh is opening two new locations this year.
Instead of rooms or units, each resident gets a "home" on a quiet little indoor street reminiscent of the neighborhoods many of them grew up in.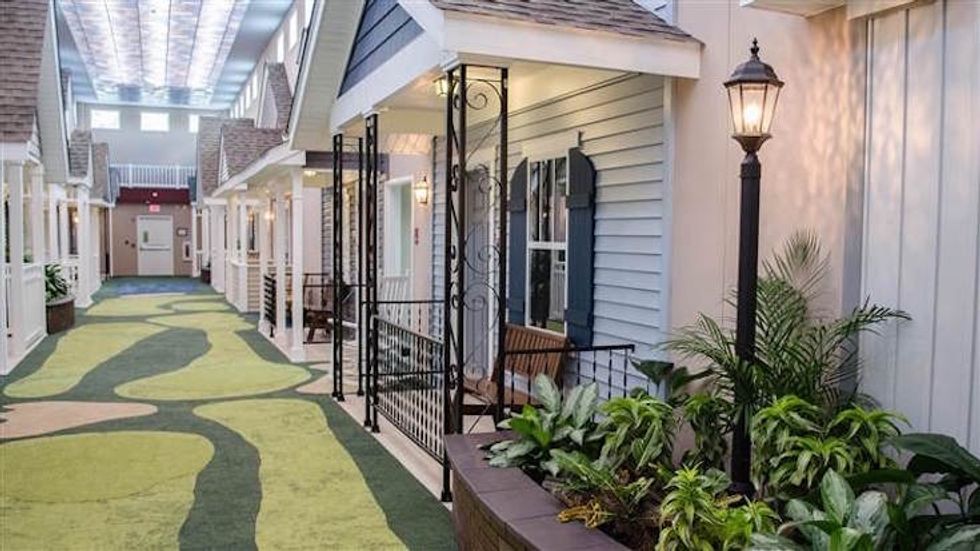 All photos courtesy of Lantern
Instead of a boring panel ceiling, residents look up and see a digital sky, which grows dimmer late in the day to help keep their biological clocks in tune.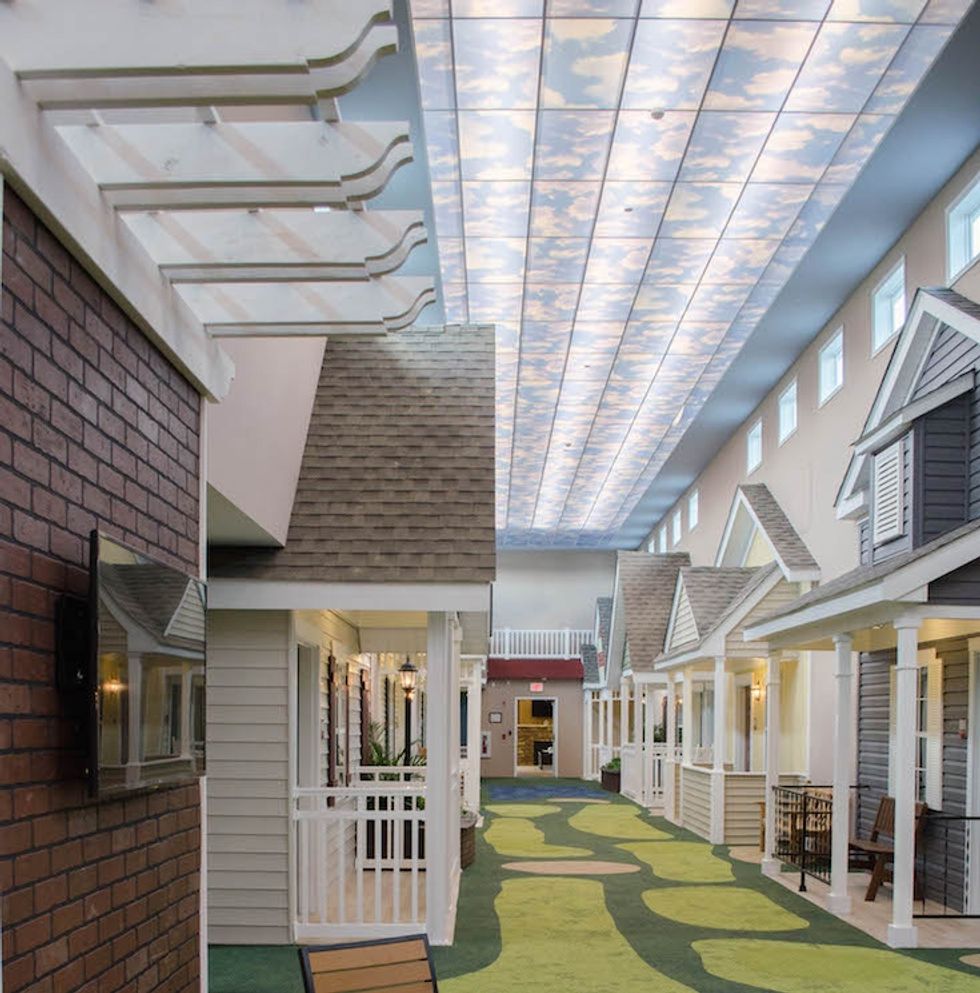 Throughout the day, nature sounds and fresh aromas like peppermint or citrus are piped in.
Some studies have shown that this kind of aromatherapy may indeed have some merits for improving cognitive functioning in Alzheimer's patients.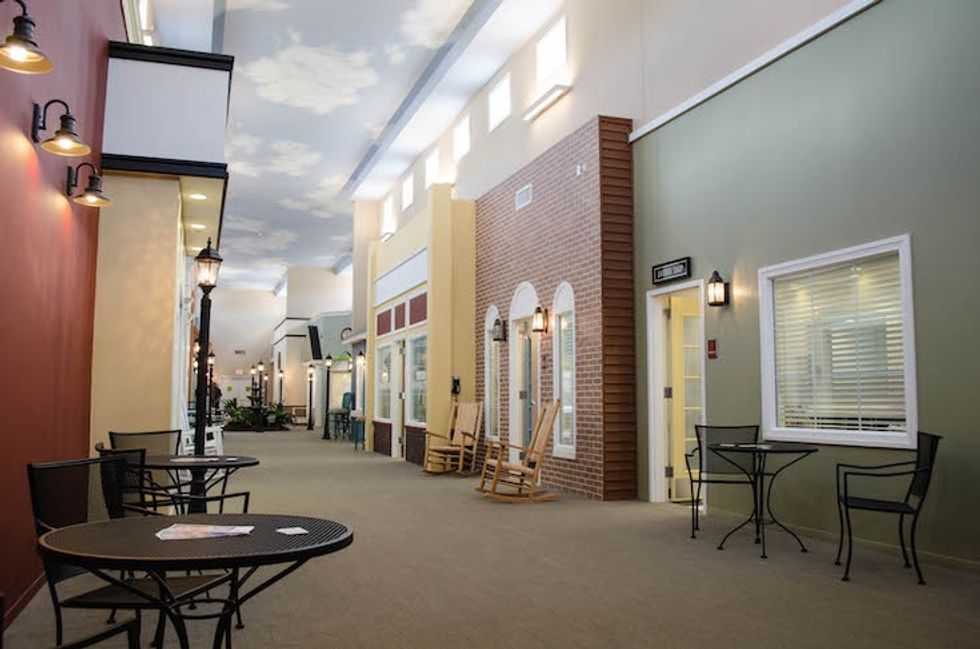 There's even a little "main street" where residents can gather.
For Makesh, this isn't just about making patients comfortable, though. He wants to change how we think about the endgame of severe dementia.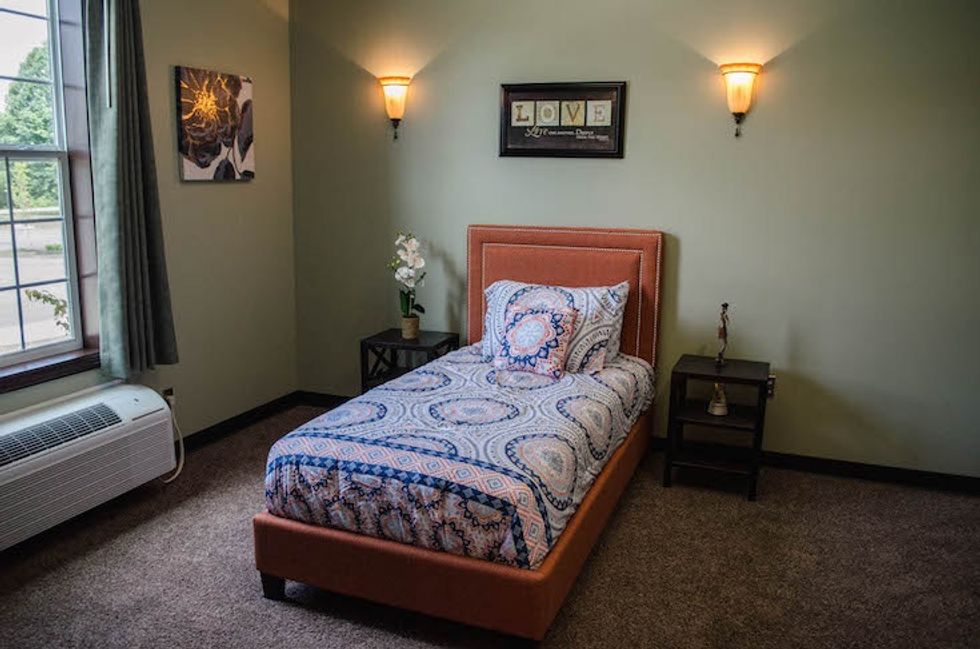 The insides of the rooms aren't too shabby, either.
Makesh said one of the frustrating shortcomings of most nursing facilities is that they create conflicts with unnatural environments and schedules, and they try to solve them by throwing antipsychotic and anti-anxiety medications at patients. In other words, when someone has severe dementia, we often give up on them. From there, they stop getting the engagement their brain needs to thrive.
Of course, we're a long way from a cure for Alzheimer's.
But Makesh's project shows that when we think strategically about altering the environment and focus on helping people relearn essential self-care and hygiene skills, the near-impossible becomes possible.
"In five years, we're going to [be able to] rehabilitate our clients where they can live independently in our environment," he said. "In 10 years, we're going to be able to send them back home."
He knows it's a lofty goal. And whether he'll meet it remains to be seen. But in the meantime, he's proud to own one of the few places that offers something pretty rare in cases of severe dementia: hope.
Get stories worth sharing delivered to your inbox
Get stories worth sharing delivered to your inbox