More
Mayor Pete showed his language skills by offering his heartfelt condolences about Notre Dame in French.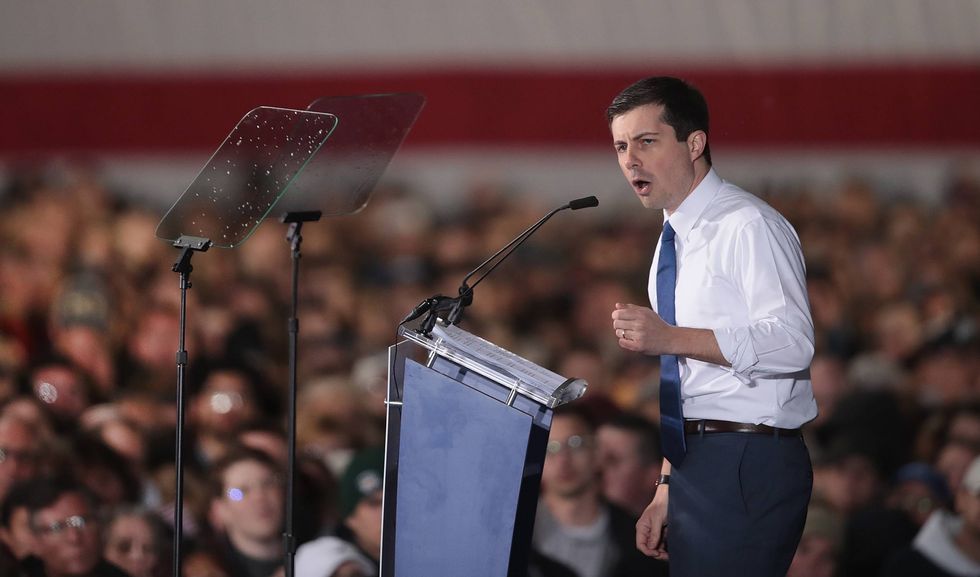 via Scott Olson / Getty Images
A newly-elected president is often the polar opposite of their predecessor. Jimmy Carter's aw-shucks "I'll never lie to you" approach stood in stark contrast to the scandal-ridden Nixon era.
Then, Ronald Reagan's sunny optimism was ab about face from the dreary Carter era.
Barack Obama's message of hope was much needed in the aftermath of America's economic collapse and war-weariness that occurred under George W. Bush.
---
Then came Trump, who turned on Obama's message of hope in favor of retrogressive populism.
Should America decide to elect someone new in 2020, Democrat "Mayor Pete" Buttigieg would fit the historical trend of going with someone completely different.
Buttigieg is a young, highly-intelligent, thoughtful, veteran who happens to be gay.
The Harvard and Oxford graduate also speaks seven different languages: Norwegian, Spanish, Italian, Maltese, Arabic, Dari, and French. He took up Norweigan just so he could read one of his favorite authors in their native tongue.
After a massive fire destroyed parts of the iconic Notre Dame cathedral in France, Buttigieg offered his condolences to the French in their language.
"To the people of France, I would like to say that Notre Dame Cathedral was like a gift to the human race. We share in the pain but we also thank you for this gift to civilization," he told French media outlet BFM TV.
« Au peuple de France je voudrais dire que la cathédrale Notre Dame, c'était comme un cadeau à l'espèce humaine. N… https://t.co/ivPoD4adkT

— Cédric Faiche (@Cédric Faiche) 1555372271.0
The French's biggest criticism of Americans is our inability to speak their language. So Buttigieg's response was undoubtedly more meaningful than the response by the president of the U.S., who offered amateur firefighter advice.
So horrible to watch the massive fire at Notre Dame Cathedral in Paris. Perhaps flying water tankers could be used… https://t.co/chuLADsVgU

— Donald J. Trump (@Donald J. Trump) 1555349988.0
Buttigieg's message was praised by the French ambassador to the U.S.
Thank you Mayor @PeteButtigieg for this message and congratulations for your french! https://t.co/0zgnKq29OW

— Gérard Araud (@Gérard Araud) 1555380098.0
According to a recent Monmouth poll, Buttigieg is currently in third among Democratic presidential candidates in the upcoming Iowa caucuses. Likely-to-run Joe Biden is first with 27%, Bernie Sanders is second at 16%, while Buttigieg is next at 9%.