popular
Jewish NFL star Julian Edelman reacted to Myers Leonard's antisemitism in the best way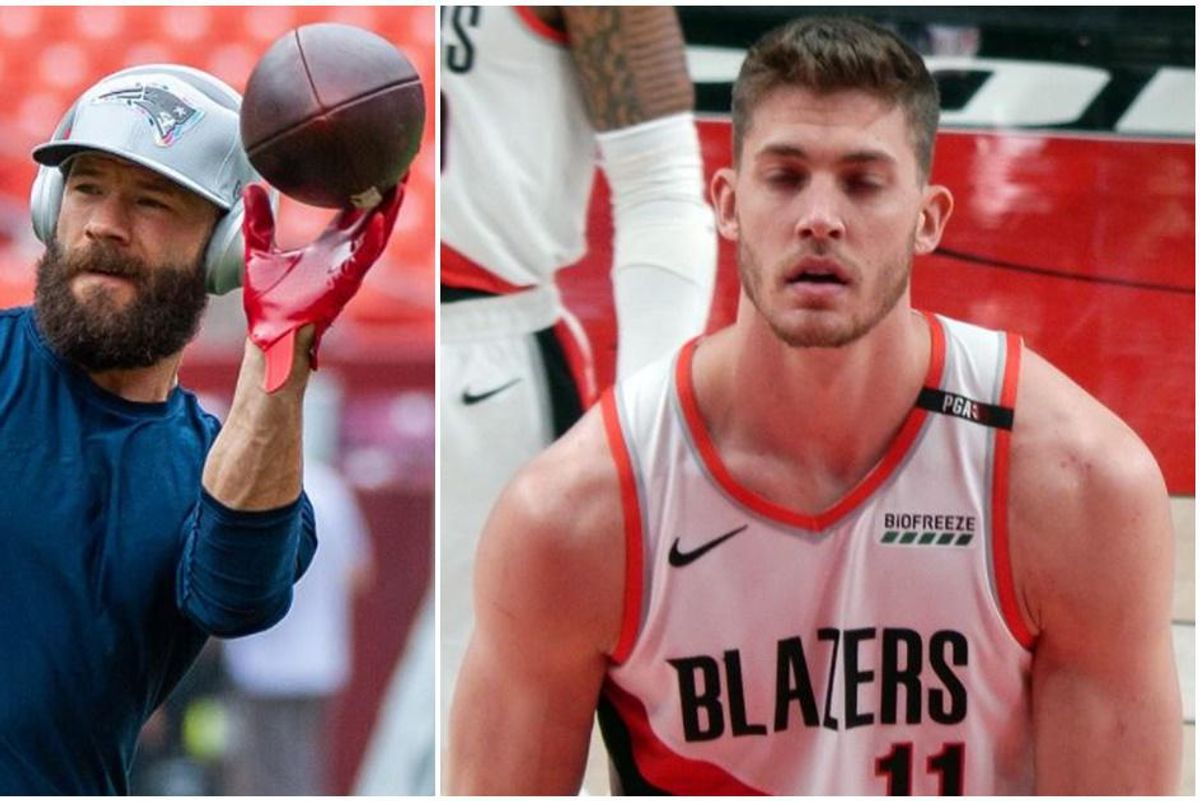 Miami Heat center Meyers Leonard was playing Call of Duty: Warzone on his Twitch channel Monday when, during the heat of battle, the 29-year-old belted out an antisemitic insult.

His outburst was live-streamed and then promoted to his 177,000 Twitter followers.
"Fu**ing cowards. Don't fu**ing snipe me, you fu**ing k**e bit*h," he said. The tirade was disturbing and for some, further confirmation that Leonard is a bigot.
He refused to kneel with his teammates last year during the national anthem but says it was out of respect for his brother in the military.
---
He responded to criticism by saying, "I am a compassionate human being and I truly love all people. … I will continue to use my platform, my voice and my actions to show how much I care about the African American culture and for everyone."
On Tuesday, the video went viral and he was condemned by the Heat and NBA for the incident. In a statement, the Heat announced Leonard would be away from the team "indefinitely."

The Heat are owned by Micky Arison, a prominent Israeli-American businessman.
"I am deeply sorry for using an anti-Semitic slur during a livestream yesterday," Leonard responded on Instagram.

"While I didn't know what the word meant at the time, my ignorance about its history and how offensive it is to the Jewish community is absolutely not an excuse and I was just wrong," he continued. "I am now more aware of its meaning and I am committed to properly seeking out people who can help educate me about this type of hate and how we can fight it."
New England Patriots wide receiver Julian Edelman responded to Leonard's request for someone to educate him by writing an open letter on Twitter.
"I'm sure you've been getting lots of criticism for what you said," Edelman wrote. "Not trying to add to that, I just want to offer some perspective."

"I get the sense that you didn't use that word out of hate, more out of ignorance. Most likely, you weren't trying to hurt anyone or even profile Jews in your comment. That's what makes it so destructive."
Edelman continued, "When someone intends to be hateful, it's usually met with great resistance. Casual ignorance is harder to combat and has greater reach, especially when you command great influence."
"Hate is like a virus. Even accidentally, it can rapidly spread."
Edelman ended his letter with an offer to Leonard — "I'm down in Miami fairly often. Let's do a Shabbat dinner with some friends I'll show you a fun time."
Shabbat dinner is a tradition for Jewish families that happens Friday nights in preparation for Saturday, the Jewish day of rest. It's a spiritual event commemorated with traditional foods, blessings, and a candle-lighting ceremony.
Edelman's open letter is powerful because, in today's world where people are so quick to "cancel" others, he took the opportunity to educate Leonard instead. In a broader view, it communicates to the world that people are redeemable, and sometimes, what we see as hate may simply be stupidity.

It also doesn't play into the hands of bigots who tend to rally around those who get caught being xenophobic. If Leonard takes Edelman up on his offer, it shows the bigots he's not on their side.
It's worth noting that Edelman's response mirrors the advice prescribed by the Anti-Defamation League. "The issue boils down to respect — respect for and acceptance of people who are different," the ADL says in its "Confronting Antisemitism" handbook. "Some say that words cannot hurt, but unthinking comments that stem from ignorance can catch on and become more dangerous."
The New England Patriot was raised Christian but has embraced his paternal great-grandfather's Jewish roots over the past few years. Edelman says he speaks with a Rabbi Yossi in Los Angeles on a weekly basis.
Last year, Edelman told Los Angeles Magazine that, at the age of 33, he was studying for his Bar Mitzvah, a rite of passage for 13-year-old Jewish males that signifies the beginning of adulthood.
But after considering Edelman's response to Leonard, one can say that a Bar Mitzvah would just be customary at this point. His thoughtful, constructive response to an incident of antisemitism proves he's already quite the mensch.