Culture
High school salutatorian's Goth yearbook photo is going viral for the best reasons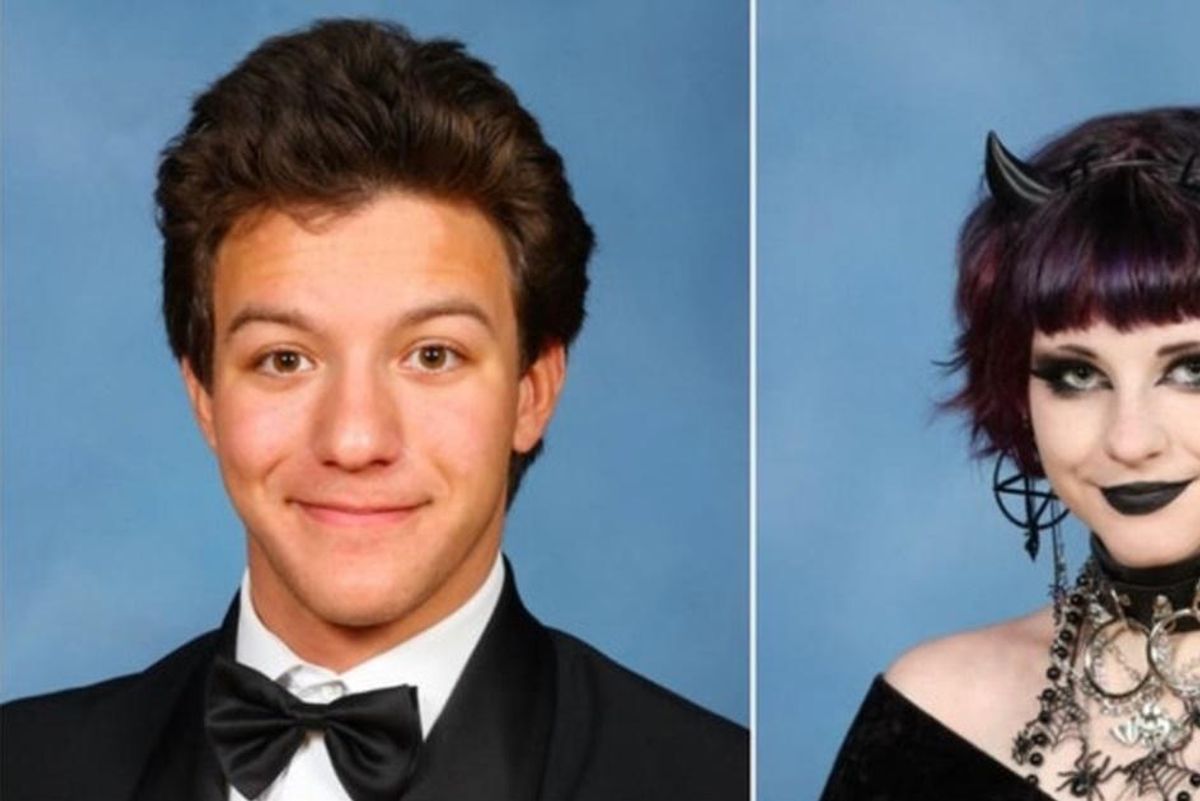 via Jules Lipoff / Twitter
Weronika Jachimowicz, 17, is getting a lot of attention for subverting people's expectations of who excels in high school. And that's exactly what she wants.

Jachimowicz was named New York's Mattituck-Cutchogue Union Free School District's 2021 salutatorian. Her yearbook photo next to valedictorian Luke Altman is going viral because of her dramatic Goth makeup and attire.
It all started when assistant professor and writer Dr. Jules Lipoff tweeted out a photo of the valedictorian and salutatorian he saw in a newspaper and it went viral. How many salutatorians have you seen that wear pentagram hoop earrings, a choker, and black devil horns?
The juxtaposition of her next to the bowtie-wearing Altman, makes the photo even more amusing.
---
you go girl https://t.co/zpcO3t3Cje

— Jules Lipoff, MD (@Jules Lipoff, MD) 1617404407.0
Jachimowicz wants the world to know that just because a high school kid looks like an outsider, doesn't mean they aren't interested in academics or sports.

In fact, it's completely normal for kids who are interested in the Goth subculture to be good students.
"The scene has quiet middle-class values — education, highbrow culture, theatre, museums, romantic literature, poetry, philosophy, Gothic architecture," Dr. Dunja Bril, who studies Goth culture in England, told The Independent.
"Many Goths like classical music. It's a status symbol to have a good collection of classical pieces — mostly requiems and darker pieces," she added.
"Going to do a university degree is encouraged," Bril continued. "It doesn't encourage people to drop out of school. Whereas in the Punk scene you turn down the normal educational values, in Goth you gain status if you're perceived as being educated. You get people who are in it for the shock value, but they are usually the ones who grow out of it."
Since her photo went viral, Jachimowicz has received countless messages of thanks from young people who say she's inspired them to express themselves.

"In all honesty, that's all I wanted. I wanted to help anyone I could who is struggling with expressing themselves because I've been in the exact same position," Jachimowicz told Yahoo. "When people message me telling me how I have given them the confidence to be who they truly are, I almost cry from happiness."
Jachimowicz says that she was able to be herself because she was encouraged by others, so this is her chance to pay it forward.
"I was always trying to please others and be like what everyone else wanted me to be, or at least try to fit into what was 'normal.' However, I did slowly start to realize that it's OK to be different," she said.
"I've met people in my life who gave me the confidence to fully be myself," she added.
In addition to having an unweighted GPA of 97.27%, Jachimowicz was on the fencing, ping pong, and winter track teams. She was also a member of the National Honor Society, Students Against Drunk Driving, and the Unity Club.

She plans to major in biology/forensics in college.
Jachimowicz's accomplishments are another reason to never judge someone for how they look or their interests. Just because someone is wearing satanic earrings doesn't mean they aren't highly intelligent or athletic.
She believes the most important thing is to be yourself, regardless of what anyone else thinks.
"Even if others don't really like my style, it's what makes me happy and I've worked hard to finally come to that conclusion," she said.