More
GoT's controversial 'lesson' on how rape can shape a person sparked a great conversation with fans.
*Spoiler Alert*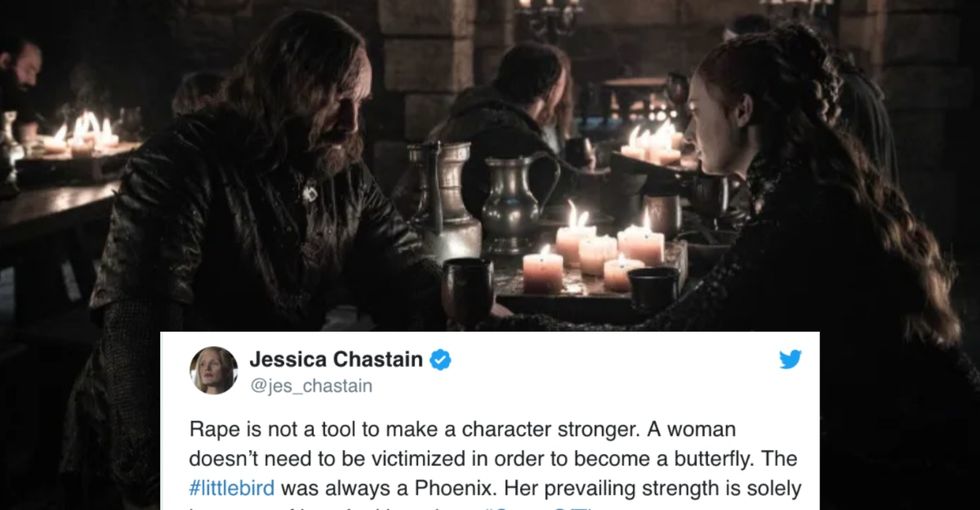 **Spoilers for Season 8 Episode 4 are below**
In Season 8 Episode 4 of "Game of Thrones," a long-awaited reunion between two characters took place. However, it left many fans reeling over a particular moment concerning Sansa's trajectory.
Sansa and Sandor Clegane, aka the Hound, hadn't seen each other since the Battle of the Blackwater all the way back in Season 2. Obviously a lot's happened to both of them in that time, but when Sansa joins the Hound in the dining hall, the focus falls to her and her "lost innocence."
---
The Hound remarks that when he first knew Sansa, she was too afraid to look him in the eye. She replies that she's seen much worse than him since then.
This is where it starts to get weird. The Hound digs into Sansa's canned reply by saying she's been "broken in hard," and even though she claps back by saying she gave Ramsey his by feeding him to his hounds, The Hound solidifies his case that she's different now by invoking his pet name for her.
[rebelmouse-image 19562022 dam="1" original_size="540x304" caption="Gif via HBO/tumblr" expand=1]Gif via HBO/tumblr
However, he is mostly sympathetic, saying if she'd come with him when he left King's Landing, he could've saved her from the horrors she's endured, specifically the horrible men who abused her repeatedly. Then she takes his hand and says, "Without Littlefinger and Ramsey and the rest, I would've stayed a Little Bird all my life."
For many fans, this was a major record scratch moment. To them, it sounded as if the writers were saying Sansa's the strong woman she is today BECAUSE of all the sexual abuse she lived through.
Some felt the scene must've been written by a man, because a woman would understand why it's imperative for trauma to be portrayed in a more mindful way.
Sansa didn't need to go through all that trauma to become a powerful, intelligent person, and the show implying she did is just...ugh

— Amy Collier (@Amy Collier) 1557113530.0
I still love #GameofThrones but this show proves over and over again they have no idea how to write about rape. San… https://t.co/A00hCnCLZG

— Alex Bruce-Smith (@Alex Bruce-Smith) 1557121757.0
Others thought the conclusion Sansa comes to is dangerous for young, impressionable minds because it's a major misrepresentation of what goes along with surviving trauma.
I still love #GameofThrones but this show proves over and over again they have no idea how to write about rape. San… https://t.co/A00hCnCLZG

— Alex Bruce-Smith (@Alex Bruce-Smith) 1557121757.0
But there were also some people who felt everyone was blowing the scene's "message" way out of proportion.
this show hasn't exactly inspired the benefit of the doubt on this subject, but acknowledging the cumulative impact… https://t.co/zc3Vj1oRIn

— Alison Herman (@Alison Herman) 1557154684.0
Meanwhile, several abuse survivors think her stance, while oversimplified, is on point.
"Going through hell made me the strong person I am today" is something a lot of people who have been through trauma… https://t.co/drYntnn4KH

— Emmett Booth 🌹 (@Emmett Booth 🌹) 1557143718.0
@DavidDTSS Sansa's not saying she's thankful for it she's saying without it she may not be as strong and may still… https://t.co/rrqmYqOmzP

— no one🗡 (@no one🗡) 1557142729.0
Is there a "correct" interpretation of Sansa's remarks about the abuse she survived? Of course not. However, actress Jessica Chastain, who worked with Sophie Turner (actress who portrays Sansa) on the upcoming "Dark Phoenix" movie made a pretty compelling argument for what's wrong with Sansa's character development culminating in this way.
Rape is not a tool to make a character stronger. A woman doesn't need to be victimized in order to become a butterf… https://t.co/UcgbR9PQPT

— Jessica Chastain (@Jessica Chastain) 1557191166.0
Eloquent, to the point and also a nice plug for her upcoming flick.
But just because she's a star and her tweet went viral doesn't necessarily mean she's automatically right. All schools of thought on this divisive moment should be welcomed because conversations around tough issues like this ultimately help creative folks portray them better in future TV shows and films.
So what do you think about it?