Inclusivity
Dictionary.com changing the definition of 'black' after being called racist.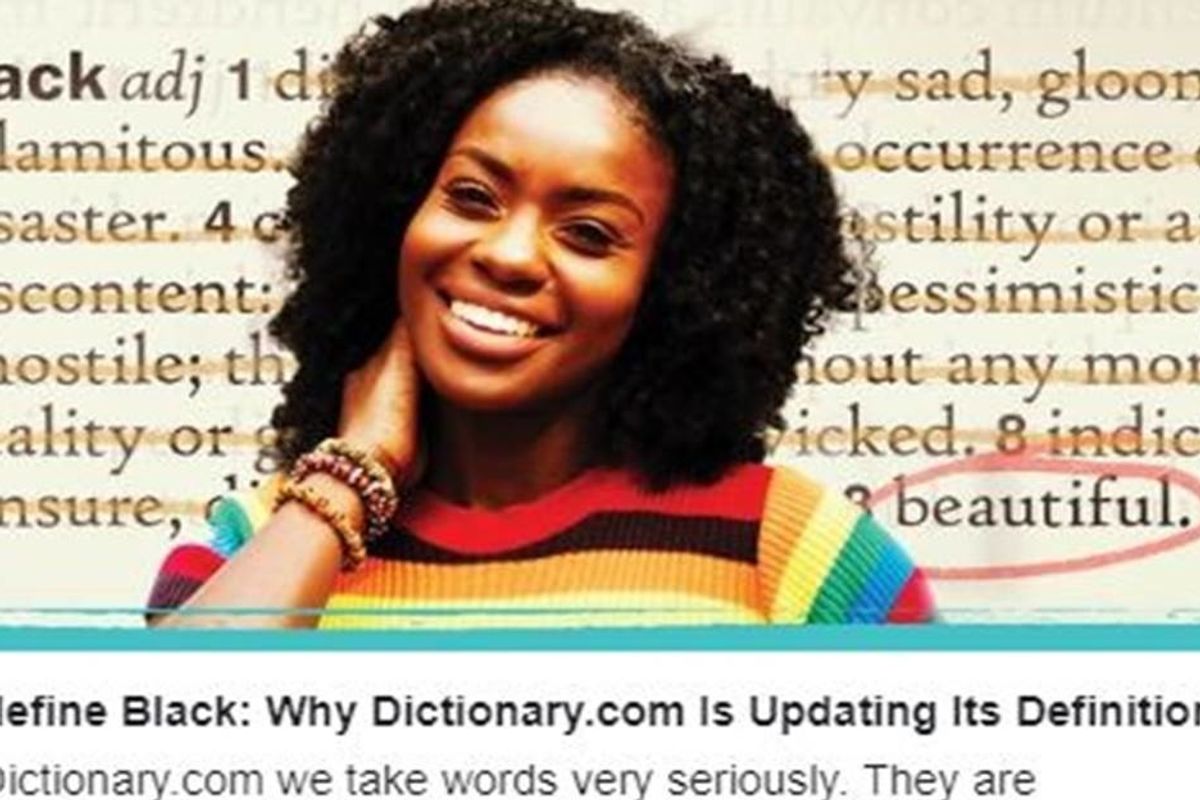 Procter & Gamble's "My Black is Beautiful" campaign is asking dictionaries to rethink their definitions of the word "black" and Dictionary.com thinks it's a great idea.
"Words like 'dirty,' 'wicked,' and 'evil' are offensive and derogatory words that are still being used in the dictionary to define the word 'Black'/'black,'" a petition created by the campaign reads. "These words negatively impact the perception of Black beauty and culture."
Currently, Dictionary.com's synonyms for the term are overwhelmingly negative.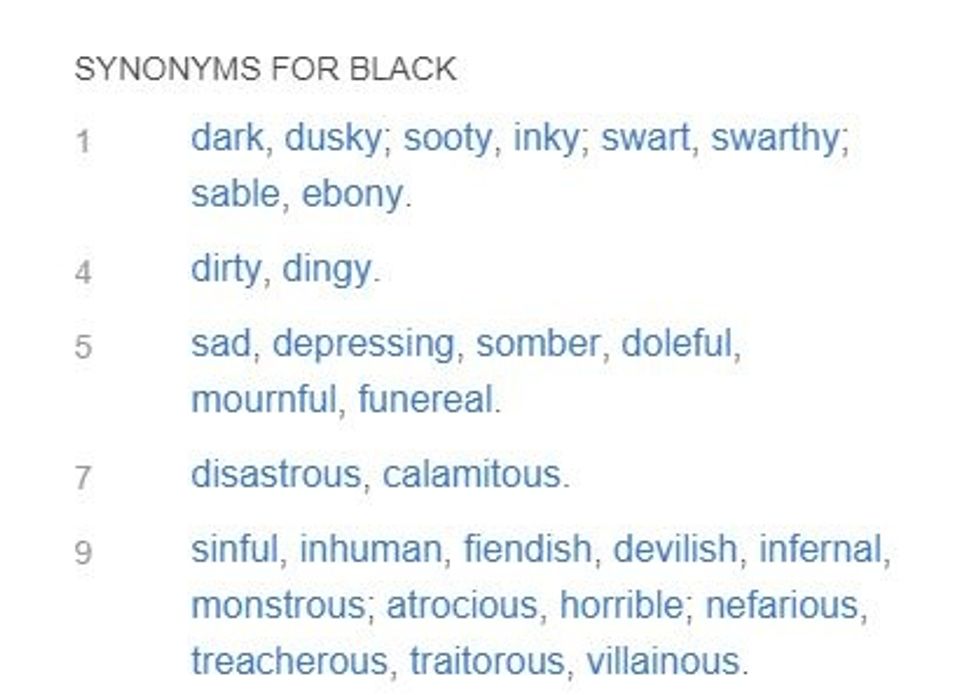 via Dictionary.com
---
People have been urging dictionaries and the public at-large to consider a "positive" and "racially-unbiased" definition of the term via #RedefineBlack on social media.
There are offensive words in the dictionary associated with the definition of Black. It's important that we have more positive definitions for the word Black because how we define words shapes our perception of them. @Dictionarycom @MBIB#RedefineBlack
— RJTMP Queen (@RJTMP3) June 6, 2019
In the dictionary, the word Black has some pretty negative words attached to it. However, when we see Black, we identify with beauty, bravery, and strength. #RedefineBlack with us now at https://t.co/5tg9obMl1A. #MyBlackIsBeautiful #MBIB pic.twitter.com/2mlTjT2qvx
— MBIB (@MBIB) June 5, 2019
@Dictionarycom the representation you give people gives them validation, whether those opinions are true or false. Words have the power to change our lives- so change the way you define a word that affects millions. Reinforce the true beauty of being Black and #RedefineBlack
— liv (@goddoesntdream) June 6, 2019
#Redefineblack @Dictionarycom @MBIB @MerriamWebster @OxfordWords @CollinsDict
They say a pen is mighter than a sword. The pen is used to write words. The word Black, needs a positive representation. The word black should not be limited to describing poc. The definition
— Chloe (@thesmellyroses) June 9, 2019
Words are so powerful. When the dictionary includes negative words to define black, it perpetuates stereotypes. Let's work to reshape the definition of black! @Dictionarycom #MyBlackIsBeautiful #RedefineBlack pic.twitter.com/j95MHrRRAc
— Dominique LaVigne (@domlavigne07) June 6, 2019
On June 6, Dictionary.com announced that it agreed with the campaign and will work on updating the definition in response to a tweet from Kenya Dixon.
Let's Change The Old, Insulting, Abusive, Objectionable, Hostile, Attacking Definition Of "Black/ black ". It's Not Who We Are Or What We a Stand For. So Let's Move To Change It And Proudly Represent BLACK, As We Really Are. @Dictionarycom
— Kenya Dixon (@Kenx2Doll) June 6, 2019
We appreciate your powerful words, and we proudly support the #RedefineBlack campaign. https://t.co/hEEnIkbS2C
— Dictionary.com (@Dictionarycom) June 6, 2019
This is why when My Black Is Beautiful reached out to Dictionary.com about "Redefine Black," we saw an opportunity to revisit our current entry of the word Black. As a result of this conversation, we are making some updates and revisions that will be rolled out on Dictionary.com later this year.

Currently this definition sits right above a definition that reads "soiled or stained with dirt." While there are no semantic links between these two senses, their proximity on the page can be harmful. It can lead to unconscious associations between this word of identity and a negative term. These are not associations we want anyone to get from Dictionary.com, and so we will be swapping our second and third senses on the page.

Another change we are making is that we will be capitalizing Black throughout the entry when it is used in reference to people. Why capitalize Black in this context? It is considered a mark of respect, recognition, and pride. This is common practice for many other terms used to describe a culture or ethnicity. Not capitalizing Black in this context can be seen as dismissive, disrespectful, and dehumanizing.
While we often see words as tools that we use to communicate our perceptions of reality, words themselves have an impact on how reality is perceived.

The Sapir-Whorf hypothesis, which is one of the most important theories in linguistics, states that an individual's thoughts and actions can be determined by the language or languages that individual speaks.

So by reevaluating the meaning of the words we use to describe others, it can help create a more positive perception of them. When we begin to associate black more so with beauty than treachery, society will be more inclined to have a positive perception of Black people as well.