Health
You don't have to take a class to learn CPR. Learn the basics with this 2-minute video.
CPR is a life skill everyone needs to know.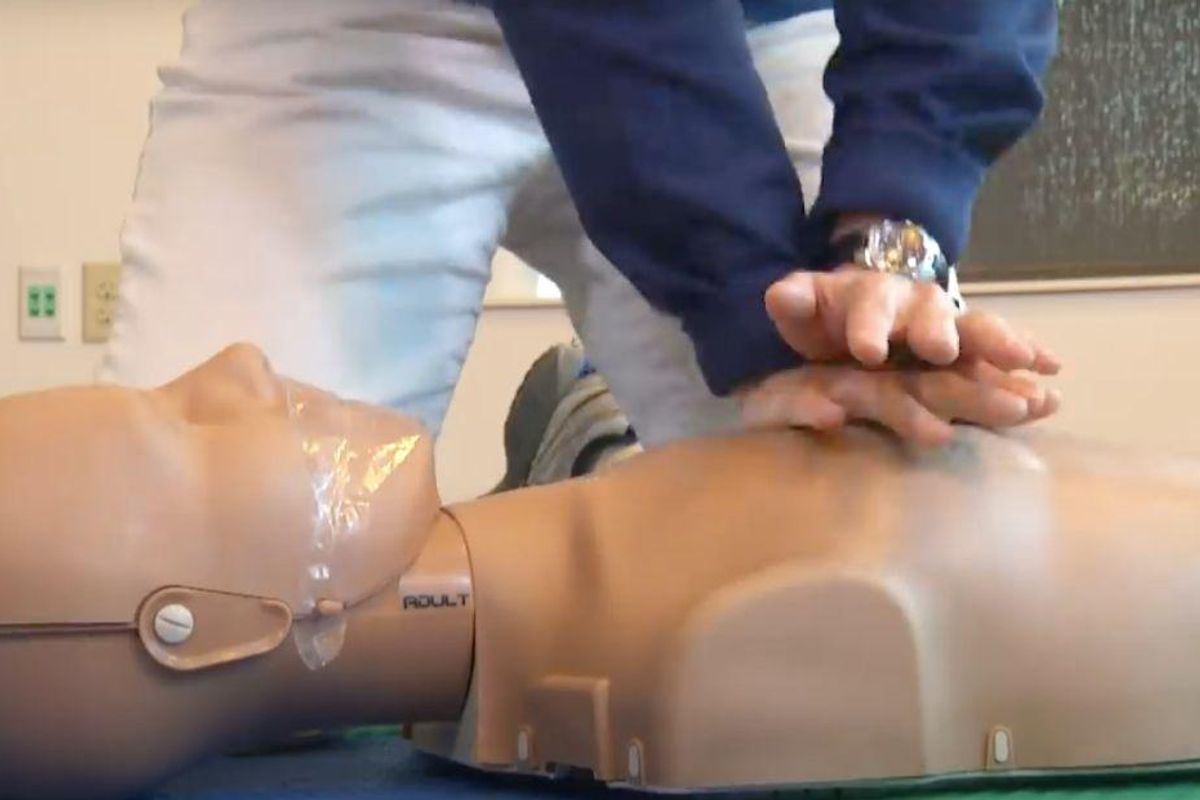 When 24-year-old Damar Hamlin collapsed on the football field after a tackle on live television, millions of people were concerned. As the Buffalo Bills' quick-thinking assistant trainer began to perform CPR, many feared they had witnessed his death.
Thankfully, CPR began immediately, which likely saved Hamlin's life and may have prevented long-term damage from lack of oxygen to the brain and other vital organs. CPR saves lives. According to the American Heart Association, receiving CPR immediately in an out-of-hospital cardiac arrest event doubles or triples a person's chance of survival.
The key is acting fast when a person shows signs of cardiac arrest, and the key to acting fast is to know what you're doing. That's why everyone should know how to perform CPR.
---
There are classes you can take to learn CPR and other first aid skills, but in the era of the internet, it's not necessary to take a whole class to get a handle on the basics. While it's certainly nice to have a CPR "Annie" mannequin to practice on, that's also not necessary—you can practice CPR on pillows right at home. You can even make your own CPR mannequin at home using a T-shirt, a two-liter bottle, some rubber bands and some stuffing.
CPR isn't all that complicated and it doesn't take very long to learn. If you've never learned CPR or you need a refresher, there are plenty of videos out there to learn from. However, many of them include a lot of superfluous fluff. Cincinnati Children's Hospital has a very clear, no-nonsense video that shows you how to perform CPR on an adult in less than two minutes.
(Note: This video is for CPR on people ages 12 and older. Cincinnati Children's has similar videos for infant CPR and for CPR for children ages 1 to 12.)
One tip shared by the American Heart Association is to think of the beat to the Bee Gees' "Stayin' Alive" to get the right speed and rhythm while doing CPR. May seem silly and punny, but it's easy to remember.
Also, the reason the person in the video points and says, "You! Call 911!" is because yelling out "Someone call 911!" isn't as effective as telling a specific person to do it. Everyone thinks somebody else will call, so assigning a person is wise.
If you're curious about why and how CPR works, this video offers a cool 3D illustration of exactly what's happening when you do compressions. It also shows what happens if you don't pump hard or fast enough, if you do it too fast or if you don't allow the heart to refill between pumps. Visualizing what's happening inside might help you remember CPR specifics, since the goal is to get blood to pump from the heart to the brain.
It's well worth the few minutes to familiarize yourself with how to perform CPR and do some pillow practice at home. With the availability of AEDs (automated external defibrillators) it's a good idea to familiarize yourself with how to use an AED as well. These machines generally have voice commands that tell you what to do as soon as you turn it on, but always good to know what to expect beforehand.
Most of us hope we'll never be in a situation where someone's life is in our hands, but if it does happen, we definitely want to be prepared.