Planet
Researchers discovered a pink seaweed that 'completely knocks out' greenhouse gasses expelled by cows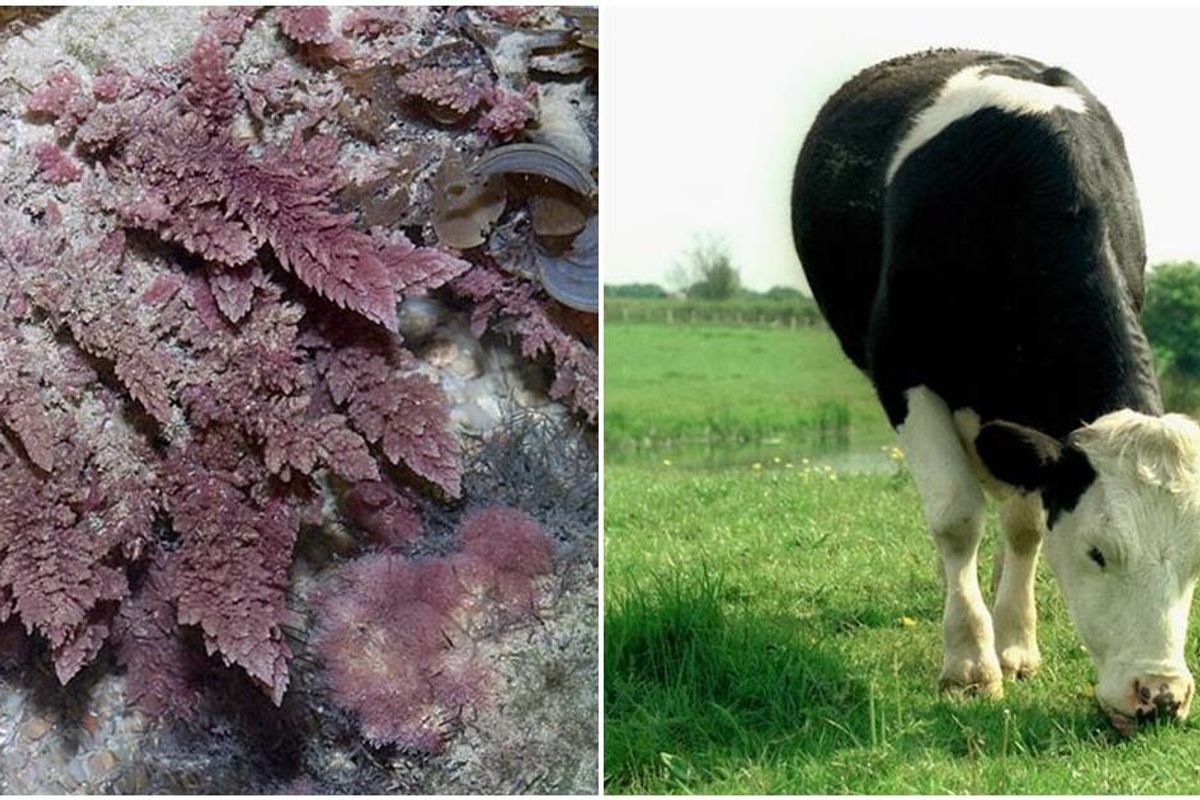 Climate change deniers often mock the claim that gas expelled from cows, either through the mouth or the bottom, is a major cause of global warming.
It was even a point of debate when Republicans were discussing the Green New Deal.
Democratic candidates continue to push the Green New Deal which could cost as much as $93 trillion, kill tens of thousands of jobs and devastate Iowa's economy. It could even go as far as banning cow farts!
— Joni Ernst (@joniernst) August 15, 2019
Time to stop cow farts pic.twitter.com/a4B7qgnbtR
— Bala🇺🇸🇮🇳 (@Bmo7882) August 10, 2019
But it's true. According to the United Nations, livestock farming produces about 18% of environmentally damaging gases — and about a quarter of that chunk comes from cow emissions.
When cows digest food in their intestines it ferments, which causes them to expel methane. When methane is released into the atmosphere without being burned off, it absorbs the sun's heat, warming the atmosphere.
---
Dr. Nick Paul, a University of the Sunshine Coast (USC) Seaweed Research Group leader Associate Professor, believes he may have a solution to the massive amount of greenhouse gasses expelled by cows.
He has discovered that when cows eat asparagopsis, a puffy pink seaweed that grows prolifically off the Queensland Coast in Australia, they stop producing methane.
"When added to cow feed at less than two percent of the dry matter, this particular seaweed completely knocks out methane production," Dr. Paul said in a statement. "It contains chemicals that reduce the microbes in the cows' stomachs that cause them to burp when they eat grass."
Plus, the cows think it's pretty tasty.
"Seaweed is something that cows are known to eat. They will actually wander down to the beach and have a bit of a nibble," Dr. Paul said.
His team at USC is currently researching ways to grow more of the seaweed species so one day it can be used to supplement cow feed on a global basis.
"This seaweed has caused a lot of global interest and people around the world are working to make sure the cows are healthy, the beef and the milk are good quality," Dr. Paul said.
"That's all happening right now," he continued. "But the one missing step, the big thing that is going to make sure this works at a global scale, is to make sure we can produce the seaweed sustainably."
The researchers aren't just looking for ways to mass produce the seaweed, they are studying its chemical composition so similar compounds can be made that mimic the seaweeds effects.
"We know the chemical composition of asparagopsis and we know the chemical compounds that actually reduce methane production in cows, so now we want to maximise the concentration of that chemical so we can use less seaweed for the same effect," project scientist Ana Wegner said.