Well Being
Anti-vaxxer Candace Owens was denied a COVID test, highlighting a big debate in medical ethics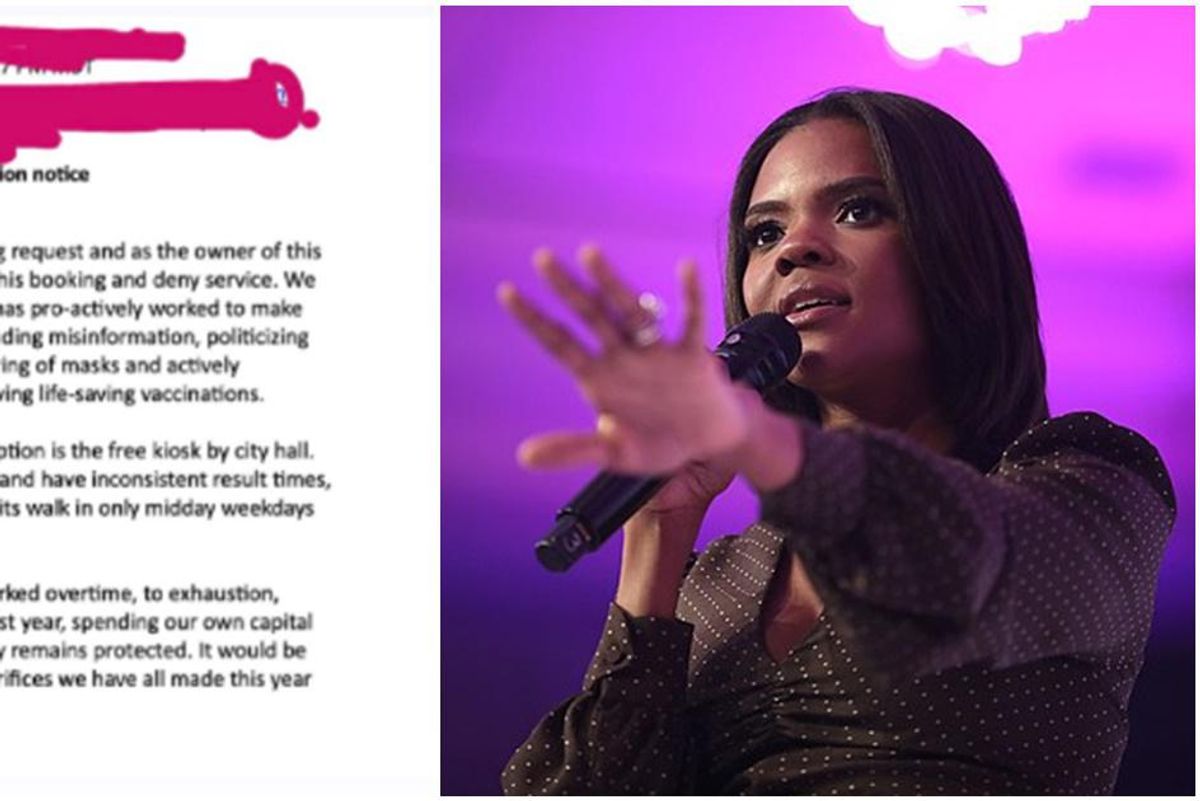 via Wikimedia Commons
The COVID-19 era was officially dubbed the "pandemic of the unvaccinated" by CDC Director Rochelle P. Walensky, MD last July and she wasn't kidding.
Unvaccinated people are 29 times more likely to be hospitalized than those who got the jab and studies show they now account for 99% of deaths from the virus.

It's terrible that people are dying of symptoms that are nearly 100% preventable. But it's also fair to criticize those who are unvaccinated because for nearly all of them it's a selfish decision. There are of course exceptions, primarily those who cannot get vaccinated because of overriding medical conditions. But those are relatively few and far between. Unvaccinated people are three times more likely to spread COVID-19 and on rare occasions, they can infect someone who did the right thing and got the shot.
---
The virus just keeps dragging on so it's understandable that some on the front lines are fed up with those who keep it going.
Conservative pundit Candace Owens has been very vocal about her opposition to the COVID-19 vaccine and mask-wearing. She often tweets that she's proud to be unvaccinated, even saying that no one in her family will "ever touch the COVID-19 vaccine."
If that decision only affected her, then this wouldn't be much of a problem. But, unfortunately, there are many people who cherish her opinion.

Owens needed to get a COVID-19 test earlier this week but was denied by Suzanna Lee, co-founder of Aspen COVID Testing because she's actively encouraged the spread of the virus.
"I've just learned of this testing request and as the owner of this business am going to refuse this booking and deny service," Lee wrote.
"We cannot support anyone who has proactively worked to make this pandemic worse by spreading misinformation, politicizing and DISCOURAGING the wearing of masks and actively dissuading people from receiving life-saving vaccinations," the email continued. Lee then directed her to a free testing facility at city hall.
Owens shared the letter on Twitter calling Lee a "danger to the Aspen community."
Just finished my live on Instagram here: https://t.co/lPjhqVYaGO As promised— here is the email from the rabid act… https://t.co/3RvHH86akA

— Candace Owens (@Candace Owens) 1630548413.0
Owens responded to Lee by saying it was the most "hilarious email" she's ever received in her life and criticized her for politicizing the virus. This is pretty hypocritical from someone who has repeatedly politicized the virus.

It's debatable whether it's ethical for a healthcare provider to deny Owens a test but there were no real consequences for her actions because there are other places to get tested.
But what about doctors who are the last line of care and only have a limited number of beds. Is it fair for them to prioritize someone who got the vaccine over someone who didn't? All things being equal, doesn't the person who got the shot to protect themself and others deserve care more than the person who did not?
A doctor in Alabama recently said he would no longer treat unvaccinated patients.
"We do not yet have any great treatments for severe disease, but we do have great prevention with vaccines. Unfortunately, many have declined to take the vaccine, and some end up severely ill or dead. I cannot and will not force anyone to take the vaccine, but I also cannot continue to watch my patients suffer and die from an eminently preventable disease," Dr. Jason Valentine, a physician at Diagnostic and Medical Clinic Infirmary Health in Mobile, wrote in an open letter.
Doctors Feel Compassion Fatigue About Vaccine Refusers - The Atlantic To many medical providers working today, the… https://t.co/n5UFLf8M4q

— NancyNoCo 🌊 (@NancyNoCo 🌊) 1628884375.0
Last month, Dr. Chavi Eve Karkowsky wrote a piece in The Atlantic saying that unvaccinated people are beginning to run up against "compassion fatigue" in America's hospitals.

"To many medical providers working today, the rejection of lifesaving COVID-19 vaccines feels like a giant 'Fuck you' from 29 percent of American adults. We will keep providing the best care possible, but they are making our job much harder," she wrote.
"Doing the work of curing human bodies is harder when some of one's faith in humanity is lost," she added.
The COVID-19 pandemic has been an awful time to live through because millions of people have suffered and our lives have been completely upended.
Even if the virus does go away there will be one thing that will never change. It's left many of us with a diminished view of humanity. It's disheartening to realize that at a time when lives were on the line there were opportunists who knowingly promoted the spread of the deadly disease through misinformation.
We'll also never forget that at a time when a virus was raging, millions of people had the opportunity to do what they can to stop the spread and did nothing.
What are the consequences? For Owens, the annoyance of having to find another testing place. But for many others, their lives.