Culture
After racist tirade, a man challenged critics to show up at his house. Over 100 people did.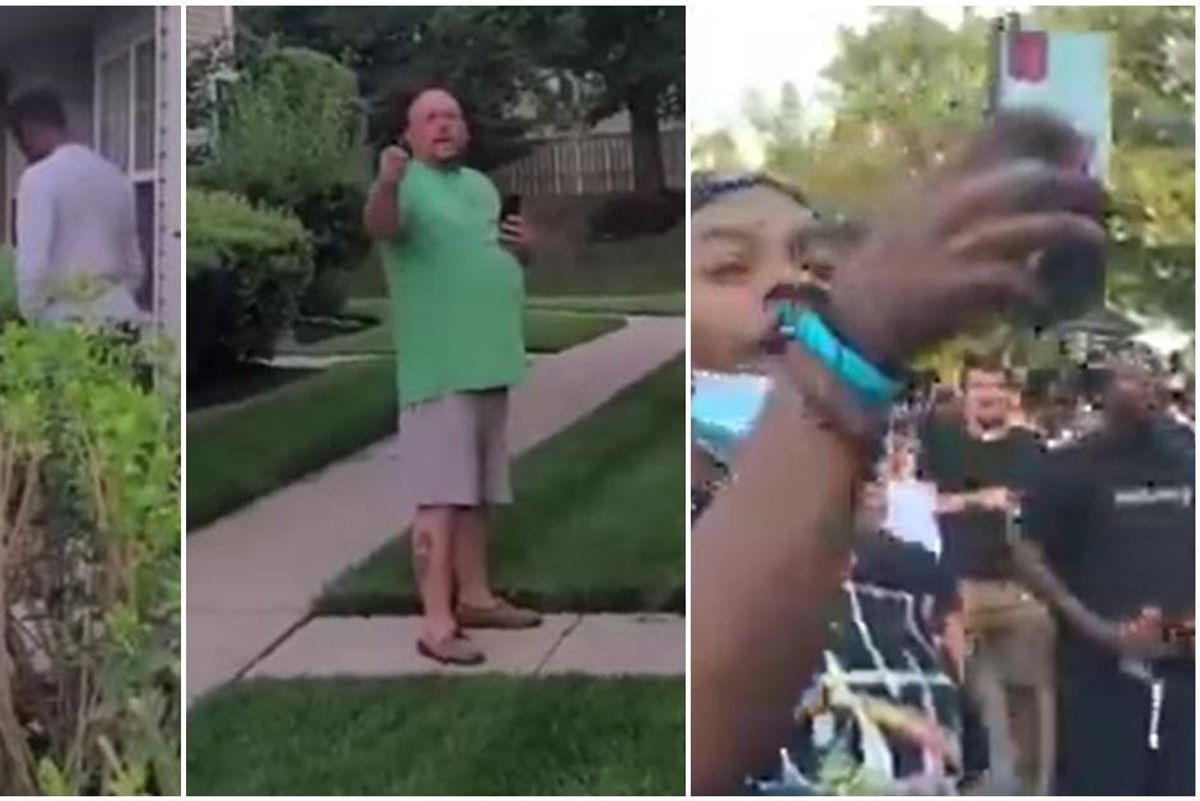 via Twitter
Edward Cagney Mathews, 45, of Mount Laurel, New Jersey, went on a racist tirade against a Black neighbor on Friday, and video of the incident went viral.

During the altercation, Mathews hurls epithets at his neighbor calling him a "monkey" and the n-word. Mathews also bumps chests with the man who pushes him back. At one point, Mathews told the Black man to "Learn your laws… it's not Africa."
"I was born in America," the man replied.
---
Eventually, police showed up at the scene and broke up the altercation. Mathews is then seen challenging the person who filmed the incident to "come see me" and to "bring whoever." He also provided his address.

Three days after the incident, people followed Mathews' directions and showed up in front of his house. By Monday morning, dozens of protestors were outside chanting "We want Edward!" That evening, the protest had drawn over 100 people.
Many were angry that he was allowed to return home after the police were called on him.
"He said to pull up. We pulled up," Aliya Robinson, 43, who lives near Mathews, told the Inquirer. "We're not going to tolerate this anymore."

The response by the protestors was a wonderful display of solidarity for the Black neighbor that Mathews harassed. It was also an example of how people will no longer tolerate the racial harassment that's been commonplace in this country for as long as anyone can remember.
"This is America, we all live here, we cannot put up with this," Robinson told CBS News. "I'm literally in fear all the time living with my son, like what am I supposed to do?"
Mathews emerged from his house briefly to apologize to the crowd but the protesters were far from satisfied. Police later handcuffed Mathews and escorted him out of the house. On his way to the car, he was pelted with water bottles and food.
The Mount Laurel Police Department said that Mathews has been charged with harassment, biased intimidation, and assault.

Since the incident went viral, at least ten of Mathews' neighbors have said they've been racially harassed by him in the past. "He used a BB gun to shoot their windows out, he smeared dog feces all over their car," one neighbor said.
Mathews apologized for his behavior in a phone interview with the Philadelphia Inquirer. He claims the incident was caused by a dispute over the homeowners' association. "I certainly wasn't expecting an encounter like that and certainly wasn't expecting to disrespect anybody," Mathews said. "Let me be clear: That is no excuse for what I said, but I lost my temper."
The community's reaction to the racist tirade is a great example of how communities can stand together to stamp out racists who refuse to live peacefully with their neighbors. Let's also hope that it also works as a wake-up call to racists, letting them know their harassment will no longer be tolerated.