More
A gay content creator's impassioned viral thread forces YouTube to de-monetize a conservative commentator.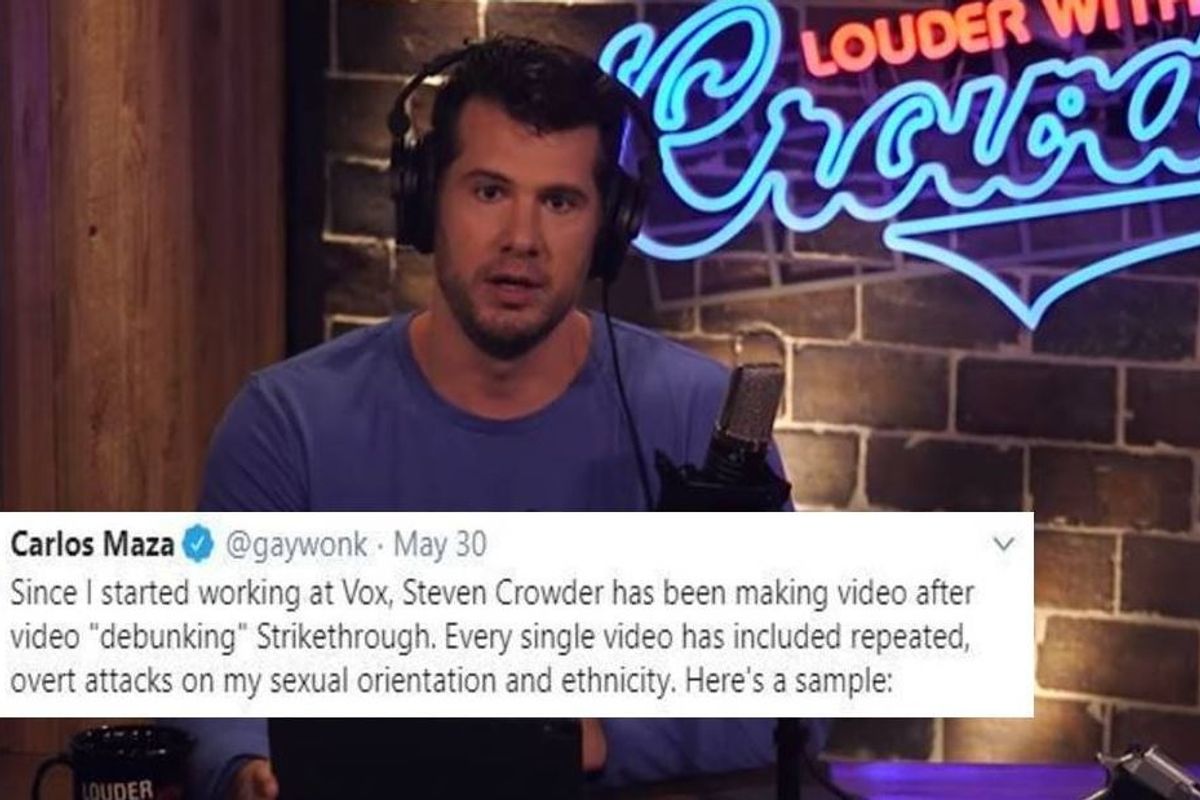 A Bloomberg investigation of YouTube last April found that videos produced for an extreme, alt-right audience are just as popular as music, sports, and gaming on the platform.
These channels allow for the rampant spread of misinformation, hate speech, and harassment.Carlos Maza, host of "Strikethrough" a Vox-produced YouTube show that explores the challenges facing the news media in the age of Trump, perfectly illustrated the cycle of abuse in a recent tweet thread.
This is how @YouTube's hate-economy works: 1. give bigots a massive, free platform 2. drive millions of new recrui… https://t.co/4Rf1MUSOOb

— Carlos Maza 🌹 (@Carlos Maza 🌹) 1559577765.0
Maza knows the cycle first-hand because he has been targeted by conservative YouTuber Steven Crowder who routinely refers to Maza by derogatory terms such as "anchor baby" and "lispy queer."
Maza says that Crowder's comments have resulted in a "a wall of homophobic [and] racist abuse on Instagram and Twitter."
After repeatedly flagging Crowder's YouTube videos and receiving zero response, Maza took to Twitter to vent his frustration.
So, I have pretty thick skin when it comes to online harassment, but something has been really bothering me.
— Carlos Maza (@gaywonk) May 31, 2019
Since I started working at Vox, Steven Crowder has been making video after video "debunking" Strikethrough. Every single video has included repeated, overt attacks on my sexual orientation and ethnicity. Here's a sample: pic.twitter.com/UReCcQ2Elj
— Carlos Maza (@gaywonk) May 31, 2019
Last year, I got doxxed, and it scared the fuck out of me. My phone was bombarded with hundreds of texts at the exact same time. The messages? pic.twitter.com/ls4qBM9k08
— Carlos Maza (@gaywonk) May 31, 2019
That being said, I'm not mad at Crowder. There will always be monsters in the world. I'm fucking pissed at @YouTube, which claims to support its LGBT creators, and has explicit policies against harassment and bullying: https://t.co/K9XJGAP7Xp pic.twitter.com/4GUfTDuOXS
— Carlos Maza (@gaywonk) May 31, 2019
This has been going on for years, and I've tried to flag this shit on several occasions. But YouTube is never going to actually enforce its policies. Because Crowder has 3 million YouTube subscribers, and enforcing their rules would get them accused on anti-conservative bias.
— Carlos Maza (@gaywonk) May 31, 2019
This isn't about "silencing conservatives." I don't give a flying fuck if conservatives on YouTube disagree with me. But by refusing to enforce its anti-harassment policy, YouTube is helping incredibly powerful cyberbullies organize and target people they disagree with.
— Carlos Maza (@gaywonk) May 31, 2019
YouTube does not give a fuck about queer creators.
YouTube does not give a fuck about marginalized creators.
YouTube does not give a fuck about diversity or inclusion.

YouTube wants clicks.
YouTube wants clicks.
YouTube wants clicks.
— Carlos Maza (@gaywonk) May 31, 2019
A lot of people have pointed out that Crowder is wearing a "Socialism Is For Fags" shirt in several of his videos.

Turns out, he sells that shirt to his YouTube fans, and proudly displays it in his Twitter cover photo. What are these platforms doing? pic.twitter.com/x9F6xOFNhk
— Carlos Maza (@gaywonk) May 31, 2019
If Crowder loses his channel, I'm going to get hit with another avalanche of abuse and will likely get doxxed again.

That's what's so fucked up about these platforms: they create wildly powerful monsters and then ask the targets of abuse to draw further attention to themselves.
— Carlos Maza (@gaywonk) May 31, 2019


Note: Crowder's shirts say Socialism is For F-gs" with a picture of a fig that resembles an "a" and a photo of Che Guevara making a limp-wristed gesture. It appears to be an attempt at humor.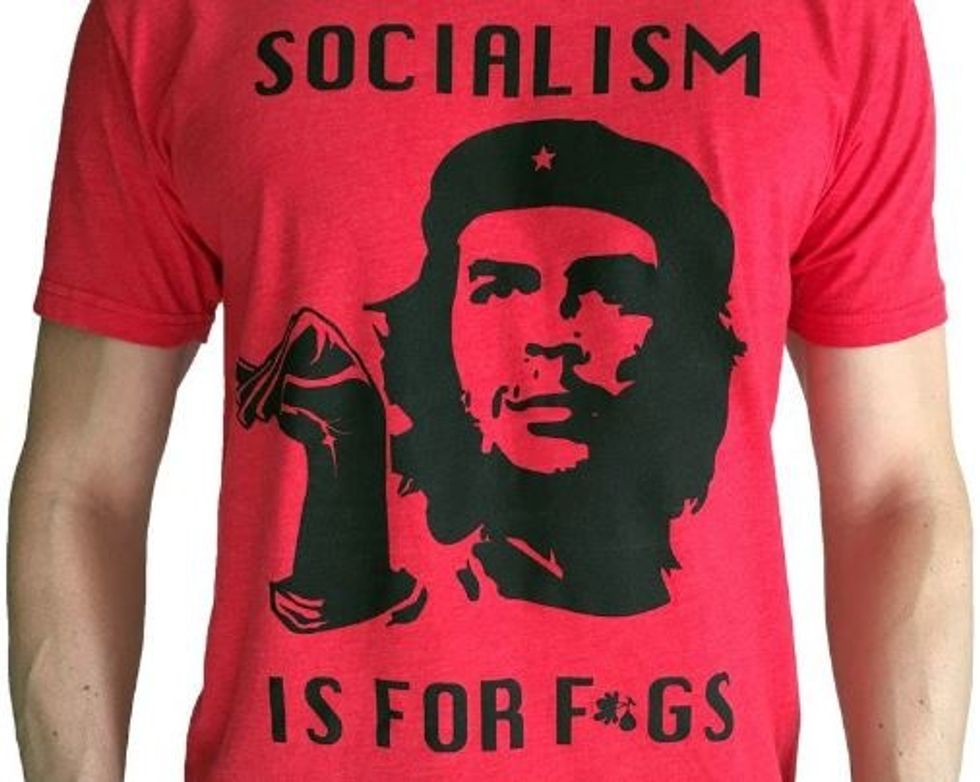 After the tweet thread went viral, YouTube responded by announcing it would investigate Crowder's channel.
Thanks so much for outlining all of this–we're looking into it further. Sending you a DM now.
— TeamYouTube (@TeamYouTube) May 31, 2019
Crowder responded to the investigation by condemning those who have harassed Maza. "I have always condemned and continue to discourage any and all forms of doxxing or targeted harassment of anyone online, ok?" he said in a video response.
But he defended calling him a "lispy queer" because "it's funny and this is a comedy show" and because Maza refers to himself as queer.
Crowder's defense is disingenuous because there's a big difference between using the term queer to refer to someone's sexual orientation versus using it as an insult. His defense is tougher to believe when he uses the term "fag" to disparage people.
Crowder also claimed that the investigation was a form of corporate censorship and an attempt by YouTube to please NBC, a Vox Media investor.
Maza responded to Crowder by calling his assertions "batshit."

The right-wing persecution complex is unbelievable.

Imagine spending two years calling a total stranger a "lispy queer" and then playing victim when he decides to do something about it.
— Carlos Maza (@gaywonk) June 3, 2019
Nobody asked Crowder to spend years mocking my sexuality or ethnicity. I have never mentioned Crowder in a single YouTube video. I spent years quietly watching him call me a "lispy queer" to his fans.

The idea that I started this to take down a "competitor" is genuinely batshit.
— Carlos Maza (@gaywonk) June 3, 2019
Six days after Maza's tweet thread, on June 5, YouTube de-monetized Crowder's show with a caveat, it would reinstate monetization if Crowder stopped linking to his "Socialism is for f-gs" T-shirts.
Maza responded by saying that YouTube's real issue is giving Crowder a platform, not whether he makes money off the site.
So the fuck what. Basically all political content gets "demonetized."

Crowder's revenue stream isn't from YouTube ads. It's from selling merch and "Socialism Is For Fags" shirts to millions of loyal customers, that @YouTube continues to drive to his channel. For free. https://t.co/ws8mqvRoKU
— Carlos Maza (@gaywonk) June 5, 2019
Demonetizing 👏 doesn't 👏 work. 👏

Abusers use it as proof they're being "discriminated" against. Then they make millions off of selling merch, doing speaking gigs, and getting their followers to support them on Patreon.

The ad revenue isn't the problem. It's the platform.
— Carlos Maza (@gaywonk) June 5, 2019
Demonetizing 👏 doesn't 👏 work. 👏

Abusers use it as proof they're being "discriminated" against. Then they make millions off of selling merch, doing speaking gigs, and getting their followers to support them on Patreon.

The ad revenue isn't the problem. It's the platform.
— Carlos Maza (@gaywonk) June 5, 2019
For the record, demonetizing Crowder means that @YouTube now treats anti-LGBT harassment the same way it treats pro-LGBT content. Bonkers. https://t.co/6WqsnQhwvE
— Carlos Maza (@gaywonk) June 5, 2019
The problem isn't Crowder and the problem isn't monetization.

The problem is that @YouTube allows monsters and bullies to become superstars, break YouTube's rules, build an army of loyal, radicalized followers, and then make millions selling them merch that sustains their work.
— Carlos Maza (@gaywonk) June 5, 2019