Identity
Women share the unbelievable ways they were treated on planes for being fat
"The most important thing that fellow passengers can do is just acknowledge the humanity of the people they're traveling with."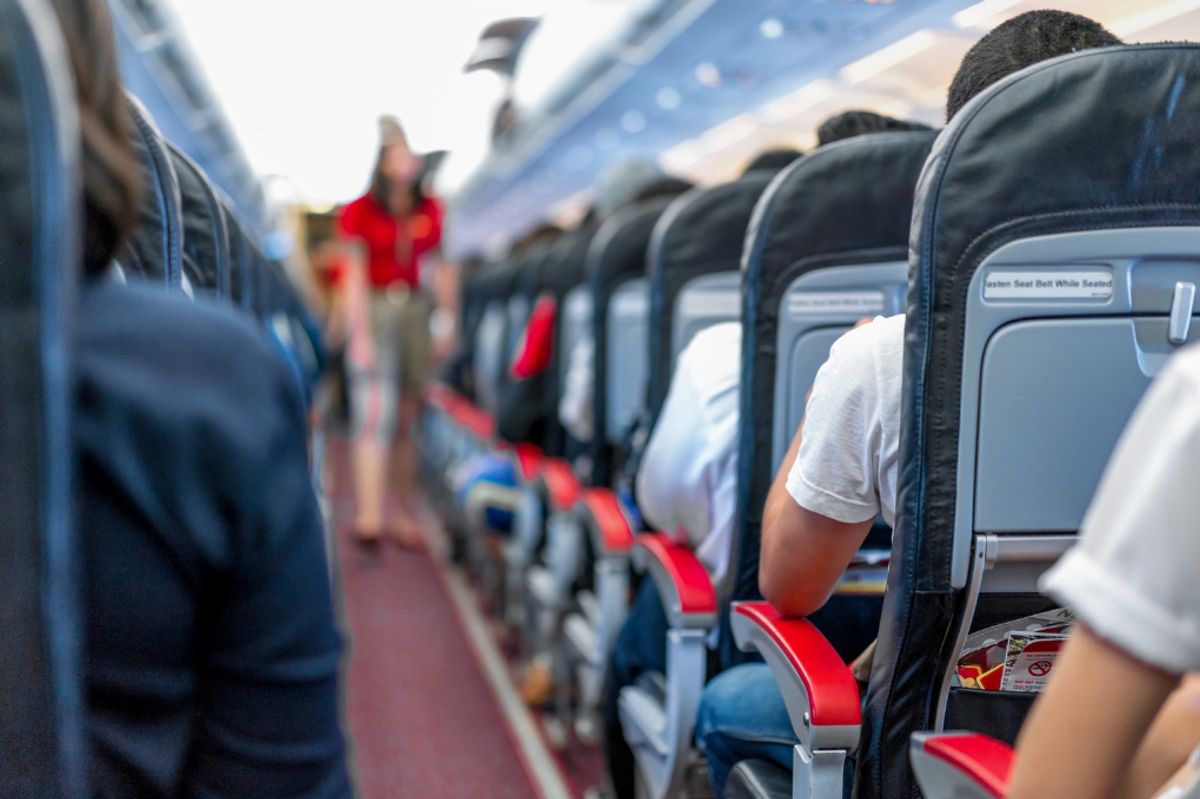 Canva
Before moving to London to pursue a degree in anthropology, Stacy Bias had to decide if it was worth getting on the airplane.

"As a woman over 300 pounds, flying was pretty anxious for me," Bias says. Over the years, Bias came to fear being stared at, subjected to rude comments from seatmates, or asked to purchase an extra seat. The anxiety got so bad that at one point, she stopped flying altogether.
With a little determination and encouragement from her partner, who had recently relocated to the U.K., Bias faced down the fear and got on the plane to London. Soon after, she started a Facebook group to offer discussion, support, and tips to other fat travelers who had encountered similar roadblocks. The group quickly grew to nearly 4,000 members and Bias, in conjunction with a research project for her undergraduate dissertation, presented the group with a survey, encouraging members to share their experiences in the air.
---
"I had to take the survey down after three days because I was overwhelmed with respondents," Bias says. Like Bias, the overwhelming majority of survey takers reported feeling leered at, harassed, and like an unwelcome intruder in a public space.
Bias interviewed nine of the respondents. The result was the short animated documentary "Flying While Fat," which Bias posted to YouTube in 2016.
"The goal of the animation is to humanize fat people," Bias explains.
"I think fat people are talked about a lot — especially fat passengers are talked about a lot — but rarely spoken with."
Some of Bias' subjects love to fly and to travel, but they express frustration at having to endure "the expression" — the look of disappointment and anxiety that crosses their potential seatmates' faces as they walk down the aisle. Others describe having a "hyperawareness" of their bodies at all times, constantly evaluating how much space they take up. Verbal harassment, threats, even physical abuse are common threads in the interviews.
For one participant, the struggle over fat peoples' access to plane space fundamentally comes down to fairness.
"Everyone is fully aware of how much money they spent on those cubic inches," she poses. Because of the ever-shrinking size of airline seats and aisles, fellow passengers, she hypothesizes, are primed to go to the mat over how much room they believe they deserve.
For smaller people, one person's ability sit comfortably in an airplane seat may seem trivial. But for Bias' subjects, it's anything but.
"It's a topic that people feel strongly about," Bias says. "It really impacts the ability of people to partake of the world, to see family, to travel internationally, to go to funerals, to go to weddings. It's a thing that really impacts peoples' life in a profound way."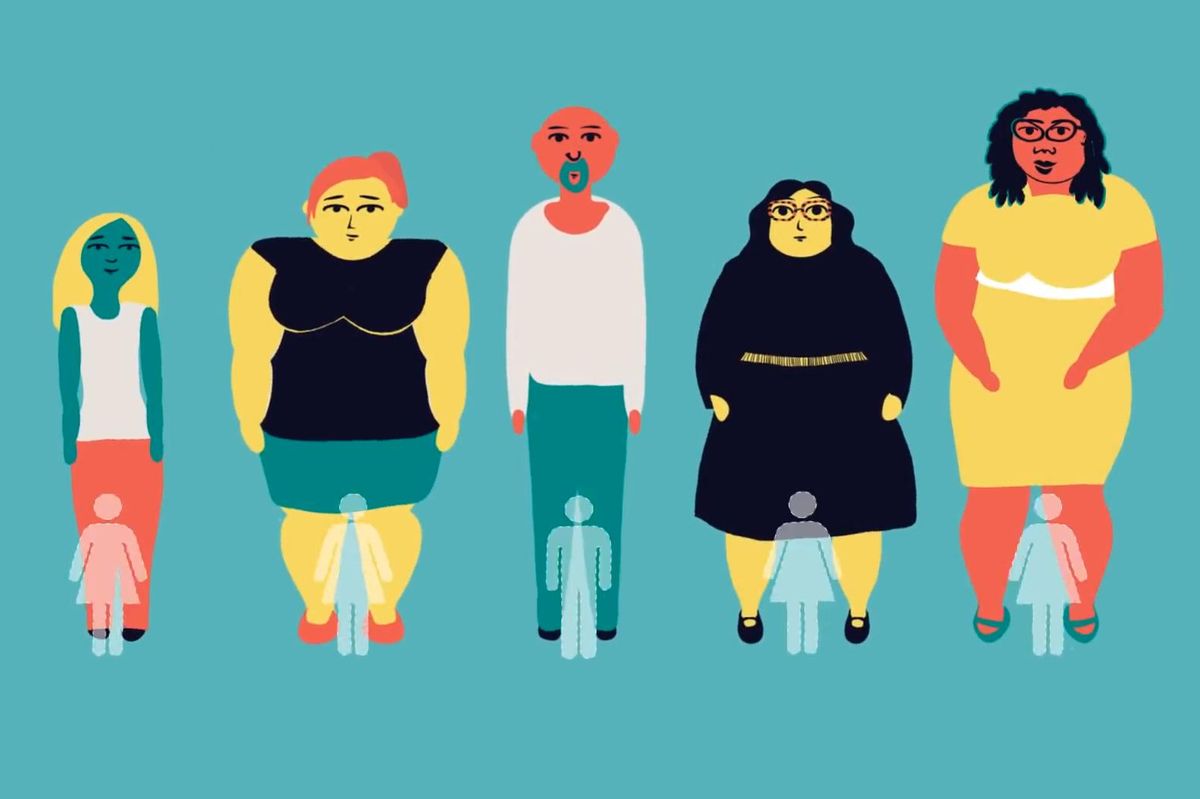 Animation showing the different shapes and sizes of airline travelers.
Image via YouTube video.
Fat flyers, she contends, frequently feel like excess baggage and a problem to be solved — and that, coupled with hostility from fellow passengers, can make them think twice before purchasing a plane ticket.
Bias believes the solution to the problem starts with standardizing customer size policies across the industry and creating more accessible spaces on aircraft.
Currently, those policies are a patchwork. Some airlines, like Alaska and United, require passengers who can't put both armrests down comfortably to purchase an additional ticket. Others, like Delta, simply "recommend" that customers who can't fit comfortably in a single seat do so.
Airlines "need to prioritize the well-being of passengers over profitability so that people literally can fit into the bathroom if they need to," Bias says.
This lack of concern could pose real health risks for some fat flyers. According to Bias, roughly one-quarter of her subjects reported dehydrating themselves before boarding so they wouldn't have to walk down the aisle or attempt to fit into the restroom.
Fat people, she believes, aren't the only ones who could benefit from an industry-wide policy review.
"It's disabled people, it's people with injuries, it's people with long legs. Everybody is deeply uncomfortable on the plane. It's getting more so."
Bias hopes to publish the results of her study in the coming year.
In the meantime, she hopes the film helps smaller flyers understand the frustration and helplessness their fat counterparts often feel in a space where cruelty can sometimes erupt subtly and without warning.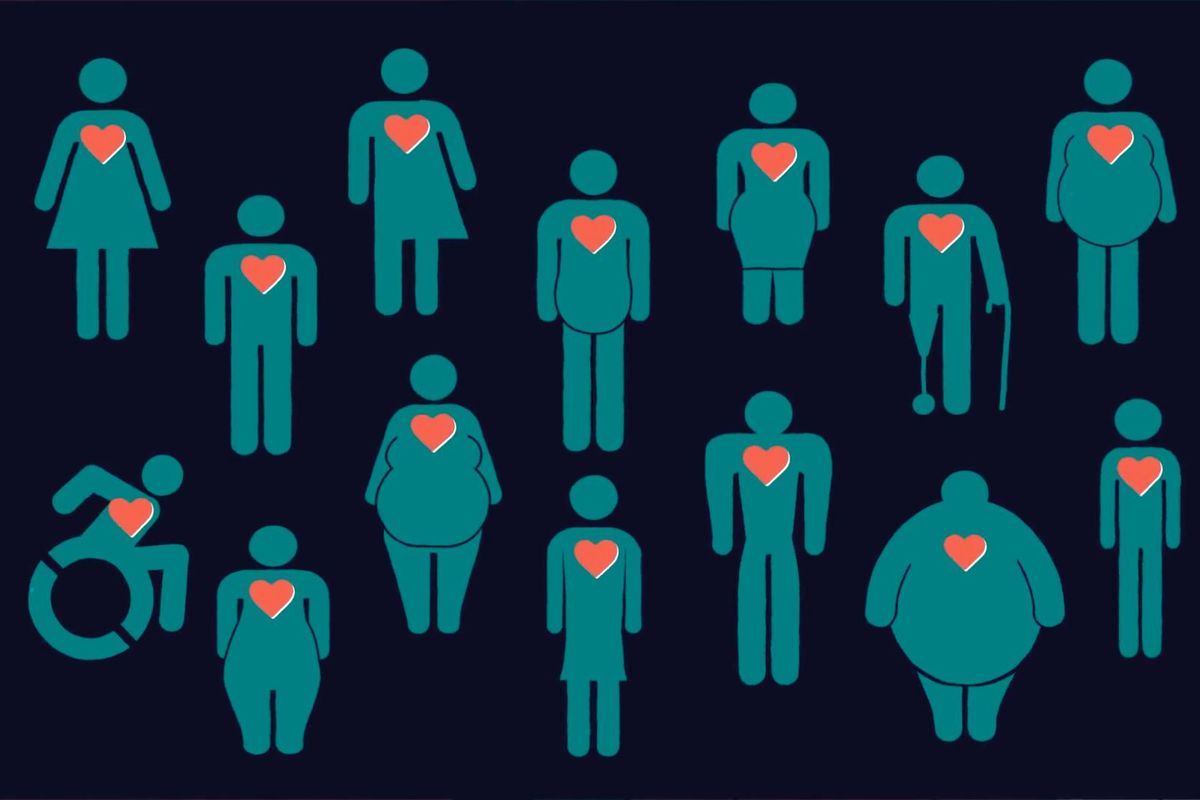 Animation of various physical shapes each with a heart.
Image via YouTube video.
For passengers of any size, Bias believes a little empathy and respect go a long way.
"The most important thing that fellow passengers can do is just acknowledge the humanity of the people they're traveling with."
This article originally appeared on 12.07.16