Humor
The photos were beautiful, but there was something hilariously wrong with the captions.
Family
Sometimes speaking our truth can help history from repeating itself.
Canva
Sarah Shanley Hope's story is frighteningly common.

As a kid, she went over to her neighbor's house one day to play with her best friend. While there, her friend's older brother sexually assaulted both of them.
Hope was only 6 years old.
Being so young, she didn't know how to verbalize what happened or how to process it. She carried the pain with her for years, until she had daughters of her own.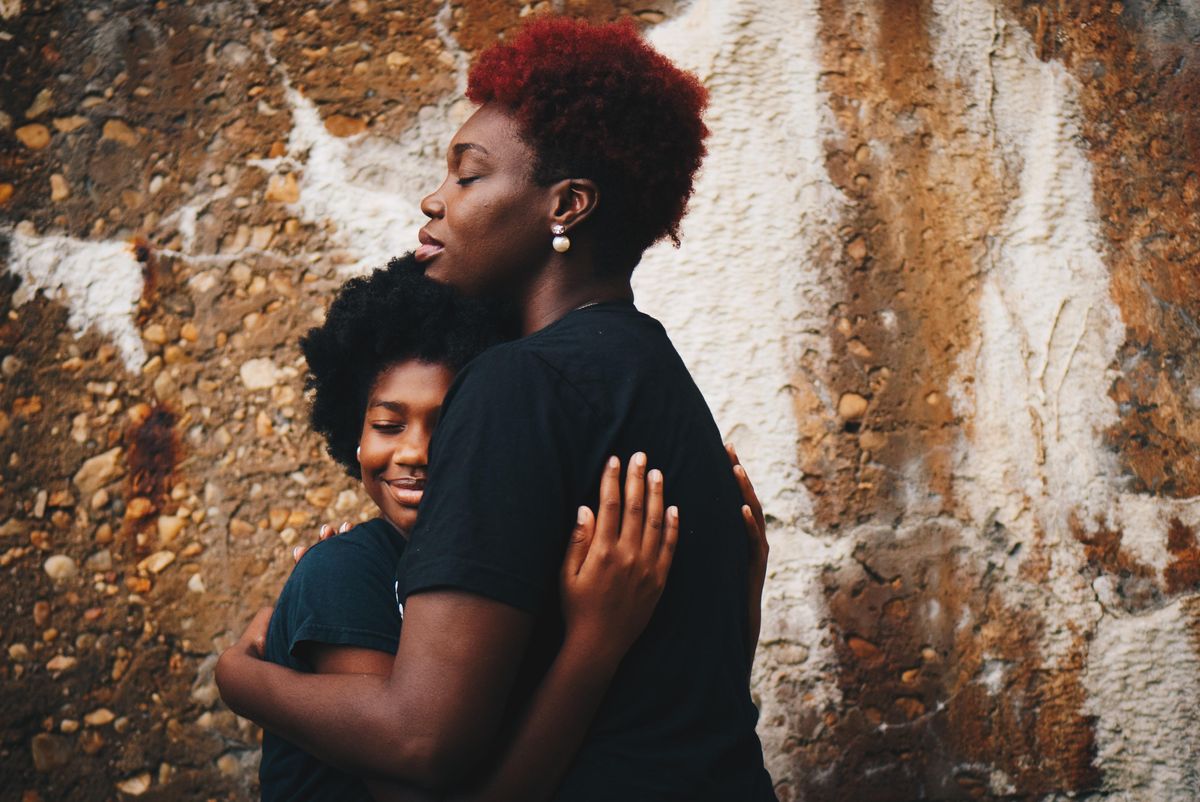 two women hugging each otherPhoto by
Eye for Ebony
on
Unsplash
She told her own girls from the beginning, "You're in charge of your body." But at times, the message seemed to ring hollow.
Mostly, Hope recalls her older daughter, now 8, rolling her eyes, having heard the refrain so many times before: "There goes mom being overprotective, again."
But one day Hope got a call from school. A boy in the class had been caught inappropriately touching some of the girls. Her own daughter had even had a run-in with him.
"He kept hanging on me even after I said 'stop'! It was so annoying," Hope recalls her daughter saying.
Hope decided that, finally, it was time to tell her daughter her own story — her own "Me Too" moment.
"I finally said, honey, the reason I'm paying such close attention to this is that mommy had an experience when I was a kid, where someone did something to my body that wasn't OK."
"I don't want you to feel badly inside like I did," she continued, according to her impassioned post on Medium. "I want you to know that we can always talk about the hard and confusing stuff."
An uncomfortable but, sadly, necessary conversation. You can watch what happens next in the video below:
Why She Told Her 7-Year-Old Daughter About Her Own MeToo Story?
7 might seem like a very young age to tackle such a weighty conversation. But it might be necessary even earlier than that.
The National Center for Victims of Crime estimates that 20% of women (and 5-10% of men) recall an incident of sexual abuse as a child, with kids between 7 and 13 being the most vulnerable.
Those are horrifying statistics for any parent, so horrifying that we might wish we could be with our kids every second of the day to protect them from the horrors of the world. But we can't.
The best we can do is make sure they are aware of the danger and armed with knowledge about what to do if they need help. That includes direct talks — like the ones Hope has had with her kids — and modeling proper boundaries in our own lives.
In Hope's case, sharing her story has triggered a wave of positive change in her own community. She says several of her parent friends have called her recently for advice about how to have these conversations with their kids of all ages. And that's definitely something we need more of.
"We can't undo the harm," Hope writes. "What we can do is choose discomfort over hiding from the pain — or worse, repeating it."
This story originally appeared on 01.26.18
Education
Honestly, do you know the difference?
True
After over a thousand years of peaceful relations, European semi-superpowers Sweden and Switzerland may finally address a lingering issue between the two nations. But the problem isn't either country's fault. The point is that the rest of the world can't tell them apart. They simply don't know their kroppkakor (Swedish potato dumpling) from their birchermüesli (a Swiss breakfast dish).
This confusion on the European continent has played out in countless ways.
Swedish people who move to the United States often complain of being introduced as Swiss. The New York Stock Exchange has fallen victim to the confusion, and a French hockey team once greeted their Swiss opponents, SC Bern, by playing the Swedish National Anthem and raising the Swedish flag.
Skämtar du med mig? ("Are you kidding me?" in Swedish)
To help the world finally recognize the differences between the two nations, Sweden has created a landmark proposal to end the confusion once and for all.
Sweden (not Switzerland)www.youtube.com
"If people struggle to separate our two countries, we need to help them. We can't change the names of our nations, but we can become more distinct. Sweden offers the luxury of a different nature, that's why we think it's time to decide who promotes what, and hopefully, we can reach an agreement," said Susanne Andersson, CEO of Visit Sweden.
The Swedish proposal is simple and practical, just like its citizens. The country hopes to make a clear distinction between the two countries by deciding who talks about what. "We will be able to communicate things like sandbanks, rooftops and silence. Meanwhile, Switzerland will focus on banks, mountain tops, and loud noises," Andersson said in a statement.

The Northern Lights in Sweden.Photo: David Schreiner/Folio/imagebank.sweden.se
The Swedes hope that people will learn to distinguish Switzerland's technological advancements, such as particle accelerators and luxurious watches, from Sweden's natural phenomena that, instead of winding you up, help you wind down.
The first draft of the official settlement was presented to Switzerland and can be read at the Visit Sweden website. "We're hoping that Switzerland will negotiate with us on this important matter. But if they want contemporary fashion, the answer is no. They get to have leather couture, and we think that's fair," Andersson said, referencing the yellow-painted leather pants traditionally worn by herdsmen in Appenzeller.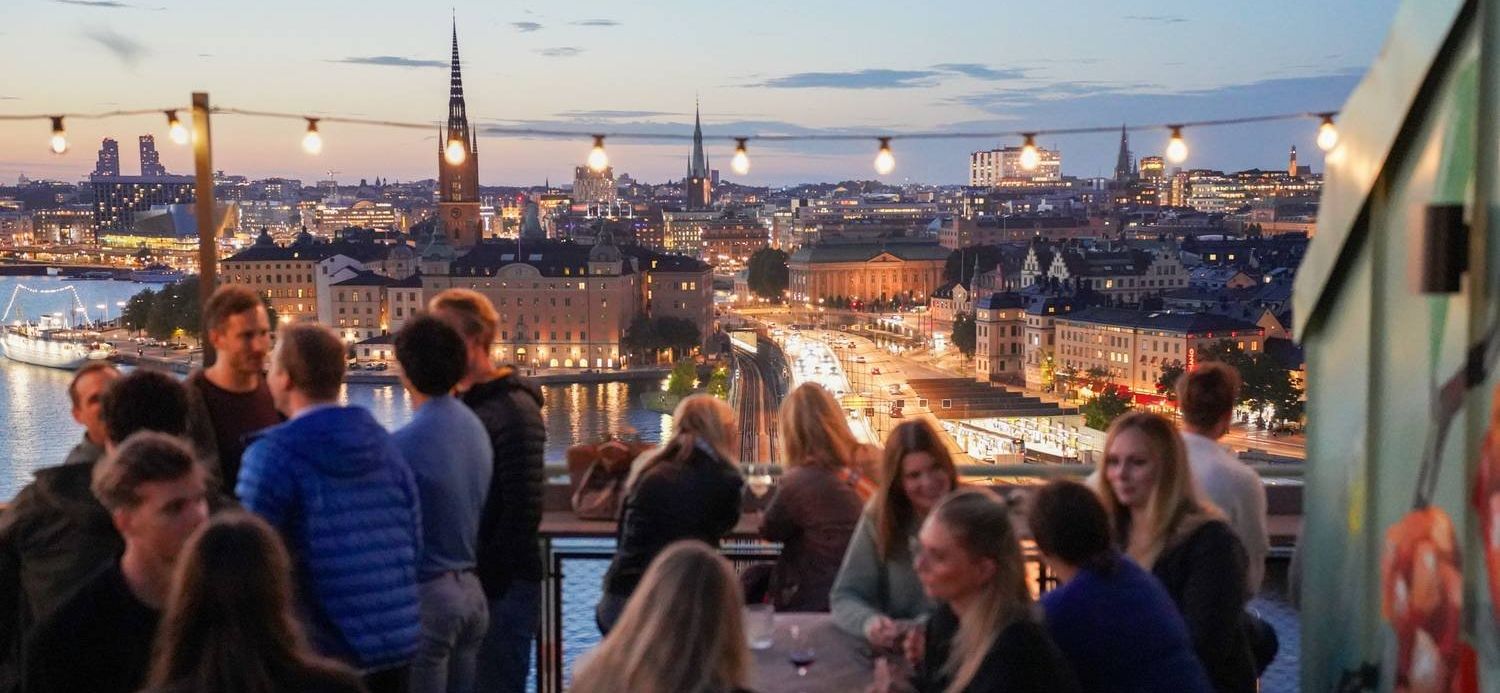 A rooftop in Stockholm, Sweden. Emmie Bolmstedt/Visit Sweden
If Sweden and Switzerland come together on an agreement to distinguish their national identities, it'll be a big win for the entire world. But, until then, the best way for you to truly learn the difference is to visit Sweden yourself.
Sweden's calming, beautiful nature will refresh your spirit like no place on Earth. Imagine sailing on its pristine lakes while a sharp breeze runs through your hår (hair). Enjoy a hike in perpetual daylight during the Midnight Sun Period, or feast your ögon (eyes) on the mesmerizing Northern Lights in Swedish Lapland.
Looking for some high-altitude adventure? You and a friend could even take a yodeling tour in the Alps in the shadows of the magnificent Matterhorn. Sounds like fun? Sorry, got you. The Matterhorn is in Switzerland, and Swedish people don't yodel; it throws off their lagom—a unique brand of Scandinavian chill.
Find your lagom by planning your trip to Sweden today.
Get stories worth sharing delivered to your inbox
Identity
There's nothing magical about "making it" in your younger years.
Mental Health
Overachievers can struggle with mental health issues, too.
I first saw a psychiatrist for my anxiety and depression as a junior in high school.
During her evaluation, she asked about my coursework. I told her that I had a 4.0 GPA and had filled my schedule with pre-AP and AP classes. A puzzled look crossed her face. She asked about my involvement in extracurricular activities. As I rattled off the long list of groups and organizations I was a part of, her frown creased further.
Finally, she set down her pen and looked at me, saying something along the lines of "You seem to be pretty high-functioning, but your anxiety and depression seem pretty severe. Actually, it's teens like you who scare me a lot."


Now I was confused. What was scary about my condition? From the outside, I was functioning like a perfectly "normal" teenager. In fact, I was somewhat of an overachiever.
I was working through my mental illnesses and I was succeeding, so what was the problem?
I left that appointment with a prescription for Lexapro and a question that I would continue to think about for years. The answer didn't hit me all at once.
Instead, it came to me every time I heard a suicide story on the news saying, "By all accounts, they were living the perfect life."
It came to me as I crumbled under pressure over and over again, doing the bare minimum I could to still meet my definition of success.
It came to me as I began to share my story and my illness with others, and I was met with reactions of "I had no idea" and "I never would have known." It's easy to put depression into a box of symptoms.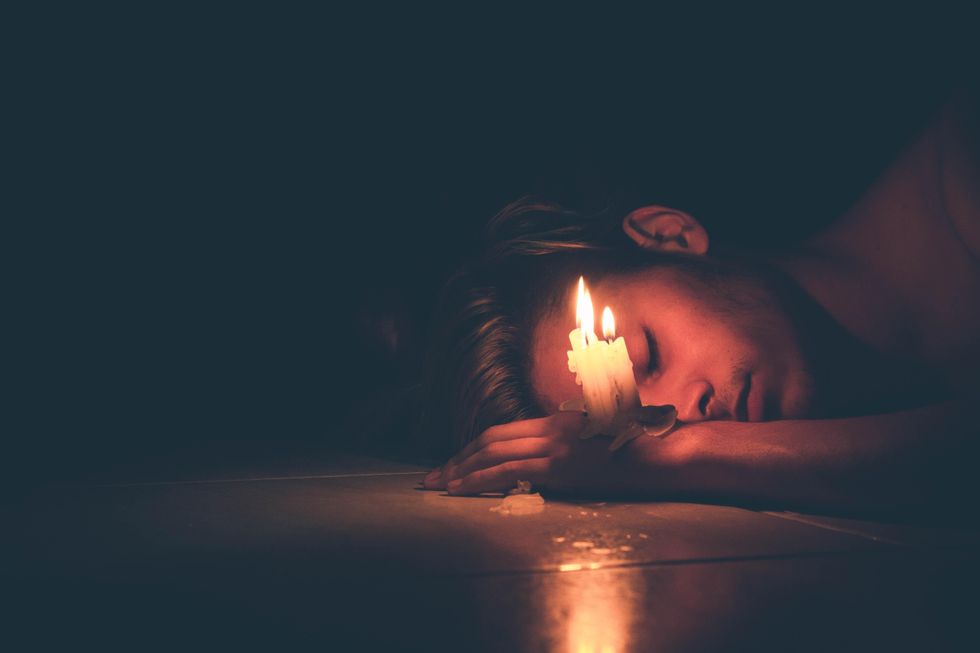 lighted candles on man's hand lying on the floorPhoto by
Fernando @cferdophotography
on
Unsplash
Even though we're often told that mental illness comes in all shapes and sizes, I think we're still stuck with certain "stock images" of mental health in our heads.
When we see depression and anxiety in adolescents, we see teens struggling to get by in their day-to-day lives. We see grades dropping, and we see involvement replaced by isolation. But it doesn't always look like this.
And when we limit our idea of mental illness, at-risk people slip through the cracks.
We don't see the student with the 4.0 GPA or the student who's active in choir and theater or a member of the National Honor Society or the ambitious teen who takes on leadership roles in a religious youth group.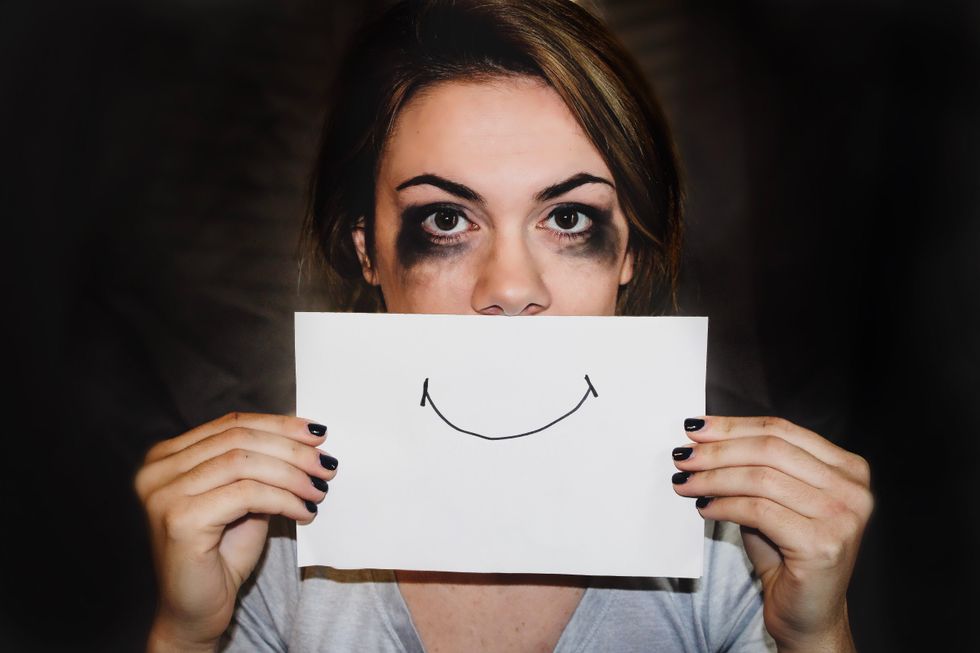 person holding white printer paperPhoto by
Sydney Sims
on
Unsplash
No matter how many times we are reminded that mental illness doesn't discriminate, we revert back to a narrow idea of how it should manifest, and that is dangerous.
Recognizing this danger is what helped me find the answer to my question.
Watching person after person — myself included — slip under the radar of the "depression detector" made me realize where that fear comes from. My psychiatrist knew the list of symptoms, and she knew I didn't necessarily fit them. She understood it was the reason that, though my struggles with mental illness began at age 12, I didn't come to see her until I was 16.
If we keep allowing our perception of what mental illness looks like to dictate how we go about recognizing and treating it, we will continue to overlook people who don't fit the mold.
We cannot keep forgetting that there are people out there who, though they may not be able to check off every symptom on the list, are heavily and negatively affected by their mental illness. If we forget, we allow their struggle to continue unnoticed, and that is pretty scary.
This article was written by Amanda Leventhal and originally appeared on 06.03.16






Joy
The series combines humor and playful drawings with spot-on depictions of the intense familiarity that long-standing coupledom often brings.
All images by Catana Chetwynd
"It was all his idea."
An offhand suggestion from her boyfriend of two years coupled with her own lifelong love of comic strips like "Calvin and Hobbes" and "Get Fuzzy" gave 22-year-old Catana Chetwynd the push she needed to start drawing an illustrated series about long-term relationships.
Specifically, her own relationship.
The drawings are refreshingly touching, honest, and instantly recognizable to anyone who's ever had to learn to live with, for, and around a long-term partner.
Chetwynd says her goal is to explore the peculiar aspects of relationships at different stages, using her own as the master template.
The series combines humor and playful drawings with spot-on depictions of the intense familiarity that long-standing coupledom often brings.
The comics are almost too real — and really, really funny.
If the following comics capture your relationship to a T, you're most definitely not alone.
(All images by Catana Chetwynd.)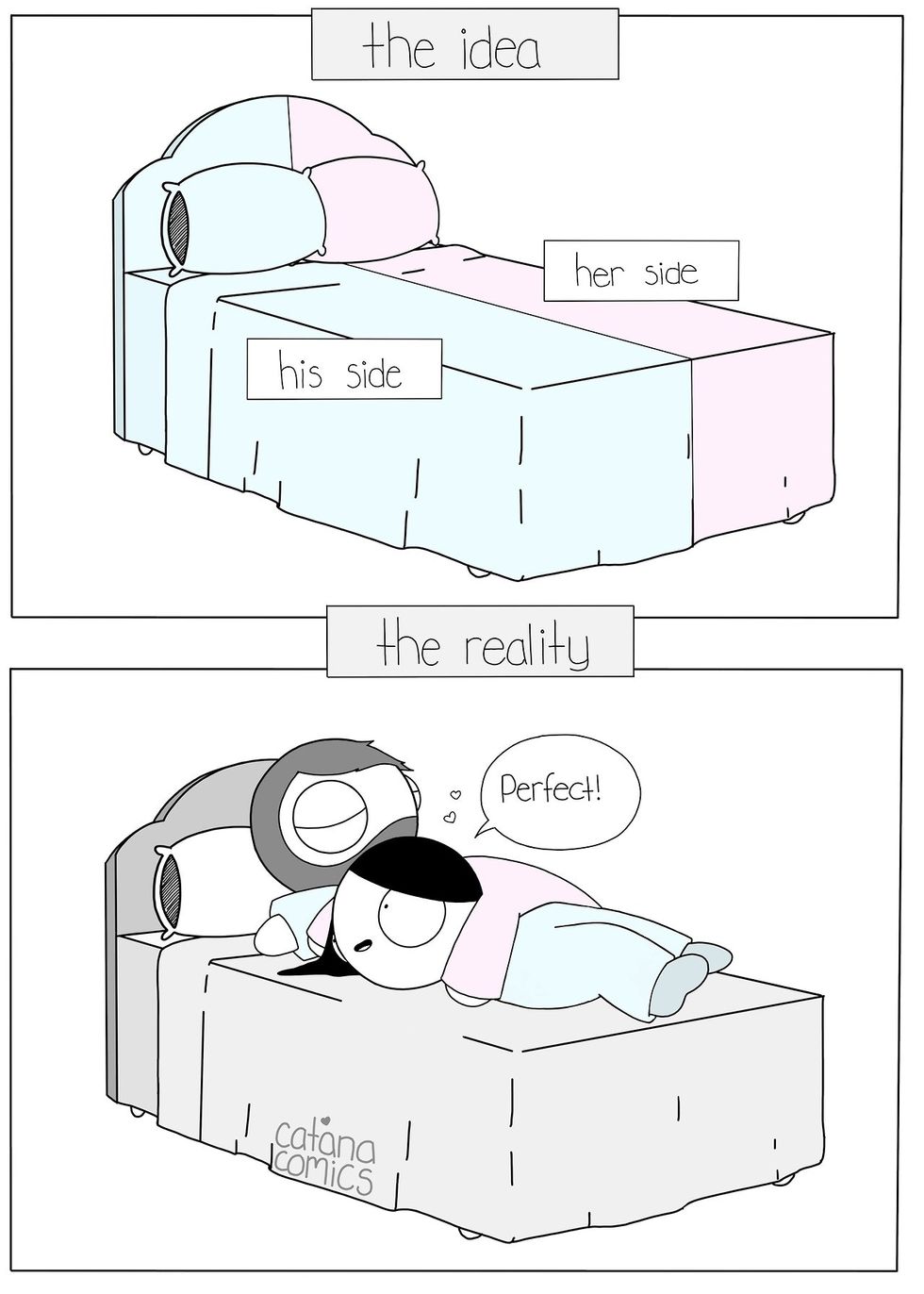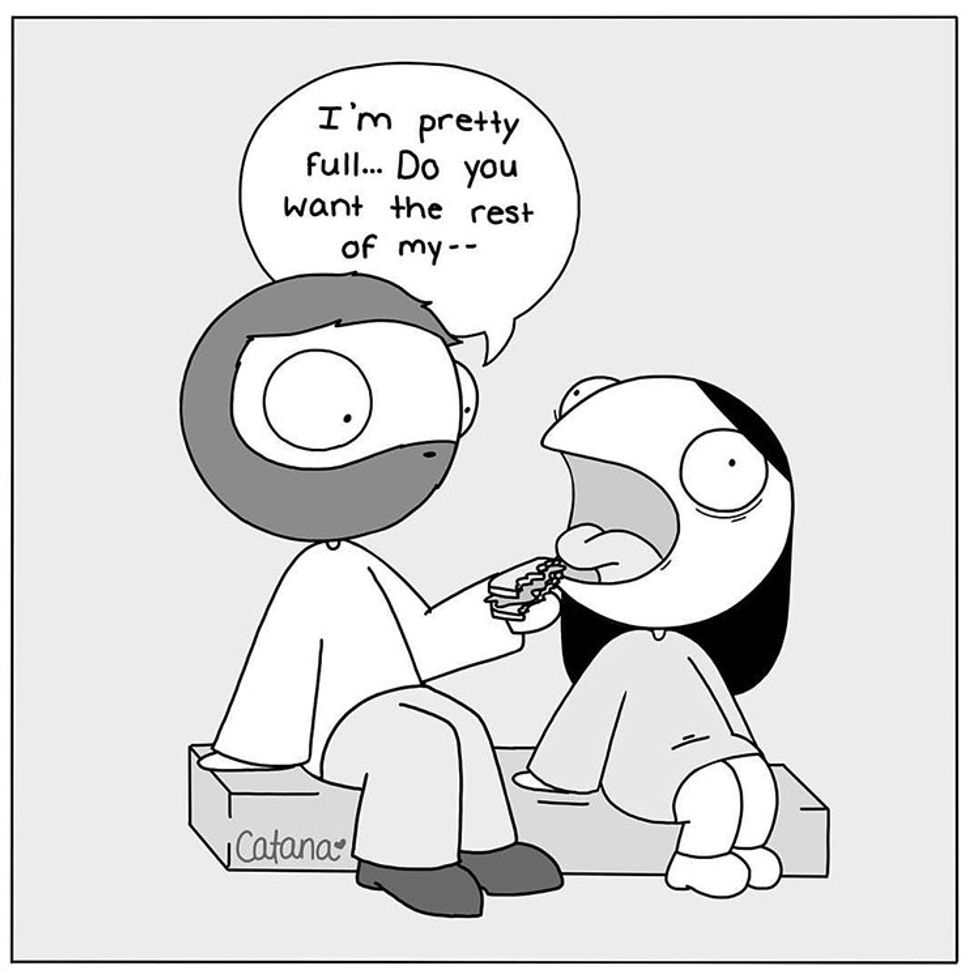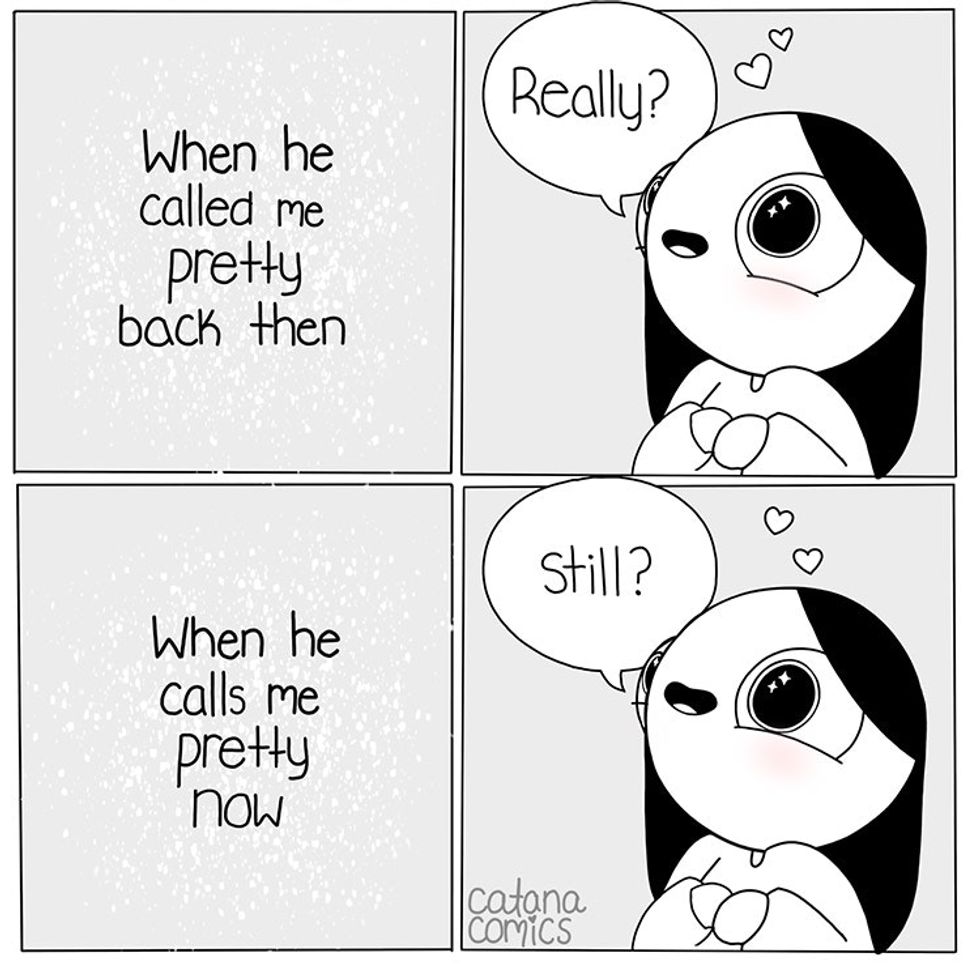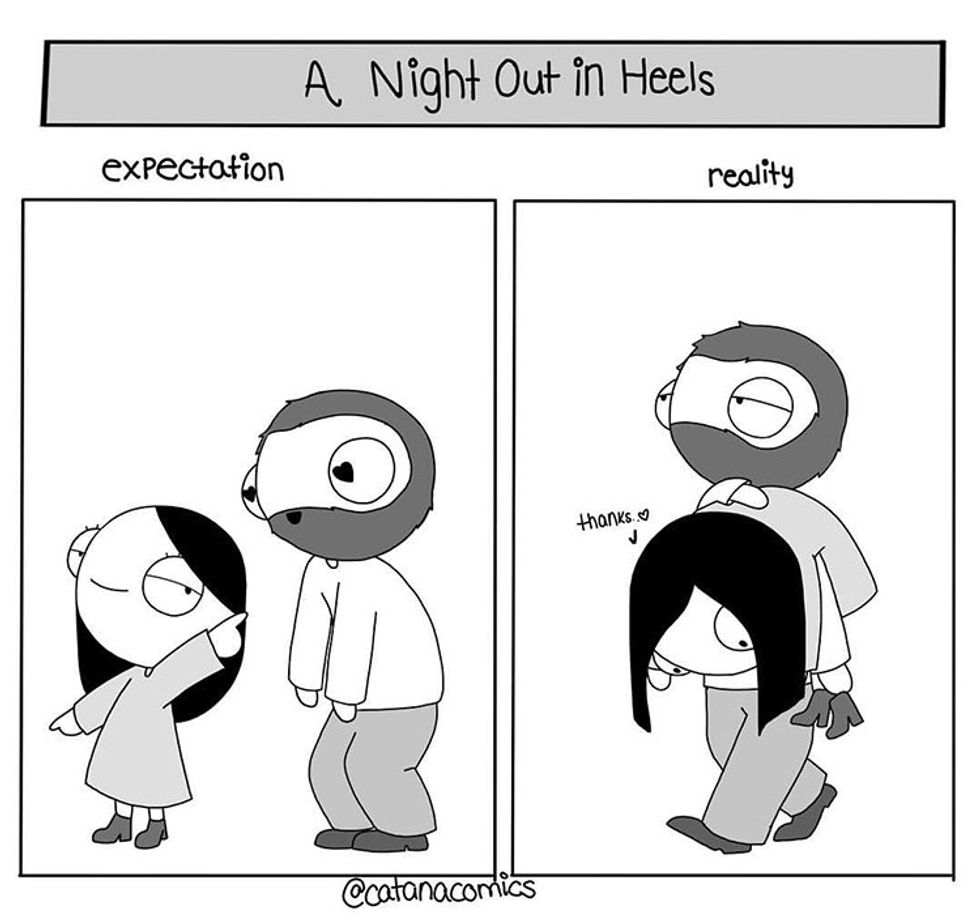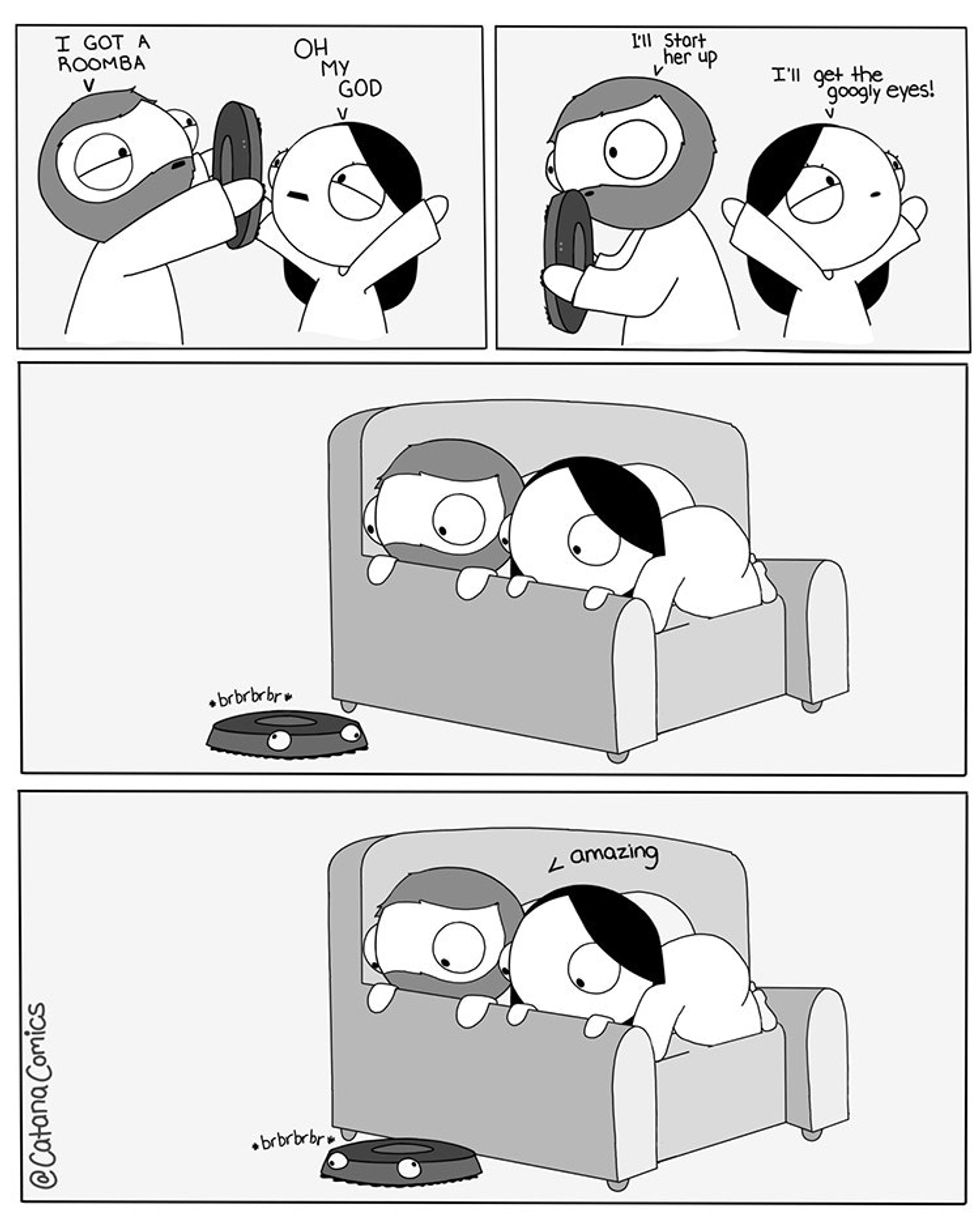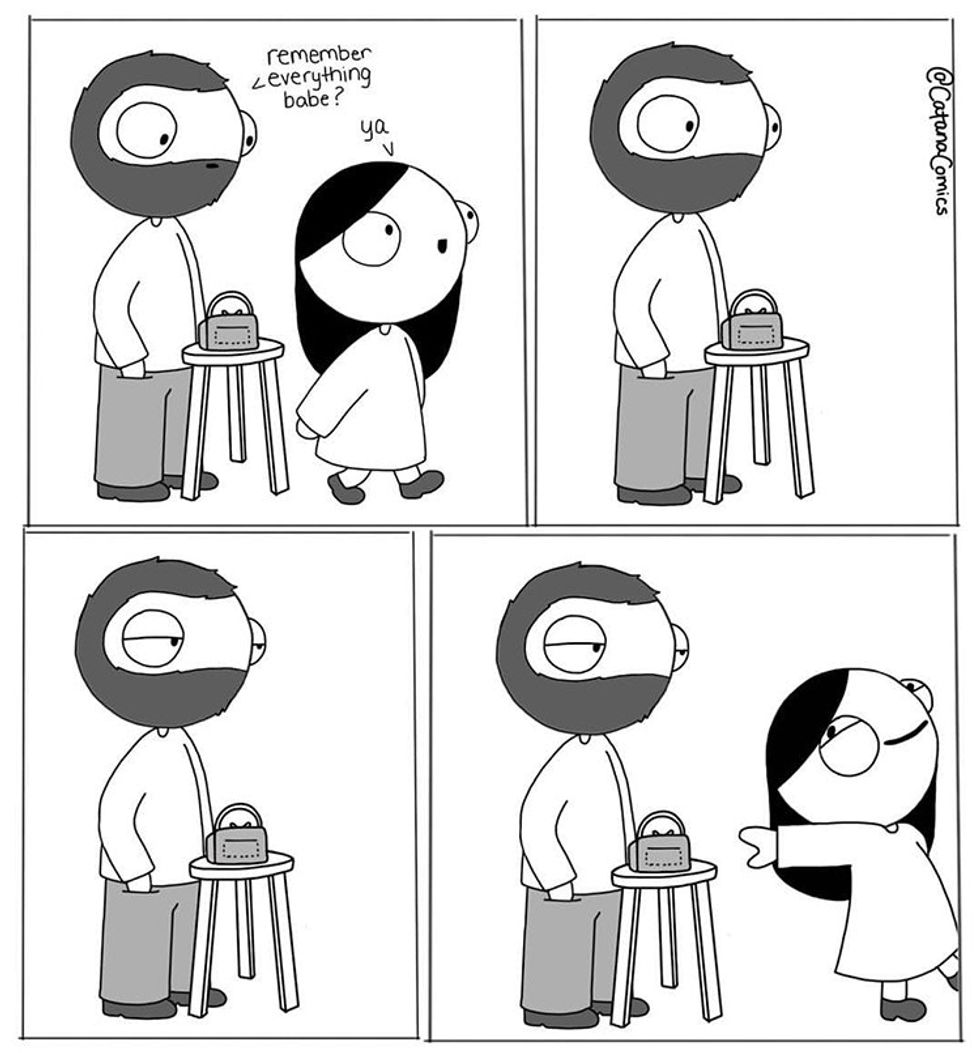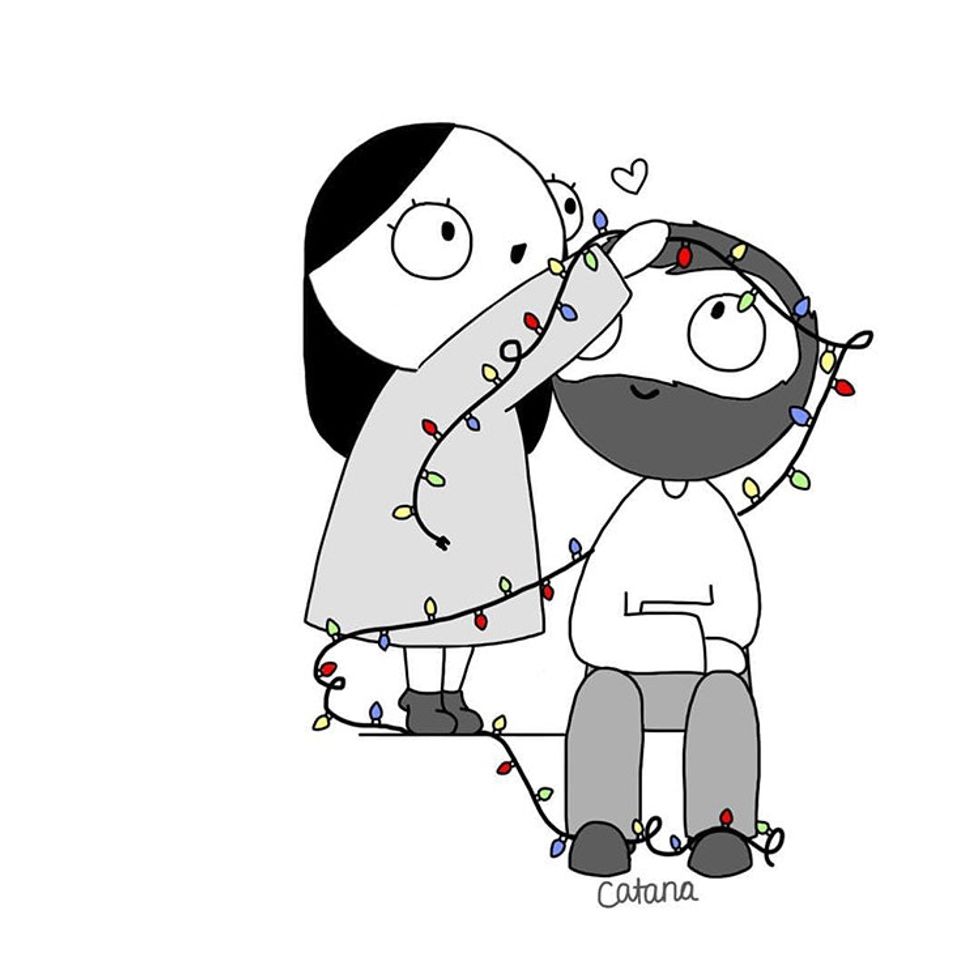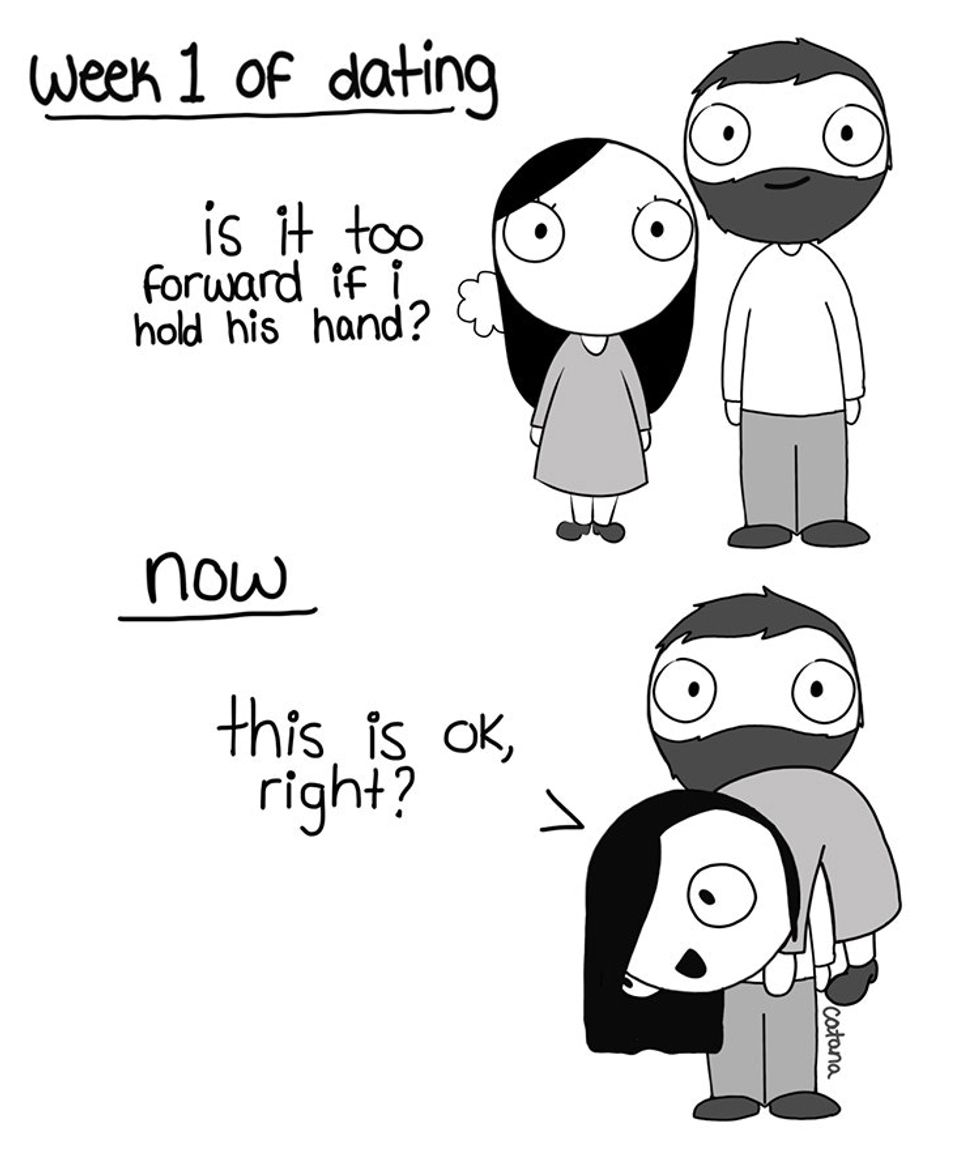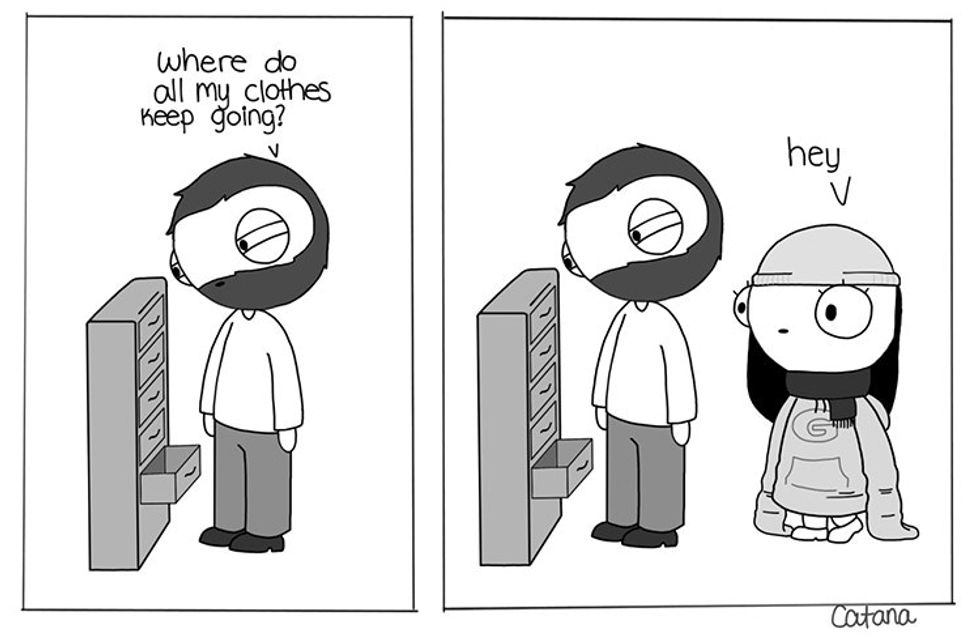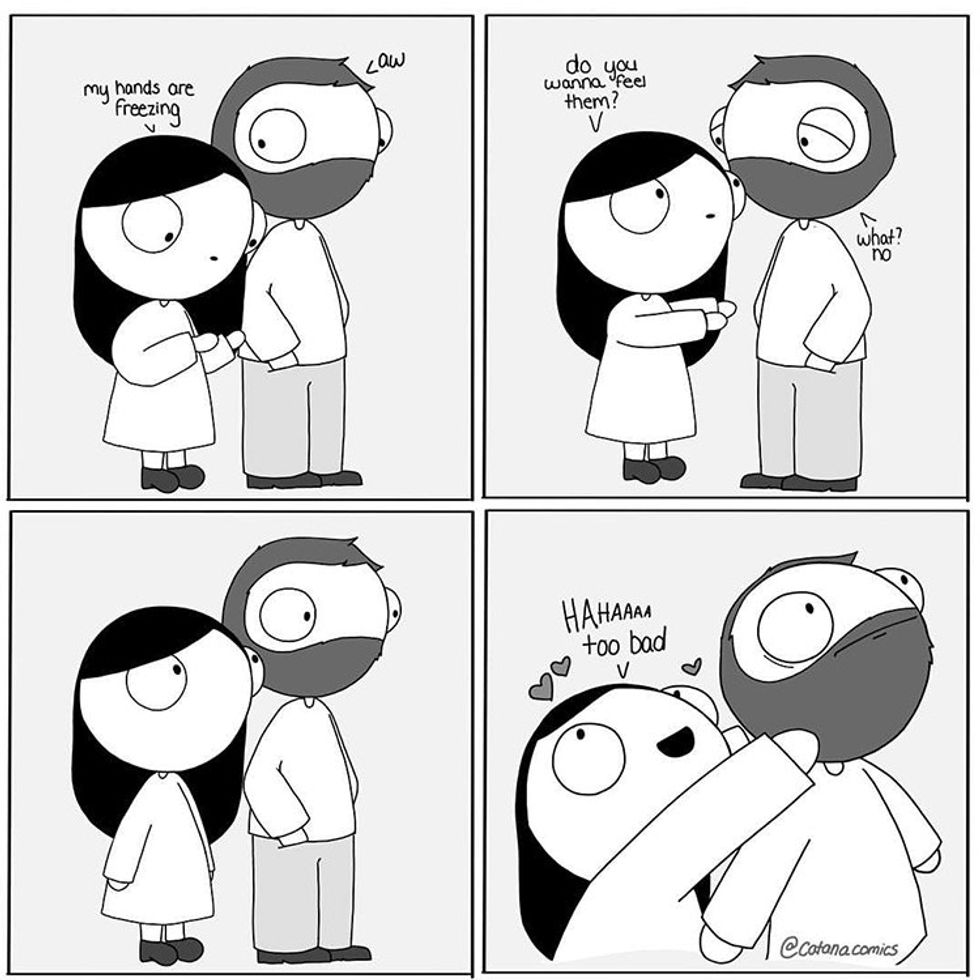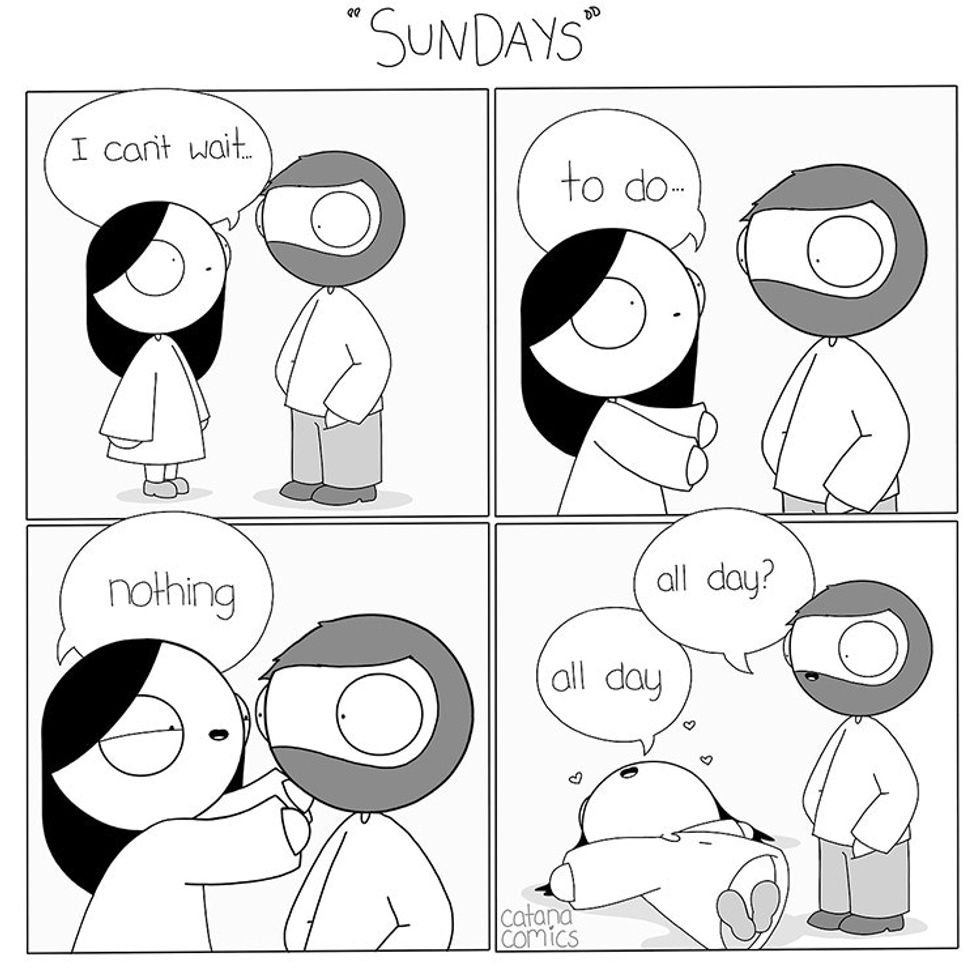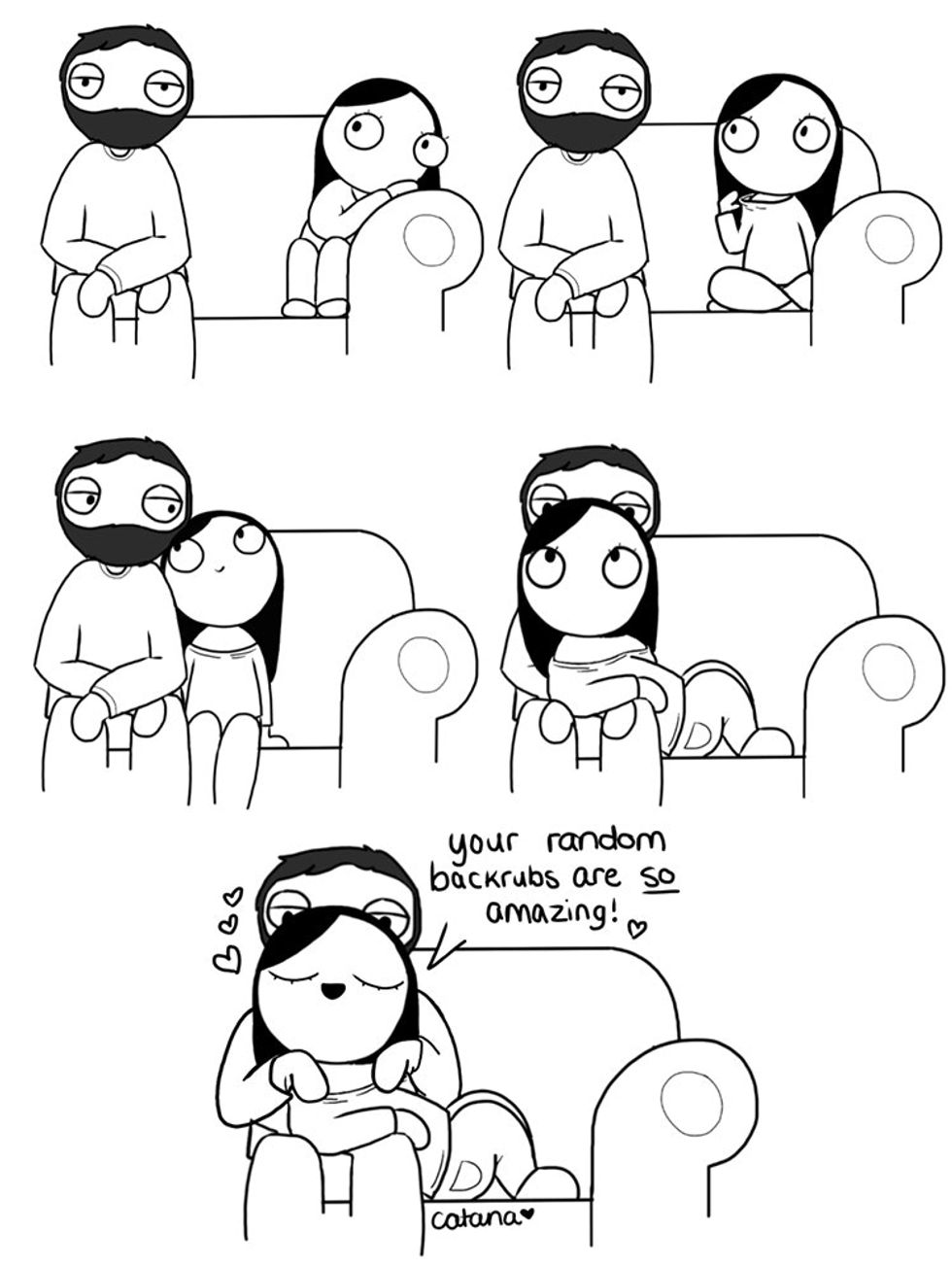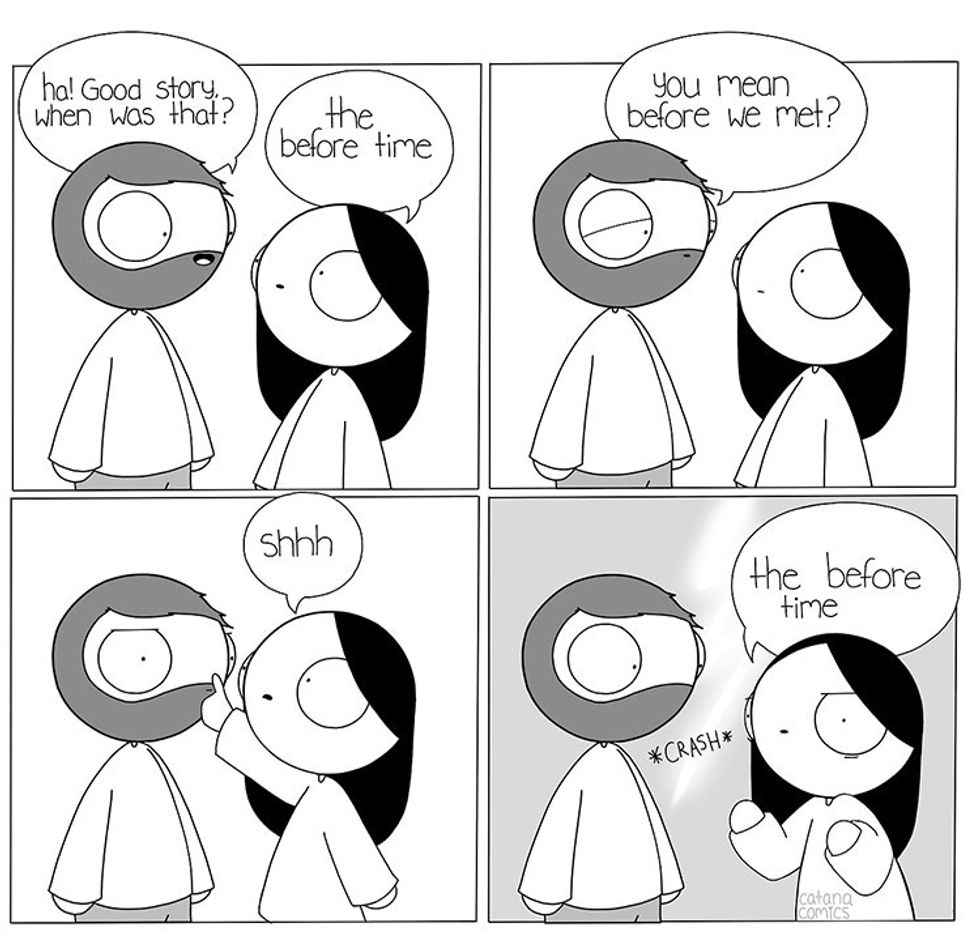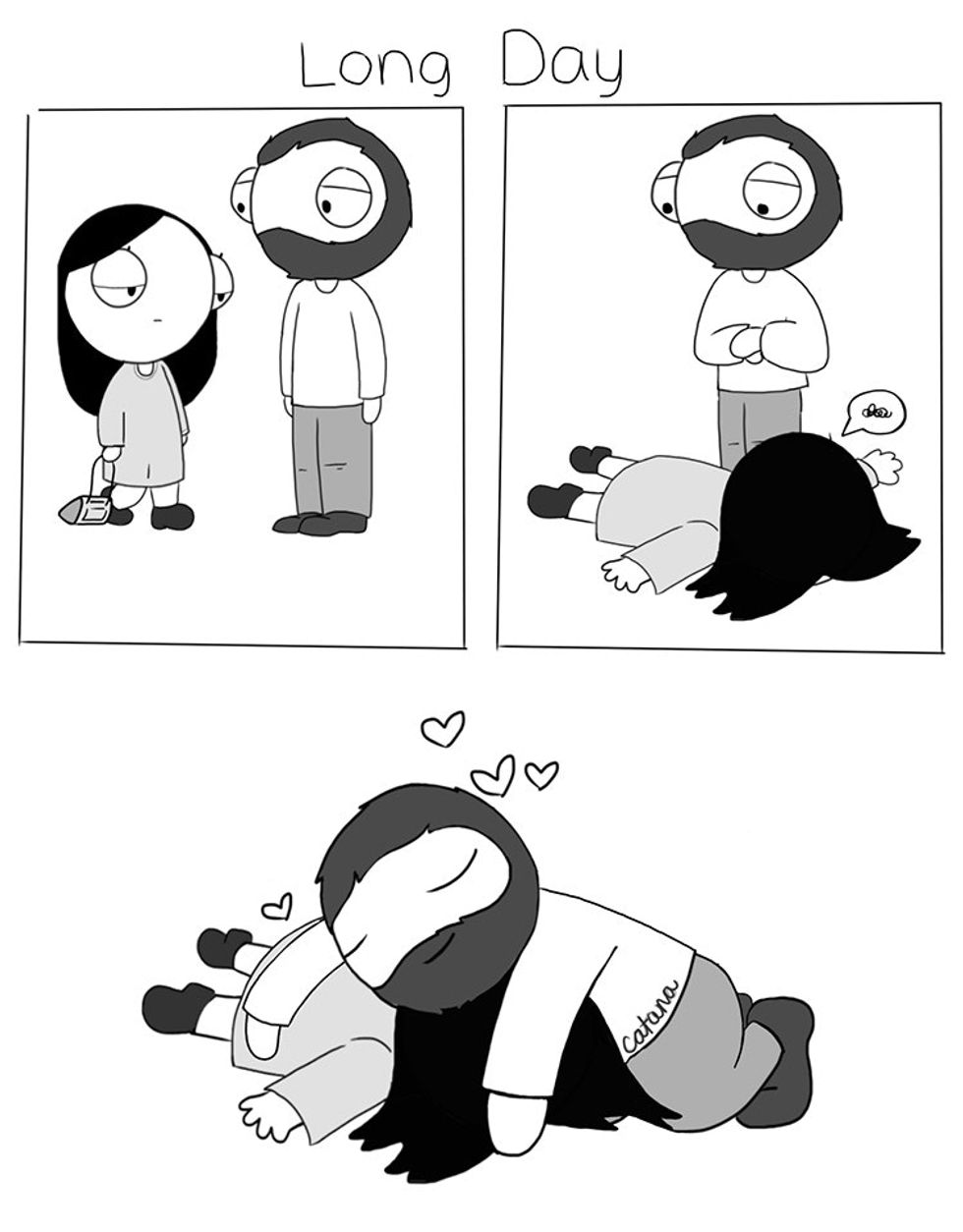 "When I started doing the comic, we hadn't lived together or anything yet, and now we've done the whole thing of moving in together and meeting the parents and everything," Chetwynd says.
The evolution of their relationship provides the creative fuel for the comic strip. Thankfully, her boyfriend John Freed is fully on board with being depicted in (digital) ink — despite having to occasionally awkwardly explain things that appear in the strip to their family and friends.
The connection she has built with Freed, Chetwynd says she wouldn't trade for anything — especially now that it inspires her art.
"The end goal for me was always to have somebody that I could be comfortable with in this way, and I think I got that."
You can follow Catana Comics on Facebook and Twitter, and can view the whole series on Chetwynd's website.
This article originally appeared on 05.12.17.
Get stories worth sharing delivered to your inbox