Planet
Barbados prime minister goes viral with her powerful speech to the United Nations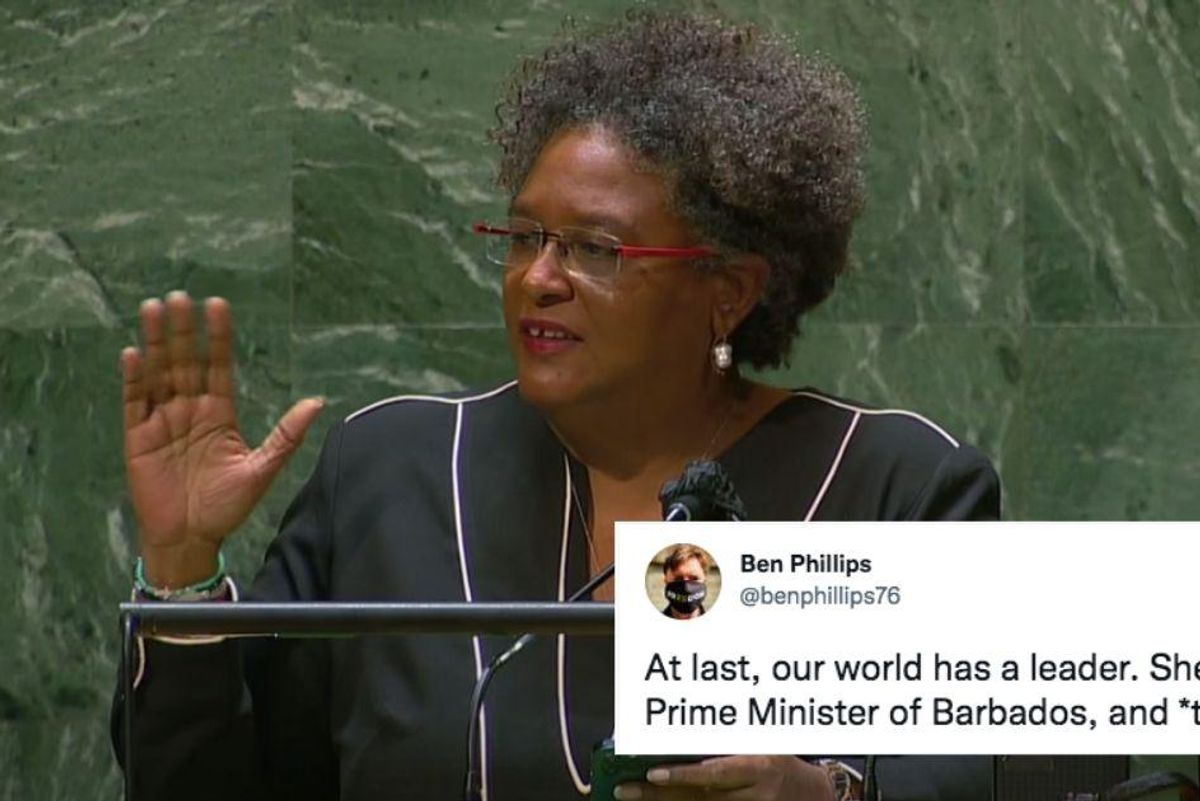 We are accustomed to seeing heads of state from large, economically powerful nations making headlines, but this week we're getting a taste of the powerhouse leadership some smaller countries can offer.
Mia Amor Mottley, the prime minister of Barbados, gave a speech to the United Nations General Assembly that is earning her accolades across the internet and around the world.
A two-minute clip was shared by Twitter user Ben Phillips in which Mottley quoted Bob Marley and asked who will "get up" and "stand up" for the people suffering around the world from the pandemic, climate change, poverty and food insecurity.
"It is not because we do not have enough," she said. "It is because we do not have the will to distribute that which we have."
Prime Minister Mottley called for the leaders of the world to go beyond words and take collective action.
---
"It is not beyond us to solve this problem," she continued. "If we can find the will to send people to the moon and solve male baldness, we can solve simple problems like letting our people eat at affordable prices."
At last, our world has a leader. She is Mia Motley, Prime Minister of Barbados, and *this* is a speech: https://t.co/Xotc0qj9M5

— Ben Phillips (@Ben Phillips) 1632568757.0
Mottley's whole speech is worth watching, but the viral clip comparing our push to cure baldness with our efforts to feed people is timely, as it comes a few days after the first U.N. Food Systems Summit. The U.N. describes the inaugural summit as "a historic opportunity to empower all people to leverage the power of food systems to drive our recovery from the COVID-19 pandemic and get us back on track to achieve all 17 Sustainable Development Goals (SDGs) by 2030."

Next to water, food is our most basic human need. Having inadequate food and nutrition hinders people's ability to function, which in turn impacts our ability to address every other global challenge we face.
The term "food system" refers to every process and person involved in cultivating, making and distributing food, from farmers to pickers to truck drivers to supermarket workers. Unsustainability in any part of a food system can keep people from getting the nutrition they need. Tackling food systems is crucial if we hope to meet goals such as eradicating poverty, providing universal education, creating sustainable communities and achieving peace on our planet.
Such collective action has to take place at the leadership level, of course, but there are also actions each one of us can take toward a more equitable, sustainable world. One simple thing we can all do is participate in Sustainable Sundays—enjoying a climate-friendly meal and supporting sustainable food systems wherever we live. That means choosing locally grown foods that are in season, perhaps from a farmer's market, community food cooperative or your own garden. It might mean eating sustainably sourced seafood or finding a simple plant-based recipe to try.
Many of the challenges facing humanity require bold, high-level action on the part of the world's governments, but that doesn't mean we don't all have a part to play in creating a better world for all. Small steps lead to big strides, and it's up to each of us to do what we can individually to make progress toward our collective goals.
As Prime Minister Mottley said in her final words to her fellow leaders, "We cannot solve every problem of the world, but we must solve those within our purview immediately."
🇧🇧 Barbados - Prime Minister Addresses United Nations General Debate, 76th Session (English) | #UNGAwww.youtube.com