Health
A therapist and a filmmaker merge mental health with movie analysis in 'Cinema Therapy'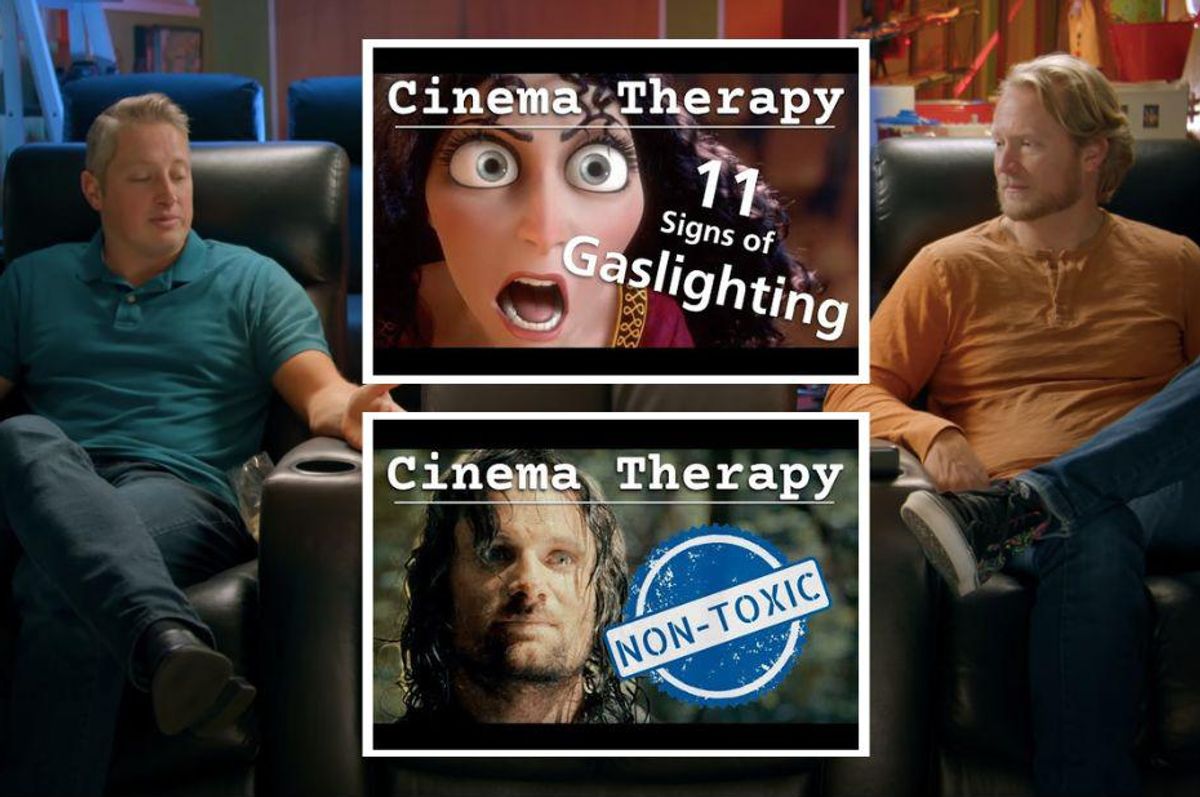 "Have you ever heard of Cinema Therapy?" my college-aged daughter asked me one day. I had not. She proceeded to tell me all about this YouTube channel she's hooked on, in which a licensed therapist and a professional filmmaker—who also happen to be best friends—analyze movies together through each of their expert lenses. I was intrigued, so I checked it out.
Each Cinema Therapy video focuses on some psychological aspect of a film and runs approximately 30 to 40 minutes. Filmmaker Alan Seawright talks about the cinematics that lend themselves to emotional storytelling while licensed therapist Jonathan Decker talks about the mental health elements. With video titles like "MEGAMIND and Nice Guy Syndrome," "Ranking the Relationships in LOVE ACTUALLY" and "Psychology of a Hero: HULK and Anger Management," it's easy to see the appeal. Most people who love movies enjoy analyzing the heck out of the characters in them, and having people who actually know what they're talking about do so is too good to pass up.
Seawright and Decker met as roommates in college in 2005 and bonded over their love of cinema. More than a decade later, when Decker pitched the idea of creating Cinema Therapy (Decker describes that initial pitch as "a 'Siskel and Ebert' meets 'Mr. Rogers' kind of thing"), Seawright instantly envisioned what it would look like and why it would work. They were confident they would find an audience for it because of how seamlessly their two fields blend.
"Filmmaking is all about psychology," says Seawright. "Storytelling in general only connects with an audience when you're able to help people feel something, and how and why people feel things is all about psychology."
---
Decker agrees. "There's a lot of psychology that goes into screenwriting, or good screenwriting at least," he says. "Creating worthwhile characters requires a knowledge of human thinking, feeling, and motivations."
Decker points out that people have always been drawn to stories, whether written or on stage or on screen, to learn lessons about their own lives. We live vicariously through characters, connecting with them emotionally and investing in their journeys.
"But since their stories are not our stories, we have enough distance for objective insight compared to when we're in the thick of our own problems," Decker says. "I see movies as a tremendous teaching tool for mental health, emotional wellness, and relationship skills."
Seawright and Decker have taken on toxic perfectionism in "Encanto," men's mental health and masculinity in "Fight Club," love versus obsession with Severus Snape's character in "Harry Potter" and more. In one of their more popular videos, they tackled the concept of gaslighting by showing examples of it in Disney's "Tangled."
Seawright and Decker analyze heroes and villains as well as romantic, platonic and familial relationships. And they frequently use characters to talk about mental illnesses and personality disorders, which is brilliant. By exploring real psychological and emotional realities through fictional characters, they can talk about individuals we're all familiar with without breaching anyone's privacy or personal boundaries. Judging by the thousands of comments their videos receive and the discussions that ensue, people love it.
That's not to say the channel hasn't received any hate. People can be fairly fanatical about films and characters they love, and people can also misunderstand or misinterpret things. Plus, let's face it, when you talk about certain emotional or psychological topics, some self-loathing fellow somewhere is going to react negatively.
Seawright gave their "ARAGORN vs. Toxic Masculinity" episode as an example of when some comments got ugly, but also brushed it off as an anomaly. "Unsurprising, but a pretty decent number of dudes calling us soy-boy cucks or some-such," he says. "Pretty funny, honestly."
Both Seawright and Decker say that their fan base overall is incredibly supportive.
"To put yourself out there on the internet is to be criticized and attacked, but it's a very small percentage," says Decker. "Most people are kind and appreciative, disagreeing respectfully when disagreements happen."
"I had no idea that our audience would be as supportive and wonderful as they are," says Seawright. "Not just to us, but to each other! Seriously, our comments section is one of the kindest places you can find on the internet. There are some trolls in there, but it's overwhelmingly loving."
"It's weird," he jokes. We've all seen what a cesspool the comment section can be, so it's great to see a space where people are nice to one another.
Seawright and Decker have high hopes for what their viewers will take away from their Cinema Therapy experience.
"I want them to get tools to have healthy relationships, to healthily balance self-acceptance with self-improvement, and to know that getting help is a good thing," says Decker. "I also would love for them to gain a new appreciation for film, which is such a layered, stunning art form."
"I hope people will get hope out of it," says Seawright. "The film education I can provide is pretty meager, and isn't going to be life-changing in any case. But feeling things with me, and learning about why/how you're feeling things with Jono is a pretty lofty goal, and I think we're doing an OK job with it."
After creating more than 100 episodes, the duo has no plans of stopping. They're having too much fun and people are enjoying their content. There's also no shortage of movies for them to talk about, and with mental health being such a hot topic, the therapeutic element of what they do adds value to people's lives.
"We exist to counter the negativity out there, to unify, uplift and entertain," says Decker. "We're sharing skills that change lives, and want people to have so much fun that it hardly feels like learning."
Check out one of their biggest hits—and most natural fits—as they examine the psychology, relationships, family dynamics and more in Disney's "Inside Out":