WE Teachers
Philadelphia teacher boosts achievement in students and self: 'She believes in you'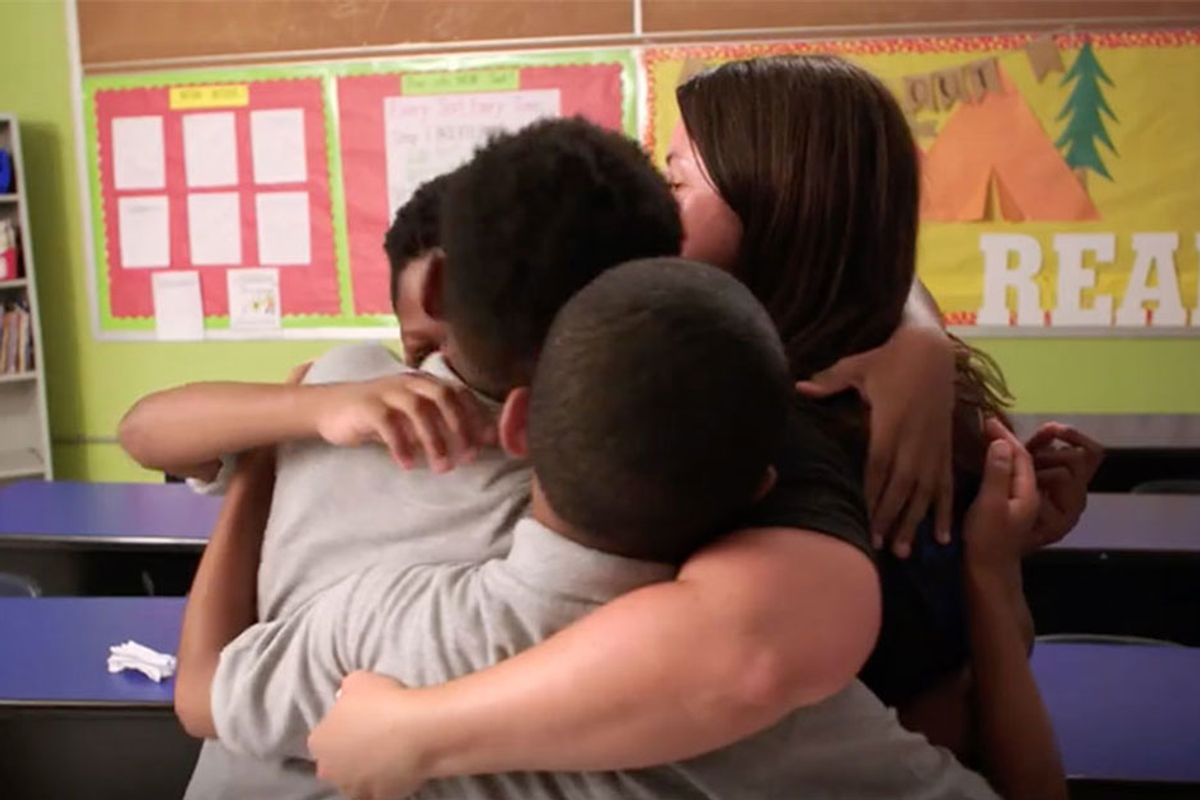 True
Walgreens
After four years of teaching, Stephanie Hosansky felt prepared to tackle any challenges the new school year might bring. She had instilled harmony in difficult classroom environments, counseled concerned parents about their children's performance, and worked many late evenings creating lesson plans that would challenge and inspire her students.
As she entered her fifth year in education, she was confident and excited – especially since she would begin the year at a different school with a new group of eager, young students. However, after a few weeks at Hardy Williams Elementary in Southwest Philadelphia, for the first time in her career, Hosansky began to doubt her ability as a teacher.
Her students came from varied backgrounds, many from communities affected by violence and poverty. She quickly realized that these external factors, which were circumstances beyond her and her students' control, often impacted their ability to succeed in the classroom. Students had a hard time maintaining focus on their assignments, there were several incidents of bullying, and Hosansky sensed her new students were skeptical that she would stick around.
---
"My number one goal for coming here [to Hardy Williams] was to reach the students and help them become the best versions of themselves," Hosansky says. Although it was early in the year, she didn't feel like she was doing what she had come to do. At least not at first. "I had many moments where I wasn't sure that I was the right person for the job."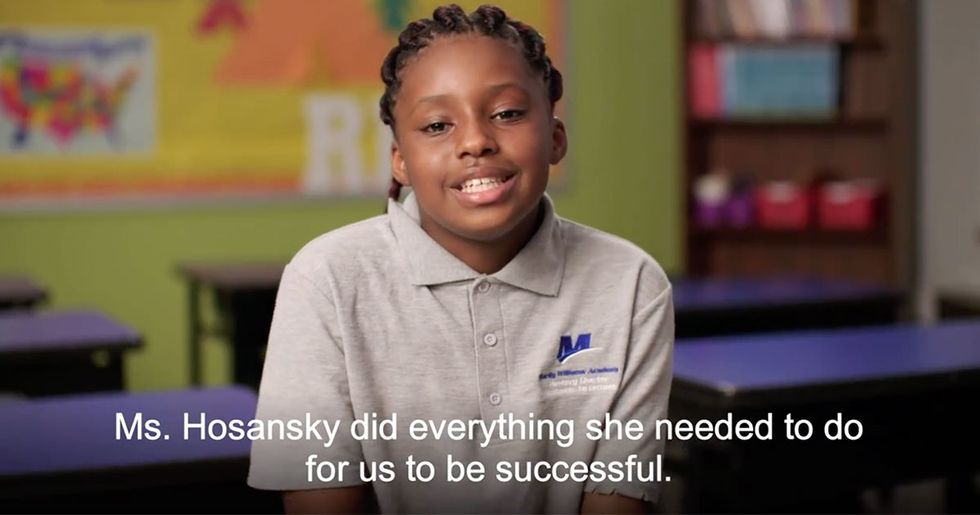 But she persevered. She was committed to bringing out the best in her students. The first months of the school year had taught her that each class is a unique environment.
"After winter break, I pretended it was the first day of school again," Hosansky says. She reviewed her expectations of the students' classroom behavior and made it clear she was taking these expectations seriously. "They saw that I wasn't playing around," Hosansky says. She also began checking in with her students every morning to ensure that she was helping them prepare for the day.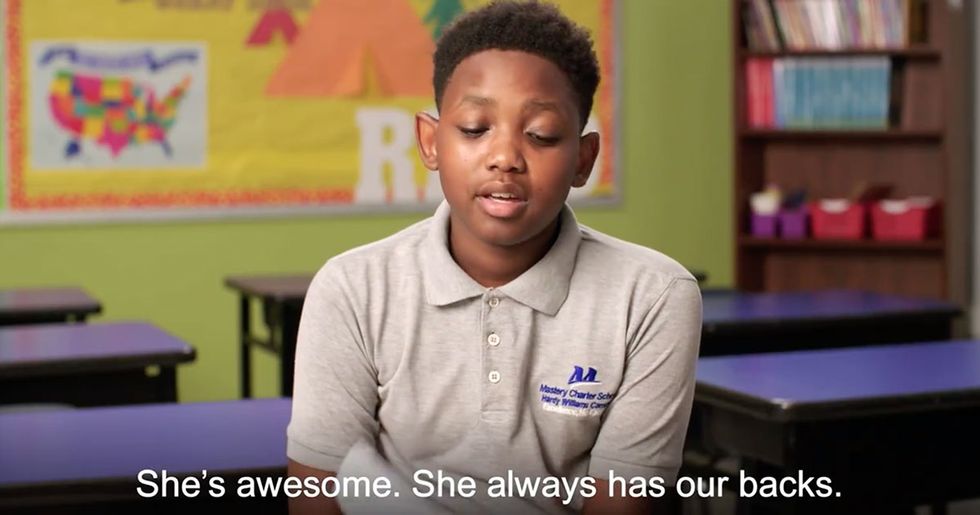 Her students saw their teacher overcoming her own challenges, which helped them believe they could do the same for themselves. She had created a model of personal success that the students could follow. For the first time, her kids were trying, even when things felt unbearably hard, both in the classroom and at home. By the end of the year, Hosansky's classroom was full of star students – many exceeding benchmark performance on their exams.
"Having 80 percent of my students grow academically was one of the most rewarding experiences I've had as a teacher," she says. But she'd gone above and beyond just helping her students ace reading, writing and math tests. They grew to trust her and rely on her to help them through their "bad days," as one student describes.
Hosansky never doubted their potential and always "showed up" no matter the challenge. In turn, her students wanted to show their gratitude and remind her of the impact she made on them. So they nominated her for the WE Teachers Award from Walgreens, which celebrates teachers who go above and beyond for their students.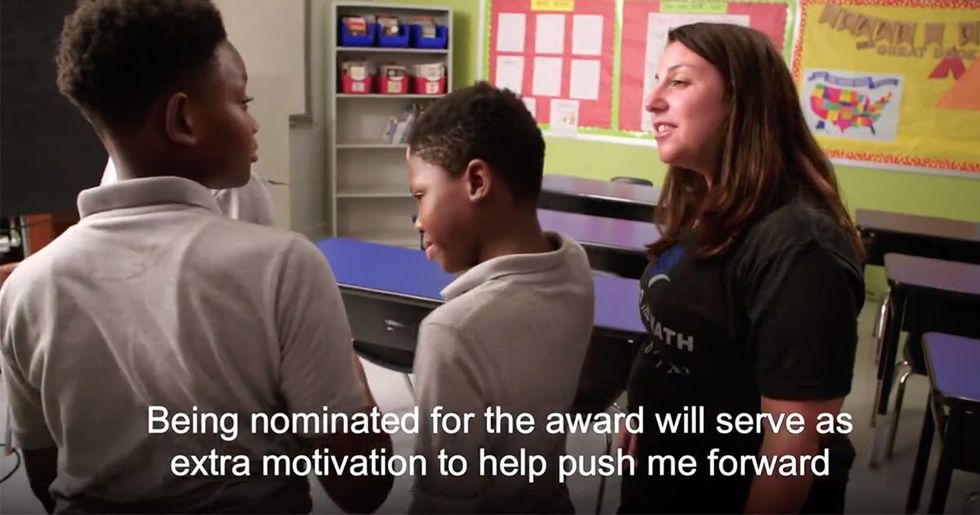 The same kids who were unsure if they could trust Hosansky on the first day were now writing secret letters of support in hopes that she would win the award. "She will never give up on you," they wrote. "She will work with you to do better. She believes in you." These sentiments were echoed repeatedly by many of her students.
"Ms. Hosansky always has our backs," another chimed in. "She helps her students because she loves them like her own kids."
"She's more than a teacher. She's my best friend," another student added.
Today's teachers like Hosansky are more than educators; they are mentors, cheerleaders, and counselors, too. Yet at a time when more is expected, many teachers feel unprepared to address the critical social issues that are impacting their classrooms. That's why Walgreens has partnered with the ME to WE Foundation and Mental Health America to develop a new program, WE Teachers, which provides all teachers access to free tools and resources to address topics their students face, like youth violence or mental health and wellbeing. When you shop for back-to-school at Walgreens you join Walgreens efforts to support America's teachers. .
If you know a teacher who goes "above and beyond" like Stephanie Hosansky, you can nominate him or her for a WE Teachers Award; visit your local Walgreens store to learn how. A minimum of 500 recipients will receive a WE Teachers Award and each recipient will receive a $500 Walgreens gift card to purchase classroom supplies – an amount designed to help cover a year's worth of teacher out-of-pocket expenses for classroom supplies. Teachers can also apply directly. More information is available atWalgreens.com/metowe.
Check out the video below to see a special tribute from Hosanky's students, who share how she made a difference in their lives.