Following the 60th Grammy Awards, Recording Academy President Neil Portnow really put his foot in his mouth.
At this year's awards, women made up just 9% of the nearly 900 nominees, despite critically acclaimed releases from musicians and creatives from all genres. In an interview discussing the issue of a seemingly sexist slate and award show, Portnow said the following statement, emphasis added.
"It has to begin with… women who have the creativity in their hearts and souls, who want to be musicians, who want to be engineers, producers, and want to be part of the industry on the executive level… [They need] to step up because I think they would be welcome. I don't have personal experience of those kinds of brick walls that you face but I think it's upon us — us as an industry — to make the welcome mat very obvious, breeding opportunities for all people who want to be creative and paying it forward and creating that next generation of artists."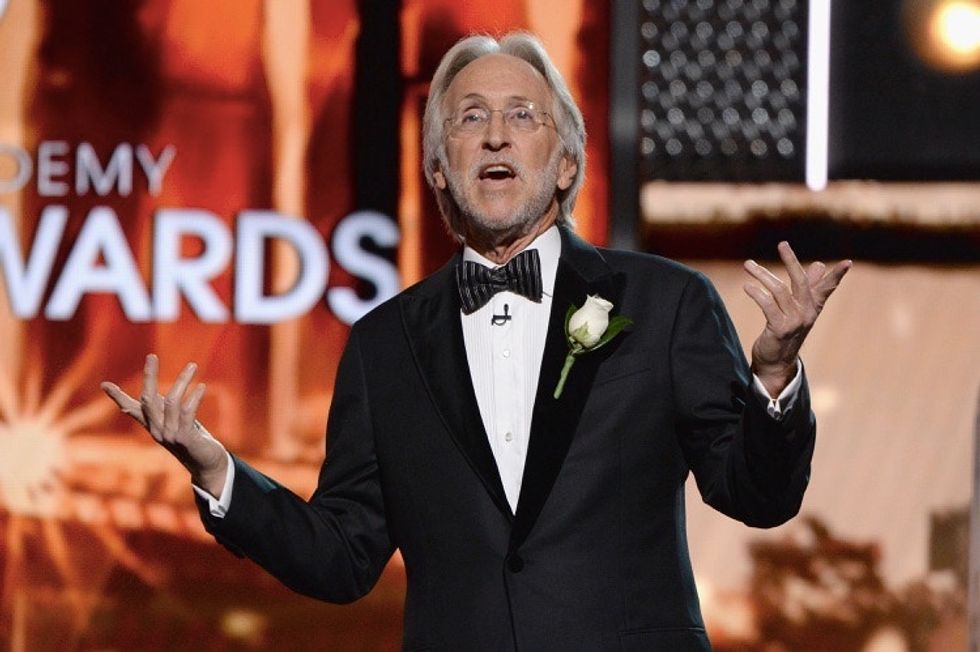 The Recording Academy and MusiCares President/CEO Neil Portnow speaks onstage during the 60th Grammy Awards. Photo by Michael Kovac/Getty Images for Naras.
<p>In the midst of a groundswell of women coming forward and taking up space in industries that have long pushed them aside, this senior white man in a position of power told women to "step up." </p><p><strong>Yeah, it didn't go so well.</strong></p><h2>Artists the likes of Pink, Halsey, Charlie XCX, and Katy Perry were quick to fire back at Portnow's absurd assertion. </h2><p>Halsey, <a href="https://www.youtube.com/watch?v=s5xPxjVaYI4" target="_blank">fresh off a passionate speech at the Women's March</a>, didn't miss an opportunity to call out not just Portnow, but the industry. If the nominees are selected by peers, then perhaps the entire system needs to be reevaluated, not just the opinions of a man at the top. </p><div id="397e0" class="rm-shortcode" data-rm-shortcode-id="OWPDMY1559350449"><blockquote class="twitter-tweet twitter-custom-tweet" data-twitter-tweet-id="958224876065587200" data-partner="rebelmouse"><div style="margin:1em 0">Neil's comment was absurd. Female artists came HARD in 2017. But the nominees are selected by peers and their opini… https://t.co/QUfMcjDtnA</div> — h (@h)<a href="https://twitter.com/halsey/statuses/958224876065587200">1517293588.0</a></blockquote></div><p>Charli XCX chimed in with righteous anger, which is the best kind of anger because it usually leads to action. Drag him, Charli! </p><div id="19978" class="rm-shortcode" data-rm-shortcode-id="DOT2TK1559350449"><blockquote class="twitter-tweet twitter-custom-tweet" data-twitter-tweet-id="958100513471447040" data-partner="rebelmouse"><div style="margin:1em 0">ugh bout 2 step up on 2 ur face.. women are making AMAZING music right now wtf is this dude talking about ????? https://t.co/EkijTA33QW</div> — CHARLI XCX (@CHARLI XCX)<a href="https://twitter.com/charli_xcx/statuses/958100513471447040">1517263937.0</a></blockquote></div><p><a href="https://www.grammy.com/grammys/artists/pink" target="_blank">Grammy winner Pink</a> shared a handwritten open letter to Portnow, and anyone else who doesn't recognize the substantial contributions women make to music each year. </p><div id="a5ca2" class="rm-shortcode" data-rm-shortcode-id="9GJEM41559350449"><blockquote class="twitter-tweet twitter-custom-tweet" data-twitter-tweet-id="958121509540761600" data-partner="rebelmouse"><div style="margin:1em 0">https://t.co/BI861sjSZ4</div> — P!nk (@P!nk)<a href="https://twitter.com/Pink/statuses/958121509540761600">1517268943.0</a></blockquote></div><blockquote>"Women in music don't need to 'step up' —women have been stepping since the beginning of time. Stepping up, and also stepping aside. Women OWNED music this year. They've been KILLING IT. And every year before this. When we celebrate and honor the talent and accomplishments of women, and how much women STEP UP every year, and how much women STEP UP every year, against all odds, we show the next generation of women and girls and boys and men what it means to be equal, and what it looks like to be fair."</blockquote><p>And 13-time Grammy nominee Katy Perry quote-tweeted Pink, applauding her bravery and calling out Portnow and other barriers to gender equality in the industry. </p><div id="91aca" class="rm-shortcode" data-rm-shortcode-id="XW78AE1559350449"><blockquote class="twitter-tweet twitter-custom-tweet" data-twitter-tweet-id="958252784146554881" data-partner="rebelmouse"><div style="margin:1em 0">👏🏻👏🏻👏🏻 Another powerful woman, leading by example. We ALL have a responsibility to call out the absurd lack of equa… https://t.co/70MOLcMwrt</div> — KATY PERRY (@KATY PERRY)<a href="https://twitter.com/katyperry/statuses/958252784146554881">1517300241.0</a></blockquote></div><h2>Portnow walked back his comments, but it doesn't change the reality of the industry. </h2><p>After some serious backlash from artists, music professionals, and fans, Portnow released the following statement, apologizing for his word choice. </p><blockquote>Last night, I was asked a question about the lack of female artist representation in certain categories of this year's Grammy Awards. Regrettably, I used two words, "step up," that, when taken out of context, do not convey my beliefs and the point I was trying to make. </blockquote><br><blockquote><em><em>Our industry must recognize that women who dream of careers in music face barriers that men have never faced. We must actively work to eliminate these barriers and encourage women to live their dreams and express their passion and creativity through music. We must welcome, mentor, and empower them. Our community will be richer for it. I regret that I wasn't as articulate as I should have been in conveying this thought. I remain committed to doing everything I can to make our music community a better, safer, and more representative place for everyone.</em></em></blockquote><p class="shortcode-media shortcode-media-rebelmouse-image"><img type="lazy-image" data-runner-src="https://assets.rebelmouse.io/eyJhbGciOiJIUzI1NiIsInR5cCI6IkpXVCJ9.eyJpbWFnZSI6Imh0dHBzOi8vYXNzZXRzLnJibC5tcy8xOTM0NjY5NS9vcmlnaW4uanBnIiwiZXhwaXJlc19hdCI6MTYzNDEyMzM1Nn0.nLweZI1krEfYGYfiGCeNns4hq054BXxAApiILMrz3R0/img.jpg?width=980" id="7f2ca" class="rm-shortcode" data-rm-shortcode-id="491b9415b6d6dd3e25572bdfce3716c1" data-rm-shortcode-name="rebelmouse-image"><small class="image-media media-caption" placeholder="add caption...">Kesha, Camila Cabello, Andra Day, and Julia Michaels perform onstage during the 60th Grammy Awards. Photo by Christopher Polk/Getty Images for Naras.</small></p><p><strong>It's a much better, more helpful statement. </strong></p><p>But his apology is only the first step correcting the serious gender inequalities in the Grammys and executive roles in the recording industry. Now more than ever, we need to push back on calls to "welcome, mentor, and empower" and ensure these statements are backed up with funding, commitment, and action. </p><p>Women are already doing the work and then some. It's time for the <strong>men</strong>, especially men in positions of power, to <strong>step up and do their part</strong> to truly make the community, "a better, safer, and more representative place for everyone." </p>