Family
Lady Gaga gave an emotional Grammys speech about mental health we all need to hear.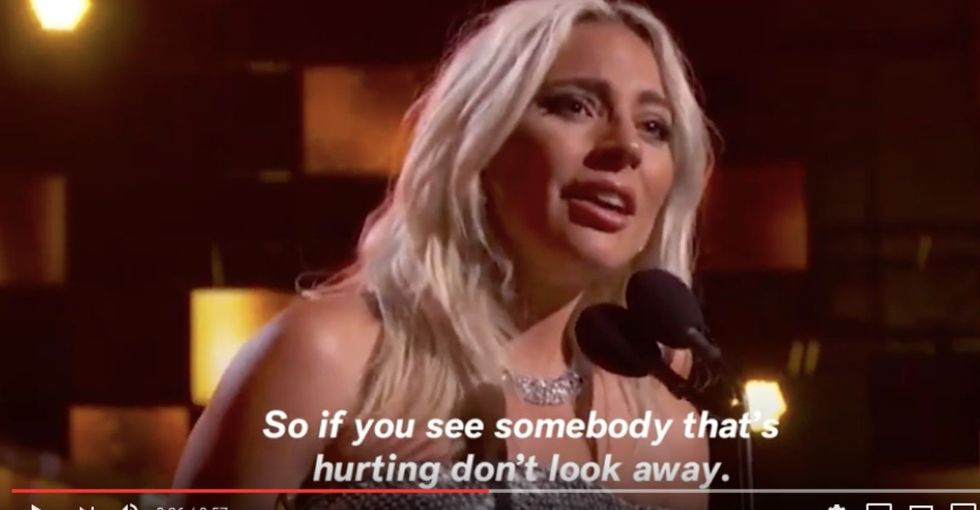 Lady Gaga used her moment in the Grammy spotlight to plead for mental health awareness and help.
Artists at award shows often grab the opportunity with a large, captive audience to shed light on issues that are important to them. Last night, Lady Gaga used hers to address an issue that's near and dear to her heart.
Lady Gaga, who won three awards at last night's Grammys, gave an emotional speech highlighting the fact that so many people struggle with mental health issues without getting the help they desperately need.  
---
"I'm so proud to be a part of a movie that addresses mental health issues," she said, referring to her role in "A Star is Born."
"They're so important. A lot of artists deal with that, and we've got to take care of each other."
It's not only artists who struggle with mental health. According to the National Alliance on Mental Heath, 1 in 5 adults in the U.S. experiences a mental illness in any given year. Additionally, 1 in 5 youth aged 13–18 experiences a severe mental disorder at some point during their life.
"If you see somebody that's hurting, don't look away," Gaga continued. "And if you're hurting, even though it might be hard, try to find that bravery within yourself to dive deep and go tell somebody and take them up in your head with you."
The "A Star is Born" star speaks from her own personal experiences with mental illness.
Gaga's character in "A Star is Born" was in a relationship with an alcoholic who struggled with depression and ultimately died by suicide. But the singer-turned-actress superstar has also talked about her own mental illness struggles openly in interviews and other speeches.
In a speech at the SAG-AFTRA Foundation Patron of the Artists Awards in November 2018, Lady Gaga spoke candidly about her experiences with "disassociation and PTSD" and how she finally sought professional help and developed a mental health support team. She said her initial symptoms "later morphed into physical chronic pain, fibromyalgia, panic attacks, acute trauma responses, and debilitating mental spirals that have included suicidal ideation and masochistic behavior."
"We need to bring mental health into the light," she said. "We need to share our stories so that global mental health no longer resides and festers in the darkness."
Celebrities raising awareness can help remove the stigma that often accompanies mental illness.
Many people who struggle with mental health issues don't seek help because of the stigma surrounding mental illness. They may worry that people will think they're "crazy" or weak. They may worry that they will be discriminated against if they share their health problems openly.
But bringing mental health out of the shadows is really the only way to battle the stigma. When people share what they've been through and how they're managing their mental health issues, it helps people feel more comfortable seeking help. Thanks to Lady Gaga for continually bringing these issues into the light.
Watch her emotional award speech here: