Family
Helping the ones you love can go hand-in-hand with holiday cheer.
True
AARP + the Ad Council
The holidays are right around the corner, and for many that means reuniting with family.
It's the perfect time to connect over delicious home-baked pies, laugh during competitive charades, and just generally spread good cheer to one another.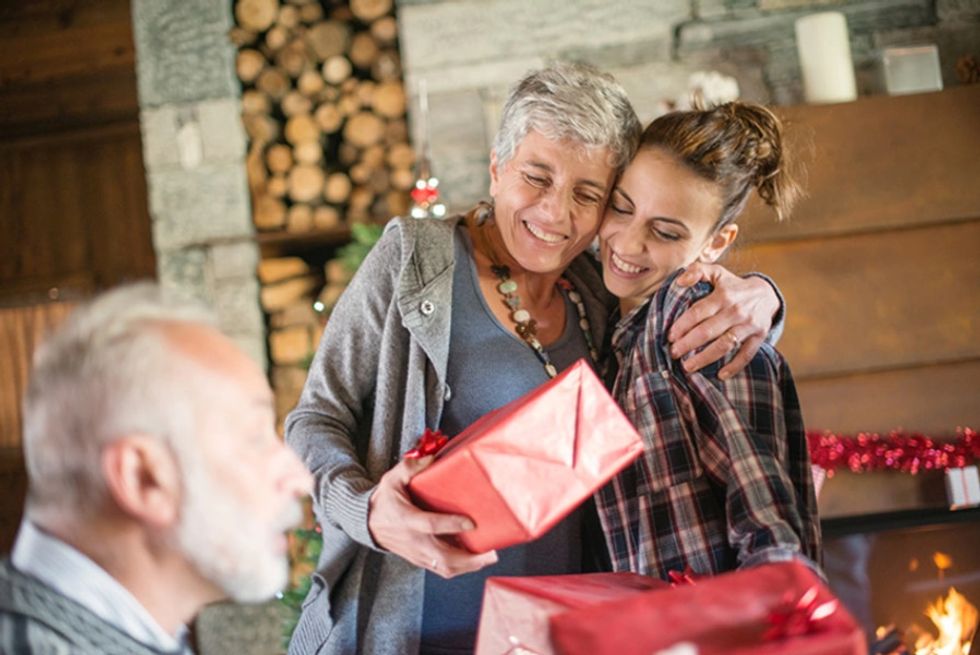 Via istock.
<p>However, many older loved ones may not be able to participate in the holiday fun as easily as they once could.</p><p>Going up and down stairs may be more difficult now, and they might not be able to remember everyone they want to give gifts to. Or maybe they can no longer drive, which means getting to a particular destination on their own could be tough. Maybe they avoid going to a family gathering altogether because it just feels too hard.  </p><p>And if your loved one hasn't asked for help directly, it can be tough figuring out how to jump in and offer. </p><p><strong>If you're just learning that they're developing limitations, the holidays are perhaps the best time to broach the conversation about their current or future care needs. </strong>There's no better moment to make those extra efforts for the people you love. </p><h2>Here are 11 things you can do around the holidays for your loved ones who might not know they need help. </h2><h2>1. Have a pre-holiday gathering to develop a caregiving plan.</h2><p>Before your family get-together, touch base with everyone to make a plan about how everyone can best support your older loved one during the holidays; that way you can be sure they aren't left out of the festivities. Who will be picking up mom to bring her to dinner? Who's taking her shopping? Is someone shoveling her snow? Remember that caregiving doesn't need to be a solo effort.</p><h2>2. Offer to take them holiday shopping.</h2><p class="shortcode-media shortcode-media-rebelmouse-image"><img type="lazy-image" data-runner-src="https://assets.rebelmouse.io/eyJhbGciOiJIUzI1NiIsInR5cCI6IkpXVCJ9.eyJpbWFnZSI6Imh0dHBzOi8vYXNzZXRzLnJibC5tcy8xOTQ3Njc4NS9vcmlnaW4uanBnIiwiZXhwaXJlc19hdCI6MTYwNzA0NTE0Mn0.LXXlOUsF0IaVV4OnT4V3lcent3akJWZnh_WX8agRs9U/img.jpg?width=980" id="cb3be" class="rm-shortcode" data-rm-shortcode-id="6156cae1cf8b7bdd0079050823dd24ec" data-rm-shortcode-name="rebelmouse-image"><small class="image-media media-caption" placeholder="add caption...">Image via iStock.</small></p><p>If you've noticed they've had trouble driving lately, you can suggest taking them holiday shopping. After all, you're already going. Plus, it's a fun and meaningful way for you two to spend time together. </p><h2>3. Bring gifts and family to them. </h2><p>This is especially helpful if your older loved can't easily leave the house. If that's the case, why not arrange the holiday gathering plans around them so they can still be a part of the action? They can enjoy gifts, food, and fun all from the comfort of their home. </p><h2>4. Use after-dinner time to maybe start a conversation about next steps.</h2><p>The kids will likely be off playing, so it's an ideal time to bring up the subject of how you can be helpful to your older loved one. You don't want to ambush them, but the end of the year is a great time to touch base and ask your loved one how they feel the year has gone and what kind of care and support they might need in the new year. </p><p><a href="https://www.aarp.org/caregiving/prepare-to-care-planning-guide.html?CMP=LNK-DSO-UPWTH-CAREGIVING-A1L2" target="_blank">As AARP's Prepare to Care Guide</a> states, "a plan should never be made without the participation, knowledge, and consent of your loved one." By taking an opportunity to begin talking about it over dessert by the fireplace, it'll hopefully feel more like an open-ended conversation.</p><p>That said, if the timing doesn't feel right, you shouldn't force the issue. AARP's family caregiving expert Amy Goyer says you might use the holidays as a kick off point to schedule the conversation for a later date when everyone can feel up to speed and on the same page. </p><h2>5. Help them feel included in the holiday festivities. </h2><p class="shortcode-media shortcode-media-rebelmouse-image"><img type="lazy-image" data-runner-src="https://assets.rebelmouse.io/eyJhbGciOiJIUzI1NiIsInR5cCI6IkpXVCJ9.eyJpbWFnZSI6Imh0dHBzOi8vYXNzZXRzLnJibC5tcy8xOTQ3Njc4Ni9vcmlnaW4uanBnIiwiZXhwaXJlc19hdCI6MTYyNzEzMDA4Nn0.W-9VG2DVnRfmizMuvTWlj-JFkLY8RFwi3t-RBeQCYVQ/img.jpg?width=980" id="496c6" class="rm-shortcode" data-rm-shortcode-id="f08dc43033c06511d93bdcea008e90d7" data-rm-shortcode-name="rebelmouse-image"><small class="image-media media-caption" placeholder="add caption...">via istock.</small></p><p>For older loved ones with Alzheimer's or other memory loss issues, it's easy to just fade into the background, especially if they don't remember past holiday traditions. But the important thing to remember is that holidays are about being together, and no one should be left out. That's why AARP's family caregiving expert <a href="http://blog.aarp.org/2015/12/23/amy-goyer-dad-with-dementia-gives-gift-of-connected-moments/?CMP=LNK-DSO-UPWTH-CAREGIVING-A1L3" target="_blank">Amy Goyer stresses</a> the importance of encouraging them to get involved in any way they want. From singing carols to decorating the Christmas tree, it's the little things that may spark some unexpected joy. </p><p>"Understand what's meaningful for them," says Goyer. "Think about how you can adapt those things to fit their abilities."</p><h2>6. Make them a unique holiday gift that will remind them how much they mean to you.</h2><p>Maybe it's a scrapbook filled with photos of your family from past holidays that they can always flip through to remember wonderful moments. Or, perhaps it's a watch or necklace you had engraved. Gifts with a real personal touch are a constant reminder that they have family who loves them. </p><h2>7. Ask them what fun activities they want to do during the holidays.</h2><p>This is both a way for you to spend more time with your older loved one and make sure they're going out and doing things. List items could include visiting an obscure museum to something as simple as taking the afternoon to learn a cool new game. As loved ones age, they can begin to feel like they're losing their independence. Giving them the chance to decide what you'll do together can be a fun and empowering experience.</p><p>"It's okay to create new traditions," stresses Goyer. </p><h2>8. Encourage kids in the family to interview their elders.</h2><p class="shortcode-media shortcode-media-rebelmouse-image"><img type="lazy-image" data-runner-src="https://assets.rebelmouse.io/eyJhbGciOiJIUzI1NiIsInR5cCI6IkpXVCJ9.eyJpbWFnZSI6Imh0dHBzOi8vYXNzZXRzLnJibC5tcy8xOTQ3Njc4Ny9vcmlnaW4uanBnIiwiZXhwaXJlc19hdCI6MTYyMTQ2NjI0OX0.4RRocRNneipAxsR2U4exGXbbclAdnOqW8ntSZlNJ8dM/img.jpg?width=980" id="d97c7" class="rm-shortcode" data-rm-shortcode-id="e75582afc5e96abbb47764a203910d2a" data-rm-shortcode-name="rebelmouse-image"><small class="image-media media-caption" placeholder="add caption...">Image via iStock.</small></p><p>Considering everyone has a recording device on their phones these days, this is an easy and fun thing to do before or after a holiday meal. Not only does it <a href="http://blog.aarp.org/2015/11/19/amy-goyer-interview-elders-transmit-wisdom-across-generations/?CMP=LNK-DSO-UPWTH-CAREGIVING-A1L5" target="_blank">strengthen the bond</a> between the generations, it also makes your older loved ones feel like their stories still matter. And at the end of it, you'll have their memories captured on tape to cherish for years to come.</p><h2>9. Take a day or two and just focus on yourself.</h2><p>This may sound counterintuitive to the season of giving, but if you've been dedicating a lot of time and effort to working out a caregiving plan, you may be burned out. If you don't take some <a href="https://www.aarp.org/caregiving/life-balance/info-2017/respite-care-plan.html?CMP=LNK-DSO-UPWTH-CAREGIVING-A1L6" target="_blank">time to recharge</a>, you won't be useful to your older loved ones — or anyone for that matter. Finding that balance between caring for yourself and others is vital to keeping the care going.</p><h2>10. Look at the holidays as a chance to test out new living situations.</h2><p class="shortcode-media shortcode-media-rebelmouse-image"><img type="lazy-image" data-runner-src="https://assets.rebelmouse.io/eyJhbGciOiJIUzI1NiIsInR5cCI6IkpXVCJ9.eyJpbWFnZSI6Imh0dHBzOi8vYXNzZXRzLnJibC5tcy8xOTQ3Njc4OC9vcmlnaW4uanBnIiwiZXhwaXJlc19hdCI6MTU5OTU0MDcyOH0.b1pOry1SWthbfvQYFMPDwL-WsVrVX_CF_10UmgI1o7M/img.jpg?width=980" id="0d1bd" class="rm-shortcode" data-rm-shortcode-id="e6b423989f872e271eeb9d6b69e090e6" data-rm-shortcode-name="rebelmouse-image"><small class="image-media media-caption" placeholder="add caption...">Via Jennifer Martin/AARP.</small></p><p>If it seems like your older loved one can no longer live alone but isn't eager to change up their lifestyle, why not suggest they stay with you or a fellow family member over the holidays? It's an easy way to test out the new situation under ideal, aka celebratory, circumstances. </p><h2>11. If you live far from your older loved one, figure out how you can help from a distance.</h2><p class="shortcode-media shortcode-media-rebelmouse-image"><img type="lazy-image" data-runner-src="https://assets.rebelmouse.io/eyJhbGciOiJIUzI1NiIsInR5cCI6IkpXVCJ9.eyJpbWFnZSI6Imh0dHBzOi8vYXNzZXRzLnJibC5tcy8xOTQ3Njc4OS9vcmlnaW4uanBnIiwiZXhwaXJlc19hdCI6MTU4NjYzNzIwN30.bmlRnYr7pZ3rcfoh6PehLwAitn2KCZx92uCnr8aGE4w/img.jpg?width=980" id="2e795" class="rm-shortcode" data-rm-shortcode-id="edd2ee5d3a6aa449f336afeac320d2cd" data-rm-shortcode-name="rebelmouse-image"><small class="image-media media-caption" placeholder="add caption...">Image via iStock.</small></p><p>You may not be able to be the caregiver on the ground all year long, but that doesn't mean you can't do a lot for them. If you're going to be a point person for care but can't physically be there, make sure you have a <a href="http://blog.aarp.org/2016/01/21/amy-goyer-technology-helps-long-distance-caregivers/?CMP=LNK-DSO-UPWTH-CAREGIVING-A1L4" target="_blank">local team of support</a> lined up. Whether they're family, friends, or hired help, it's important to know someone can get to your loved one quickly and easily in an emergency. </p><h2><strong>The transition into caregiving can be difficult, but getting the ball rolling over the holidays might just make it a little easier. </strong></h2><p>And no matter what steps you choose to take, be sure to keep listening to your loved one throughout. They're a huge part of this new step, and their voice should always matter. </p><p>Of course, everyone's situation will be unique, but if you approach the adjustment thoughtfully and with love, it can make all the difference. </p>