popular
Balance out heavy holiday eating with some lighter—but still delicious—fare.
Albertson's
True
The holiday season has arrived with its cozy vibe, joyous celebrations and inevitable indulgences. From Thanksgiving feasts to Christmas cookie exchanges to Aunt Eva's irresistible jelly donuts—not to mention leftover Halloween candy still lingering—fall and winter can feel like a non-stop gorge fest.
Total resistance is fairly futile—let's be real—so it's helpful to arm yourself with ways to mitigate the effects of eating-all-the-things around the holidays. Serving smaller amounts of rich, celebratory foods and focusing on slowly savoring the taste is one way. Another is to counteract those holiday calorie-bomb meals with some lighter fare in between.
Contrary to popular belief, eating "light" doesn't have to be tasteless, boring or unsatisfying. And contrary to common practice, meals don't have to fill an entire plate—especially when we're trying to balance out heavy holiday eating.
It is possible to enjoy the bounties of the season while maintaining a healthy balance. Whether you prefer to eat low-carb or plant-based or gluten-free or everything under the sun, we've got you covered with these 10 easy, low-calorie meals from across the dietary spectrum.
Each of these recipes has less than 600 calories (most a lot less) per serving and can be made in less than 30 minutes. And Albertsons has made it easy to find O Organics® ingredients you can put right in your shopping cart to make prepping these meals even simpler.
Enjoy!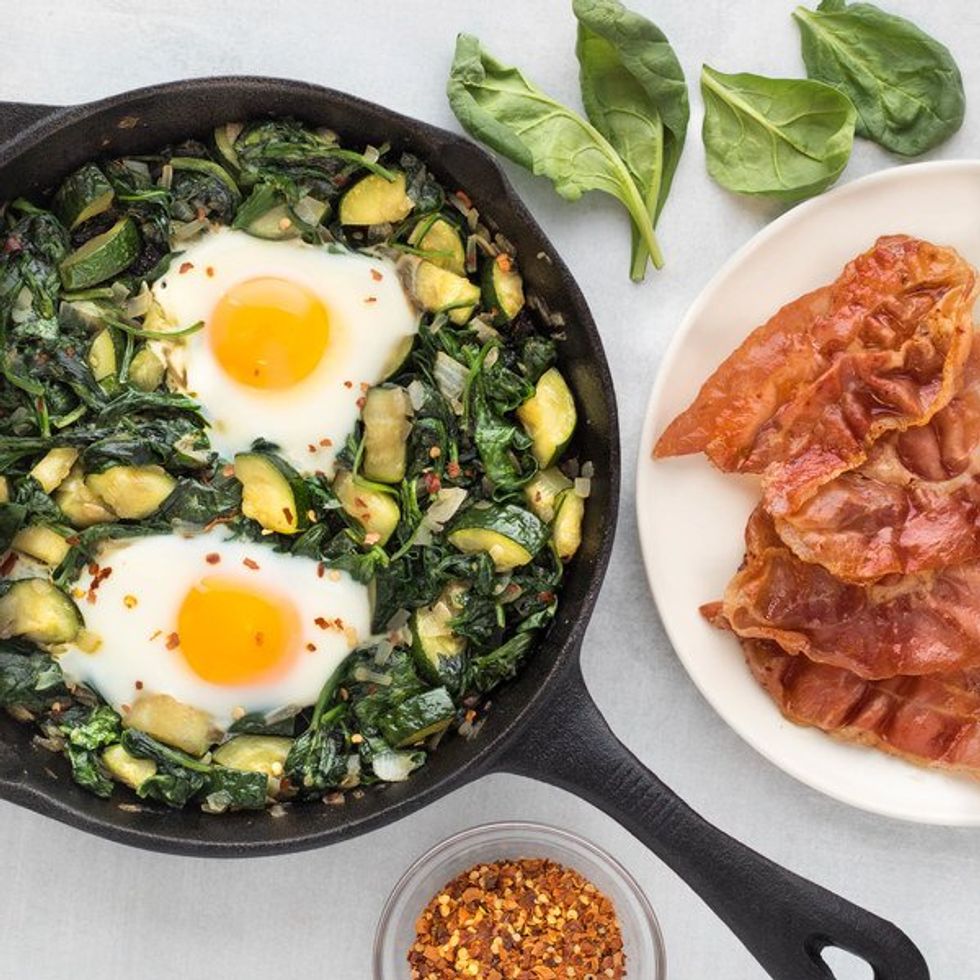 Not quite green eggs and ham, but closeAlbertsons
Breakfast Skillet of Greens, Eggs & Ham
273 calories | 20 minutes
Ingredients:
1 (5 oz) pkg baby spinach
2 eggs
1 clove garlic
4 slices prosciutto
1/2 medium yellow onion
1 medium zucchini squash
1/8 cup butter, unsalted
1 pinch crushed red pepper
Find full instructions and shopping list here.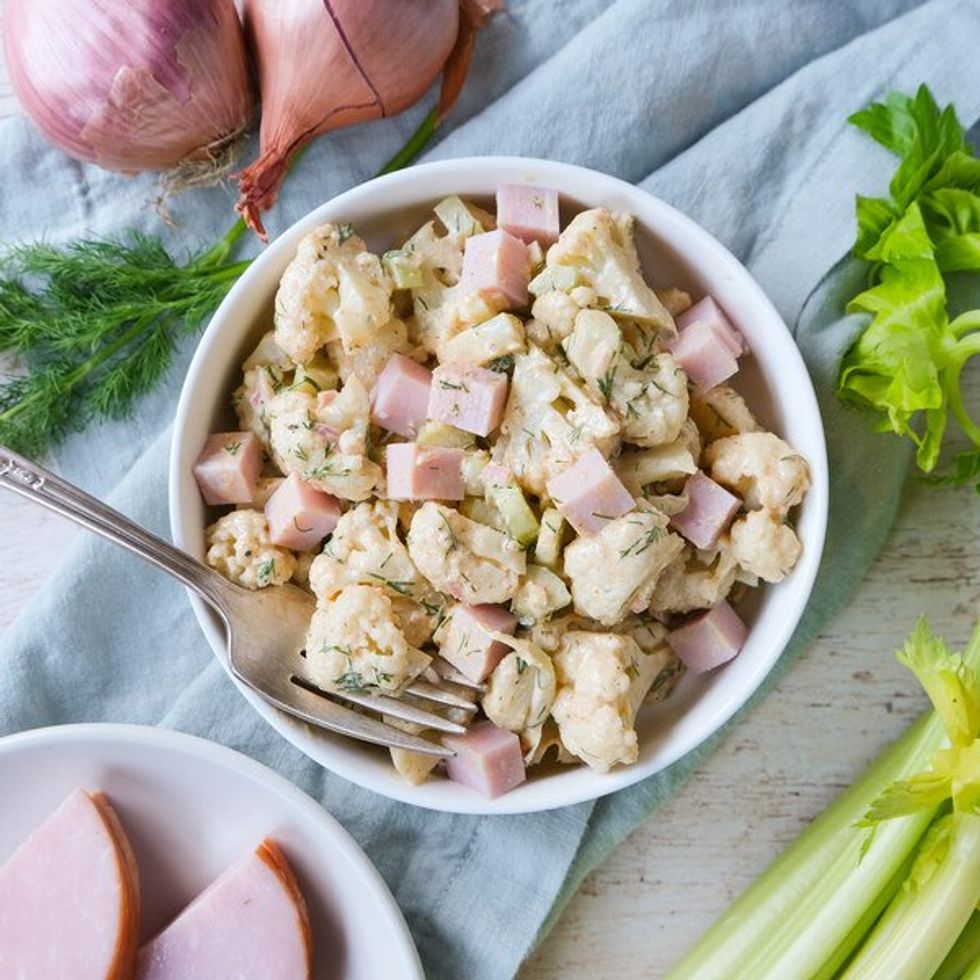 Get your cauliflower power on.Albertsons
Creamy Cauliflower Salad with Ham, Celery & Dill
345 calories | 20 minutes
1/2 medium head cauliflower
1 stick celery
1/4 small bunch fresh dill
8 oz. ham steak, boneless
1/2 shallot
1/4 tspblack pepper
1/4 tsp curry powder
2 tsp Dijon mustard
1/4 tsp garlic powder
3 Tbsp mayonnaise
1/8 tsp paprika
2 tsp red wine vinegar
1/2 tsp salt
Find full instructions and shopping list here.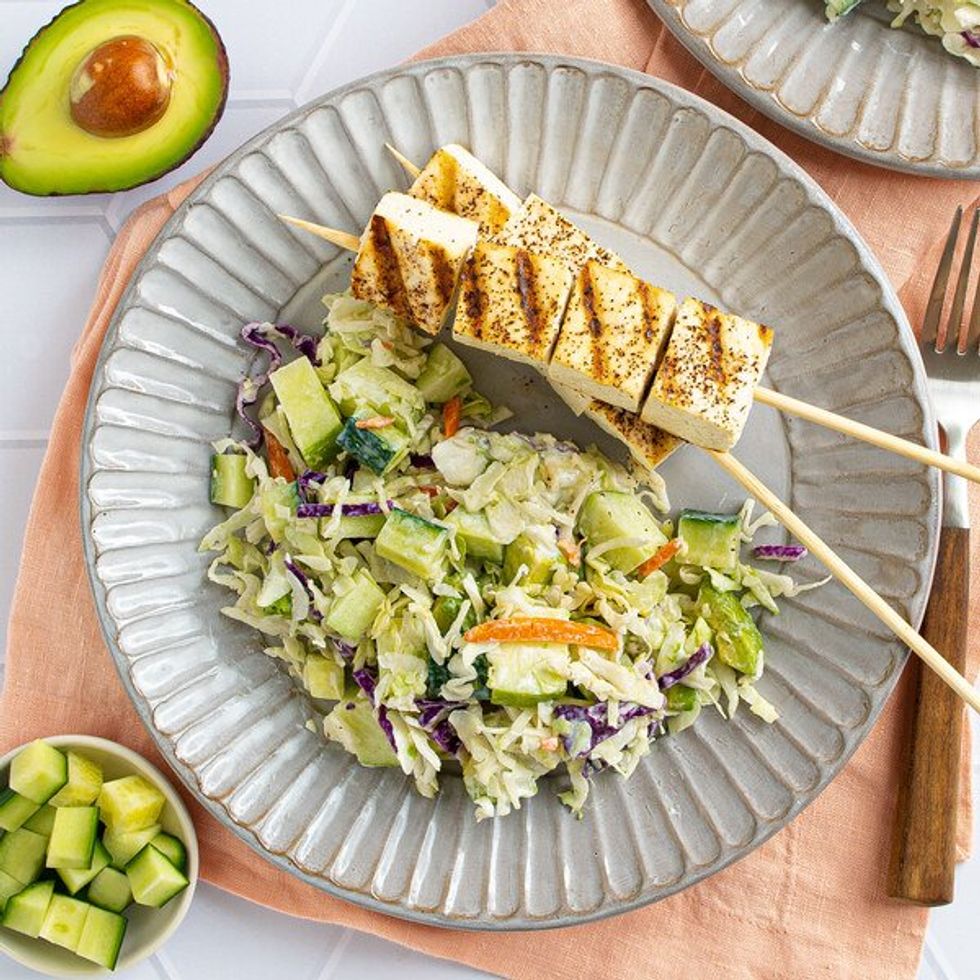 Plant-based food fan? This combo looks yums. Albertsons
Grilled Chili Tofu Skewers with Ranch Cabbage, Apple & Cucumber Slaw
568 calories | 20 minutes
1 avocado
1/2 English cucumber
1 (12 oz.) package extra firm tofu
1 Granny Smith apple
3 Tbsp (45 ml) Ranch dressing
1/2 (14 oz bag) shredded cabbage (coleslaw mix)
2 tsp chili powder
1 Tbsp extra virgin olive oil
1/2 tsp garlic powder
1/2 tsp salt
Find full instructions and shopping list here.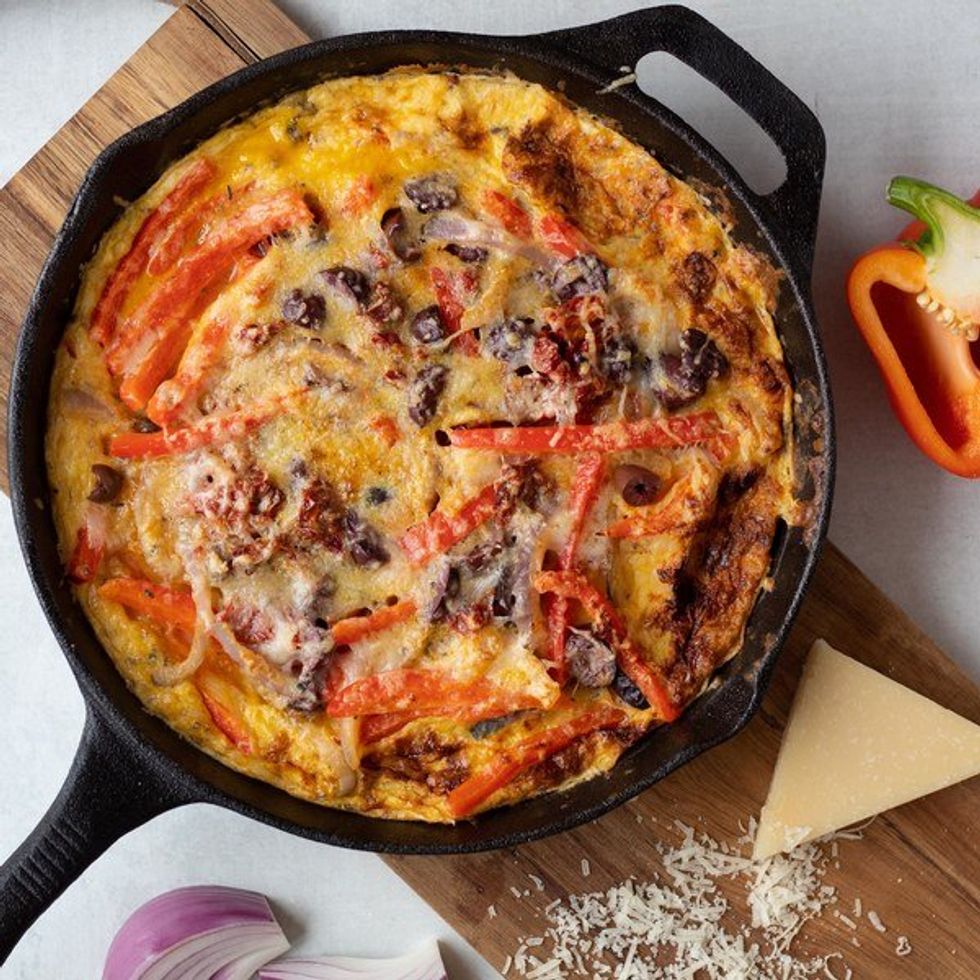 Sometimes you just gotta frittata.Albertsons
Bell Pepper, Olive & Sun-Dried Tomato Frittata with Parmesan
513 calories | 25 minutes
6 eggs
1/2 cup Kalamata olives, pitted
2 oz Parmesan cheese
1 red bell pepper
1/2 medium red onion
8 sundried tomatoes, oil-packed
1/4 tsp black pepper
1 Tbsp extra virgin olive oil
1/2 tsp Italian seasoning
1/4 tsp salt
Find full instructions and shopping list here.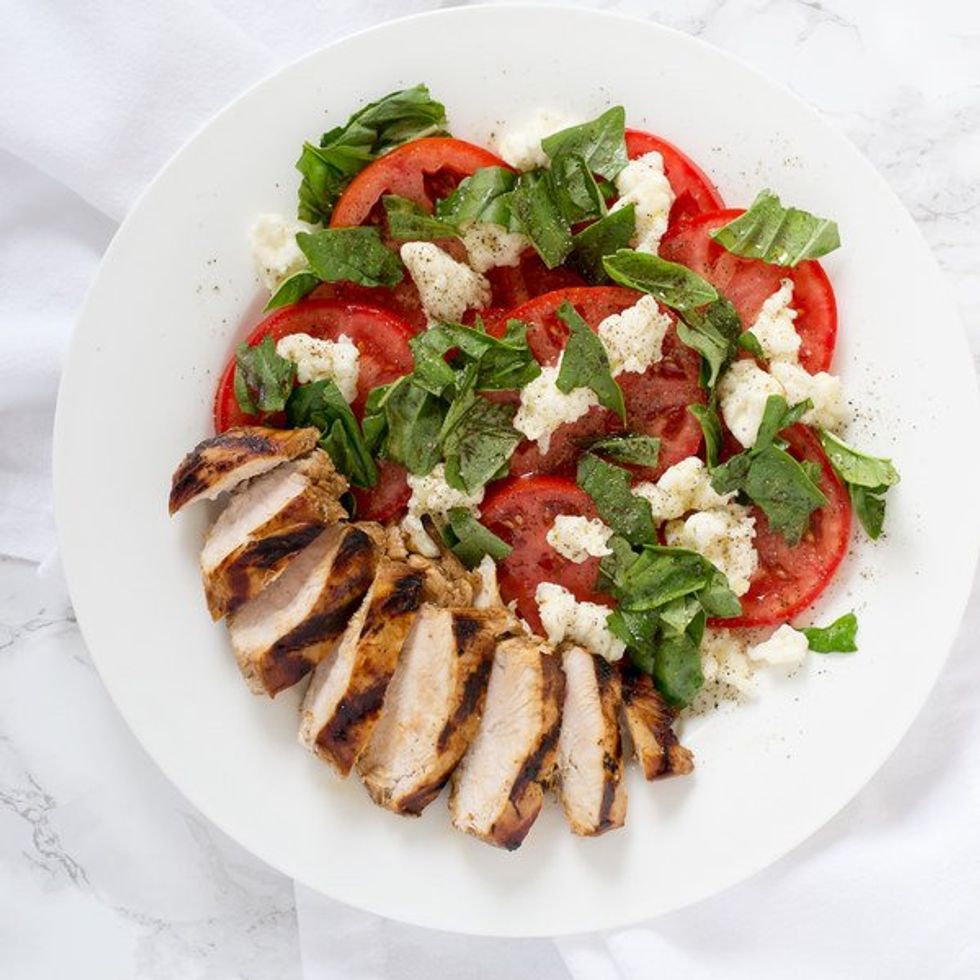 Caprese, if you please.Albertsons
Balsamic Grilled Chicken with Classic Caprese Salad
509 calories | 25 minutes
3/4 lb chicken breasts, boneless skinless
1/2 small pkg fresh basil
1/2 (8 oz pkg) fresh mozzarella cheese
1 clove garlic
3 tomatoes
1 Tbsp balsamic vinegar
4 3/4 pinches black pepper
1 1/2 tsp extra virgin olive oil
3/4 tsp salt
Find full instructions and shopping list here.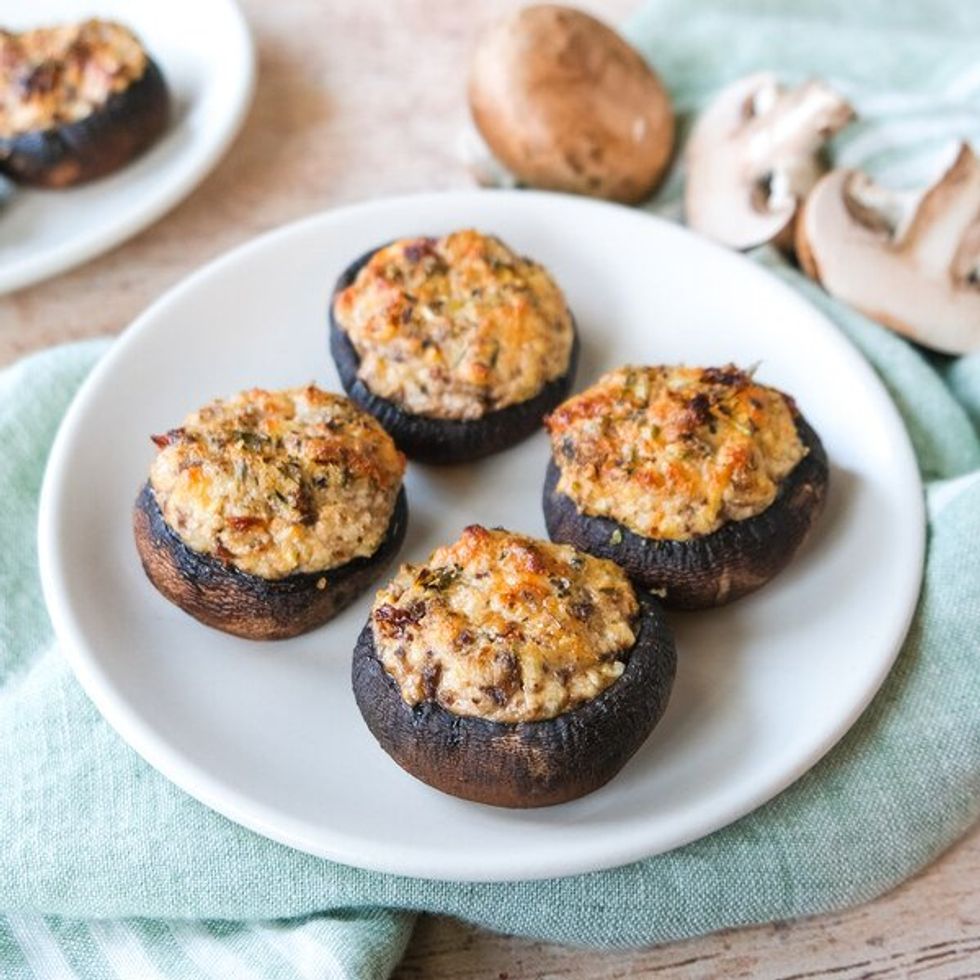 These mushrooms look positively poppable.Albertsons
Warm Goat Cheese, Parmesan & Sun-Dried Tomato Stuffed Mushrooms
187 calories | 35 minutes
1/2 lb cremini mushrooms
1 clove garlic
1/2 (4 oz) log goat cheese
1/4 cup Parmesan cheese, shredded
2 sundried tomatoes, oil-packed
1 1/4 pinches crushed red pepper
1 tsp extra virgin olive oil
1/4 tsp Italian seasoning
2 pinches salt
Find full instructions and shopping list here.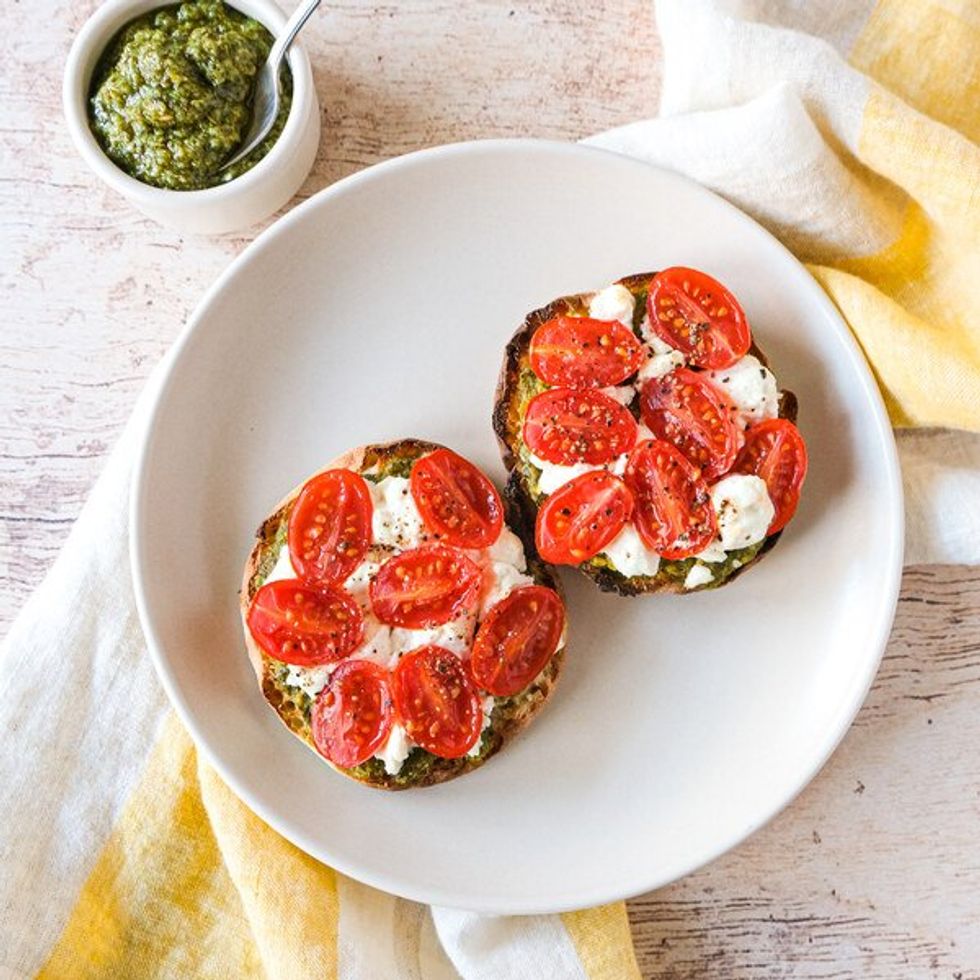 Move over, avocado toast. English muffin pizzas have arrived.Albertsons
English Muffin Pizzas with Basil Pesto, Goat Cheese & Tomatoes
327 calories | 10 minutes
3 Tbsp (45 ml) basil pesto
2 English muffins
1/2 (4 oz) log goat cheese
1/2 pint grape tomatoes
3/4 pinch black pepper
2 pinches salt
Find full instructions and shopping list here.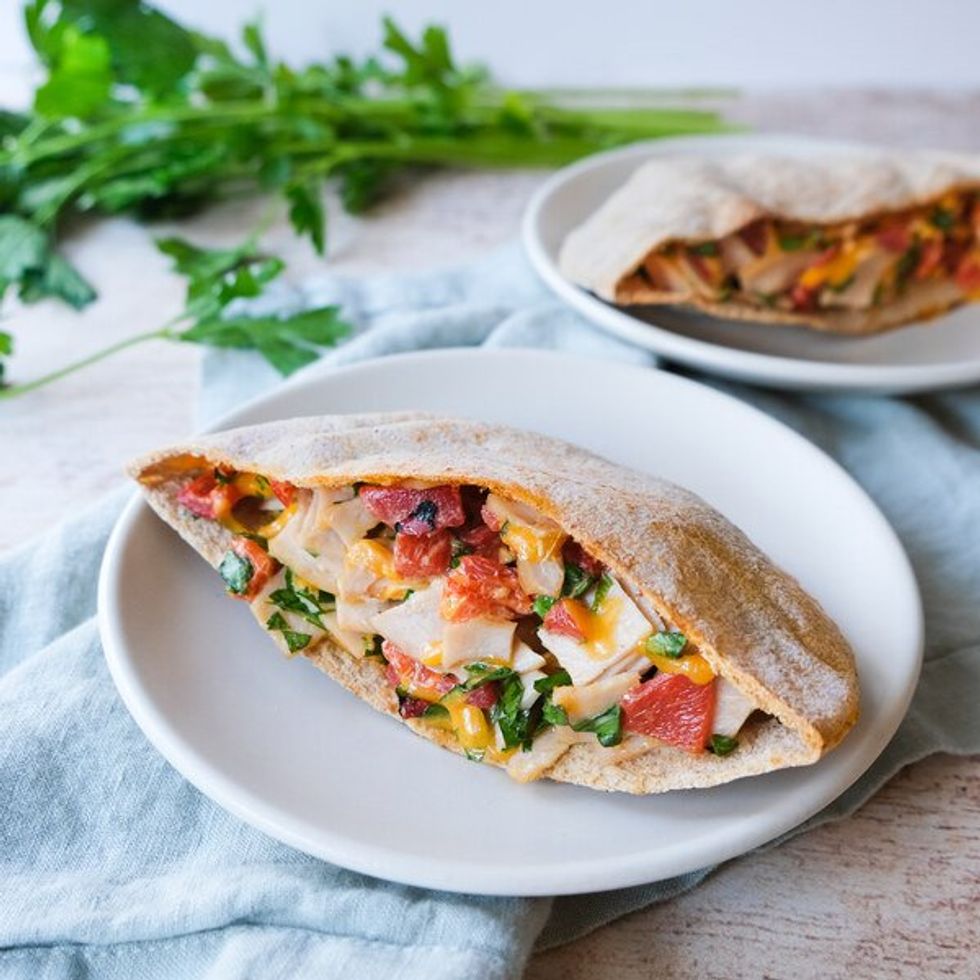 This pita pocket packs a colorful punch.Albertsons
Warm Pita Pocket with Turkey, Cheddar, Roasted Red Peppers & Parsley
313 calories | 20 minutes
1/4 (8 oz) block cheddar cheese
1/2 bunch Italian (flat-leaf) parsley
4 oz oven roasted turkey breast, sliced
1/2 (12 oz) jar roasted red bell peppers
1 whole grain pita
3/4 pinch black pepper
1/2 tsp Dijon mustard
2 tsp mayonnaise
Find full instructions and shopping list here.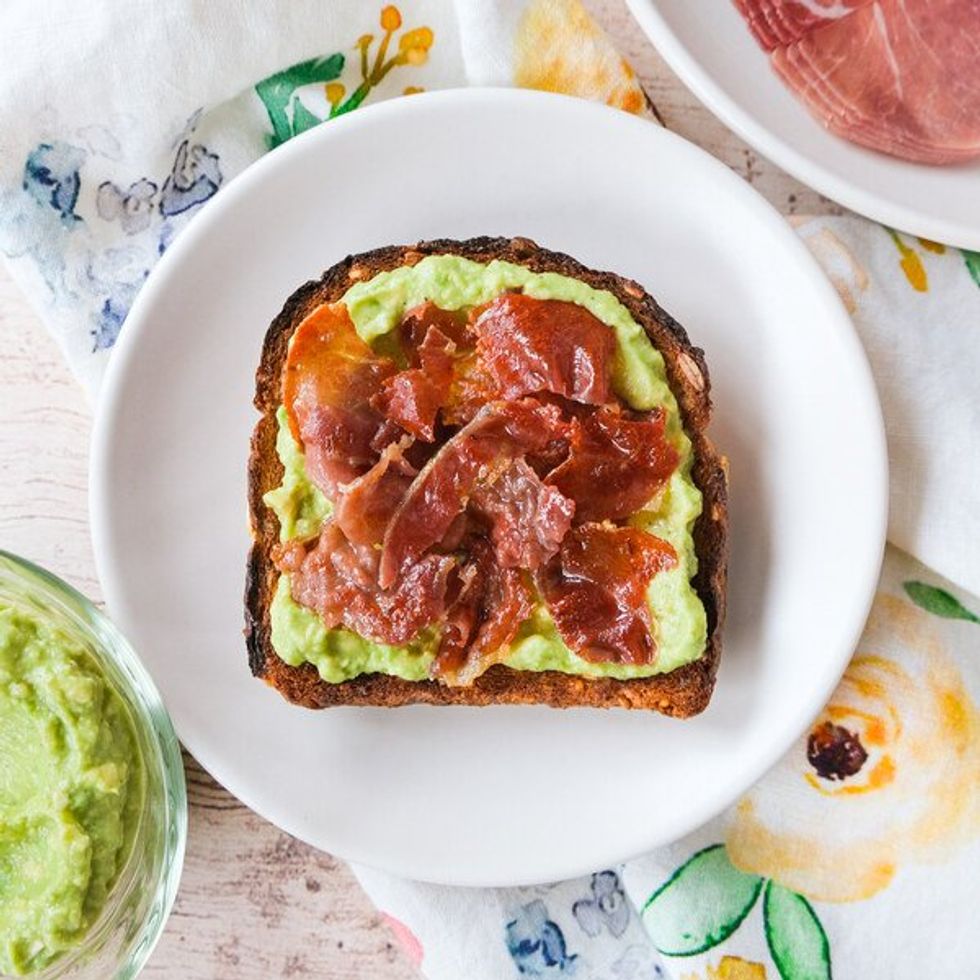 Did we say, "Move over, avocado toast?" What we meant was "Throw some prosciutto on it!" Albertsons
Avocado Toast with Crispy Prosciutto
283 calories | 10 minutes
1 avocado
2 slices prosciutto
2 slices whole grain bread
1 5/8 tsp black pepper
1/2 tsp extra virgin olive oil
1/8 tsp garlic powder
1/8 tsp onion powder
Find full instructions and shopping list here.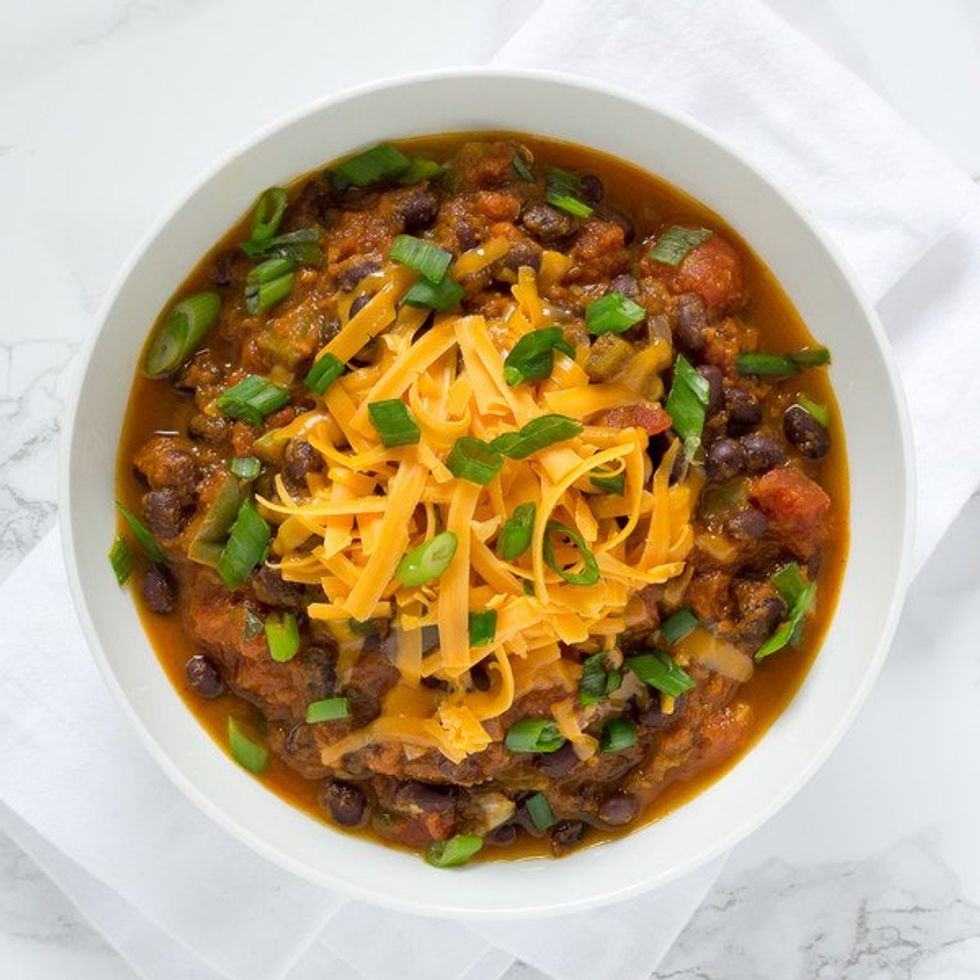 Vegetarian chili with a fall twistAlbertsons
Black Bean & Pumpkin Chili with Cheddar
444 calories | 30 minutes
2 (15 oz can) black beans
1/2 (8 oz ) block cheddar cheese
2 (14.5 oz) cans diced tomatoes
2 cloves garlic
2 green bell peppers
1 small bunch green onions (scallions)
1 (15 oz) can pure pumpkin purée
1 medium yellow onion
1/2 tsp black pepper
5 7/8 tsp chili powder
1/2 tsp cinnamon
2 tsp cumin, ground
1 tsp salt
1 Tbsp virgin coconut oil
Find full instructions and shopping list here.
For more delicious and nutritious recipes, visit albertsons.com/recipes.
Around 1 a.m. on April 24, semi-truck drivers in the Oak Park area of Michigan received a distress call from area police: An unidentified man was standing on the edge of a local bridge, apparently ready to jump onto the freeway below.

Those drivers then did something amazing. They raced to the scene to help — and lined up their trucks under the bridge, providing a relatively safe landing space should the man jump.
Fortunately, he didn't.
The impressive line-up wasn't a coincidence — the drivers were prepared for exactly this sort of situation.Sgt. Jason Brockdorff of the Huntington Woods Police Department told The Detroit News that the response was something local police and truck drivers had actually trained for. But what was unusual was the sheer number of drivers who responded to the call.
"That's a practice we use if we have a jumper," Brockdorff said. "We try to do it every time, to lessen the distance someone would travel if they were to jump. Fortunately, that didn't happen."
The incident lasted nearly four hours, into the early morning. However, once the trucks were in place, the police were able to more comfortably negotiate with the unidentified man.
Eventually, the man walked off the bridge on his own and is currently receiving medical help.
In a pair of tweets, the local police department called attention to the incident to remind people in similar situations of the importance of seeking mental health services (emphasis mine):
This photo does show the work troopers and local officers do to serve the public. But also in that photo is a man struggling with the decision to take his own life. Please remember help is available through the National Suicide Prevention Lifeline at 1-800-273-8255.
You can also call a loved one, member of the clergy or 911. There are so many people that can help you make the choice to get help and live! It is our hope to never see another photo like this again.


Working together, the police and everyday strangers saved a life.
Ordinary people heeded the call of service to help a fellow person who was struggling. It's a powerful image that's impossible to ignore, and a reminder of humanity at its best.
This article originally appeared on 04.24.18
Health
There's a very important distinction.
Health
"Our moral compass is skewed if we think things like this are acceptable."
Photo courtesy of CC BY-ND, Immo Klink and Marco Godoy
These are called "anti-homeless spikes." They're about as friendly as they sound.
As you may have guessed, they're intended to deter people who are homeless from sitting or sleeping on that concrete step. And yeah, they're pretty awful.
The spikes are a prime example of how cities design spaces to keep homeless people away.
Not all concrete steps have spikes on them, but outdoor seating in cities like Montreal and Tokyo have been sneakily designed to prevent people from resting too comfortably for too long.
This guy sawing through a bench was part of a 2006 protest in Toulouse, France, where public seating intentionally included armrests to prevent people from lying down.
Of course, these designs do nothing to fight the cause or problem of homelessness. They're just a way of saying to homeless people, "Go somewhere else. We don't want to look at you,"basically.
One particular set of spikes was outside a former night club in London. And a local group got sick of staring at them.
Leah Borromeo is part of the art collective "Space, Not Spikes" — a group that's fed up with what she describes as "hostile architecture."
"Spikes do nothing more than shoo the realities of poverty and inequality away from your backyard — so you don't have to see it or confront what you can do to make things more equal," Borromeo told Upworthy. "And that is really selfish."

"Our moral compass is skewed if we think things like this are acceptable."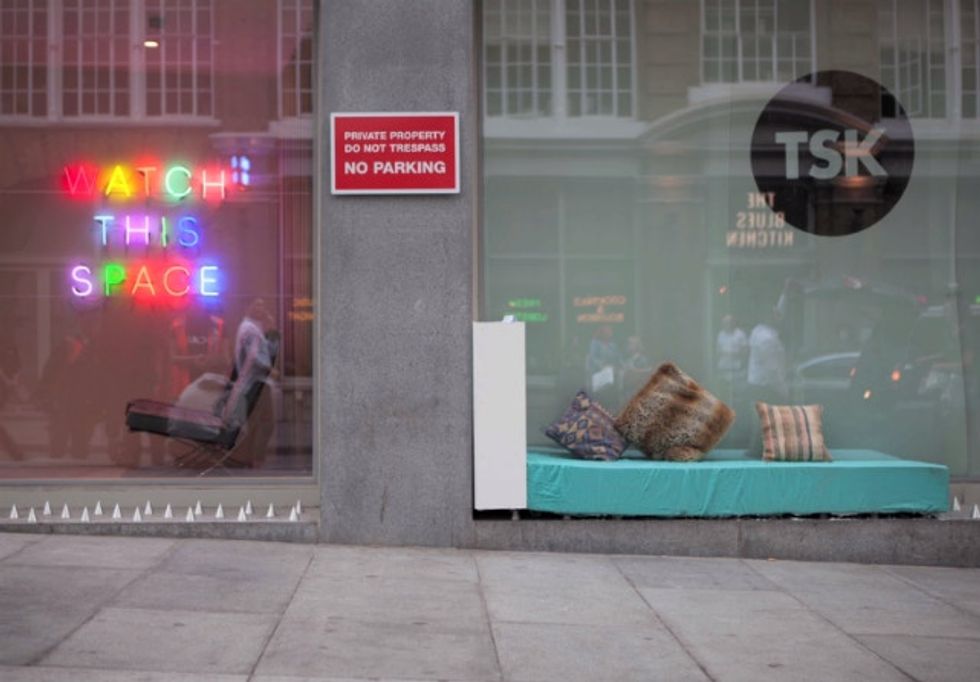 A bed covers up spikes on the concrete.
The move by Space, Not Spikes has caused quite a stir in London and around the world. The simple but impactful idea even garnered support from music artist Ellie Goulding.
"That was amazing, wasn't it?" Borromeo said of Goulding's shout-out on Instagram.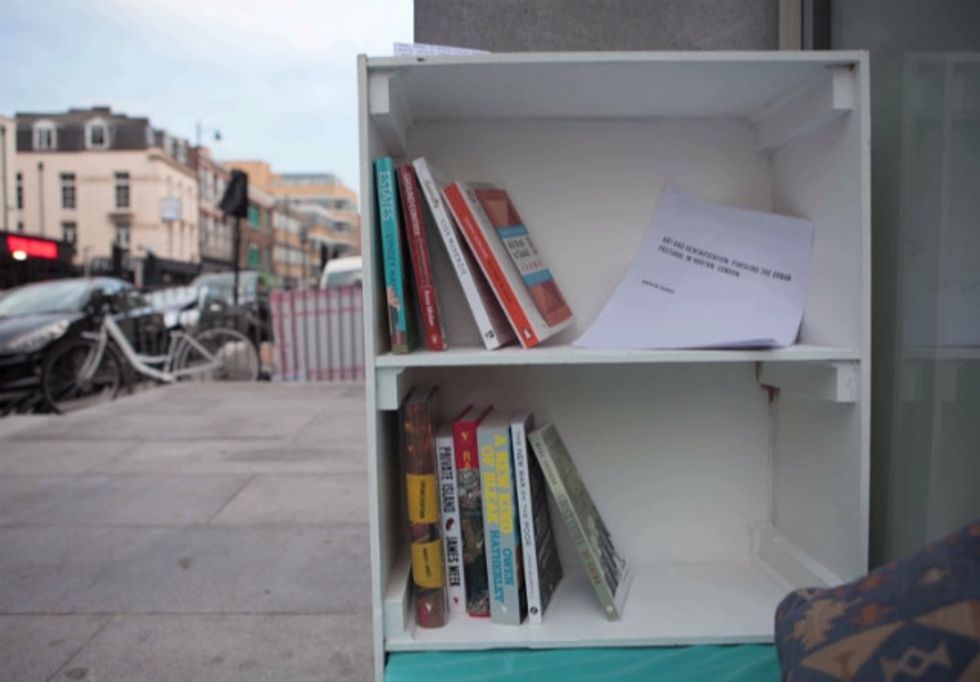 Artist's puppy books and home comforts.
"[The project has] definitely touched a nerve and I think it is because, as a whole, humans will still look out for each other," Borromeo told Upworthy. "Capitalism and greed conditions us to look out for ourselves and negate the welfare of others, but ultimately, I think we're actually really kind."

"We need to call out injustice and hypocrisy when we see it."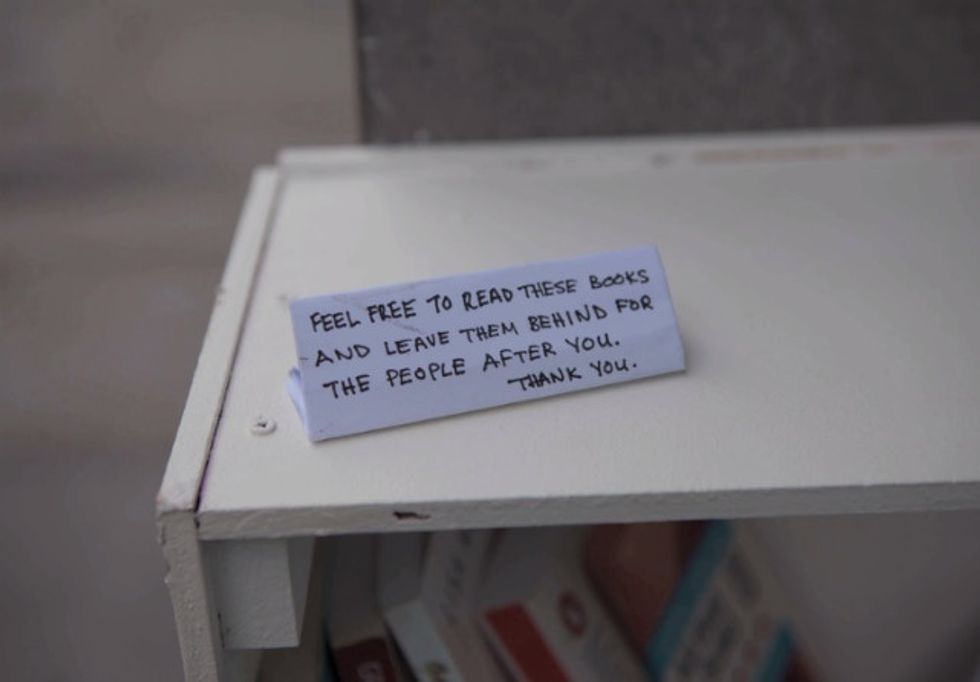 A message to offer support in contrast with current anti-homeless laws.
These spikes may be in London, but the U.S. definitely has its fair share of anti-homeless sentiment, too.

Spikes are pretty obvious — they're a visual reminder of a problem many cities are trying to ignore. But what we can't see on the street is the rise of anti-homeless laws that have cropped up from sea to shining sea.
Legislation that targets homeless people — like bans on panhandling and prohibiting people from sleeping in cars — has increased significantly in recent years.
For instance, a report by the National Law Center on Homelessness & Poverty that analyzed 187 American cities found that there's been a 43% hike in citywide bans on sitting or lying down in certain spaces since 2011.
Thankfully, groups like "Space, Not Spikes" are out there changing hearts and minds. But they need our help.
The group created a video to complement its work and Borromeo's hoping its positive underlying message will motivate people to do better.
"[The world] won't always be happy-clappy because positive social change needs constructive conflict and debate," she explained. "But we need to call out injustice and hypocrisy when we see it."
Check out their video below:
This article originally appeared on 07.24.15
Get stories worth sharing delivered to your inbox
Pop Culture
Patrick Stewart often talks about his childhood and the torment his father put him and his mother through.
Patrick Stewart often talks about his childhood and the torment his father put him and his mother through. However, how he answered this vulnerable and brave fan's question is one of the most eloquent, passionate responses about domestic violence I've ever seen.
WARNING: At 2:40, he's going to break your heart a little.
Family
Her crowdfunding alternative is so obvious, it's shocking America hasn't taken advantage of it.
Freddie Teer is a normal boy. He loves Legos, skateboarding, and horsing around with his older brother Ollie. But in March 2017, his mother faced every parent's worst nightmare.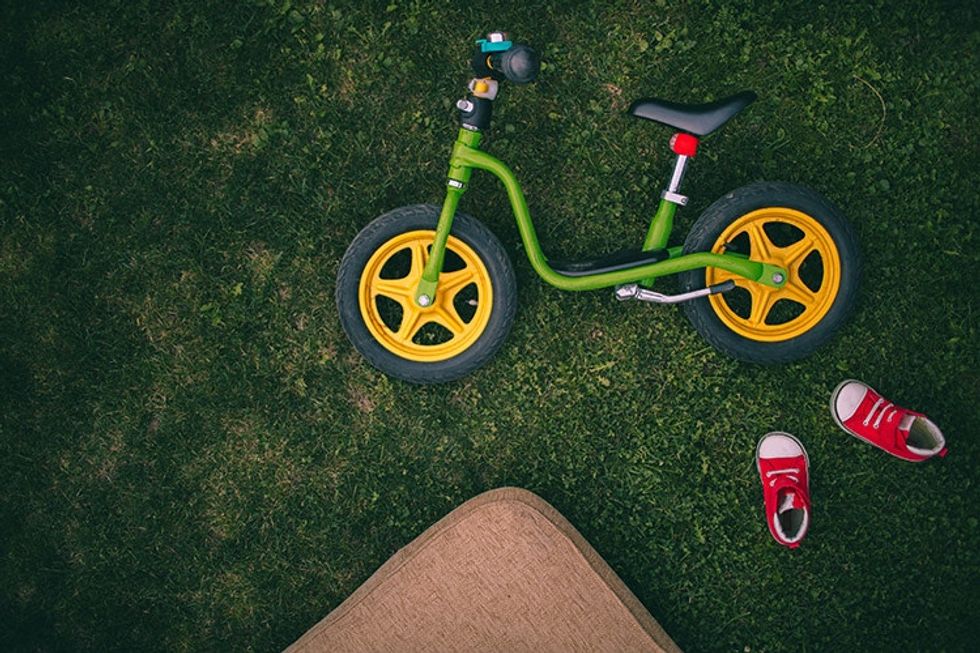 Photo via iStock.
Freddie was doing tricks down the stairs of his front porch when he fell off his bike — and his bike fell on him.
"[He was] just crying, wouldn't let us touch his leg, couldn't put any weight on his leg. We knew," mom Ashley says.
Ashley rushed Freddie to the emergency room, where an X-ray confirmed the bones in his left shin were broken in half. He needed to be sedated, his bones set and put in a cast. It was an agonizing day for the Teers. But it's what happened next that was truly inspiring.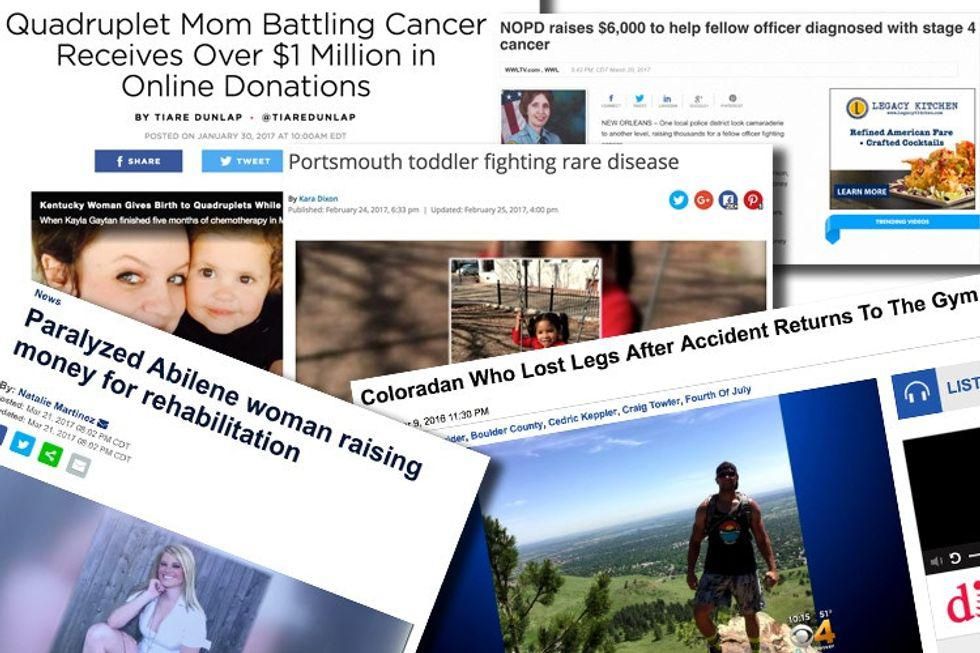 Photo byMonam/Pixabay
While Freddie's injury required major treatment, none of Ashley's friends raised any money for him.
No one from their town took up a collection or held a bake sale.
No GoFundMe page was started to help cover his bills.
Instead, Ashley and Freddie walked out of the hospital owing nothing. Because they live in Canada.
"You just leave," Ashley says. "You don't pay anything."
Incredible.
Under Canada's health care system, people like the Teers can see their doctors and go to the hospital when they're hurt or sick, and they don't get charged.
So heartwarming.
It almost wasn't this way.
Ashley was born and raised in St. Louis in the U.S. where health care is expensive and complicated. Twelve years ago, she fell in love with a Canadian man and moved with him to Abbotsford, British Columbia, where they and their five children will enjoy heavily subsidized, affordable health care coverage at a low premium for the remainder of their natural lives.
"We're able to go when we need help and we get help," Ashley says.
Just amazing.
As Freddie recovered, no one showed up at the Teer home with a large check or collection plate full of cash.
Instead, Ashley and her family were "supported through meals and just that kind of care" — meals they were able to enjoy without having to decide between enduring the shame of hitting up their friends for money or facing the prospect of sliding into bankruptcy.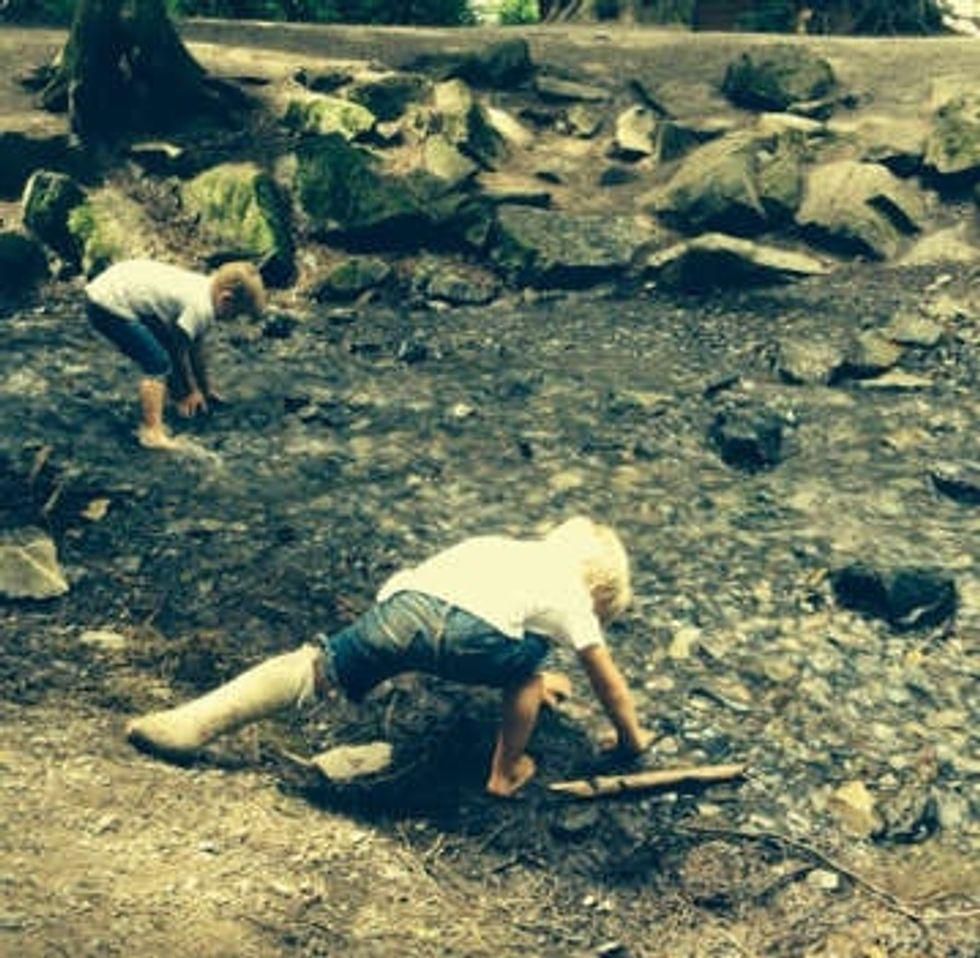 Freddie (right) and his brother Ollie. Photo by Ashley Teer.
The most uplifting part? Middle-income Canadians like the Teers pay taxes at roughly the same rates as Americans and still get their bones fixed for free at hospitals.
Not everything about Freddie's recovery process was smooth.
The first night, Freddie tossed and turned in severe pain, unable to sleep. Ashley, however, was able to call her family doctor — who she never has to pay since he is compensated by a public system that continues to have overwhelming public support to this day — to get her son a codeine prescription. Miraculous!
Canada's public health care plan doesn't cover drugs. But, inspiringly, because of price controls, medicine is way cheaper there.
The Teers did lean on their friends and family for help while Freddie got better.
"We were kind of just asking people to pray," she explains — primarily to lift her son's spirits, and not, thankfully, to ask God to provide sufficient funds to cover basic medical care that every human living in a fair and prosperous society should have access to.
Even though he wasn't able to move around, friends and relatives eagerly invited Freddie to hang out during his recovery instead avoiding him out of guilt for not pledging enough to his GoFundMe campaign.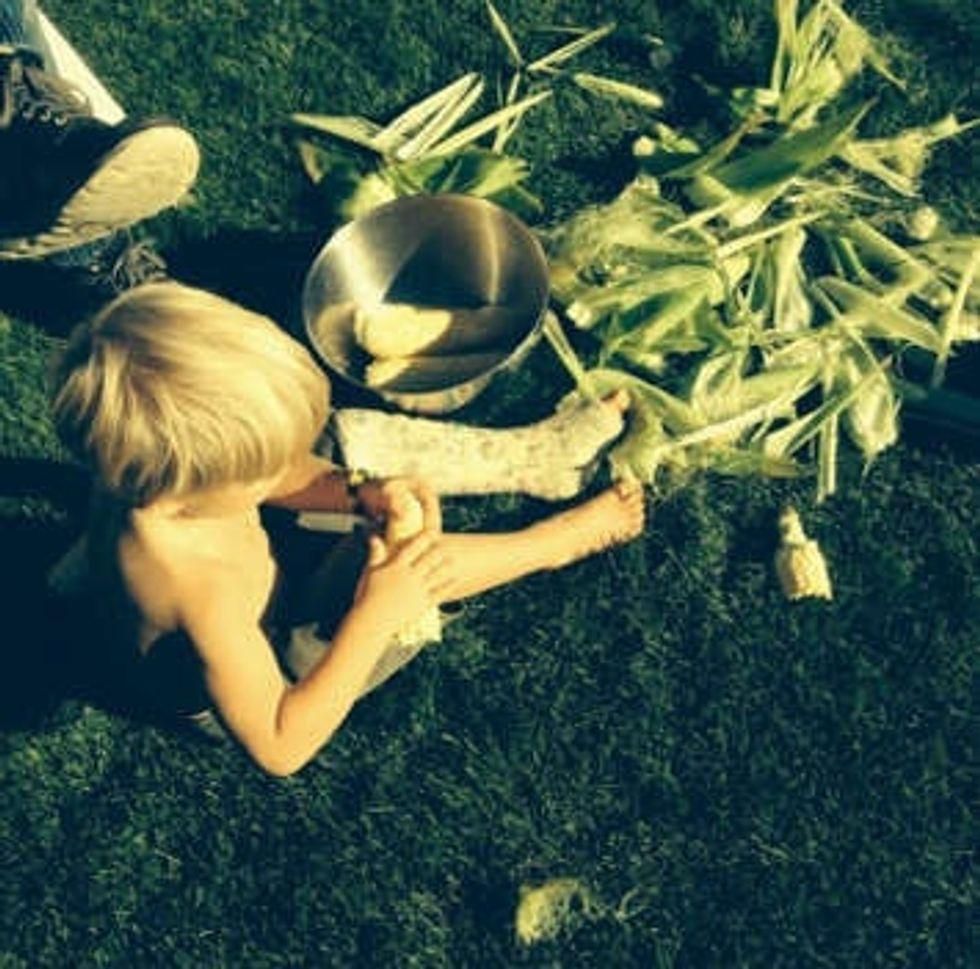 Just. Wow.
With support from his community — support that didn't include a single dollar — Freddie's cast came off six weeks later, right on schedule.
Healthy once more, Freddie went right back to enjoying extreme sports like BMX biking, skateboarding, and snowboarding, and Ashley is free to let him enjoy them without worrying about one fall wiping out their entire life savings and leaving her family destitute.
"Where we live, we're not stressful when things happen to our kids," Ashley says. "It's not a stressful time financially, so the whole family is not anxious."
It's peace of mind that she — and the residents of virtually every other rational, wealthy, industrialized country in the world — share.
"I feel safe, and I feel like my voice is heard," she says. "I can't imagine living in a place that I didn't feel that way."
Inspiring.
This article originally appeared on 03.27.17


Science
Is everyone driving with their brights on?
Get stories worth sharing delivered to your inbox