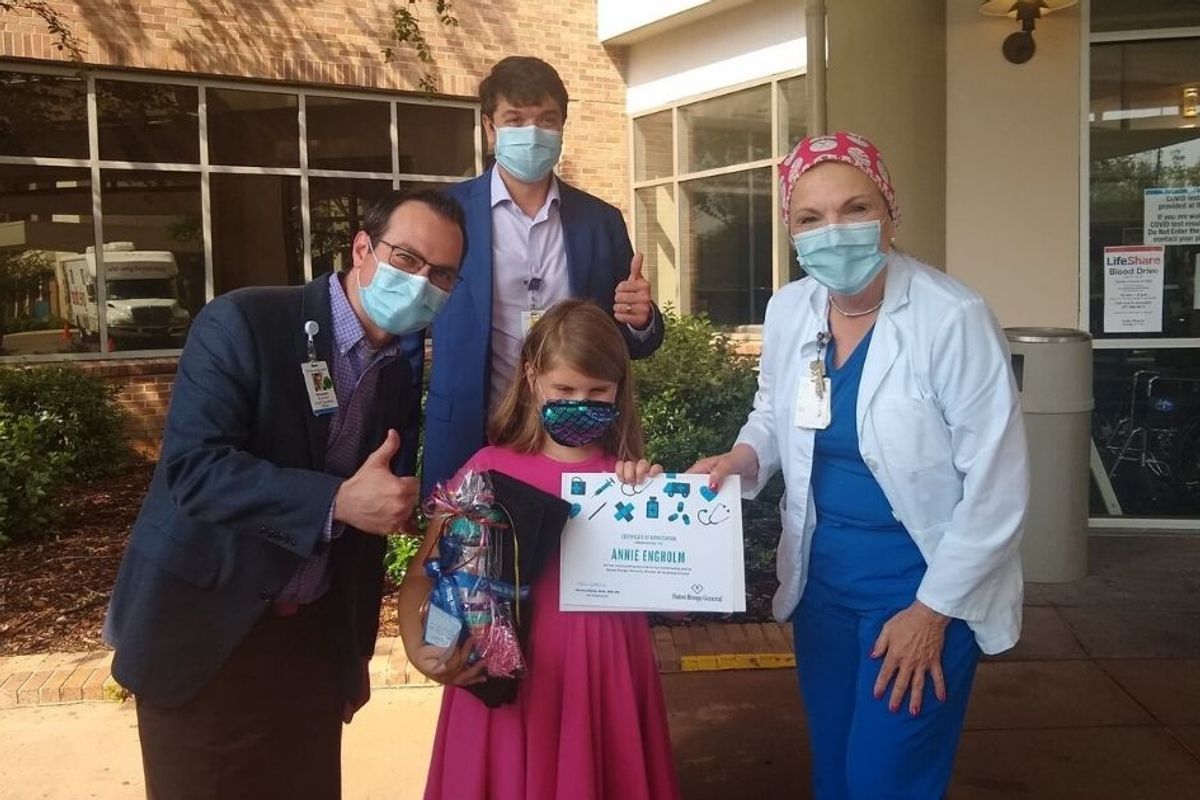 Photo courtesy of Ginny Engholm
True
Most of us don't have much in common—or, we didn't, before the year 2020. Now, the entire human race is experiencing what it means to live through a global pandemic, in real-time.
Thankfully, people are finding innovative ways to channel their talents and energy for good. Many brands, organizations, and influencers are leading the way, and creatively capturing the world's attention by spreading hope, solidarity, and awareness during a challenging—and sometimes boring—time.
Meet Annie Engholm, a creative 9-year-old with a gift for jewelry-making. When the stay-at-home order went into effect and she was suddenly stuck at home with her family, Annie found herself with a lot of big feelings coupled with a surplus of spare time.
---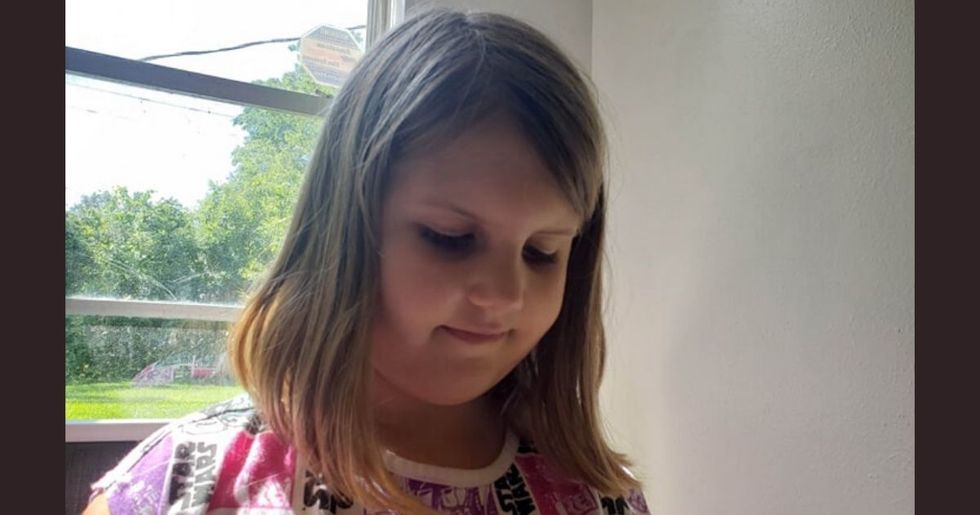 Photo courtesy of Ginny Engholm
She began crafting wearable art from the large bins of googly eyes, ribbon, construction paper and sparkly things she keeps stored on the enclosed back porch of her home. The creations were so downright awesome that her parents, Ginny and Scott, suggested she created an online store, Annie's Ever After Etsy Shop, to sell her wares.

Her mom says that Annie designs and makes everything herself, attaching pieces with a glue gun or by hand-sewing. Her dad taught her how to digitally upload the items to her Etsy shop, so she's able to take a photo of each item and place it in her store, all by herself. She also packages orders and hand makes a card for each one. "The only things we do for her is order the supplies, print the shipping labels, and take orders to the post office," said Ginny.
Annie quickly earned $264 in sales, which she decided to donate to a local hospital to, in her words, "help fight the virus." To date, she has donated a total of $500, but her goal is to hit $1,000.
"It makes me feel happy to put my emotions into something," Annie said. "I love to do crafts." She is hoping that by doing her part to fight the virus, social distancing will end quickly so she can see her friends again, because she really, really misses her friends.

Writer and mother of two Alice Gomstyn, a native of northern New Jersey, decided to use her talent and varied network to host a fundraiser perfectly suited for a pandemic: a virtual poetry slam.
Gomstyn, along with her co-host Kyra Gilbreath, organized the April 15 fundraiser as an hour-long video conference call. To get the Zoom link, participants were asked to donate at minimum $20, but many gave much more. Once the slam began, participants suggested subjects for rhyming poems that Gomstyn would quickly write and perform live, minutes later. The guests enjoyed a happy hour ambiance as they were entertained by an eclectic hodgepodge of poetry and musical parodies.
"It goes without saying that it's been a very stressful, scary time, especially if you live in the New York metro area and other hard-hit regions," said Gomstyn. "My favorite part of using my weird little speed-rhyming talent was making the people on my screen smile and laugh, the pandemic notwithstanding."The virtual poetry slam raised just under $1,700, which she gifted to a grassroots group founded in March—a New Jersey-based nonprofit devoted to buying meals from area restaurants and delivering them to healthcare workers at local hospitals on the front lines of the COVID-19 pandemic.

Because most people are staying home (and running out of options on Netflix), large companies are taking the opportunity to entertain the masses while indirectly raising money to help the fight against COVID-19. Take, for example, 15-year-old Charli D'Amelio, the most followed person on TikTok (54.9 million followers!). She partnered with P&G to create the #DistanceDance challenge to raise awareness of social distancing and money for charity organizations Feeding America and Matthew: 25 Ministries.
To kick it off, Charli posted a video demonstrating a few simple dance moves with a caption encouraging fans to "stay home and do the #distancedance. Because of her massive following, the video had 95,000 views in the first ten minutes. Ten hours later, it was up to 6 million views and it's skyrocketed from there.
A Miami-based singer and entertainer, Persephone Dove, told Upworthy she was inspired to join the challenge after seeing the citizens in Italy performing on their balconies. "Now, I can safely brighten peoples' day, while still working towards my dreams of stardom and making the world a better place at the same time."

Bottom line: staying home saves lives. It's awe-inspiring to see what can happen when people come together. The very best of humanity shines during the darkest times, and this is true now. So, to everyone who is taking a tough situation and using it for good, we are here for it.
Turn your everyday actions into acts of good every day at P&G Good Everyday.