Joy
Jon Batiste shares a beautiful story about the 'healing properties' of art
During his wife Suleika Jaouad's chemotherapy, Batiste created sweet lullabies to help her feel less alone.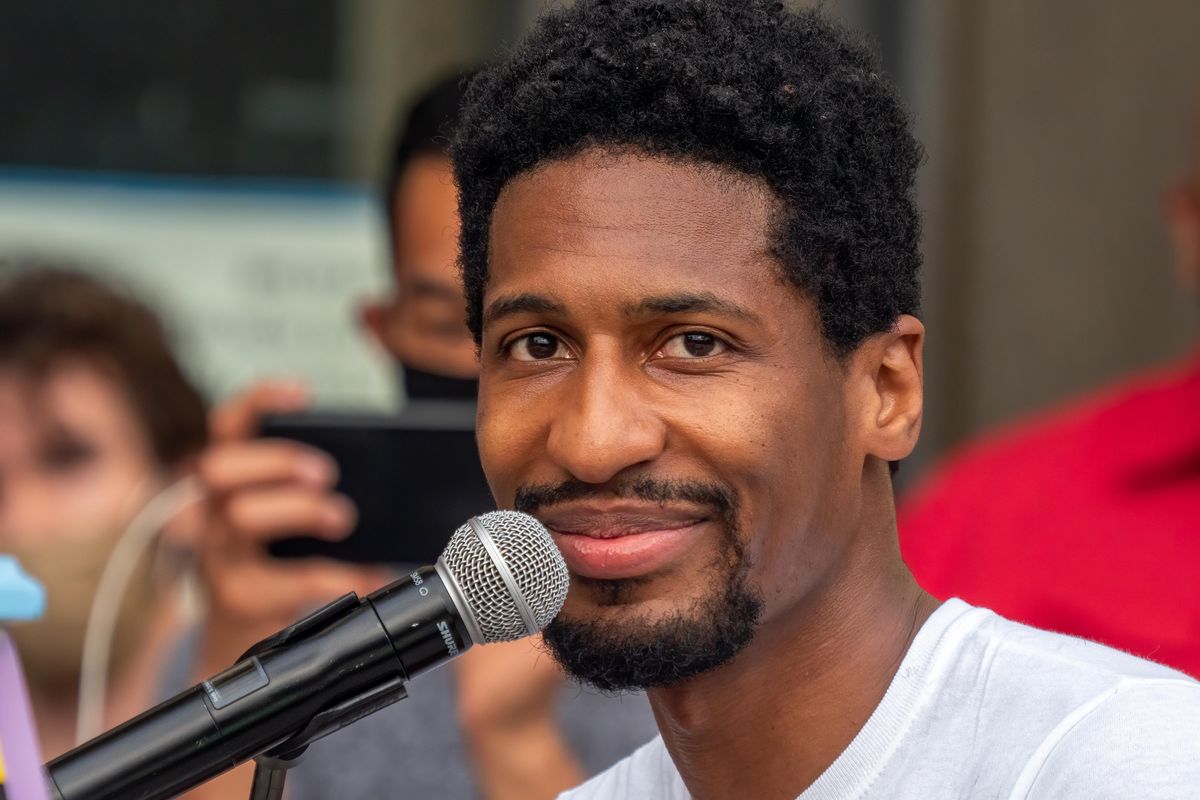 For Jon Batiste, it could be said that the Grammys this year were the best of times and the worst of times.
On the same day that the artist racked up a total of 11 award nominations and five wins—a pinnacle for any music career—his personal life had also reached a pivotal point, though it wasn't nearly as joyous. His newlywed wife Suleika Jaouad had begun chemotherapy for leukemia, after being diagnosed for a second time.
Batiste told CBS that they received the bad news only eight days before the awards ceremony, also right before his 35th birthday. Lots of big life changes. Some spectacular. Others … not so much.
Despite the fear and uncertainty, one thing has kept their spirits up: the healing power of art.
---
Jaouad, who wrote a bestselling memoir about her previous cancer diagnosis, described it as "holding the absolutely…gutting, heartbreaking, painful things and the beautiful, soulful things in the same palm of one hand."
She added, "It's hard to do that, but you have to do that, because otherwise the grief takes over."
And just when grief threatened to take over once again, it was met with love and creativity.
The couple had only been officially married since February (which Batiste recalled as a "beautiful evening," using bread ties to tie the knot instead of wedding bands) just before Jaouad had been scheduled for a bone marrow transplant.
The thought of a honeymoon being in a hospital room is probably not on anyone's vision board, but the omicron surge meant that even this wasn't an option. Jaouad told her husband that not being able to share this harrowing experience together felt like "hollow suffering."
That's when Batiste got to writing.
After being hunched over his laptop for half an hour, Batiste presented a sweet, soothing lullaby to his wife from afar, to assure her that she was not alone.
"It felt like he was right there sleeping by my bedside," she shared. From that point on, every night meant a new lullaby for wifey.
As the Lady With the Lamp herself, Florence Nightingale once observed, "variety of form and brilliancy of colour in the objects presented to patients have a powerful effect and are actual means of recovery." These effects have been (and continue to be) thoroughly researched and documented. Whether it's through music, movement, visual arts or writing, art can be a refuge during crisis, providing an outlet to reduce anxiety, express difficult emotions and recover a sense of wholeness.
Scientific studies help validate the notion, but many know this already, at least on some intuitive level. Art is something every culture practices, after all. And as a creative couple, it's something that Batiste and Jaouad know quite viscerally.
"Fill the room with these healing properties," Batiste told CBS. "For me, [music is] my way. Everybody will have their way, you know, but seek that. Meditate on that. Focus on those things. Find those things."
In addition to listening to lullabies, Jaouad has spent her time "finding some form of creative expression to express what feels impossible to express, to express the unendurable."
This includes creating paintings and bedazzling her walker, trading out the dread for a small dose of happiness.
Especially in times of upheaval, every dose matters.