Macy's Gives
How Macy's and Make-A-Wish came together to help this seven year-old meet Santa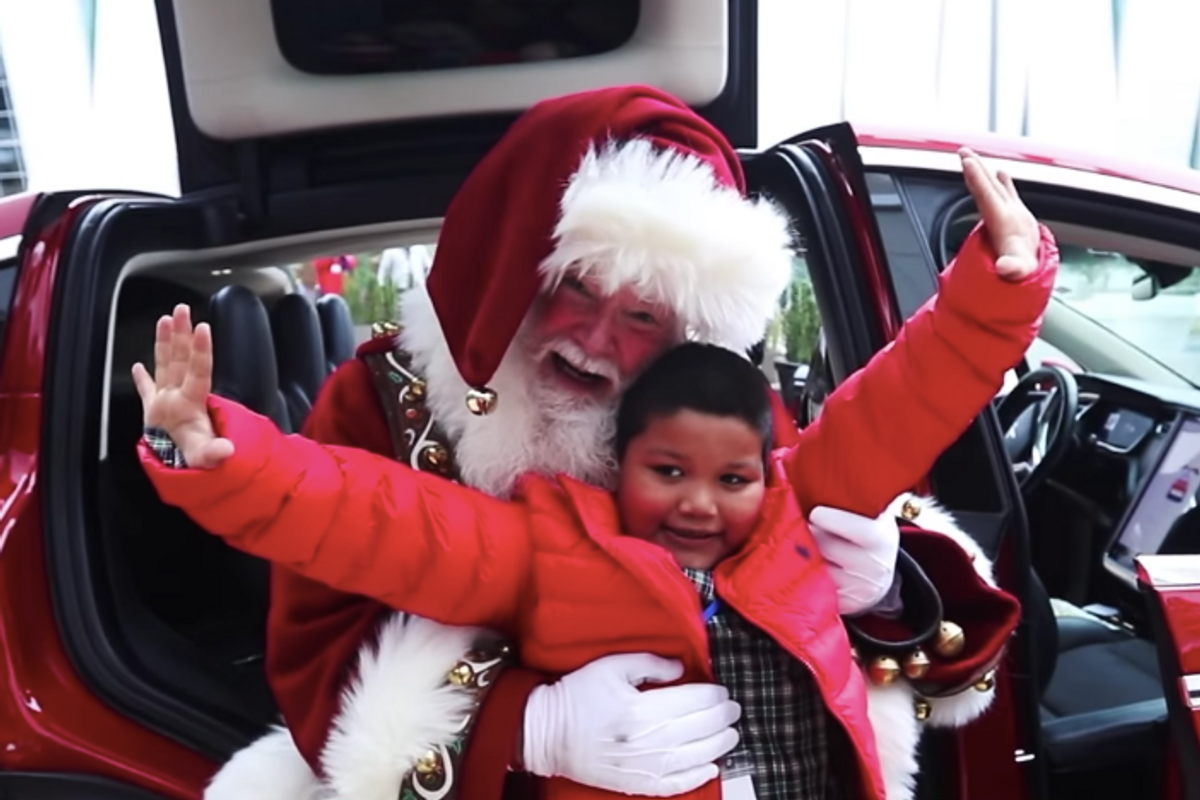 Photo courtesy of Macy's
True
Seven year-old Pastor knows that simple joys make life worthwhile. He loves visits from Santa. And he loves a good hamburger.
However, unlike most kids his age, Pastor is bravely battling leukemia. After a year of doctors' visits and painful cancer treatments, Pastor and his family needed a break. That's when Macy's and Make-A-Wish® stepped in to help lighten up Pastor's year.
Make-A-Wish is a nonprofit that helps fulfill the wishes of children with critical illnesses. While some children wish for celebrity meetups or trips abroad, Pastor's wish was specific and sweet: he wanted to meet Santa for a hamburger near his home in Sacramento.
To make it happen, Pastor's local Make-A-Wish chapter reached out to its longtime partner Macy's to arrange Santa's journey from the North Pole to California.
Pastor arrived at the store in a white stretch limousine and was welcomed by smiling elves surrounded by hundreds of red and white balloons. Inside, Santa greeted Pastor from a silver throne inside a winter wonderland packed with oversized candy canes, golden gift boxes, and evergreens decked out in Christmas lights. Together they picked out ornaments from the Macy's holiday display, then left the store together to visit Santa's reindeer. After their big day, the pair feasted on burgers and hot chocolate with family and friends.
"When we heard about Pastor's sweet wish to meet Santa, we quickly thought of our partners at Macy's and what a wonderful tie-in to the annual Macy's Believe letter-writing campaign," said Michele Sanders, Vice President of Strategic Communications for Make-A-Wish. "Pastor, his entire family, and all involved were in awe of the 'winter wonderland' created just for him and Santa."

---
"When Pastor turned to us with amazement and said, 'You made my wish come true!', we knew the magic that was created by the combined efforts of Macy's and Make-A-Wish was truly amazing," said Lorie Hennessey, chapter Vice President of Mission Delivery, the division in charge of wish fulfillment.
Make-A-Wish couldn't spread joy to children, families, and communities without the generous support of individuals and corporate partners like Macy's. Giving can start with something as simple as a letter to Santa: If you write a letter online at Macy's or drop one off at a big red letterbox in-store, Macy's will donate $1 to Make-A-Wish, up to $1 million in total.
Besides sending letters to Santa, there are even more ways to support Make-A-Wish at Macy's during the season of giving. For every purchase of the $4 Believe Bracelet, Macy's will donate $2 to Make-A-Wish from now through December 31. Customers can also donate online through the end of 2021 to help spread hope and happiness to children with life-changing illnesses.
Since 2003, Macy's has donated over $137 million to Make-A-Wish. These donations have helped Make-A-Wish fulfill the dreams of more than 16,000 young people just like Pastor.