Joy
Meet Eva, the hero dog who risked her life saving her owner from a mountain lion
Wilson had been walking down a path with Eva when a mountain lion suddenly appeared.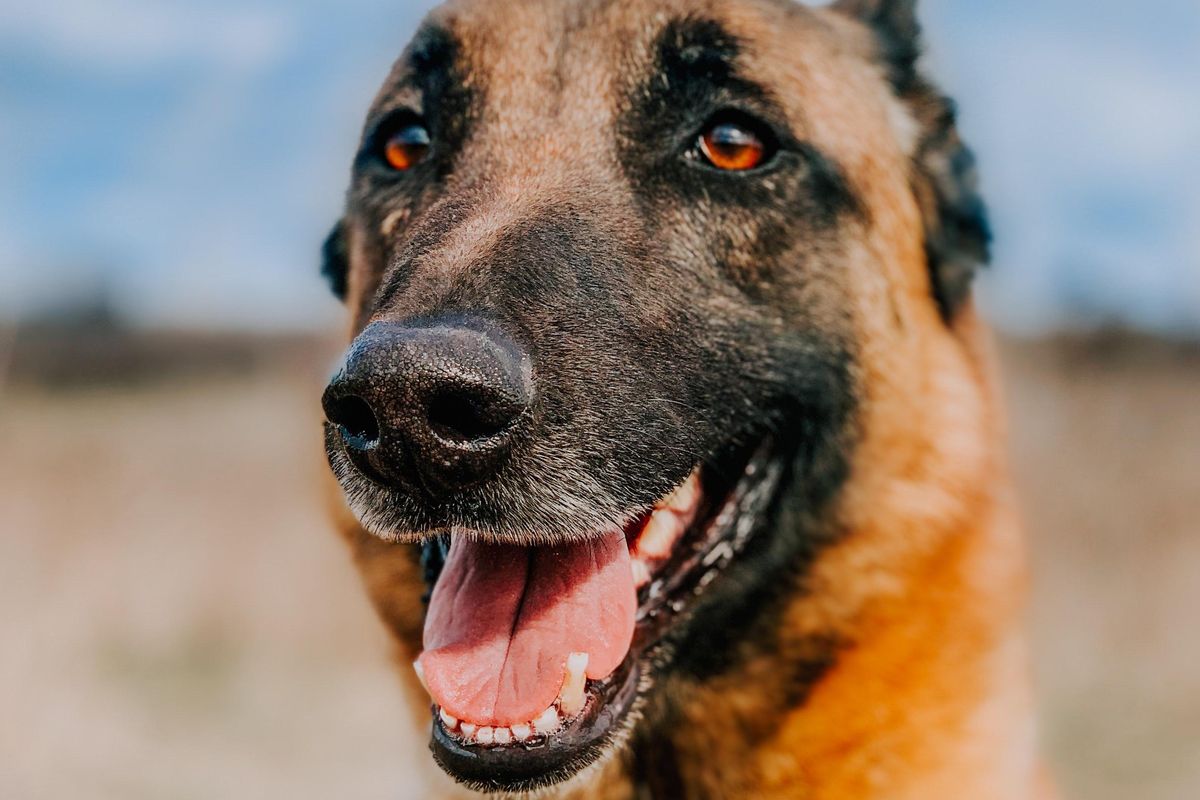 The Belgian Malinois is a special breed of dog. It's highly intelligent, extremely athletic and needs a ton of interaction. While these attributes make the Belgian Malinois the perfect dog for police and military work, they can be a bit of a handful as a typical pet.
As Belgian Malinois owner Erin Wilson jokingly told NPR, they're basically "a German shepherd on steroids or crack or cocaine."
It was her Malinois Eva's natural drive, however, that ended up saving Wilson's life.
According to a news release from the California Department of Fish and Wildlife, Wilson had been walking down a path with Eva slightly ahead of her when a mountain lion suddenly appeared and swiped Wilson across the left shoulder. She quickly yelled Eva's name and the dog's instincts kicked in immediately. Eva rushed in to defend her owner.
It wasn't long, though, before the mountain lion won the upper hand, much to Wilson's horror.
She told TODAY, "They fought for a couple seconds, and then I heard her start crying. That's when the cat latched on to her skull."
---
Wilson did everything she could to release Eva from the cat's grasp. She told The Sacramento Bee that she threw rocks, tried choking it and gouging its eyes. But no luck. It wasn't until she received help from a passing motorist, Sharon Houston, who had a PVC pipe and some pepper spray that the situation improved. The pair were finally able to get the mountain lion to let go, but not before it dragged poor Eva along the path trying to escape. She was quickly rushed to the vet.
Wilson's beloved canine companion was in life-threatening trouble. Wilson's husband, Connor Kenny, told SFGATE that Eva had suffered two skull fractures, a punctured sinus cavity, severe damage to her left eye and experienced seizures. The pup's situation was dire.
To help cover the medical expenses, Wilson created a GoFundMe account and was soon surprised by the outpouring of love and support the public had for her heroic Malinois. The fundraiser gathered more than $30,000, well exceeding what the family needed.
And luckily, Eva never lost her fighting spirit. As was posted on her own Instagram account, Eva recovered, returning home to her sister Mishka (and to new toys, no less).
She even got a milkshake on the way home. And Wilson shared with The Sacramento Bee that there's going to be more treats where that came from, "stuffies" shall be chewed and steak dinners shall be had.
Eva might technically be a Belgian Malinois, but her true breed is hero. Her fierce determination, loyalty to her loved ones and unbridled courage came out in full force. Because of her, a life was saved. She is, without a doubt, the goodest girl.