Science
Texas man caught what could be a record-setting fish, but he set it free
The fish may be up to 100 years old.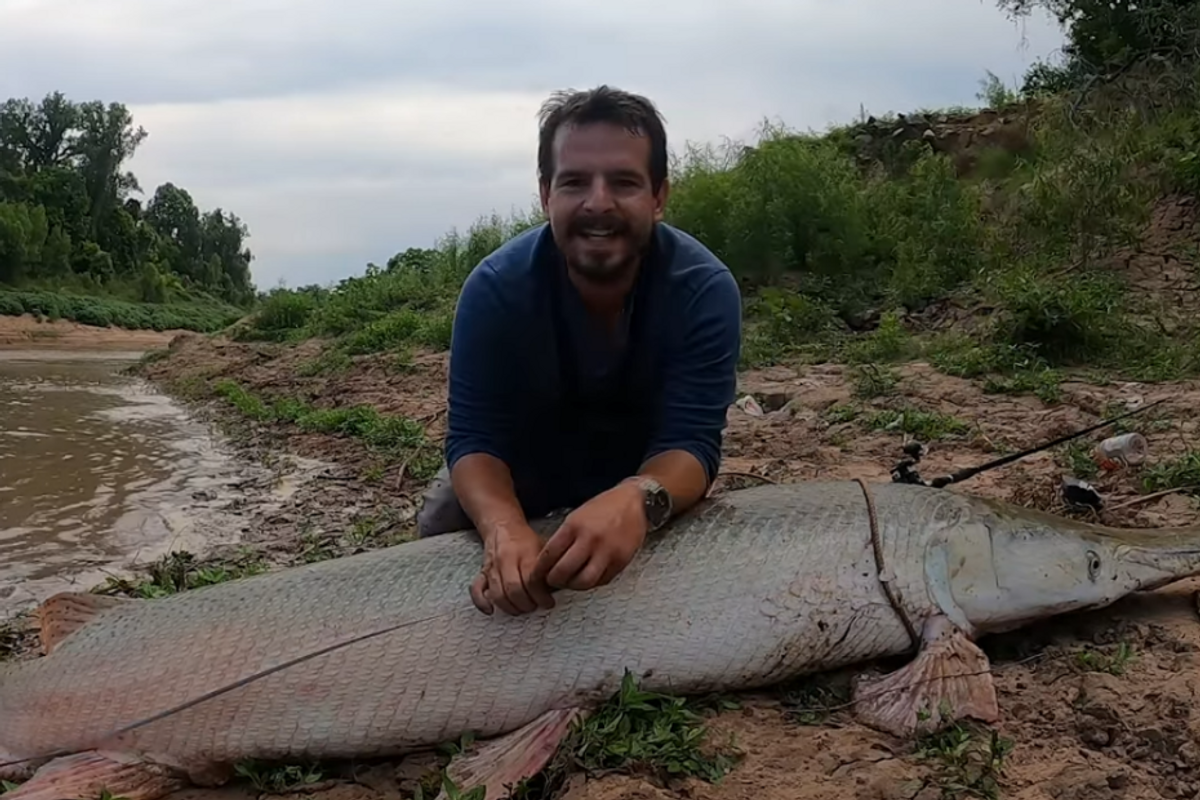 Buckle up for the most amazing story of "catch and release" you've ever heard. Payton Moore, a resident of Sugar Land, Texas, set out to the Houston bayou and decided to catch himself a fish. And catch himself a fish he did. Moore filmed a video of himself catching an approximately 300-pound alligator gar, and let me tell you, it's a sight to see.
Moore's catch of the alligator gar was a once-in-a-lifetime experience, as there aren't many left. It's clear that Moore understands the monumental moment, and as much as it could have proven historical, he did the most humane thing he could have: He set the behemoth free.
---
When Peyton Moore went out on the bayou, it was with the intention of trying to catch an alligator gar. The video opens with him in a tussle with something at the end of his fishing wire. It's clear that this is no ordinary fish. Moore has his work cut out for him if he thinks he's going to be able to actually reel the thing in.
Initially thinking he hit some sort of snag, he quickly realizes that it is in fact, a gar. "This is a huge fish," he says, pulling the fishing rod. "I thought we were stuck in a tree, but we're not. We're on something enormous."
He understandably spends the next few minutes tussling with this "enormous" fish without knowing just how big it is. At that point, it was still too far out for him to see, so he was trying to navigate it through the water by instinct.
"It felt like somebody's car had just started up and was rolling out of the driveway," Moore told the Houston Chronicle.
For much of the video, the fish is far enough below the water that you can't even see it. When Moore points or talks about the fish's location, you just have to assume he knows what he talks about. Eventually, he does begin to bring it closer to the shore, but the war is not yet won. Remember, it's a big fish, wrangling it isn't going to be easy.
"They're big, they're strong, they're heavy, and they give you everything they got, right away," Moore explained.
Knowing this, he figured there was only one solution: He was going to have to tire the big fish out if he wanted any chance of catching it. There were some blocks in the water, including a downed tree, so Moore had to be careful, especially because at the time, he didn't know how big the fish was.
After letting it swim in small circles to tire itself out, Moore was finally able to get a rope around the fish and pull it out of the water. You can see by the look on his face that this is not the alligator gar he was expecting. He measures it and announces that it's 8 feet, 2 inches long. Based on its girth, Moore estimates that it's around 300 pounds.

In 2011, Kenny Williams from Mississippi managed to catch a 327-pound alligator gar that measured 8 feet, 5.25 inches, with a 47.95-inch girth, according to Outdoor Life. Moore opted not to wait to have this gar measured, setting it free instead. After releasing the massive fish, Moore is overcome by emotions at what he just witnessed.
"It's an incredible animal to witness...they're rare. There was a time where fish like that roamed these waters literally at the same time as you had apex predators like Tyrannosaurus rex roaming on land," Moore added.
Watch:
I Caught The BIGGEST FISH You've Ever Seen! (300lb MONSTER!)