More
A historically violent man shot and killed the mother of his son. This is why we need 'red flag' laws.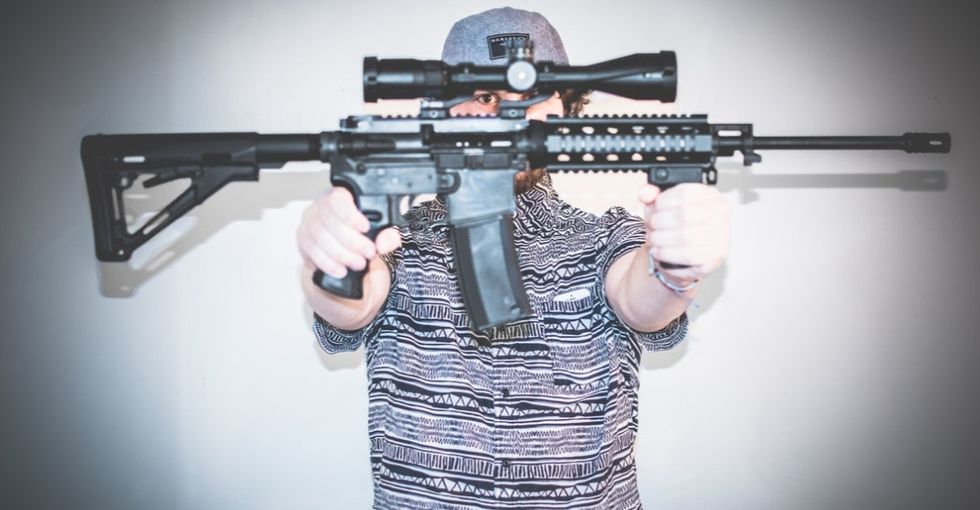 Brian Kennedy had been threatening to kill his ex-wife for years.
Two weeks before he shot her at point blank range in a Wawa convenience store outside Philadelphia, Pennsylvania, Kennedy legally purchased a gun.
On March 28th, Stephanie Miller walked into the Wawa convenience store where she was scheduled to pick up her son from her ex-husband. As part of a custody agreement and because Kennedy had threatened to kill her in the past, the two had agreed to exchange the boy in a public setting.
---
However, instead of bringing along their boy, the 34-year-old was armed with the AR-15 semiautomatic rifle he had purchased. According to an affidavit of probable cause, he "said nothing" as he entered the store and shot the mother of his child in the head and stomach. The 37-year-old was killed instantly.
The incident didn't come out of nowhere. Like so many premeditated gun murders, there were multiple red flags.
Update: Authorities say 37 year old mother shot&killed in Wawa in Wayne,PA by father of their son. Brian Kennedy,3… https://t.co/hU7G1lpHfP

— Steve Keeley (@Steve Keeley) 1553875430.0
Three years ago, Kennedy was arrested for threatening to kill Miller — in the exact same Wawa where he eventually did on March 28th. While she had been granted a protective order against him, it had expired in September 2018.
According to Michael D'Arco, Miller's boyfriend who had recently purchased an engagement ring to propose to her, they were extremely afraid of Kennedy. "Every day we lived in fear that he would come to kill us," he told NBC10.
Additionally, D'Arco revealed that he had spent $7,000 in legal bills attempting to extend the protection order before it expired, but the justice system failed. "That is why it was not renewed," he continued. "Because Stephanie had been a victim of a judicial system that she got caught up in with no advocates. No help."
Just six hours before her murder, Miller sent an email to the local police. "I do not feel safe around this man who has been found guilty of simple assault and harassment against me," it read. "Now he is trying to get me to meet him in person tonight at 8 p.m." According to D'Arco, she never heard back from them, and went to go retrieve her son as scheduled.
Despite his history of threatening violence, Kennedy had no issue legally purchasing a gun.
.@RadnorPD says Brian Kennedy will be facing murder charges for shooting and killing his ex-wife inside a Wawa last… https://t.co/tQKqm78VYp

— Tim Jimenez (@Tim Jimenez) 1553875469.0
"Stephanie's killer was able to walk into a gun shop and buy his AR-15 legally, with nothing, and no one, stopping him," said Stephanie Frankel, co-executive director of Delaware County United for Sensible Gun Policy.
Over the last few years, a number of shootings have prompted lawmakers to reexamine their gun control laws.
In 2018, Nikolas Cruz, an emotionally distraught former student of Stoneman Douglas High School in Parkland, Florida, opened fire on students and staff, killing 17. Cruz, who had been expelled from the school a year prior, had made documented threats against other students and had a history of psychological problems. The FBI had even been alerted to his behavior. Yet, he was still able to walk into a store and legally purchase a firearm. After the tragedy, the state implemented a red flag law.
Back in 2014, California enacted a similar law following a tragic shooting in Isla Vista. 22-year-old Elliot Rodger was responsible for taking the life of six people after law enforcement failed to respond to several intervention attempts and warnings by his parents and counselors that he was potentially dangerous.
Now a group of elected officials in Pennsylvania, in addition to law enforcement agencies, are attempting to pass their own "red flag" gun law — already instituted in 14 states as well as Washington, D.C. — to prevent tragedies like this from happening. These policies would enable individuals or law enforcement agencies to request "extreme risk protection orders" in order to remove guns from anyone who could be seen as a threat to themselves or others.
No matter where you stand on gun control, it only seems logical to keep firearms away from people who have a history of violence or are threatening violence on others.
Stephanie Miller's death could possibly have been prevented if Brian Kennedy had been "red flagged" by law officials, preventing his legal purchase of a semi-automatic weapon.
This country has been torn on whether or not to amend the constitutional right to bear arms for decades now. In recent years, we have seen an uptick in gun deaths — in fact, the CDC recently revealed that gun deaths have risen to the highest level they've been in 40 years. There's a good chance that by preventing at-risk individuals from legally purchasing these weapons we could potentially decrease that number incrementally, saving numerous lives in the process.