Heroes
They're totally comfortable, always fashionable ... and not super-sustainable.
True
Savers
It's one of the most famous — and ubiquitous — articles of clothing in modern history. So much so that you're probably wearing one right now.
It's the mighty T-shirt, and though it may seem simple and unassuming, there's quite the story in its humble threads. So, in honor of T-shirt weather, here are nine important things — good and bad — that you might want to know about this beloved article of clothing.
1. F. Scott Fitzgerald — you know, the author of "The Great Gatsby" — is credited with naming the T-shirt.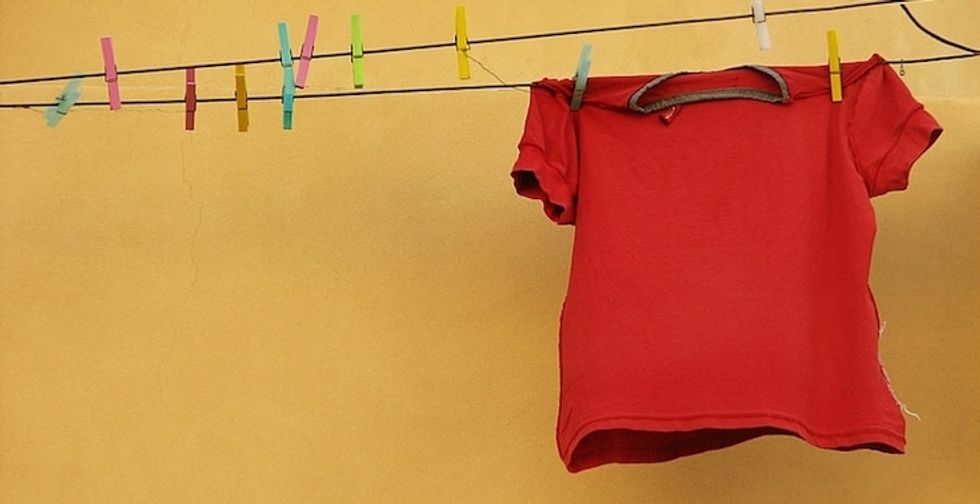 <p class="p1 image-caption">Sometimes the simplest product names are the best. Image via <a href="https://flic.kr/p/osvrs" target="_blank">Ilan Sharif/Flickr</a>.</p><p class="p1" style='font-family: "Avenir Next", "Segoe UI", Roboto, "Trebuchet MS", sans-serif;'><strong>Hold up a T-shirt, and it's easy to see the letter shape it forms.</strong> Fitzgerald thought so, too — <a href="http://newsfeed.time.com/2013/05/08/why-f-scott-fitzgerald-is-all-over-the-dictionary/" target="_blank">he's credited with the first written appearance</a> of the word "T-shirt." In his 1920 novel "<a href="http://www.gutenberg.org/files/805/805-h/805-h.htm" target="_blank">This Side of Paradise</a>," F. Scott Fitzgerald described a character's wardrobe as "provided with 'six suits summer underwear, six suits winter underwear, one sweater or T shirt, one jersey, one overcoat, winter, etc.'"</p><h2>2. There's a Guinness World Record for the most T-shirts worn at once, because of course there is.</h2><p><img type="lazy-image" data-runner-src="https://assets.rebelmouse.io/eyJhbGciOiJIUzI1NiIsInR5cCI6IkpXVCJ9.eyJpbWFnZSI6Imh0dHBzOi8vYXNzZXRzLnJibC5tcy8xOTUyMzAwMi9vcmlnaW4uZ2lmIiwiZXhwaXJlc19hdCI6MTYwNjkwMzM1MX0.ezd8zDlfqQfW6zJoIS4tME4FgvWzs2avkBvJg7Skd6g/img.gif?width=980" id="49eca" class="rm-shortcode" data-rm-shortcode-id="930d2c5255ff685564ee9a301e935467" data-rm-shortcode-name="rebelmouse-image"></p><p class="image-caption">According to the Guinness Book of World Records, yes, Joey, you could. GIF from "Friends." </p><p>When there are world records for the <a href="http://www.guinnessworldrecords.com/world-records/largest-hockey-stick" target="_blank">largest hockey stick</a> (big ups to Duncan, B.C., Canada) and <a href="http://www.guinnessworldrecords.com/world-records/most-eggs-crushed-with-the-head-in-30-seconds" target="_blank">most eggs crushed with the head in 30 seconds</a>, there absolutely has to be one for wearing the most T-shirts at the same time.</p><p><strong>The holder of this very specific title as of this writing is <a href="http://www.guinnessworldrecords.com/world-records/most-t-shirts-worn-at-once/" target="_blank">Sri Lanka's Sanath Bandara</a>, who wore 257 T-shirts at once to win it in 2011. </strong>Altogether, the shirts weighed more than 200(!) pounds.</p><h2>3. 9 out of 10 Americans are probably wearing a T-shirt right now.</h2><p rel='font-family: "Avenir Next", "Segoe UI", Roboto, "Trebuchet MS", sans-serif;'><img type="lazy-image" data-runner-src="https://assets.rebelmouse.io/eyJhbGciOiJIUzI1NiIsInR5cCI6IkpXVCJ9.eyJpbWFnZSI6Imh0dHBzOi8vYXNzZXRzLnJibC5tcy8xOTUyMzAwMy9vcmlnaW4uanBnIiwiZXhwaXJlc19hdCI6MTYwNDQzMDk4MX0.ysnd0PRuJQl8qSbtvUfVL8138BhC_j_94_wR9Zq2dFM/img.jpg?width=980" id="67c90" class="rm-shortcode" data-rm-shortcode-id="cdaa2542ba4ad6ccfa76154b7b72dbd2" data-rm-shortcode-name="rebelmouse-image"></p><p class="image-caption">There's a matching T-shirt for every one of those hoodies. Image via iStock.</p><p class="p1"><em></em></p><p>According to a <a href="https://assets.rbl.ms/19523010/origin.jpg" target="_blank">2013 survey by CustomInk</a>, 95% of Americans wear T-shirts with 89% of them wearing one at least once a week.</p><h2>4. James Dean and Marlon Brando looked so good in T-shirts that it basically defined their early careers — and started the T-shirt craze.<br></h2><p><img type="lazy-image" data-runner-src="https://assets.rebelmouse.io/eyJhbGciOiJIUzI1NiIsInR5cCI6IkpXVCJ9.eyJpbWFnZSI6Imh0dHBzOi8vYXNzZXRzLnJibC5tcy8xOTUyMzAwNC9vcmlnaW4uanBnIiwiZXhwaXJlc19hdCI6MTY2MzY2NjQ0Mn0.X1PZ402UWnVnA2zpbDE0H8kQOlwevDbDYxcdOjvPbI4/img.jpg?width=980" id="66458" class="rm-shortcode" data-rm-shortcode-id="83129530b038b97bcebe8aea02d7fc7d" data-rm-shortcode-name="rebelmouse-image"></p><p class="image-caption">Marlon Brando in "A Streetcar Named Desire." Image via <a href="https://it.wikipedia.org/wiki/Maglietta#/media/File:Marlon_Brando_in_%27Streetcar_named_Desire%27_trailer.jpg" target="_blank">Wikimedia Commons</a>.</p><p class="p1">If you've seen the 1951 version of "A Streetcar Named Desire," there's probably one moment you remember most: Marlon Brando, standing in the rain in <a href="https://www.youtube.com/watch?v=QjxDo86tq5M" target="_blank">his ripped T-shirt</a>, yelling for Stella. Ditto for "<a href="http://www.thefashionisto.com/wp-content/uploads/2015/03/James-Dean-White-T-Shirt-Rebel-Without-a-Cause.jpg" target="_blank">Rebel Without a Cause</a>": James Dean, effortlessly cool, wearing a T-shirt and blue jeans lounging against a muscle car.</p><p class="p1"><strong>These visuals are <em>iconic</em>, and they helped make Brando and Dean into heartthrobs and superstars.</strong> Brando's T-shirt-wearing was particularly shocking because T-shirts were not meant to be worn on their own (they were called <a href="http://www.nytimes.com/2013/09/22/magazine/who-made-that-t-shirt.html" target="_blank">bachelor undershirts</a>, meant to be worn under another shirt). But instead of hurting shirt sales, <a href="http://www.tcm.com/this-month/article/286298%7C286310/Critics-Corner-A-Streetcar-Named-Desire.html" target="_blank">he boosted them big time</a>.</p><h2>5. Cotton — the most common ingredient in t-shirts — is a huge business.</h2><p><img type="lazy-image" data-runner-src="https://assets.rebelmouse.io/eyJhbGciOiJIUzI1NiIsInR5cCI6IkpXVCJ9.eyJpbWFnZSI6Imh0dHBzOi8vYXNzZXRzLnJibC5tcy8xOTUyMzAwNS9vcmlnaW4uanBnIiwiZXhwaXJlc19hdCI6MTY1NTAyNzgxM30.NpMibArBgiy8-wEf9B2_nuyU-alZUp8ZX3NhaMv3qOg/img.jpg?width=980" id="f1a6f" class="rm-shortcode" data-rm-shortcode-id="a6eddbdab630a8d9623b2e4c5d9074ed" data-rm-shortcode-name="rebelmouse-image"></p><p class="p1 image-caption">Image by iStock.</p><p class="p1"><em></em></p><p class="p1"><strong>In the United States alone, there are <a href="http://www.cottonsourcingusa.com/cotton_fiber_economics.php?pag=21" target="_blank">35,000 cotton farms</a>, employing about 170,000 people.</strong></p><h2>6. T-shirts take a lot of cotton to make. And even more water.</h2><p><img type="lazy-image" data-runner-src="https://assets.rebelmouse.io/eyJhbGciOiJIUzI1NiIsInR5cCI6IkpXVCJ9.eyJpbWFnZSI6Imh0dHBzOi8vYXNzZXRzLnJibC5tcy8xOTUyMzAwNi9vcmlnaW4uanBnIiwiZXhwaXJlc19hdCI6MTYzMTk1MzMwMX0.I9fa9Cg2ivOfesROVIOwJ6PbxQcnjUpoujhlVAYsZcU/img.jpg?width=980" id="80ac6" class="rm-shortcode" data-rm-shortcode-id="472060ec92224f579fb2cab2abccec32" data-rm-shortcode-name="rebelmouse-image"></p><p class="image-caption">Making T-shirts is thirsty work. Image by iStock.</p><p>Most T-shirts are made completely or partly from cotton. America is the third-largest cotton producer in the world, harvesting <a href="http://www.cottonusa.org/dam/jcr:35fa4424-765b-445f-b6ea-a47eeb6b8f8d/GF0616.pdf" target="_blank">almost 13 million bales, or 6.2 billion pounds, in 2015-16</a>. For every acre of cotton harvested, fabric companies can make <a href="http://www.cotton.org/edu/faq/" target="_blank">1,200 T-shirts</a>.</p><p>That's not a bad ratio — until you consider water use. It takes about <a href="http://www.worldwildlife.org/stories/the-impact-of-a-cotton-t-shirt" target="_blank">700 gallons of water</a> to grow enough cotton for just one T-shirt. That's enough to fill an <a href="http://www.sunrisespas.com/models.php?m=medallion" target="_blank">eight-person hot tub</a>.</p><h2>7. New shirts made from recycled cotton can make a big difference.</h2><p class="p1"><span class="redactor-invisible-space"></span></p><p><img type="lazy-image" data-runner-src="https://assets.rebelmouse.io/eyJhbGciOiJIUzI1NiIsInR5cCI6IkpXVCJ9.eyJpbWFnZSI6Imh0dHBzOi8vYXNzZXRzLnJibC5tcy8xOTUyMzAwNy9vcmlnaW4uanBnIiwiZXhwaXJlc19hdCI6MTYxNzU1Nzc1NH0.xsKksKkx0Qq-y6iAT72YPVkYxC-uzALJzBVzbwX8X1c/img.jpg?width=980" id="7e7d3" class="rm-shortcode" data-rm-shortcode-id="a7ecb6a61bc9005f1820fa1dcd2bd551" data-rm-shortcode-name="rebelmouse-image"></p><p class="image-caption">Image by iStock.</p><p class="p1"><span class="redactor-invisible-space">T-shirts made with recycled cotton look and feel identical to their non-recycled counterparts. There's one big difference: Their sale keeps <a href="http://www.ecooutfitters.co.uk/blog/fast-fashion-the-destruction-of-developing-countries/" target="_blank">tons of textile waste</a> out of landfills every year.</span></p><h2>8. Millions of T-shirts are donated at thrift shops every year. But even more end up in places like this.</h2><p><img type="lazy-image" data-runner-src="https://assets.rebelmouse.io/eyJhbGciOiJIUzI1NiIsInR5cCI6IkpXVCJ9.eyJpbWFnZSI6Imh0dHBzOi8vYXNzZXRzLnJibC5tcy8xOTUyMzAwOC9vcmlnaW4uanBnIiwiZXhwaXJlc19hdCI6MTY0MzUyNzMwN30.94JyF_5lU-i73nOaofh9rkJ2QxjEOGAY7tOkMQcvwGo/img.jpg?width=980" id="5a773" class="rm-shortcode" data-rm-shortcode-id="cb2452332025c60eac2a82fb7ac20e43" data-rm-shortcode-name="rebelmouse-image"></p><p class="image-caption">Behold, the final eternal resting place of so many ironic T-shirts. Image by iStock.</p><p class="p2">Landfills are a depressing place for any object — let alone a favorite T-shirt that's a little past its prime. <strong>Many shirts will find their way to a new friend, but for those that don't, there's still a chance for a second life when you <strong>donate rather than throwing away </strong>... </strong>just ask <a href="https://www.youtube.com/watch?v=QK8mJJJvaes" target="_blank">Macklemore</a>.</p><p><img type="lazy-image" data-runner-src="https://assets.rebelmouse.io/eyJhbGciOiJIUzI1NiIsInR5cCI6IkpXVCJ9.eyJpbWFnZSI6Imh0dHBzOi8vYXNzZXRzLnJibC5tcy8xOTUyMzAwOS9vcmlnaW4uZ2lmIiwiZXhwaXJlc19hdCI6MTY0NzU3NDMyOX0.qKQCtzA13sXFNtmdfRxwNLjeKmViCSm-BQAeF3Qs5Ss/img.gif?width=980" id="b2f6f" class="rm-shortcode" data-rm-shortcode-id="f8bcd7581c2c3287c08b4d8e3be3ae46" data-rm-shortcode-name="rebelmouse-image"></p><p class="image-caption">Looks like Oscar's ready to pop some tags, too. GIF from "Sesame Street."</p><p><strong>All in all, there's a lot more that goes into making and selling T-shirts than might meet the eye.</strong><br></p>