popular
Simone Biles is so good at gymnastics, her signature move is now named after her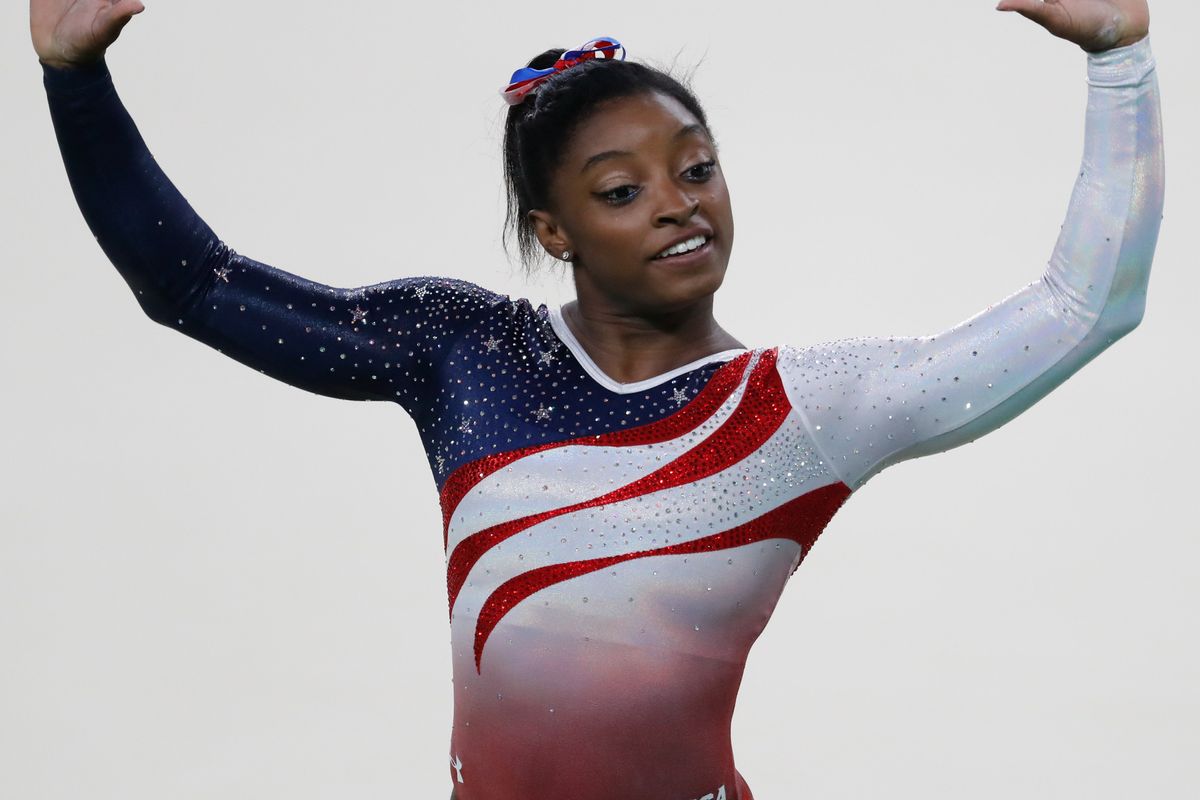 In order to get a gymnastics move named after you, you have to submit the skill for consideration and then successfully land it in a major competition. As of 2016, there were 11 female gymnasts with moves named after them. Simone Biles was one of them. Now, she's heading into "living legend" territory. This weekend, Biles performed two of her signature moves at the world championships in Stuttgart, Germany this weekend. Not only did she land them, they're now getting her name.
Her double dismount on the balance beam will now be known at "the Biles." She was the first person to land the move at the US Gymnastics Championships in August, so the moniker is all the more fitting. Her triple-double, a move that includes a double backflip and three twists, will now forever be known as "the Biles II."
---
She does it AGAIN! 🙌 @Simone_Biles lands a double-double dismount off the balance beam and the skill will now be k… https://t.co/NjmXnoGZGx

— #TokyoOlympics (@#TokyoOlympics) 1570313136.0
Introducing the 𝐁𝐢𝐥𝐞𝐬 𝐈𝐈. #Stuttgart2019 | @Simone_Biles https://t.co/AYIDZwCmAJ

— Team USA (@Team USA) 1570309876.0
The crowd went wild (on Twitter).
Simone you are flat out INCREDIBLE!!! ❤️ @Simone_Biles https://t.co/iIXzLL5F3C

— LeBron James (@LeBron James) 1570409979.0
So I'm supposed to believe that Simone Biles *isnt* fighting bad guys on an elite squad of crime fighters? Okay b… https://t.co/HkqEyIW0AW

— Elon James White (@Elon James White) 1570020573.0
@TeamUSA @Simone_Biles This young lady is so exceptional just watching it makes me cry. I just can't fathom the mag… https://t.co/eKnxpkdgrK

— ann (@ann) 1570369681.0
Simone Biles now has more skills named after her, a floor element and a beam dismount, after being the first ever g… https://t.co/Sf9qEZjk27

— Gennette Cordova (@Gennette Cordova) 1570316513.0
@TeamUSA @Simone_Biles Told my kiddo to watch this because she has super powers: Simone Biles can fly.

— Little Gnome (@Little Gnome) 1570328793.0
@TeamUSA @Simone_Biles I legit teared up and I don't even know how to properly watch / appreciate gymnastics

— BTS Creative Army International (@BTS Creative Army International) 1570460522.0
Biles has two other gymnastic moves named after her, and has the most world championships gold medals of any female gymnast. Ladies and gentlemen, she is only 22-years-old. Maybe we should just call totally dominating in your field a "Biles" as well?

Despite all of her skill and accomplishments, Biles remains humble. "I feel like I'm pretty pleased just because that's how I train beam, and it finally felt good to go out there and hit a beam routine like I train because I feel like every time I go up to compete beam, I just bomb it. So it felt really good to just nail it," Biles told the Olympic Channel. "My goal going into tonight was to not be great ... it wasn't to do great, but just to do well, and I feel like I accomplished that," she said.
It's more impressive that Biles is kicking ass and taking names while she's still in the process of healing following the Larry Nassar sexual abuse scandal. "I was like, 'No, I'm not willing to put that out there for the world to see. They're not gonna see me as Simone the gymnast, they're gonna see Simone as the sexual abuse survivor.' And so I denied it, and I buried it," Bliles said of her experiences on the You Tube special If I Could Tell You Just One Thing. "I was very depressed, I like never left my room. I was sleeping all the time and I told like one of my lawyers, 'I sleep all the time because it's the closest thing to death.'"
Earlier this year, Biles also called out USA Gymnastics for failing to protect her and her fellow gymnasts. "We had one job. And we have done everything that they asked us for — even when we didn't want to," she said, per the Washington Post. "And they couldn't do one damn job! You had one job; you literally had one job, and you couldn't protect us!"
Simone Biles is all kinds of inspirational. While most of us aren't running around getting moves named after us, it is a reminder that you can still have major accomplishments no matter what's going on around you.