Pets
A purrfect combination of tech and tenderness.

Photo courtesy of Purina® Cat Chow®
True
Know someone who's over 60 and feeling lonely? Help is just a phone call away. Purina Cat Chow has partnered with two non-profits in order to bring senior citizens some much-needed virtual therapy cat visits.

Wait…that's a thing?

When we think of the term "therapy animal," most of us are probably inclined to picture a dog. After all, canines dominate the therapy animal field at 94%. Felines, on the other hand, make up part of the other 6% (that's combined with other animals). Anyone who has experienced that special, soul-soothing bliss that comes from stroking a purring kitty in their lap will tell you: those numbers might be off. Although therapy cats make up a smaller percentage of this segment, cats offer a wide array of positive benefits that make them wonderful therapy animals.

Just ask Roger and Sal – a couple of registered therapy cats – along with their handler Tracy Howell.

Since 2016, Tracy and Roger have been working with Pet Partners®, a non-profit that matches volunteer therapy animals of all kinds with people in need of a furry friend visit, including nursing facilities, assisted living, hospice centers, and children's hospitals.

Sal is a mew addition to the team. But he's already working very, very hard…putting his head on people's thighs and letting them massage his paws. What a gig.
According to Pet Partners, who have had more than 1,500 felines registered in their Therapy Animal Program, certain populations prefer cat companions to dogs. For one thing: they're more compact, and generally more quiet, making lap cuddles a much more Zen experience.
Plus, cats tend to be more particular about who they interact with, which can signal a nice little ego boost. "Cats have a reputation for being selectively affectionate. If a cat likes you, you're special," says Moira Smith, Pet Partners staff member, team evaluator, and cat handler.
Basically, it feels really good to be invited into the Cat Club. Some of Roger and Sal's most loyal fans are, in fact, seniors – in particular, those with dementia.
"People think it must be hard to visit seniors with dementia, but it isn't," she told Upworthy. "They tend to repeat questions a lot so if you mess up your answer, chances are you won't mess up the next time they ask. I've laughed so many times during our visits with seniors–just because you are older doesn't mean you stop being funny."
Where humor is not lost, connection is. With many of their family members passed on, living far away, or not allowed to visit due to COVID-19 restrictions, loneliness is a major issue seniors often face. This leads to depression, anxiety, and irritability.
That's where Roger and Sal come in. A typical therapy cat visit consists of lap cuddles with warm blankets, nap time, and a bit of TV watching. Sometimes the seniors will tell Tracy about their own cats they once had, and how much they loved them.
During the pandemic, Roger and Sal have even excelled at their virtual visits. While nothing replaces the emotional engagement of one-on-one interactions, research has indicated that virtual animal content still brightens the mood.

Tracy agreed that even though they were not able to be in person, the trio has still been able to make a connection and keep people smiling and happy. Roger even performed a few tricks. Perhaps the affinity cats have for interrupting Zoom calls can come in handy after all.

The online visits have been so impactful that for Mental Health Awareness Month in May, Cat Chow, Pet Partners and the Institute on Aging are working together to get more seniors, over the age of 60, connected to virtual therapy cat visits. By calling 800-616-5152, seniors can schedule one of 50 free virtual therapy cat visits with a Pet Partners therapy cat team. That means kitties like Roger and Sal are going to have VIP status, Very Important Pets, that is.
The whole project has been made possible by Purina Cat Chow, a company that knows all too well the healing powers of cats. During the entire month of May, for every Cat Chow Complete purchase, Purina will donate two cents per purchase, up to $25,000 to Pet Partners in support of their Therapy Animal Program. This donation will help more cats like Roger and Sal ensure more people have access to the therapeutic benefits of cats.
If you're a cat-lover who would like to show support, you can find out more at catchow.com/therapy.
Photo courtesy of Purina® Cat Chow®
Joy
It only costs them a little more than $30,000 a year.
True
It takes a special type of person to become a nurse. The job requires a combination of energy, empathy, clear mind, oftentimes a strong stomach, and a cheerful attitude. And while people typically think of nursing in a clinical setting, some nurses are driven to work with the people that feel forgotten by society.
Michelle Santizo is a street medicine nurse working in Los Angeles, California. For her, the field of street medicine requires providing lifesaving health services in unpredictable and sometimes uncomfortable environments, but is where she is most passionate about her work.

Nurse Santizo credits her parents for teaching her resilience, a necessary trait when providing care in places like tents, under bridges, in alleys, vehicles, at libraries, on the side of the freeway or even at a bus stop.
"Every corner of Los Angeles needs our services," said Nurse Santizo. "It can be in a pristine, abandoned, trashed, or graffiti-filled neighborhood."
Michelle | Heroes Behind the Masks presented by CeraVe www.youtube.com
Santizo prepares for the workday by loading her backpack with supplies before heading to a section of downtown L.A. known as "skid row" to care for her clients, who are typically people experiencing homelessness and living on the fringes of society without regular access to healthcare. As the child of immigrant parents, she experienced firsthand a lack of healthcare and basic necessities. Her mother fled from El Salvador as a young woman, arriving in the United States alone and without shelter.
"My mother told me that the only people that acknowledged her while sleeping outside on a bench [were the people going in and out of] the church that was across the street," said Nurse Santizo. She said her mother instilled in her that there are many reasons why people are homeless and that each individual has their own story. "[She] taught me to never judge someone's struggle … my mother's inspiring upbringing taught me if you have the time to help the broken or disadvantaged, then take a moment to acknowledge or help in some positive way."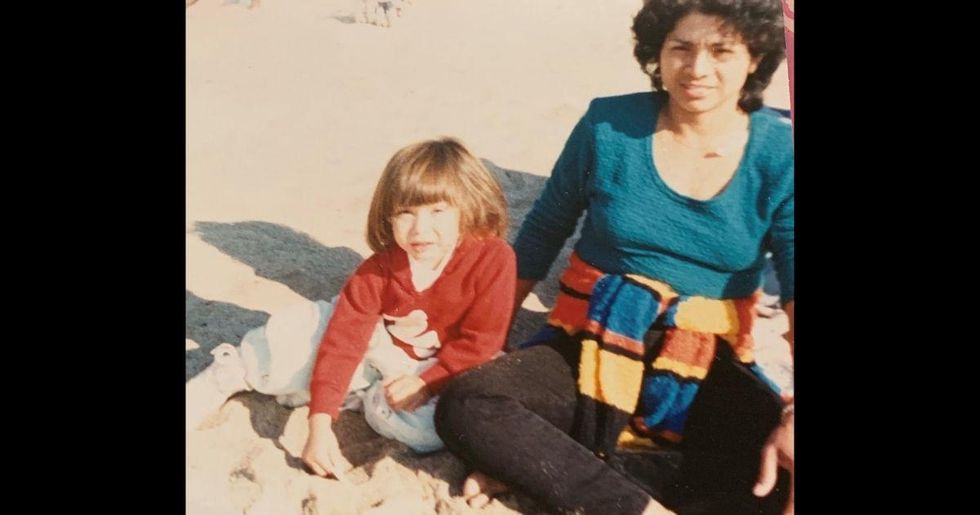 Michelle and her mother on a beachCourtesy of Michelle Santizo
Growing up, Nurse Santizo watched her parents struggle to earn a living wage to keep up with the family's needs. "My father worked nearly seven days of the week and my mother worked as much as she could in jobs like babysitting, cleaning homes or caregiving. Feeding our family was my parent's main concern…healthcare and all the other important aspects of life became secondary or non-existent. My parents could barely make enough income to buy fresh fruit or vegetables," she said.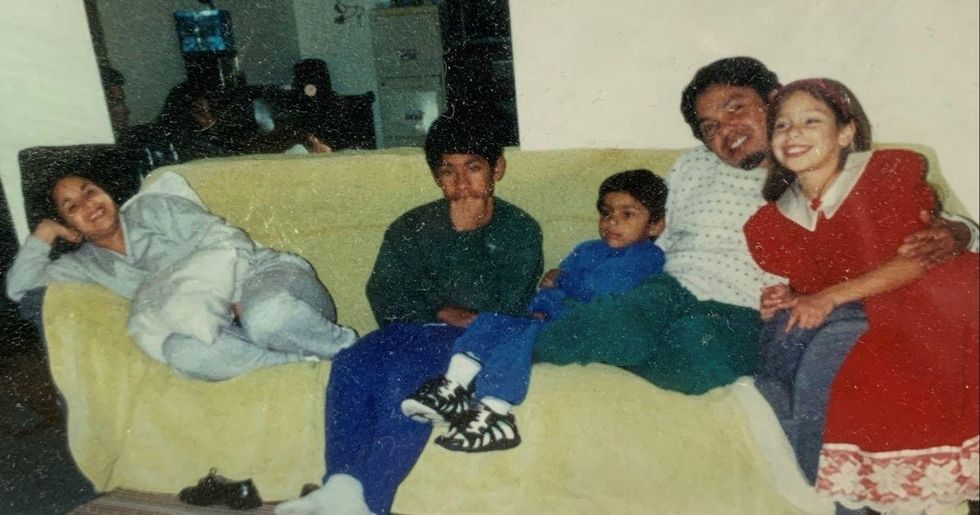 The Santizo familyCourtesy of Michelle Santizo
That upbringing is what drove her to pursue a career in medicine, with the goal of giving back to underserved communities. "[Access to] medicine should not be determined based on your socioeconomic status. It should be a right for someone to seek healthcare when it is needed and important, especially for children and adolescents who will be the future of our generation," said Nurse Santizo. She credits her lack of access to healthcare as a child for empowering her to keep pushing for change.
When the opportunity to practice street nursing arose, Santizo knew instinctively that it was the right fit. Every workday she has meaningful interactions, but one experience in particular had a lasting impression on her. She encountered a middle-aged man who had lost his job during the pandemic and was forced to live on the streets. Nurse Santizo approached, and he asked if she wouldn't mind examining his feet. As she gently inspected the condition of his skin, she explained that he needed a thorough cleaning and a special ointment and offered to wash his feet and patch them up.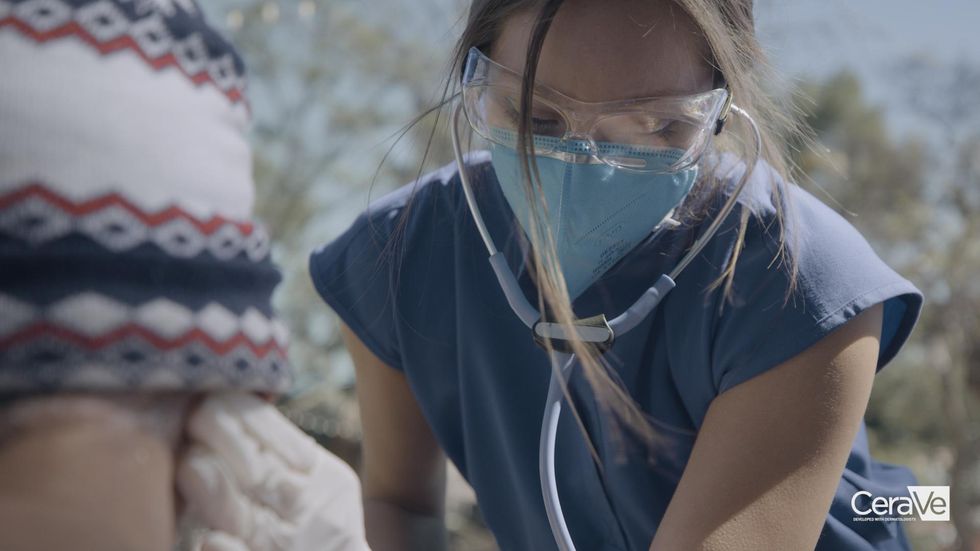 Courtesy of CeraVe
"This kind man stared right into my eyes and nearly cried, as he shared 'no one has ever cared for me like this ever since I've been forced to live on the streets, nor has anyone ever acknowledged my existence,'" recalled Nurse Santizo. "I remember squatting on the side of the street while cars were driving by … my only mission was to devote that moment in time to servicing a person who needed my attention and love. As you can tell, I love what I do, and I could scrub feet for days when servicing the most vulnerable populations."
According to the most recent report, approximately 580,466 people were experiencing homelessness in America in January 2020. Most were individuals (70%) and the rest were people living in families with children. The full effect of the pandemic on the homeless populations across the country have yet to become clear, and hard data will not be fully known until late 2022 or early 2023.
"Bringing medicine to people who are not able to seek medical assistance due to their inabilities whether it be homelessness, chronic illness, or mental health has always been my true calling … to serve the broken, the sick, the vulnerable and the ones who really need a second chance at life," said Nurse Santizo, a reminder that no one knows what another human is battling.
To recognize the healthcare professionals that are so often giving to others before themselves, CeraVe seeks to spotlight those that go beyond the call of duty for their patients and communities. The brand is honoring nurses such as Santizo in the second iteration of a docuseries titled Heroes Behind the Masks Chapter 2: A Walk In Our Shoes.
Follow along in the coming days for more stories of heroism, kindness and love.
From Your Site Articles
Related Articles Around the Web
Parenting
There are times and places for breastfeeding advocacy. This isn't it.
Photos via Canva
By now, you've likely seen news stories about the baby formula shortage in the U.S. According to CBS News, the formula shortage has been coming for months, with supply chain issues, labor shortages, product recalls and inflation creating a perfect storm and hampering manufacturers' ability to keep up with demand.
The shortage is causing intense stress for families that rely on formula as retailers resort to rationing purchases and customers find store shelves empty of major brands.
It's genuinely a crisis. And unfortunately, some breastfeeding advocates are using the shortage to tout the benefits of breastfeeding: This isn't a problem if you breastfeed! It's "free!" It's "readily available!" It's nature's perfect food! It's "what God intended!" It'll never be recalled!
Folks? Now is not the time or the place.
To be clear, I'm an enormous fan of breastfeeding. My mother is a retired lactation consultant and I was raised in La Leche League meetings. I breastfed my own three kids through toddlerhood and pumped breastmilk to feed my adopted nephew. I've written articles and made videos defending breastfeeding in public. I am enamored with the miraculous way our bodies can grow a whole person and also create food for that person. It's amazing. Breastfeeding is awesome in my book.
But I also live in the real world. I know that breastfeeding doesn't always work out for a huge variety of reasons, none of which I have the authority to judge. I know how most moms agonize over every decision they make and how easy it is to feel shamed for not doing what people tell you is "best." I know that baby formula saves lives.
For years now, there's been a slogan battle between "breast is best" and "fed is best," when really neither statement is really accurate. The "breast is best" idea is a simple way of stating that breast milk is the most nutritionally beneficial food for most babies. That's not a judgment; it's the medical consensus. The "fed is best" idea is a simple way of stating that the most important thing is that a baby is fed. That's not a dismissal; it's reality. But neither statement encompasses the complex truth, which is that there's a lot of bad information out there that makes informed decisions difficult and that there are millions of individual circumstances that can impact how a baby ultimately gets fed.
However, none of that matters when there's a baby formula shortage. Babies that rely on formula need it. And they need it immediately. Period.
Now is not the time to advocate for breastfeeding, no matter how passionate you feel about it. Parents impacted by the formula shortage are already worried enough; adding to their stress with messaging that might induce guilt or shame is an entirely crappy thing to do at this moment. It's like saying to someone who fell off a boat and is floundering in the water, "See, this is why people should learn to swim." That's not advocacy—it's cruelty.
I know that some people will take any and all mention of breastfeeding as a slam on formula feeding, and I'm not of the mind that people should avoid talking about the benefits of breastfeeding in general. But there are times and places for advocacy and education and there are times and places where it's not helpful at all. We're in the latter time and place right now. This formula shortage might naturally push some new moms toward breastfeeding, but it's not a situation that should be exploited to convince people to breastfeed.
If we want to be helpful, the best thing we can do at the moment is to offer advice and support that may actually help. Dr. Steven A. Abrams, MD, a Fellow of the American Academy of Pediatrics, suggests the following when a parent is in an urgent need situation. These are things we can help with:
Talk with your pediatrician and ask if they are able to get you a can from the local formula representatives or one of the charities that has some. Your local WIC office may also be able to suggest places to look.


Check smaller stores and drug stores, which may not be out of supply when the bigger stores are.


If you can afford it, buy formula online until store shortages ease. Purchase from well-recognized distributors and pharmacies rather than individually sold or auction sites. Do not import formula from overseas, as imported formula is not FDA-reviewed.


For most babies, it is OK to switch to any available formula, including store brands, unless your baby is on a specific extensively hydrolyzed or amino acid-based formula such as EleCare (no store brand exists). Ask your pediatrician about recommended specialty formula alternatives available for your baby.


Check social media groups. There are groups dedicated to infant feeding and formula, and members may have ideas for where to find formula. Make sure to check any advice with your pediatrician.
Experts
are warning parents
not to water down formula or make homemade formula, as neither is a safe option, so do not share recipes for formula that are circulating on the internet.
The best support people can offer right now is locating formula for a family who needs it. That's it. Let's save the breastfeeding education and advocacy for people who are actually seeking information, not for those who are dealing with an already stressful crisis.
From Your Site Articles
Related Articles Around the Web
Get stories worth sharing delivered to your inbox
Get stories worth sharing delivered to your inbox