True
Davina Agudelo was born in Miami, Florida, but she grew up in Medellín, Colombia.

"I am so grateful for my upbringing in Colombia, surrounded by mountains and mango trees, and for my Colombian family," Agudelo says. "Colombia is the place where I learned what's truly essential in life." It's also where she found her passion for the arts.
While she was growing up, Colombia was going through a violent drug war, and Agudelo turned to literature, theater, singing, and creative writing as a refuge. "Journaling became a sacred practice, where I could leave on the page my dreams & longings as well as my joy and sadness," she says. "During those years, poetry came to me naturally. My grandfather was a poet and though I never met him, maybe there is a little bit of his love for poetry within me."
In 1998, when she left her home and everyone she loved and moved to California, the arts continued to be her solace and comfort. She got her bachelor's degree in theater arts before getting certified in journalism at UCLA. It was there she realized the need to create a media platform that highlighted the positive contributions of LatinX in the US.
"I know the power that storytelling and writing our own stories have and how creative writing can aid us in our own transformation."
In 2012, she started Alegría Magazine and it was a great success. Later, she refurbished a van into a mobile bookstore to celebrate Latin American and LatinX indie authors and poets, while also encouraging children's reading and writing in low-income communities across Southern California.

When the pandemic hit in 2020, she decided it was time to do even more to serve people during these difficult times.
"It became clearer to me that the lack of representation in the book publishing industry for BIPOC/LatinX writers & poets had to change," she says. "I want to be an agent of change in the publishing industry and contribute to its transformation."
She created Alegría Publishing to nurture and produce works by indie LatinX storytellers and expanded the mobile bookstore to celebrate BIPOC/LatinX writers and poets, as well as the books published by Alegría publishing. And one day she hopes that she can take the bookstore across the United States and discover even more emerging writers.
Today, Agudelo also mentors indie authors two nights a week through the Alegría Writing Collective for LatinX writers. "They rock my world every class," she says.
"The amount of talent in our community pushes me to keep growing our company so the world can read their work and remember their names."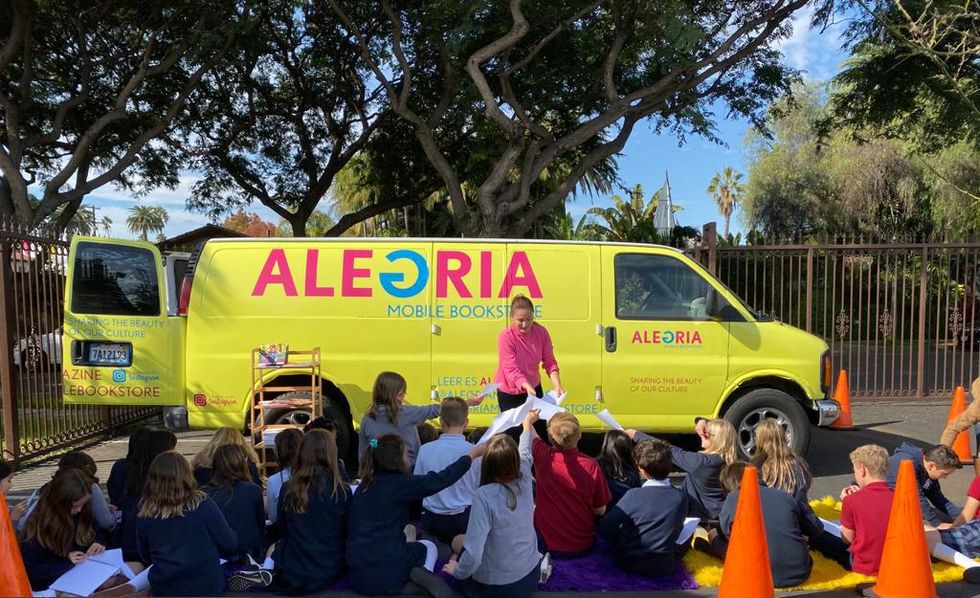 Agudelo has made it her mission to empower women and her community. "My career has been such a blessing filled with magical milestones and I never take these moments for granted," she says. "There is nothing like being able to make a woman's dream of publishing their first book and bring it to life. Watching their reaction, when they look at their book for the first time is priceless."

"As women, we are naturally powerful, we just have to keep reminding each other of our power."
Agudelo is one of Tory Burch's Empowered Women this year. The donation she receives as a nominee is being awarded to The Sims Library of Poetry, which is the first black-owned poetry library in California.
"Hiram Sims, its founder, started lending books to his university students out of this suitcase after mandating that they read one book of poetry a week. As demand grew, his suitcase library was forced to seek a larger home," says Agudelo. "Their mission is to serve, educate, and foster a love for poetry, especially for marginalized people of color in the community of South Los Angeles."
To learn more about Tory Burch and Upworthy's Empowered Women program visit toryburch.com/empoweredwomen. Nominate an inspiring woman in your community today.
This article originally appeared on 09.22.17


What can we learn from letting seventh graders take the SAT?
In the 1960s, psychologist Julian Stanley realized that if you took the best-testing seventh graders from around the country and gave them standard college entry exams, those kids would score, on average, about as well as the typical college-bound high school senior.
However, the seventh graders who scored as well or better than high schoolers, Stanley found, had off-the-charts aptitude in quantitative, logical, and spatial reasoning.
In other words, they were gifted.
In the 1970s, Stanley and his team launched a full-scale study, identifying many of America's gifted kids and tracking them throughout their lives.
The study, called the Study of Mathematically Precocious Youth never ended and is now nearly 45 years in the making. It has followed countless kids from middle school into their careers as some of America's top politicians, scientists, CEOs, engineers, and military leaders.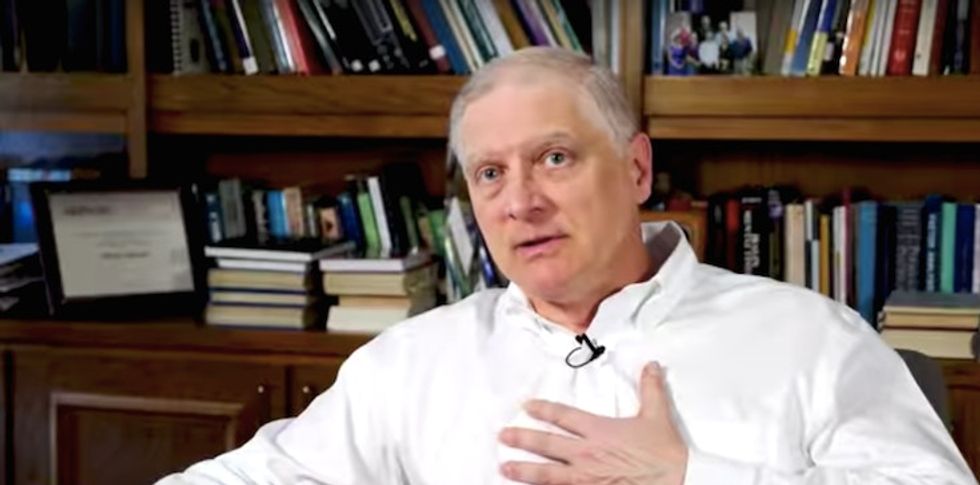 Professor David Lubinski. Image via Vanderbilt University/YouTube.
Stanley passed away in the mid-2000s, but psychologist David Lubinski helped bring the study to Vanderbilt University in the 1990s, where he now co-directs it with Camilla P. Benhow.
It's not a stretch to call this the biggest and most in-depth study on intellectual "precociousness." The results of the study thus far are equal parts fascinating and genuinely surprising — a deeply insightful look into the minds and lives of brilliant children.
1. Some of what we used to think about gifted kids turned out to be wrong.
Ever heard the saying "early to ripe, early to rot"? It basically means doing "too much" to foster a kid's special talents and abilities at too young an age could actually cause harm in the long term.
That's not even remotely true, at least not according to Lubinski.
That might be an outdated example. But Lubinksi says there are plenty of other misconceptions still alive today, like the idea that gifted kids are so smart that they'll "find a way" to excel even if those smarts aren't nurtured and developed.
Not so fast. "They're kids," he explains. "They need guidance. We all need guidance."
2. Intelligence is not the same as passion.
Quick, what's the "smartest" career you can think of. Doctor? Scientist?
While you do have to be pretty brilliant to work in medicine or science, those are far from the only career paths gifted kids choose later in life.
"Quantitatively, gifted people vary widely in their passions," Lubinski says. Many of the students in the study did end up pursuing medicine, but others went into fields like economics or engineering. Others still were more gifted in areas like logical or verbal reasoning, making them excellent lawyers and writers.
"There are all kinds of ways to express intellectual talent," Lubinski explains.
When it comes to doing what's best for a gifted student, it's just as important for parents and educators to know what the student is passionate about rather than pigeonholing them in traditionally "smart" fields and registering them in a bunch of STEM courses.
3. Hard work definitely still matters.
Measuring a student's aptitude, their natural abilities, is only one part of the equation when it comes to determining how successful they'll be in life. Aptitude scores can identify a particularly strong natural skill set but tell us very little about how hard that person might work to excel in that field.
Effort, Lubinski says, is a critical factor in determining how far someone's going to go in life. "If you look at exceptional performers in politics, science, music, and literature, they're working many, many hours," he says.
(And for the record, there are a lot more important things in life than just career achievement, like family, friends, and overall happiness.)
4. Regardless of aptitude, every kid deserves to be treated as though they were gifted.
The study's focus is specifically on kids within a certain range of intellectual ability, but Lubinski is careful to note that many of its findings can and should be applied to all students.
For example, the kids in the study who were given an opportunity to take more challenging courses that aligned with their skills and interests ultimately went on to accomplish more than the students who were not afforded the same opportunity.
"You have to find out where your child's development is, how fast they learn, what are their strengths and relative weaknesses and tailor the curriculum accordingly," Lubinski says. "It's what you would want for all kids."
It may sound a bit like a pipe dream, but it's a great starting point for how we should be thinking about the future of education in America.
If you'd like to learn more about the Study of Mathematically Precocious Youth, check out this short film on the project created by Vanderbilt University:
Get stories worth sharing delivered to your inbox