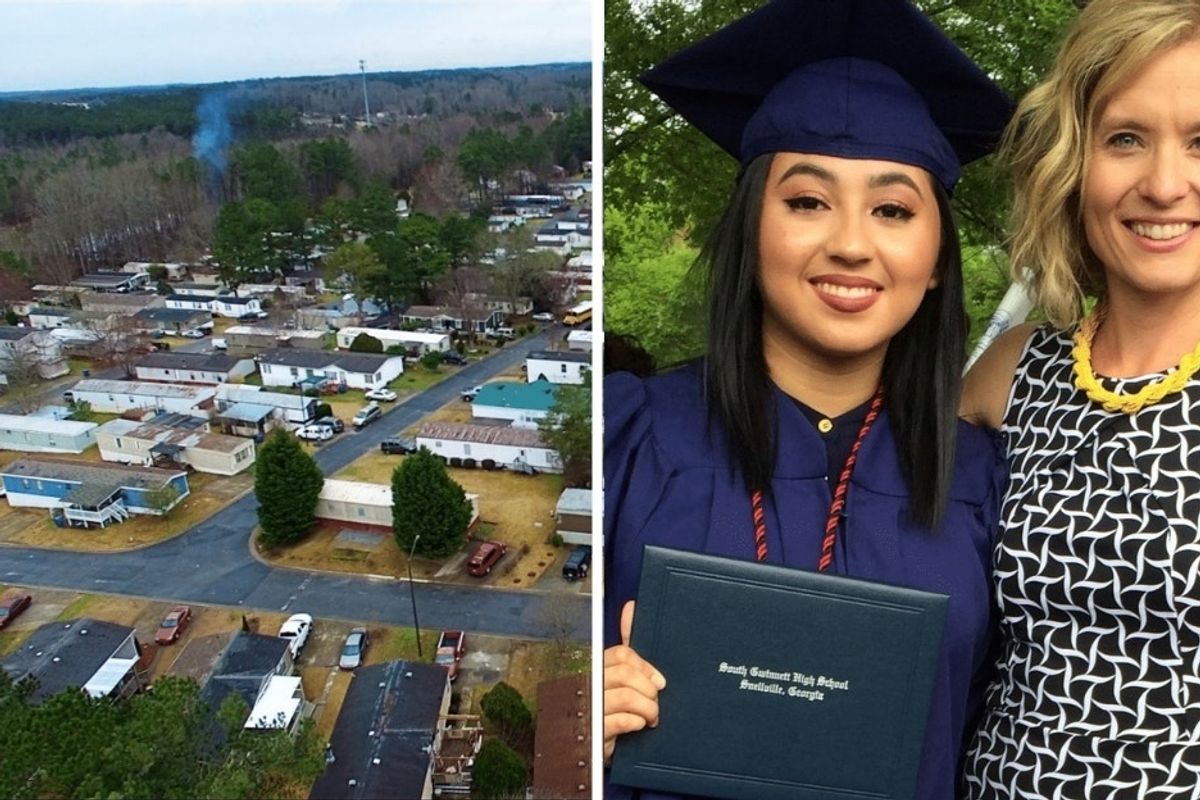 True
Stand Together
Jim and Melinda Hollandsworth weren't planning to start a nonprofit. They just wanted to help a few kids with their homework.
When the Hollandsworths sponsored a local family for Christmas through their church in 2008, they thought it would just be a one-time thing. But when they saw that the large family's mobile home was only four miles from their Atlanta-area home, they realized they were essentially neighbors.
---
After their visit with the family, they wanted to come back, but not just because they enjoyed the family's company — they realized the family was living in suburban poverty, and wanted to see if there were more ways they could help them.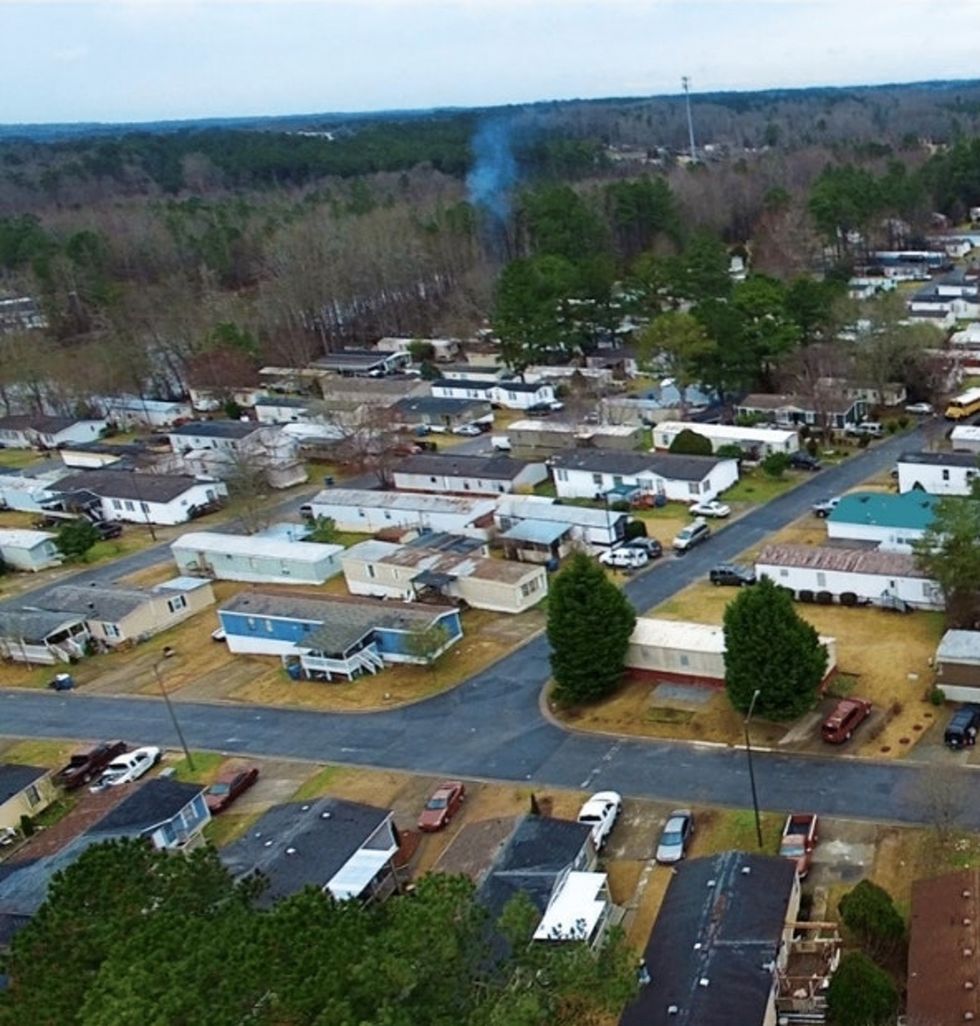 All photos via Path Project.
So, they randomly dropped by for a visit every so often. Eventually, the kids started sharing what was going on in their lives.
"The biggest thing that stuck out to us," says Melinda, "was that the younger kids could all tell you what they wanted to be when they grew up—a teacher, a doctor, whatever their big dream was. But when they talked about their older siblings, it was a different story. They would share of one who'd been deported, one who was in jail, and an older sister who was still high school age who had already had one, maybe two babies. So, there was a disconnect there."
The high school graduation rate of students in that neighborhood was a startling 33%.
During one of their visits, Maria, a 6th grader in the family asked Melinda if she could help her with her homework because her mom and dad didn't speak English. Since she had a background in education, Melinda looked over her school work and realized that she was already failing in most subjects. Maria was not on a path to succeed.
The Hollandsworths discovered that this was a big gap, not just for Maria, but for other kids in the family. To fill this need, they offered to come and tutor them once a week.
They started with one family, but word spread quickly. Before they knew it, the Hollandsworths had started a community center.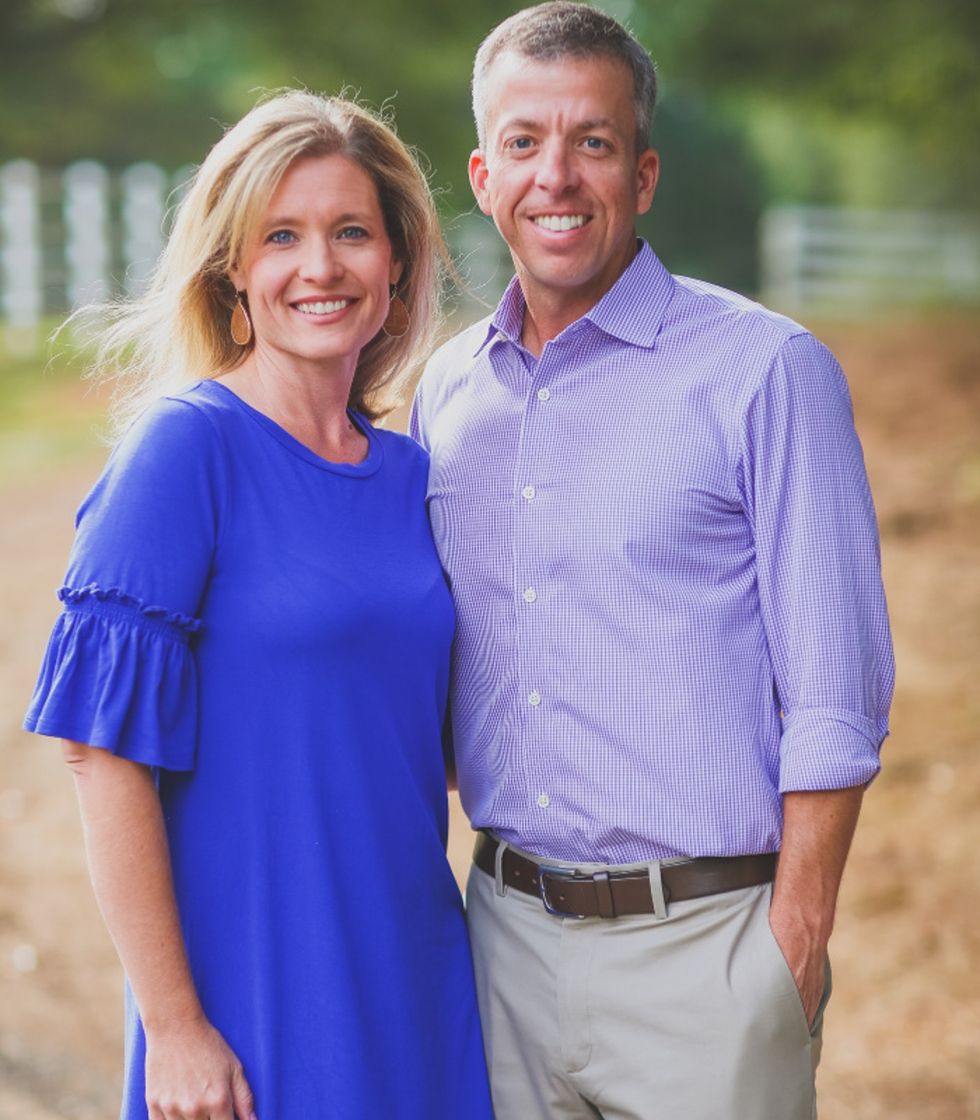 Jim and Melinda Hollandsworth.
Before long, more and more kids started showing up to get help with homework each week, and Jim and Melinda found themselves scrambling to keep up with the demand. They enlisted friends as volunteer tutors, and the kids kept coming.

After a few months, the mobile park property manager said he had a vacant mobile home that had been the site of a drug-related shooting. He asked the Hollandsworths if they wanted to use the home for their after-school programs.
That was the first time that Jim and Melinda thought that they could do more than just help a few kids with homework. But they also knew that if they took this opportunity, they had to be all in.
Early on, a 6th grader named Sophia had asked them, "When are you gonna leave?" These kids were used to people coming into their neighborhood, doing good things, and then never coming back. The Hollandsworths knew that in order to make a real difference, they needed to be there long term, to build relationships with these kids and their families.
So, they made the commitment and renovated the mobile home into a community center.
When a volunteer asked to work full-time and other mobile parks asked for them to launch programs, The Path Project was born.
Word began to spread not only among the families in this mobile park, but among mobile park owners as well. They saw how the Hollandsworths' after-school program was helping kids stay in school and on a healthy path, and they wanted the same for their communities.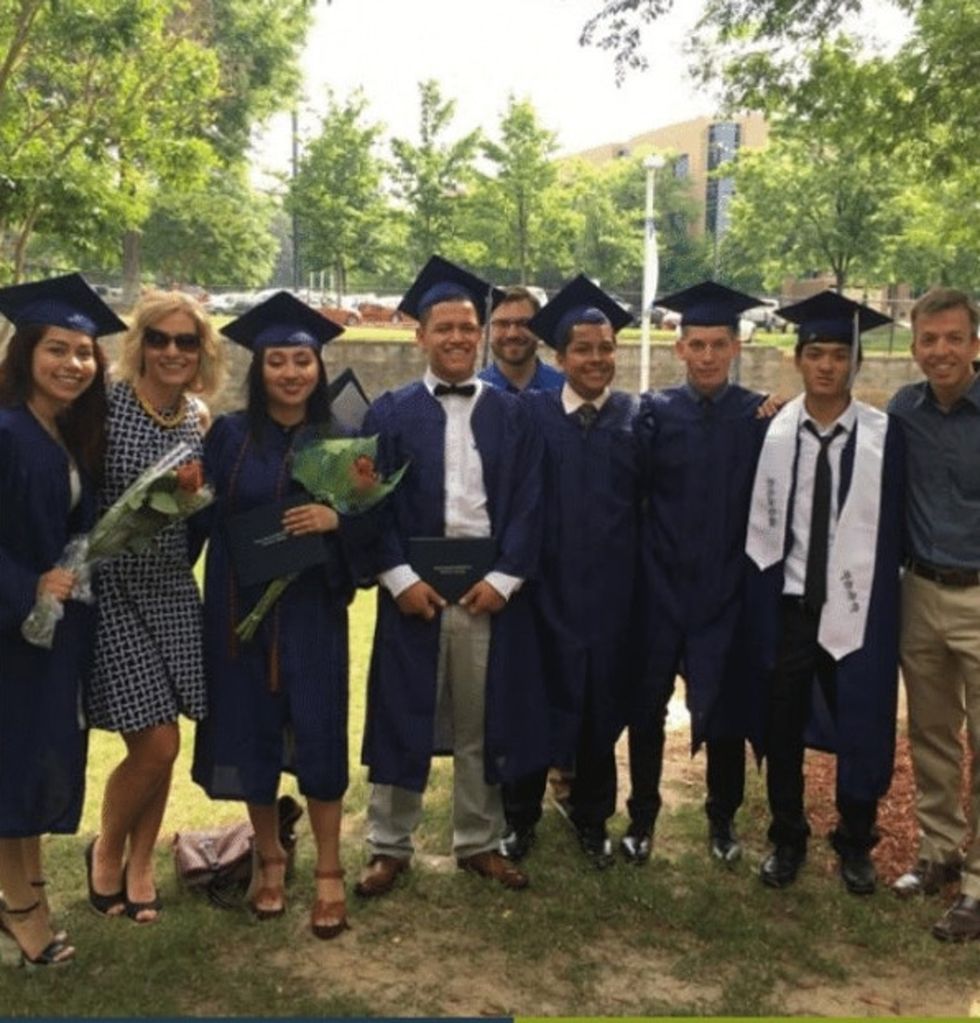 First group of Path Project kids who graduated high school.
One volunteer said she wanted to make the tutoring work her full-time job. But Jim and Melinda, a pastor and a teacher, knew practically nothing about fundraising or starting a nonprofit. They had to learn as they went.

Today, The Path Project is a full-fledged 501c3 nonprofit with a staff of 24 people.
Jim left his job as a pastor in 2013 to focus full time on the project, which has expanded to eight mobile park neighborhoods in Georgia and Tennessee. The Path Project is privately funded through individuals, churches, and businesses, and they still utilize plenty of volunteers. They also partner directly with local schools and with organizations like Stand Together Foundation, whose goal is to help grassroots social entrepreneurs break the cycle of poverty. Stand Together Foundation is helping The Path Project with scaling their work in order to reach as many children and communities as possible with their relationship-based model.
The project has grown, but the foundation of its success remains the same: Getting to know your neighbors.
The Path Project is a prime example of what can happen when people get to know their neighbors and seek meaningful solutions to community problems together.
The project's recent stats speak to its success. According to The Path Project's 2018 annual report, 100% of the 4th and 5th graders in the project's first community are on track academically (using United Way metrics on grades, behavior, and attendance). Between 2011 and 2016, graduation rates jumped from 35% to 88%, and around 90% of students in that mobile park are currently on track to graduate—an improvement of 100% in the past four years.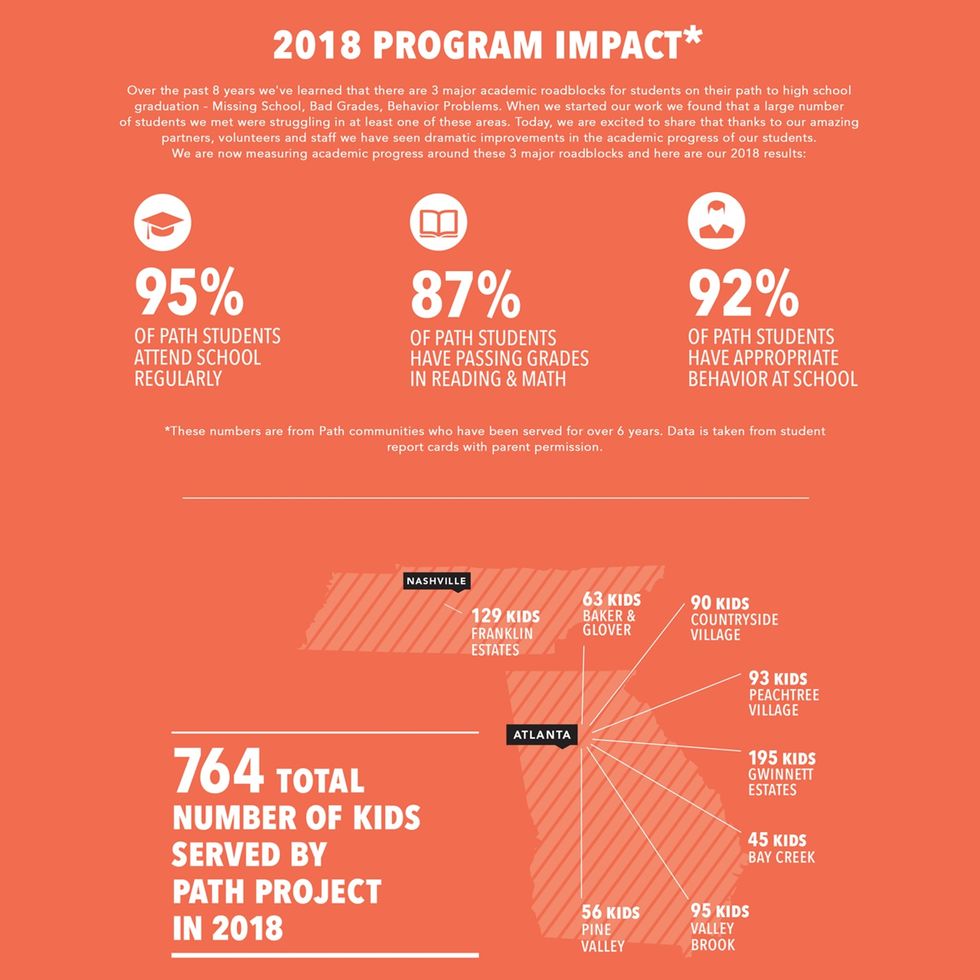 Infographic courtesy of Path Project
The Hollandsworths will tell you that the road to The Path Project's success hasn't always been easy. Melinda says there were a lot of small, scary steps they had to take along the way. But the key was to show up, keep showing up, and focus on building relationships.

"I think it's important for us all to be good neighbors," says Jim. "And we do that by showing up, meeting new people, and asking questions. And if something comes out of that, then great. But at the very least, you have the opportunity to be a good neighbor. I think that's what we're all supposed to be."
Stand Together Foundation invests in solving the biggest problems facing our nation today in order to unleash the potential in every individual, regardless of their zip code. By supporting social entrepreneurs like Jim and Melinda who're close to social issues like poverty and academic challenges, new solutions are developed that are working. You can get involved and find a transformative org near you atStandtogetheragainstpoverty.org.
To find out which of these organizations supports your values, take this quizhere and let Stand Together Foundation do the searching for you.