Heroes
Every part of the sky deserves a closer look.
In 1995, astronomer Robert Williams had the opportunity of a lifetime: a chance to use the freshly repaired and ready for action Hubble Space Telescope.
Every astronomer in the world was desperate to get time on the Hubble to photograph galaxies, nebulae, and deep space objects with humanity's most powerful telescope. Williams wasn't interested in that. He knew there was something remarkable out in space that regular earthbound telescopes couldn't see. Normally, his colleagues would be excited for such an opportunity. This time, they told him he was crazy to even consider it.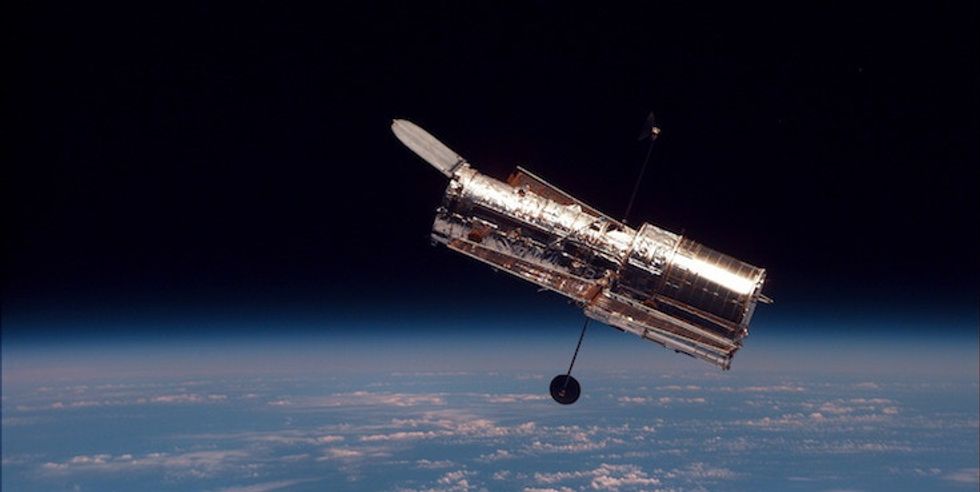 <p class="image-caption">The Hubble Space Telescope: humanity's eye above the sky. Image via NASA.</p><h2>When the <a href="http://www.nasa.gov/mission_pages/hubble/story/index.html" target="_blank">Hubble Space Telescope</a> was placed into orbit 340 miles above the Earth in 1990, it was one of the most ambitious — <a href="https://www.msn.com/en-us/money/personalfinance/the-most-expensive-things-in-the-world-money-can-buy/ss-BBjMGB7" target="_blank">and expensive</a> — scientific projects in history. </h2><p>NASA promised an eager public that the Hubble would take better images than any telescope on Earth. But for the first few years of its life it <a href="http://www.spacetelescope.org/about/history/aberration_problem/" target="_blank">couldn't focus properly</a>, leaving it unable to deliver the awe-inspiring images of space it was meant to provide.</p><p><img type="lazy-image" data-runner-src="https://assets.rebelmouse.io/eyJhbGciOiJIUzI1NiIsInR5cCI6IkpXVCJ9.eyJpbWFnZSI6Imh0dHBzOi8vYXNzZXRzLnJibC5tcy8xOTUwMjU1OS9vcmlnaW4uanBnIiwiZXhwaXJlc19hdCI6MTYwMzMyNzUwNX0.z09f_ozeL9PJ-w9yaDldM_OPhIEyXlGAgre7iL0OmSw/img.jpg?width=980" id="2a63c" class="rm-shortcode" data-rm-shortcode-id="43b8d291db97df71790d726e95c19835" data-rm-shortcode-name="rebelmouse-image"></p><p class="image-caption">The Hubble's repairs made a huge difference: at left, a galaxy photographed by Hubble before its repairs; at right, the same galaxy after. Image via <i>Space Telescope Science Institute</i>/NASA.</p><p>Most people in NASA felt that the first images to come from the Hubble after its billion-dollar repairs needed to help them regain the public's trust. <strong>They had to be a sure thing, and Williams' project was anything but.</strong></p><p>"It was very risky. I had a team of young, bright astronomers who were fresh out of school. Plus, there was a real chance we might not see anything," Williams said. "I felt it had to be tried anyway. I told administrators that I would take full responsibility if it was a flop. It took me promising to turn in my resignation to convince them."</p><p>Williams picked a tiny square of space near the <a href="http://www.space.com/27758-big-dipper.html" target="_blank">Big Dipper constellation</a>. It was one with very few visible stars — to be fair, very few visible <em>anything</em>. It was as close to an empty speck of sky as one might find looking upward, as tiny as a single <a href="http://deepastronomy.com/article/15/hubble-deep-field" target="_blank">grain of sand held out at arm's length</a>.</p><p><strong>Then he pointed the Hubble Telescope at it for 10 full days.</strong></p><h2>The image that resulted is one of the most important photographs of space ever taken. Astronomers called it the <a href="http://hubblesite.org/hubble_discoveries/hubble_deep_field/" target="_blank">Hubble Deep Field</a>.</h2><p>From a distance, it looks like any average image of space — a smattering of stars shining in inky blackness.</p><p><img type="lazy-image" data-runner-src="https://assets.rebelmouse.io/eyJhbGciOiJIUzI1NiIsInR5cCI6IkpXVCJ9.eyJpbWFnZSI6Imh0dHBzOi8vYXNzZXRzLnJibC5tcy8xOTUwMjU2MC9vcmlnaW4uanBnIiwiZXhwaXJlc19hdCI6MTY0MDQ4MzY2Mn0.boIusQ3mk5v9Xa0PcmerDEz0ZVzyxlZSRm9_IZXqySc/img.jpg?width=980" id="b69f1" class="rm-shortcode" data-rm-shortcode-id="d5fd35c6c82618893b411d0921c9f2ec" data-rm-shortcode-name="rebelmouse-image"></p><p class="image-caption">Image via Robert Williams (STScI), the Hubble Deep Field Team/NASA.</p><p>But only about 20 of those bright lights are individual stars. <strong>The rest are distant galaxies. More than 3,000 of them.</strong></p><p><img type="lazy-image" data-runner-src="https://assets.rebelmouse.io/eyJhbGciOiJIUzI1NiIsInR5cCI6IkpXVCJ9.eyJpbWFnZSI6Imh0dHBzOi8vYXNzZXRzLnJibC5tcy8xOTUwMjU2MS9vcmlnaW4uanBnIiwiZXhwaXJlc19hdCI6MTYxODU3MTA0MX0.7i-gRsZDdGWFv8tFX5rxQ2BGHhw2bRDul_x_tYn-Ye8/img.jpg?width=980" id="90b42" class="rm-shortcode" data-rm-shortcode-id="139e864101e00b87117967e4c893ac72" data-rm-shortcode-name="rebelmouse-image"></p><p class="image-caption">Aside from the one bright star-shaped spot in the front, every object in this image is a galaxy. Image via Robert Williams (STScI), the Hubble Deep Field Team/NASA.</p><p>For Williams and his team, the realization that they had taken a truly remarkable image didn't come right away. It took months of research for them to confirm what they'd suspected — that they'd captured evidence of some of the oldest objects in the universe.</p><p><strong>Here's where it gets mind-bendy.</strong></p><p>Because of the time it has taken their light to reach us, the Hubble Deep Field shows us galaxies as they were a few billion years after the Big Bang. As Williams explains:</p><blockquote>"If you want to study anything — people, agriculture, etc. — it's always good to understand the past to see how you got there. Astronomy is the only profession where you can actually do that. At the time, the Hubble Deep Field was the closest we've come to seeing the moment where our universe came into being 13.7 billion years ago. I like to call it 'Humanity's Baby Picture.'"</blockquote><h2>For many astronomers, this image made them question everything they thought they understood about the size and age of the universe.</h2><p>At the time, astronomers believed there were about <a href="http://www.nytimes.com/1996/01/16/science/space-telescope-reveals-40-billion-more-galaxies.html" target="_blank">10 billion galaxies</a> in the known universe spaced out so widely they could hardly be photographed together. The Hubble Deep Field showed that wasn't nearly enough. <strong>Now they estimate there are trillions of galaxies, at least. Maybe more.</strong></p><p>They also learned that <a href="http://www.spacetelescope.org/news/heic0611/" target="_blank">young galaxies</a> formed closer to the Big Bang looked a lot different from older ones. Our home galaxy the Milky Way is a beautiful majestic <a href="http://www.sci-news.com/astronomy/science-milky-way-galaxy-four-spiral-arms-01649.html" target="_blank">spiral galaxy</a> with four graceful swirling arms. The adolescent galaxies captured in the Hubble Deep Field were oddly-shaped and awkwardly bumping together. <strong>Taking this image and others based on it allowed astronomers to view space in a brand new way: during its <a href="http://www.nasa.gov/mission_pages/hubble/hst_young_galaxies_200604_prt.htm" target="_blank">teenage years</a>.</strong></p><h2>By far, the most important legacy of the Hubble Deep Field project is the data it created.</h2><p>Before the Hubble Deep Field project, astronomers would retain exclusive rights to their data for at least one year, giving them the best chance of making a big discovery on their own. Williams and his team opted to make their research available as soon as they finished collecting it. "Having unique access to this data would have been a great thing for all our careers. But data needs to be free and shared," recalled Williams. "This was an important community service project that might change the culture of science to be more collaborative than competitive."</p><p><img type="lazy-image" data-runner-src="https://assets.rebelmouse.io/eyJhbGciOiJIUzI1NiIsInR5cCI6IkpXVCJ9.eyJpbWFnZSI6Imh0dHBzOi8vYXNzZXRzLnJibC5tcy8xOTUwMjU2Mi9vcmlnaW4uanBnIiwiZXhwaXJlc19hdCI6MTY1MjQwODAxN30.YGOT-xiDB0kV1BHyfe96A3UZy09cWJcZPSEWCYR1unY/img.jpg?width=980" id="d9c2f" class="rm-shortcode" data-rm-shortcode-id="5a62c82637b7fd86627a67ab506417d0" data-rm-shortcode-name="rebelmouse-image"></p><p class="image-caption">Robert Williams. Image used with permission.</p><p><strong>Once again, Williams was right. </strong>In 2004, astronomers built off the work of the Hubble Deep Field team to take another snapshot of empty sky, this time near the Fornac constellation. The resulting image — the <a href="http://www.spacetelescope.org/images/heic0611b/" target="_blank">Hubble Ultra Deep Field</a> — showed 10,000 galaxies, the most that can be seen in the visible light spectrum.</p><p>In 2012, they took it even further. Astronomers viewed the same space with an infrared telescope to capture galaxies so far away their light can't be seen by the human eye. The <a href="http://www.nasa.gov/mission_pages/hubble/science/xdf.html" target="_blank">Hubble eXtreme Deep Field</a> reveals the faintest and most distant galaxies ever seen, up to 13.2 billion years back in time.</p><p><img type="lazy-image" data-runner-src="https://assets.rebelmouse.io/eyJhbGciOiJIUzI1NiIsInR5cCI6IkpXVCJ9.eyJpbWFnZSI6Imh0dHBzOi8vYXNzZXRzLnJibC5tcy8xOTUwMjU2My9vcmlnaW4uanBnIiwiZXhwaXJlc19hdCI6MTY1Njc3NTM1OH0.D1_Mq3P5pv65AdbFJQfV7yg4iLY_-69Beawfm10aEnY/img.jpg?width=980" id="fc7ab" class="rm-shortcode" data-rm-shortcode-id="8119c6741bcd6d5d7bd3ae114da03c06" data-rm-shortcode-name="rebelmouse-image"></p><p class="image-caption">The Hubble eXtreme Deep Field is the furthest back in time humanity has ever looked. Image via NASA, ESA, H. Teplitz and M. Rafelski (IPAC/Caltech), A. Koekemoer (STScI), R. Windhorst (Arizona State University), and Z. Levay (STScI).</p><h2>Williams had no way of knowing for sure what the Hubble would see when he pointed it at that patch of empty sky in December 1996. All he had was a theory he wanted to test.</h2><p>His gambit paid off, but even if it hadn't, Williams would have no regrets. <strong>"If you're going to make a discovery, you're going to have to be a risk-taker."</strong></p>