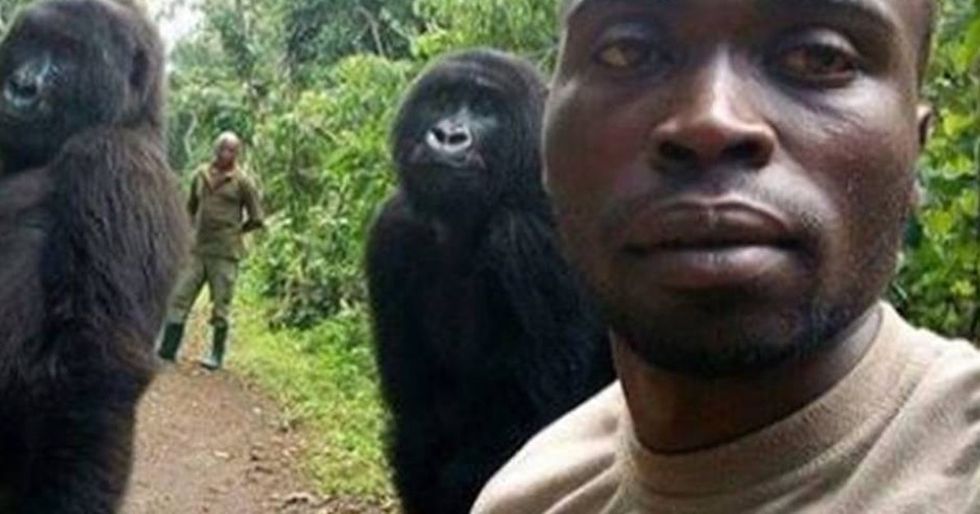 A photo of two gorillas at a sanctuary in the Democratic Republic of Congo has gone viral because they posed just like humans.
In the selfie taken by a park ranger, female gorillas Ndakazi and Ndeze have a laid-back stance with their arms at their sides and look like they're posing for the cover of an indie rock album.
"Those gorilla gals are always acting cheeky so this was the perfect shot of their true personalities!" Virunga National Park said in a Facebook post. "Also, it's no surprise to see these girls on their two feet either — most primates are comfortable walking upright (bipedalism) for short bursts of time."
The two female gorillas have lived at the Senkwekwe Center for orphaned mountain gorillas at the park since 2007. They were rescued as newborns after their mothers were killed by poachers.
The park's director, Innocent Mburanumwe, told the BBC that the pair are, indeed, imitating the humans, but it "doesn't happen normally."
"I was very surprised to see it ... so it's very funny," he continued. "It's very curious to see how a gorilla can imitate a human and stand up."
[rebelmouse-image 19469711 dam="1" original_size="812x432" caption=" A baby gorilla at Virunga National Park via Joseph King / Flickr " expand=1] A baby gorilla at Virunga National Park via Joseph King / Flickr
Anthropologist Frans de Waal told The Washington Post that the apes will mimic humans as a way of identifying "with those who take care of them" and that the behavior is a sign of attachment by the orphans.
"Apes are naturally imitative (hence the verb aping) and a parent is imitated more than others," de Waal added.
The viral selfie has also brought attention to the bravery of the park rangers at Virunga National Park. Over 130 have been killed protecting animals at the park since 1996. The government of the Democratic Republic of Congo has been in conflict with armed rebels that live in the park and poach animals.
The 3,120 square mile park was established in 1925 and is one of the first protected areas in Africa.
[rebelmouse-image 19469712 dam="1" original_size="3875x1993" caption=" floschen / Flickr " expand=1] floschen / Flickr