Joy
AriZona Iced Tea co-founder refuses to raise price above 99 cents, inflation be damned
The price has held steady since 1992 and Don Vultaggio is determined to keep it that way.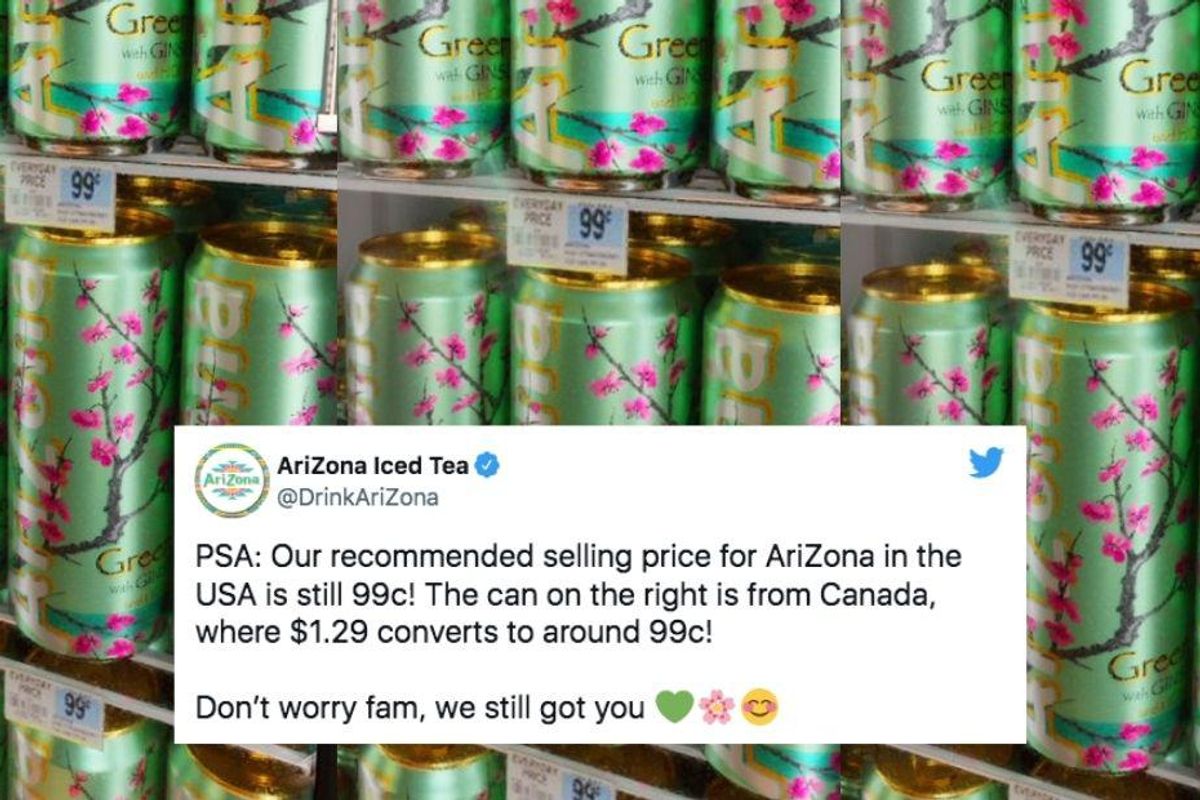 In 1992, a new canned iced tea brand arrived in convenience stores throughout the U.S. The large, Southwest-themed can of AriZona iced tea would set you back $0.99, nearly the cost of a gallon of gas.
I was in high school in 1992. I now have adult children, gas prices are more than quadruple what they were back then and that same can of iced tea costs … $0.99.
The folks at AriZona Iced Tea haven't changed their recommended selling price in 30 years, through various periods of inflation, economic upheaval and a global pandemic. Even now, as COVID-19 and war in Europe is squeezing inflation to uncomfortable places, as even the cost of the aluminum to make the cans is going up, AriZona is refusing to budge on its base price.
Unlike many popular drink brands that are owned by large parent companies such as Coca-Cola or PepsiCo, AriZona is privately owned. That gives the people in charge the ability to make radical financial choices like this.
---
"I'm committed to that 99-cent price," AriZona co-founder and chairman Don Vultaggio told the Los Angeles Times. "When things go against you, you tighten your belt.
"I don't want to do what the bread guys and the gas guys and everybody else are doing," he added. "Consumers don't need another price increase from a guy like me."
PSA: Our recommended selling price for AriZona in the USA is still 99c! The can on the right is from Canada, where $1.29 converts to around 99c!\n\nDon\u2019t worry fam, we still got you https://twitter.com/GOD_SPEEDXVII/status/1350244559519838208\u00a0\u2026

— AriZona Iced Tea (@AriZona Iced Tea) 1611156977
"A guy like me," to be clear, is a company founder worth $4.3 billion who sells around three billion cans of tea per year. So yeah, he really doesn't need to pinch the average American to maximize his profits at this point. However, "don't need to make more money" isn't often a real-world reason for businesses to not try to make as much as they possibly can, regardless of how it impacts consumers.
Of course, most of us don't expect prices to remain steady forever. We expect incremental price increases over time, and don't generally mind as long as we don't feel any drastic changes. But it's definitely refreshing to see businesses that insist on keeping prices low, especially when so many take advantage of inflation news to gouge people unnecessarily.
Take Costco, for instance. You can buy a ginormous hot dog, top it with all the ketchup, mustard, relish and onions your heart desires, and wash it down with a 24-oz soda for a ridiculous $1.50. The meal combo has been the same price since 1985, which resulted in an absolutely epic (and also totally true) tale of Costco founder Jim Sinegal telling Costco CEO Craig Jelinek, "'If you raise the [price of the] effing hot dog, I will kill you." Rather than raise the price, Costco created its own hot dog manufacturing plant.
pic.twitter.com/uCxDiZCxel

— knifefarty \ud83c\udff4\u200d\u2620\ufe0f (@knifefarty \ud83c\udff4\u200d\u2620\ufe0f) 1649971330
AriZona isn't just sitting back and taking the hit, though. One way it's cutting costs is by narrowing the can at the top to use less aluminum, the price of which has gone up due to tariffs in addition to overall inflation.
"If you keep doing those things, you can kind of offset costs and rising costs, and get the consumer value and the ability to buy your product and everybody's happy," Vultaggio explained to TODAY.
"Everything (people are) buying today there's a price increase on," he said. "We're trying to hold the ground and hold for a consumer who is pinched on all fronts. I've been in business a long time and candidly I've never seen anything like what's going on now."
In a world that's experienced so much change and upheaval in recent years, it's nice to know that at least one thing is holding steady—even if it is just a can of iced tea.
(Also nice to now they have a sense of humor about it. Check out their April Fool's Day tweet with their 9 cent mini-can.)
Inflation has gotten out of control and though we cannot control the economy, we can control our products. So we decided to make The 9 Cent Mini Can! NOW AVAILABLE! https://drinkarizona.com/products/green-tea-2oz-tiny-can\u00a0\u2026pic.twitter.com/4spTL5Bfxx

— AriZona Iced Tea (@AriZona Iced Tea) 1648831087