After being a Hollywood staple, Jennifer Lawrence vanished from the public eye following the release of "X-Men Dark Phoenix" in 2019.
Sure, the pandemic had something to do with that … in addition to the usual way our society treats Hollywood "it" girls, once it grows accustomed to the flavor. But in a recent interview with Vanity Fair, Lawrence opens up about some other reasons she chose to step away for a time.
Lawrence went from being a highly sought-after Oscar-winning actress to starring in less-than-successful films like "Passengers," "Mother!" and "Red Sparrow." The films were not only poorly received among critics, but commercially as well.
"I was not pumping out the quality that I should have," she told VF. "I just think everybody had gotten sick of me. I'd gotten sick of me. It had just gotten to a point where I couldn't do anything right. If I walked a red carpet, it was, 'Why didn't she run?'"
So then, why do it? As any workaholic would know, it's about so much more than money.
Presenting our December cover star, Jennifer Lawrence.

After a long hiatus, the Oscar winner and mother-to-be returns to the limelight with Adam McKay's ferocious satire, #DontLookUp. And, this time, she's determined to protect what's hers.

🔗: https://t.co/Y9XiJcCAa2 pic.twitter.com/TukCocED6x

— VANITY FAIR (@VanityFair) November 22, 2021
"I think that I was people-pleasing for the majority of my life," she went on. "Working made me feel like nobody could be mad at me: 'Okay, I said yes, we're doing it. Nobody's mad.' And then I felt like I reached a point where people were not pleased just by my existence. So that kind of shook me out of thinking that work or your career can bring any kind of peace to your soul."
Even friends noticed the toll it took on her. Justine Polsky, her best friend for 13 years, remarked that "the protocol of stardom began to kill her creative spirit, to fuck with her compass. So, she vanished, which was probably the most responsible way to protect her gifts. And sanity."
She concluded that "I didn't have a life. I thought I should go get one."
I don't think you need to be a famous, successful actress to understand that statement. The pandemic made many of us realize how much we let our lives revolve around work, until suddenly that part of our identities shifted drastically.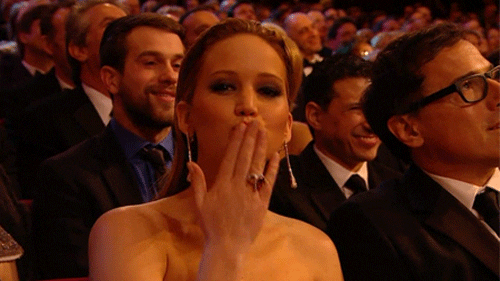 Jennifer Lawrence kiss GIF by BAFTA
Giphy
So, she got back to life, and in a big way. She married art gallerist Cooke Maloney and enjoyed the simple things … like grocery shopping.
"I really enjoy going to the grocery store with him. I don't know why but it fills me with a lot of joy. I think maybe because it's almost a metaphor for marriage. 'Okay, we've got this list. These are the things we need. Let's work together and get this done.'"
Maloney and Lawrence are even expecting a child together, though that aspect of her life will be kept (rightly so) under wraps.
"If I was at a dinner party, and somebody was like, 'Oh, my God, you're expecting a baby,' I wouldn't be like, 'God, I can't talk about that. Get away from me, you psycho!' But every instinct in my body wants to protect their privacy for the rest of their lives, as much as I can. I don't want anyone to feel welcome into their existence. And I feel like that just starts with not including them in this part of my work."
If this cast looks up, I look up. 👀#DontLookUp, the new film from Adam McKay in select theaters December 10 and on @netflix December 24 pic.twitter.com/VL8b7zyecj

— dontlookupfilm (@dontlookupfilm) November 18, 2021
Jennifer's new movie, "Don't Look Up," premieres December 10. As she returns to the spotlight, she carries the lessons many of us have learned after being removed from the hustle and grind: that sometimes the simplest things are the most joyous things, and that taking breaks helps bring our best self.